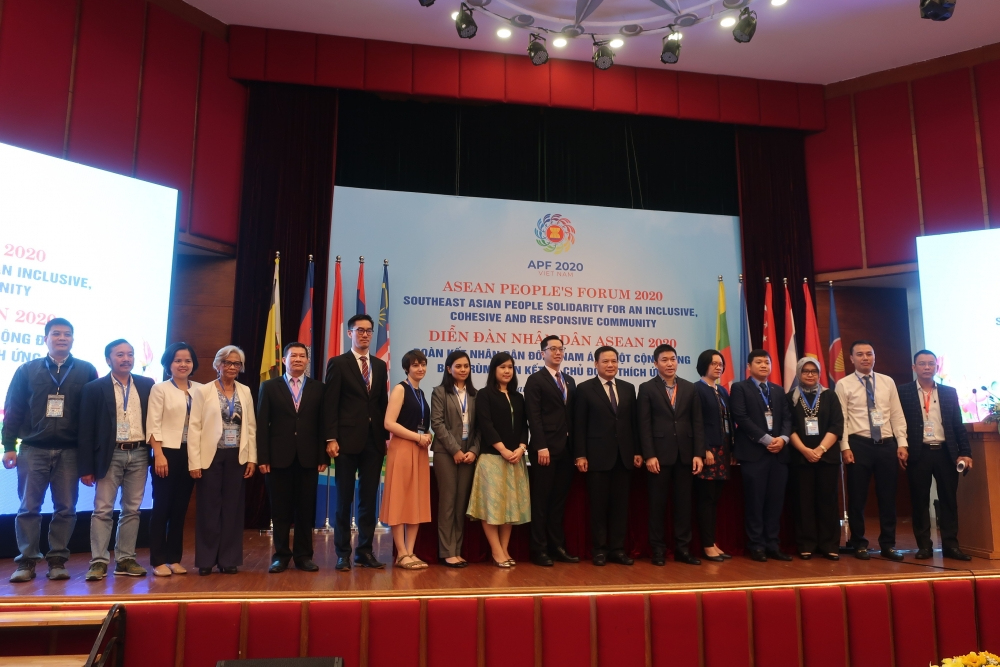 ASEAN People's Forum 2020 (APF 2020) under the theme "Southeast Asian People Solidarity for an Inclusive Cohesive and Responsive Community" took place virtually at Center for Women and Development in Hanoi. Photo: Thoidai.
The APF 2020 opening ceremony saw the attendance of Mr. Le Van Thanh, Deputy Minister of Labor, Invalids and Social Affairs; Mr. Phan Anh Son Vice President of Vietnam Union of Friendship Organizations (VUFO); Mr. Nguyen Hai Minh Vice president of Vietnam Youth Federation and representatives from Embassies of ASEAN countries and Timor Leste in Vietnam.
The event also welcomed as many as 250 delegates representing people's organizations, Vietnamese and international non-governmental organizations in Vietnam as well as 500 delegates from people's organizations and non-governmental organizations in 10 ASEAN countries.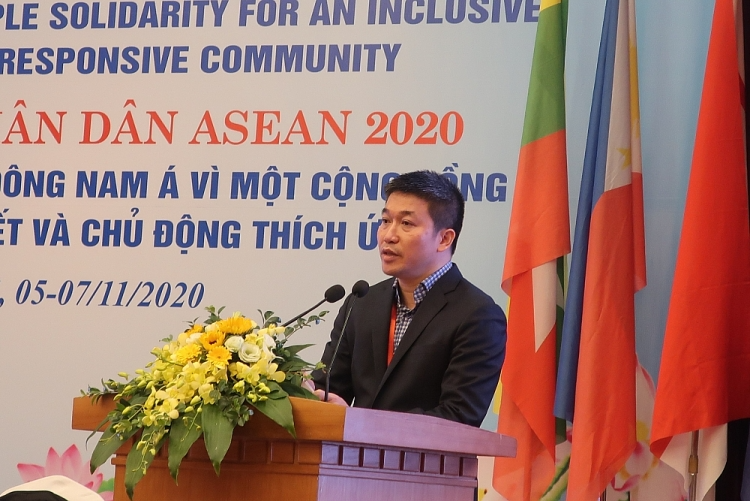 VUFO Vice President and Head of the organization board Phan Anh Son. Photo: Thoidai.
Speaking at the ceremony, VUFO Vice President and Head of the organization board Phan Anh Son said that this is the very first time in the history that APF goes online.
"The spreading Covid-19 pandemic prevents us from meeting each other in person, but it can never prevent us from strengthening our solidarity and cooperation. The online APF 2020 is also another testament that ASEAN people are adapting to "the new normal".
APF 2020 is held with an expectation that all people classes in the region would join hands and get unite to tackle global challenges, contributing to the building of a people-oriented ASEAN community.
The main objectives of APF 2020 include: exchanging information, sharing experiences, strengthening solidarity, attachment, and unity among social movements and people's organizations in Southeast Asia; exchanging opinions on proactive, positive, and coordinated actions among Southeast Asian people's organizations to cope with common challenges in the ASEAN community-building process; enhancing people's participation in ASEAN's decision-making through advocacy and monitoring activities, and making recommendations to ASEAN leaders on the building of a people-centered and people-oriented ASEAN community.
At APF 2020, delegates from different countries will exchange and discuss eleven convergence spaces: Peace - Security; Human rights and Access to justice; Ecological sustainability; Labor and immigration; Alternative regionalism; Economic transformation and solidarity, Trade, Investment, and corporate power; Life and dignity; Culture and Arts; Innovation, New Technology, and Digital Rights; Racism and Religious extremism.
The VUFO vice president also expressed his expectation about meaningful discussions and work out recommendations to the governments and people's strategies to overcome challenges and to map out the way forward.
"In that spirit, we together look forward to productive and constructive discussions, which will contribute to the building of a people-centered and people-oriented ASEAN Community, where voices of the people are heard, where people's organizations can cooperate with the governments and all other stakeholders, and where "no one is left behind", Mr. Phan Anh Son said.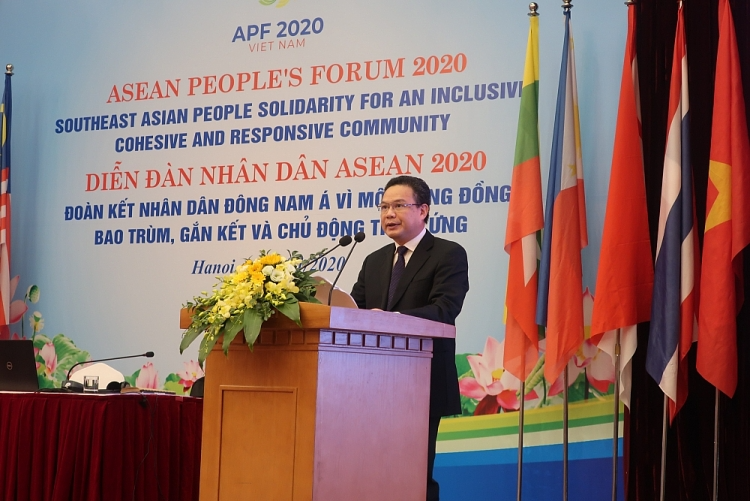 Deputy Minister of Labor, Invalids, and Social Affairs Le Van Thanh spoke at the opening ceremony of APF 2020.
At the ceremony, Deputy Minister of Labor, Invalids, and Social Affairs Le Van Thanh said that in 2020, ASEAN in particular, and the whole world, in general, are coping with unprecedented challenges and impacts caused by the Covid-19 pandemic, affecting millions of households and labors. The pandemic along with other challenges such as climate change, are the tests for governments and people to cope with different problems including epidemics, especially disadvantaged and vulnerable groups. In that context, ASEAN needs to increase the readiness of government, people, businesses ... to be self-reliant, taking advantage of opportunities to overcome barriers.
"It is hoped that at APF 2020, delegates will have the opportunity to share their experiences, strengthen the spirit of solidarity, cohesion, and unity among social movements, ASEAN people's organizations. Concurrently, discuss and agree on measures to respond to common challenges in the region, increase the participation of people in the ASEAN decision-making process", Deputy Minister Le Van Thanh said.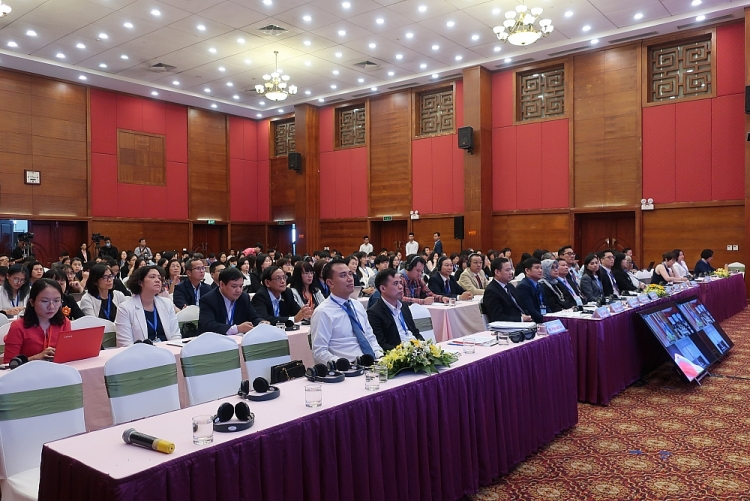 Overview of the ceremony.
In his online speech, Mr. Kung Phoak - Deputy Secretary-General (DSG) of ASEAN for ASEAN Socio-Cultural Community (ASCC), said that for ASEAN community-building efforts to be cohesive and responsive, every stakeholder, including ASEAN People's Forum (APF), has a relevant role to play. The constructive perspectives generated from this online discussion will be very helpful in the realization of the ASEAN community Vision 2025.
Mr. Kung Phoak emphasized: "ASEAN vision is clear, and its commitments are unwavering in raising the quality of life its peoples. After all, ASEAN is the people itself, ASEAN exists for the good of its people, ASEAN will continue to invest in building out capabilities, to listen to the people's needs, and do our best to lift the region's quality of life."
The ASEAN People's Forum was first started by Malaysia in 2005. Since 2008, the event is held annually in the country which holds that year's Chair of ASEAN.
Translated by Lyan Vu