State President's Trip to Russia Marks Great Success, Say Diplomats
"With a busy agenda, the Russia visit by Vietnamese President Nguyen Xuan Phuc was impressive," says Andrey Vladimirovich Yatskin, First Deputy Chairman of the Council of Federation (upper house) of the Federal Assembly of the Russian Federation.
President Nguyen Xuan Phuc holds talks with Russian President Vladimir Putin. (Photo: VNA)
Speaking to a Vietnam News Agency correspondent in Moscow on the visit, Andrey Vladimirovich Yatskin, First Deputy Chairman of the Council of Federation (upper house) of the Federal Assembly of the Russian Federation, said that the Vietnam-Russia relationship is experiencing a period of strong growth and need to be further reinforced.
He noted that the two countries share a special relationship not only in terms of politics but also in the sentiment of people of both sides towards each other, and the elevation of bilateral ties to a comprehensive strategic partnership in 2012 reflected their sound relationship.
Yatskin noted that the economic partnership between Vietnam and Russia is expanding impressively, with two-way trade reaching 5.7 billion USD in 2020, up 15 percent year on year despite Covid-19 impacts. This year, the figure is expected to hit 6.5 billion USD. He attributed the results to the efficiency of the free trade agreement between Vietnam and the Eurasian Economic Community (EAEC) that was signed in 2015, Nhan Dan reported
At the same time, the two countries have enjoyed sound cooperation in science, with Russian atomic firm Rosatom supporting the building of an atomic science and technology center in Vietnam, he said. Besides, the two sides boast a high potential of cooperation in information security as it is a strength of Russia, he said, suggesting that both sides should make the digital economy a new cooperation pillar.
The legislative leader said that Covid-19 is a test for bilateral ties, and Vietnam and Russia have given each other great support. Vietnam is among the first countries in Southeast Asia to permit the use of the Russian-made Sputnik V vaccine and also one of the first to produce the vaccine, he noted.
Over the education field, he said that this is an important cooperation area of both sides. Thousands of Vietnamese experts have been trained in Russia, he said, adding that this year, about 1,000 Russian scholarships have been granted to Vietnamese students. Currently, Russia is hosting about 6,000 students, post-graduates, and apprentices from Vietnam.
Yatskin highlighted that during the Vietnamese leader's visit, a series of cooperation agreements were signed between the two countries in trade and trade as well as other sectors. Parliamentary collaboration between the two sides has received increasing attention, he said, stressing that parliamentarians of both sides are responsible for supporting the implementation of initiatives raised by leaders of the two sides and help remove barriers hindering the bilateral partnership through parliamentary dialogues that they are developing.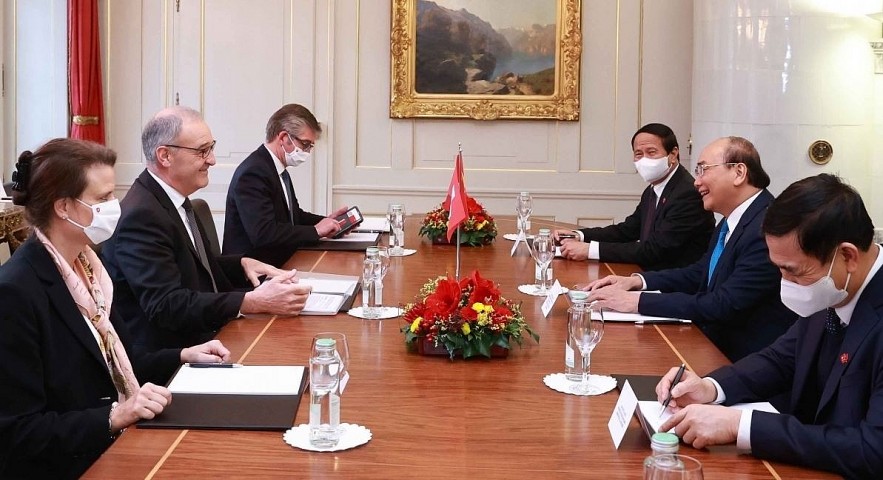 Vietnamese President Nguyen Xuan Phuc and Swiss President Guy Parmelin hold talks in Bern. (Photo: VOV)
Vietnamese Deputy Foreign Minister To Anh Dung said president Nguyen Xuan Phuc's recent trip to Switzerland and Russia was successful in many ways, according to VOV.
According to the diplomat, the President's visit to Switzerland from November 25-28 was of great significance as it marked 50 years of bilateral diplomacy and 30 years of bilateral development cooperation.
Politically, he said the two sides reached a high consensus on measures to strengthen bilateral and multilateral relations commensurate with the two countries' potential, strengths, and needs. They shared their visions on regional and global strategic issues, stressing the importance of maintaining peace, stability, security, and maritime safety in the East Sea in accordance with international law.
President Nguyen Xuan Phuc and Swiss President Guy Parmelin personally attended and delivered speeches at the Vietnam - Switzerland Business Forum with the participation of more than 100 businesses, including many leading enterprises of the two countries. They witnessed the signing of a number of important cooperation documents on Covid-19 treatment, vaccine production, banking and finance, technology application in urban development, and aviation. Notably, the visit gave the two countries the chance to work together toward early signing a free trade agreement (FTA) between Vietnam and the European Free Trade Association (EFTA), in which Switzerland plays a leading role.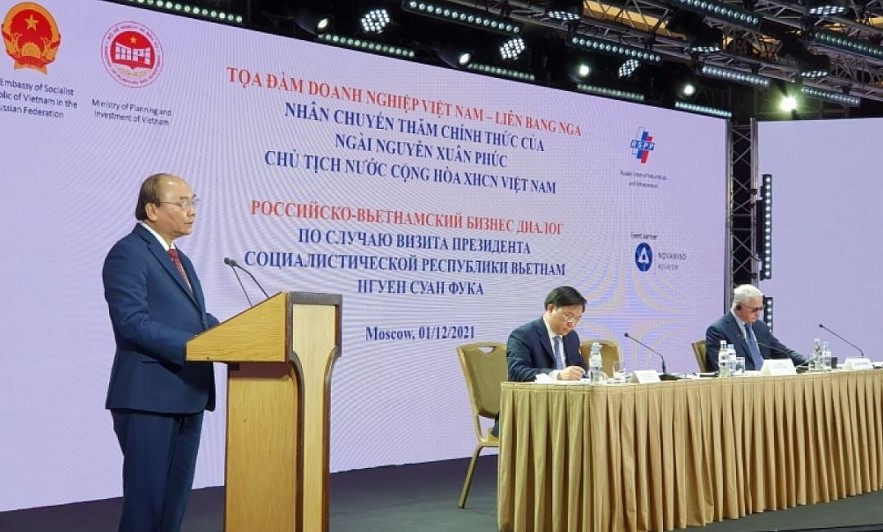 President Nguyen Xuan Phuc speaks at the Vietnam - Russia business forum in Moscow. (Photo: VOV)
Russia's Independent newspaper published an article by Grigory Lokshin, an expert from the Centre for Vietnam and ASEAN Studies under the Russian Academy of Sciences' Institute of Far Eastern Studies, said Russia is one of the destinations on the first foreign trip of President Nguyen Xuan Phuc, which reflects the importance of the Russia-Vietnam relationship.
It noted that when he was Prime Minister of Vietnam, Phuc also visited Russia in 2019 and the visit had achieved great success with the signing of a series of agreements to promote bilateral cooperation in many fields including economy, trade, security, and defense, it said.
The article stressed that collaboration with Vietnam has long been an important orientation in Russia's "pivot to the East" policy and has become increasingly relevant given the current international situation. This orientation is not intended to replace Russia's main partner in Asia, but to diversify Russia's economic and trade relations with the east.
According to the article, Russia-Vietnam relations are based on equality and mutual respect, non-interference in each other's internal affairs, mutual trust in politics and the military. This is a "strategic" relationship because it is built for the long term, it said, adding that the relationship not only is defined by understanding and good memories of the past but also suits mutual interests. Over the years, the two countries have established an active political contact and dialogue mechanism at all levels, creating a solid foundation for bilateral political cooperation.
Regarding economic-trade cooperation between Russia and Vietnam, the author said that the current scale of economic-trade relations between the two countries is still not commensurate with the level of political relations and the available potential. Russia's senior leaders have repeatedly mentioned Vietnam's potential as an economic and strategic partner, and Russia's foreign policy is also developed in this direction.
However, due to the geographical distance and the poor transport infrastructure connection, the economic and trade relations between the two countries are still limited.
To create a new impetus for this relationship, Lokshin suggested that Russia should first pay attention to developing sea transport to connect ports in Russia's Far East region with Vietnam. He also recommended that the two sides need to develop a direct communication channel between businesses of the two countries and other contacts through non-government organizations and the scientific community to contribute to promoting cooperation between the two nations.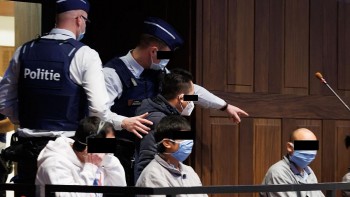 Overseas Vietnamese
Belgian court sentenced smuggler organization over 39 Vietnamese victims found dead in sealed lorry container in Essex.