Strengthening Diplomacy Between Vietnam, Japan via Cultural Exchanges
The Vietnam - Japan Friendship Association held a meeting with the Japan International Friendship Association (JIFA) delegation on Feb 13 in Hanoi, discussing integration of cultural actitivities to tighten the friendship between Vietnamese and Japanese people.
At the exchange, President of JIFA Ikeda Setsuko expressed her deep gratitude for the reception of the Vietnam - Japan Friendship Association during JIFA's trip to Vietnam introduced an overview of the organization's activities in Vietnam.
Ikeda stressed that, for many years, JIFA has worked on many projects to support and assist the rural sector of Vietnam. Since 2012, JIFA has implemented a program to support water purifiers at schools in some localities, mainly Ha Tinh, so that students can access safe water resources.
Also, since 2014, JIFA has organized annual scholarships for disadvantaged students in Ha Tinh. Last year, a total of 200 students recieved scholarships from JIFA, each worth VND 1.8 million (US $76.2).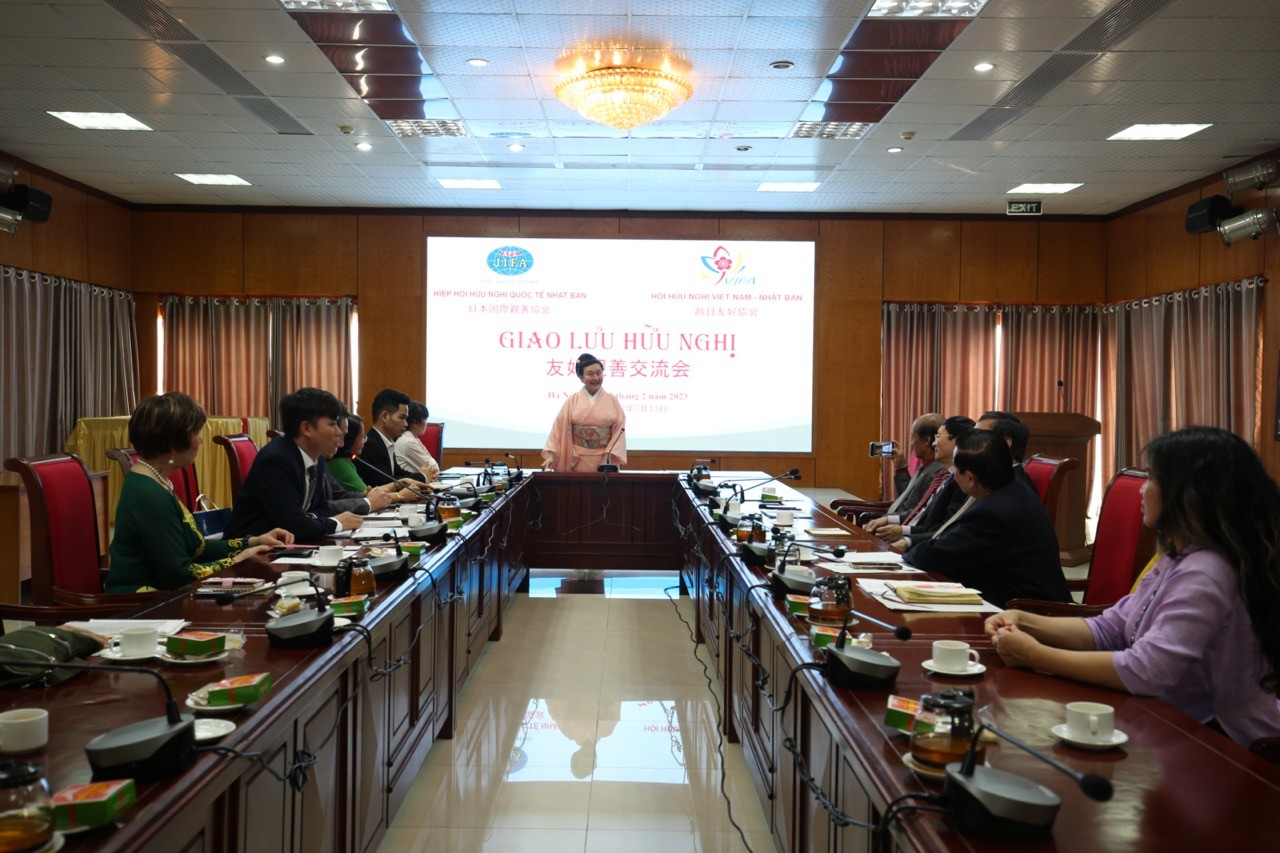 Japanese artist Yoko Kanda (middle) performed Kodan at the event (Photo: Nhung Nguyen).
JIFA also organized many seminars to provide information on study and job opportunities in Japan through technical internship programs, full scholarship programs, strengthening cooperation and promoting the program for sending interns from Ha Tinh province to Japan at low cost.
This is toward the implementation of the "Zero Fee" plan, allowing disadvantaged students and young people to study and work in Japan without having to pay the recruitment agency.
"JIFA wishes to help improve quality human resources for Vietnam, so that when they return to their homeland, they will be a factor in attracting foreign investment, including Japanese enterprises. It is expected that in April and May 2023, JIFA will send Japanese teachers to Ha Tinh province for the language training at labor export companies in this province," said Ikeda.
JIFA also wishes to coordinate with the Vietnam - Japan Friendship Association to organize cultural exchange activities, contributing to strengthen the friendship between people of the two countries.
In respone, Standing Vice Chairman of the Vietnam - Japan Friendship Association Bui Khac Son highly appreciated JIFA's cooperation activities and programs in recent years.
Son affirmed that the practical and effective activities and programs of JIFA in Ha Tinh have made an important contribution to human resource development, job creation and support poor students overcome difficulties in the province.
According to son, the Vietnam - Japan Friendship Association as well as the Associations in localities are actively preparing activities to celebrate the 50th anniversary of the establishment of Vietnam - Japan diplomactic relations (September 21, 1973 - September 21, 2023).
Both sides agreed to develop and have regular cooperation relationship, especially for activities to welcome Japanese friends to Vietnam and vice versa.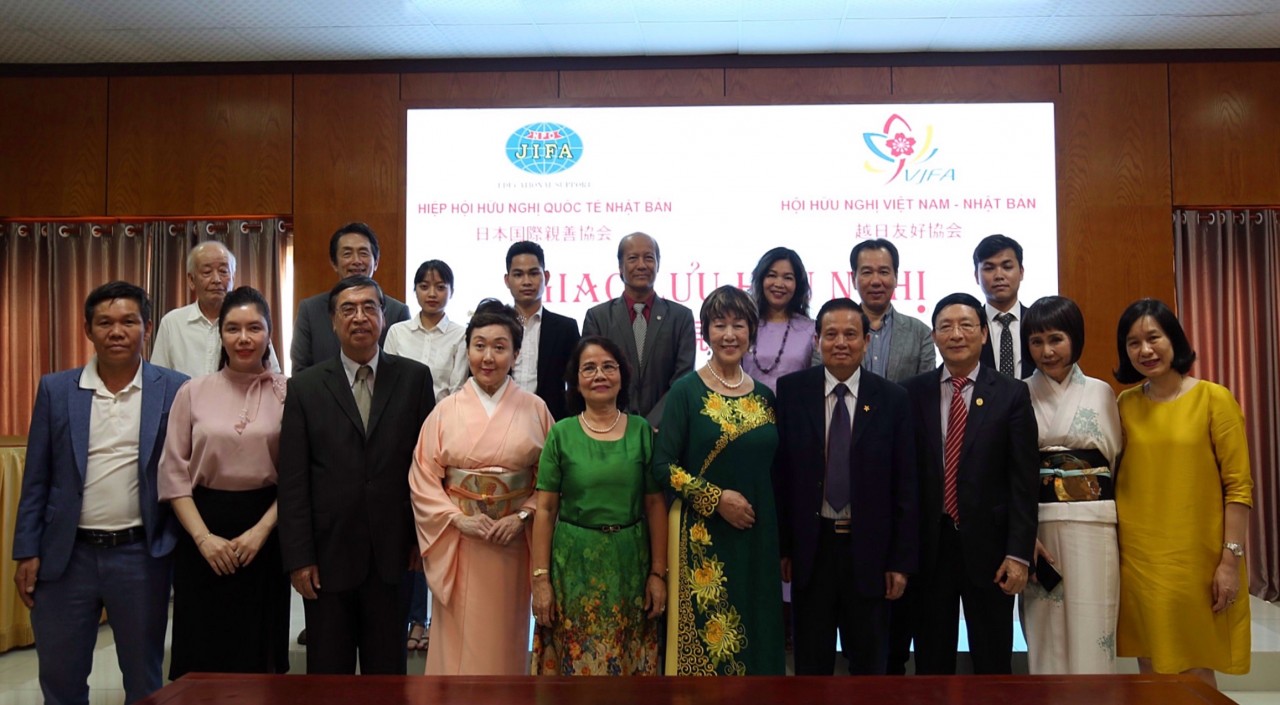 Vietnamese and Japanese delegates at the event (Photo: Nhung Nguyen).
At the event, members from both sides had many special art performances, including singing performance and Kodan - the traditional art of storytelling. Kodan has a special, theatrical direction of conveying and enhancing language ability. Many Vietnamese students learn Kodan to gain cultural understanding about Japan, said JIFA representative.
Milestones in Vietnam - Japan relations
Vietnam and Japan have become important partners of each other since they established diplomatic ties 50 years ago (September 21, 1973 - September 21, 2023). Since 2014, the two country upgraded their ties to an extensive strategic partnership for peace and prosperity in Asia.
In recent years, the bilateral relationship has developed rapidly to the best stage since the establishment of relations. Investment has increased as businesses have sought resources in Vietnam. Trade has increased, and so have security and defense ties, with many Japanese vessels visiting Vietnam. A growing number of Vietnamese apprentices have come to Japan and are a reliable human resource for Japan. Vietnamese Prime Minister Pham Minh Chinh is also is the first guest of Prime Minister Kishida Fumio since he took office in early October 2021.
Vietnam and Japan organize regular exchanges in a spirit of sincerity, friendship, trust, honesty, practicality, and efficiency in key areas like economics, healthcare, COVID-19 vaccines and treatment, security and defense, and cooperate at multilateral forums on global issues of mutual concern.