Super typhoon slams into China after pummelling Philippines, Hong Kong
A super typhoon made landfall in China's Guangdong on Sunday (Sep 16), the country's most populous province, killing at least two people and causing millions to be evacuated.
A super typhoon made landfall in China's Guangdong on Sunday (Sep 16), the country's most populous province, killing at least two people and causing millions to be evacuated.
A woman uses her umbrella as she walks past collapsed bamboo scaffolding hanging from a building during Super Typhoon Mangkhut in Hong Kong on Sep 16, 2018. (Photo: AFP/Anthony Wallace)
Typhoon Mangkhut, dubbed the "King of Storms" by Chinese media, made landfall in Haiyan town at 5pm, after wreaking havoc in Hong Kong and Macau and killing more than 50 people in the Philippines.
Ports, oil refineries and industrial plants in Guangdong have been shut. Power to some areas was also reduced as a precaution. In Shenzhen, the electricity supply to more than 130,000 homes was cut at one point on Sunday.
Waves crash onto the coastline in Zhuhai in southern China's Guangdong province on Sep 16, 2018. (Photo: Xinhua via AP/Liang Xu)
The storm has fuelled concern about sugar production in Guangdong, which accounts for a tenth of national output at about 1 million tonnes. China sugar futures rose last week on fears for the cane crop.
Guangdong is also China's most populous province, with a population of more than 100 million.
According to state media, two people were killed in Guangdong due to the typhoon as of 8pm on Sunday.
More than 2.45 million people have been relocated and 48,000 fishing boats called back to port in the province. Work at more than 29,000 construction sites has been suspended.
State television showed scenes of crashing waves, inundated streets and trees half-bent by the strong winds as Mangkhut unleashed its power.
People with umbrellas walk against strong winds from Typhoon Mangkhut at Nanshan District in Shenzhen on Sep 16, 2018. (Photo: Xinhua via AP/Mao Siqian)
Shenzhen airport, shut since midnight, will be closed until 8am on Monday. Flights have also been cancelled in Guangzhou and the island of Hainan, China's southernmost province.
High winds and swells also hit Fujian province north of Guangdong, shutting ports, suspending ferry services and cancelling more than 100 flights. Waves as high as 7.3m were sighted in the Taiwan Strait, the official Xinhua news agency reported.
Packing winds of more than 200kmh at its peak, tropical cyclone Mangkhut is considered the strongest to hit the region this year.
Its strength outstripped that of Hurricane Florence, which achieved maximum sustained winds of 150kmh when it roared into North Carolina in the United States on Friday.
The eye of Mangkhut, the Thai name for Southeast Asia's mangosteen fruit, skirted 100km south of Hong Kong but the former British colony was still caught in the typhoon's swirling bands of rain and gale-force winds.
Hong Kong raised its highest No 10 typhoon signal mid-morning as ferocious winds uprooted trees and smashed windows in office and residential buildings, some of which swayed in the gusts, residents said.
"It swayed for quite a long time, at least two hours. It made me feel so dizzy," said Elaine Wong, who lives in a high-rise tower in Kowloon.
Water levels surged 3.5m in some places and waves swamped roads and threw up live fish, washing into some residential blocks and a mall in the eastern Heng Fa Chuen district.
"It's the worst I've seen," resident Martin Wong said. "I've not seen the roads flood like this (and) the windows shake like this before."
People walk through a flooded shopping mall in Heng Fa Chuen district during Super Typhoon Mangkhut in Hong Kong on Sep 16, 2018. (Photo: AFP/Philip Fong)
A man takes pictures against strong winds from Typhoon Mangkhut on the waterfront of Victoria Harbour in Hong Kong on Sep 16, 2018. (Photo: AP/Vincent Yu)
Flight cancellations at Hong Kong's international airport, a major regional hub, disrupted the plans of tens of thousands of travellers. Airlines such as flagship carrier Cathay Pacific cancelled many flights last week.
In the Philippines, the death toll surged to more than 50 people, with most killed in landslides in or near mountainous areas of the Cordillera region.
Francis Tolentino, an advisor to President Rodrigo Duterte and head of the government's disaster coordination, said the latest number of casualties was 33 dead and 56 missing.
But the head of the military's Northern Luzon Command, Emmanuel Salamat, told Reuters that at least 19 more were killed in landslides in one part of Benguet province.
The 19 who died were part of a bigger group of 43 people, likely miners, and those who were still alive were feared to be trapped in an old mining bunkhouse that had collapsed under rubble, Salamat said.
Search and rescue missions were ongoing, and a local mayor in Benguet, Victorio Palangdan, said he feared the number killed there could be more than 100.
Separately, the coastguard said it had recovered the bodies of three people.
A view of landslide caused at the height of Typhoon Mangkhut that buried people at a mining camp in Itogon, Benguet in the Philippines, September 16, 2018. REUTERS/Harley Palangchao
In Macau, which took the unprecedented step of halting casino gambling late on Saturday, there was serious flooding of up to 2.5m, authorities said, with some people having to be rescued from homes on rubber dinghies.
"The suspension is for the safety of casino employees, visitors to the city, and residents," said authorities in the world's largest gambling hub, who faced criticism last year after a typhoon that killed nine and caused severe damage.
Around 20,000 Macau households also suffered a power blackout, local media reported.
Travelling at 30kmh, Mangkhut will continue on its northwesterly track, bringing heavy rain and winds to the autonomous region of Guangxi early on Monday.
It is expected to weaken into a tropical depression when it reaches southwestern Yunnan province the early hours of Tuesday./.
VNF/Reuters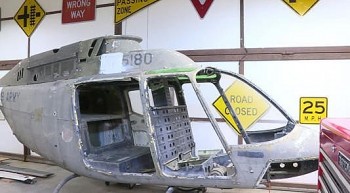 World
A piece of military history related to Vietnam is coming to life with a special project in a small Barton County townm in the US