Tackling post-war legacies: A long way ahead
Vietnam has put a lot of effort into removing explosives remnants of war (ERW), but the issue is still a great challenge for the country.
EOD team members fill in sandbags to be used as protective work. Photo: NPA-RENEW
An Explosive Ordnance Disposal (EOD) team managed by Norwegian People's Aid – Project RENEW on November 13, safely destroyed in situ a cluster bomb found in a clan temple under construction in Cua Viet Townlet, Gio Linh District, Quang Tri Province.
58-year-old Mai Van Tam, head of the Mai Van clan, who made an emergency call to the UXO hotline number, felt grateful to the NPA-RENEW team for their quick response to remove an immediate threat for local people. "Thanks to the team's timely action, now we can finish the temple construction without interruption as the rainy season has already come," said Tam.
Earlier, an EOD team of NPA-RENEW has safely destroyed a cluster munition in the foundation of 42-year-old Phan Van Ha's new house in Cua Viet Townlet, Gio Linh District. The cluster munition was found yesterday by local workers when they were digging the foundation. Being afraid that children from a nearby school might encounter the dangerous ordnance, Ha immediately reported the shocking discovery to the local authorities and asked the workers to suspend their work.
On November 6 morning, NPA-RENEW's EOD Team No. 2 arrived and met with Ha who led them to the bomb location. Identifying the device as a BLU63 bomblet, Team Leader Hoang Kim Chien ordered his team members to destroy the device in situ.
The detonation is captured by a GoPro camera. Photo: NPA-RENEW
NPA Survey & Clearance Program implemented at Project RENEW is funded by the US Department of State and the DFID - UK Department for International Development, and a cooperation project between NPA and Quang Tri Province Department of Foreign Affairs.
Incomplete statistics show the number of bombs left after the war in Vietnam is about 800,000 tonnes, with the total area suspected of bomb and mine pollution about 6.13 million hectares, accounting for 18.71 per cent of the country, according to the Vietnam National Mine Action Centre (VNMAC).
The largest amount is said to be in central provinces.
From 1975 until now, bombs and mines have killed more than 40,000 people and injured 60,000.
The clean-up of wartime debris will likely continue for years. However, children and adults can be safe if they are educated about UXO risks and provided with guidance on what to do when they encounter ERW around their homes and gardens, roadsides and school yards.
On November 12, a ceremony to announce the establishment of the National Action Centre for Toxic Chemicals and Environmental Treatment (NACCET) was held in Hanoi.
The organisation will be responsible for running tasks to overcome the post war consequences of chemical toxins to environment and humans; handling pollution of toxic chemicals and hazardous substances, overcoming incidents of toxic chemicals and environment nationwide; and building and managing a database on overcoming post war consequences of toxic chemicals.
Over the next five years, USAID has committed more than USD 65 million to work with the Ministry of Defence, Office 701 and the NACCET to implement the next phase of US's support for persons with disabilities, according to Deputy Chief of Mission at the US Embassy in Hanoi Caryn McClelland.
The NACCET will also carry out research and technology transfer to help overcome post war consequences of toxic chemicals, handling pollution of toxic chemicals, hazardous substances, and toxic chemical incidents treatment.
It will be responsible for running programmes and working plans on overcoming post war consequences of toxic chemicals, as well as treating toxic chemicals, hazardous substances and overcoming incidents of toxic chemicals./.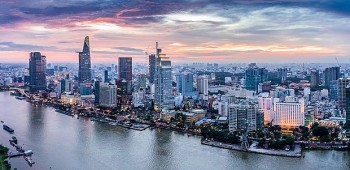 Economy
Japanese investors have been interested in the property market in Vietnam.