Taiwanese man spreads love to poor children in Vietnam
''My biggest wish is that the poor children I'm helping today will grow up mature, have a stable life and join hands to spread kindness to other unfortunate lives''.
That is the wish of Yu Li Fei, 64 years old, who has been through the Zhishan Foundation for many years to sponsor poor children in the central provinces of Vietnam.
Yu Li Fei always wear a T-shirt with Vietnamese national flag to show his love for Vietnam. Photo: giaoduc.edu.vn
The person who wings for the dreams of poor children
If it hadn't been for the meeting with members of Zhishan 13 years ago, the life of little Tran Thi Thanh Tam (in Thuy Chau commune, Huong Thuy district, Thua Thien – Hue province) would have turned to another direction.
Tam was born and raised without a father's love. She lives with her mother and grandmother in a small house. Tam's grandmother due to the sequelae of a stroke can only lie motionless. Her mother's health is weak and has undergone two operation of gallstones. The life of three people in that family is based on the precarious income of Tam's mother. Tam could not count all the deprivations she had experience during childhood, but it was certain that her education would soon stop.
Fortunately, when Tam was at grade 4 and at risk to drop out of school, Fei through Zhishan Foundation sponsored scholarship for her. Tam continued to go to school. She passed the examination of Hue University of Foreign Languages. She now has a job as a receptionist for a luxury hotel in Hue City.
As for Nguyen Thi Ai Quyen, a second year student at Hue University of Foreign Language, Yu Li Fei is an angel in her life. Quyen's father died early. Quyen's mother struggled alone with farming to raise her children. Thanks to Fei's sponsor during 11 years, Quyen's road to school was less difficult.
Over the past 10 years, Yu Li Fei has been quietly helping poor children in the central province of Vietnam. Up to now, he has been supporting for 8 unfortunate and difficult life. The dreams that he wings are bearing sweet results. He said, he will continue the journey until his legs are no longer strong enough.
Simply because I love Vietnam
The way Fei feeds the child is like a grandfather taking care of his grandchild
On September days, the students in Dakrong mountainous district (Quang Tri province) excitedly welcomed a special guest.
Fei said, this is the third time in 8 years he has returned to central Vietnam. Every time, he felt like coming home. Watching him feeding the children, it looks like a grandfather takes care of his grandchildren. In that moment, the border distance, the language difference was blotted out, only love remained.
Fei said, he knew Vietnam from a young age.
"I have special affection for poor Vietnamese students because I deeply admire the spirit of your country in the wars of resistance and national defendence, peace keeping. In Taiwan, I also met many Vietnamese who live and work there, I like them for their hard work and friendly and open personality.
Over the past 10 years, Yu Li Fei has quietly supported poor lives in the Central Regions. Throughout his volunteer journey, he always wears a shirt with the Vietnamese national flag. He said he had about 15 such shirts.
In his story with poor children sponsored by himself, he did not expect big things. He said: "I always encourage them to try their best in learning and to rise up in life to have a better future. My biggest wish is that they will have a stable job, then continue to help other poor children to give them the opportunity to go to school".
VNF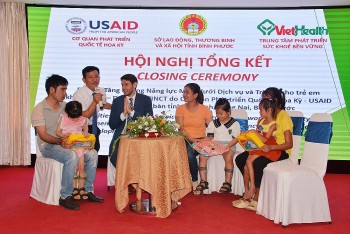 Viet's Home
USAID joined local officials, partners and beneficiaries in celebrating the completion of a six-year project that supports early detection and intervention for children with special education needs, promoting inclusion and creating greater opportunities for them in three southern provinces of Vietnam.