Thailand Interested in Energy Cooperation with Vietnam
Vietnam and Thailand should hold the second energy forum to promoter energy cooperation, said Thai Deputy Prime Minister and Energy Minister.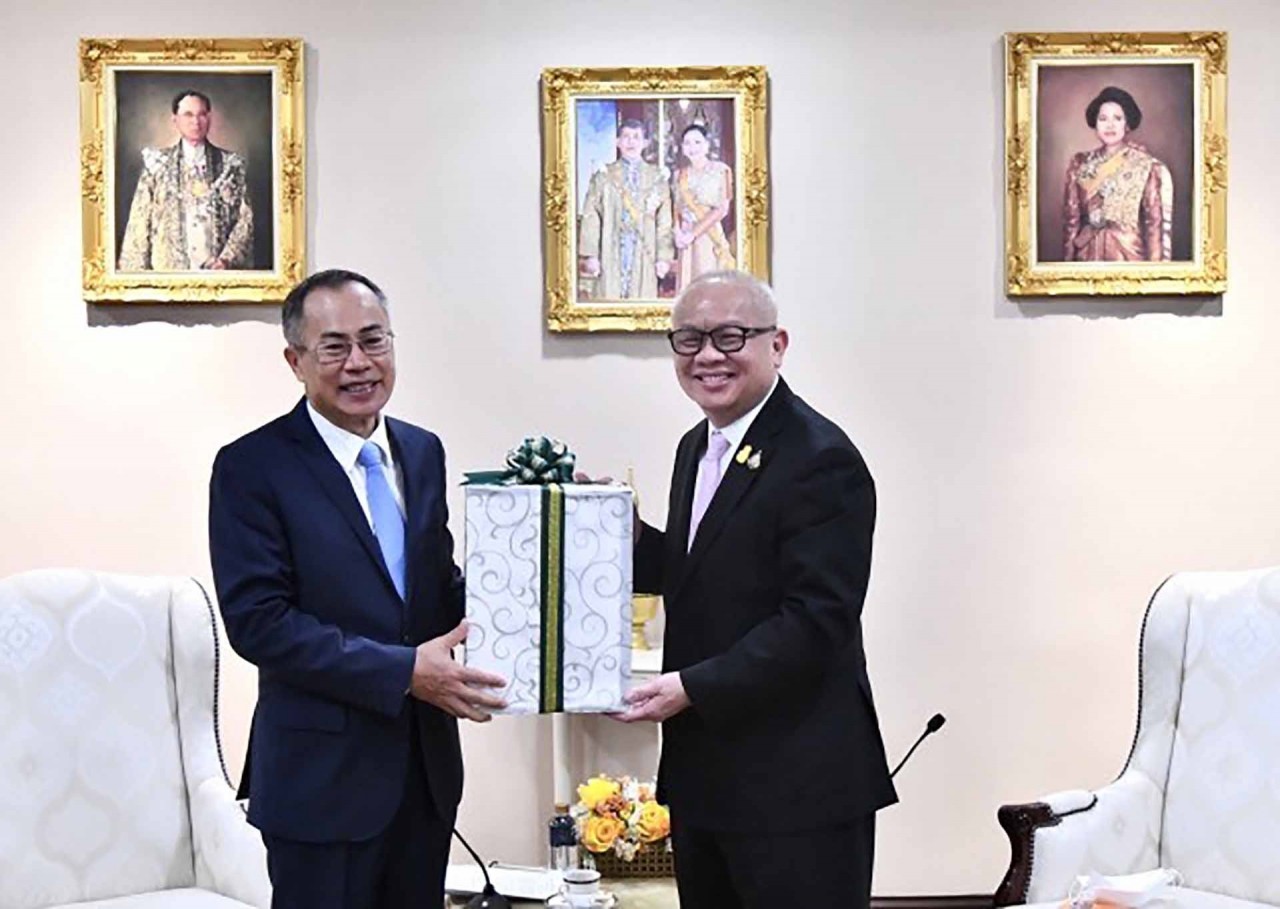 Thai Deputy Prime Minister and Energy Minister Supattanapong Punmeechaow and Vietnamese Ambassador Phan Chi Thanh. Photo: baoquocte.vn
Thai Deputy Prime Minister and Energy Minister Supattanapong Punmeechaow lauded Vietnam's rapid economic development over the past years, especially in energy, during his meeting with Vietnamese Ambassador Phan Chi Thanh on July 1.
He suggested Vietnam and Thailand hold the second energy forum in Thailand in August to promoter energy cooperation.
The Thai official affirmed his support for Thai firms to invest more in Vietnam's energy sector, particularly clean energy, and shared his country's experience in market development and investment promotion in this field.
Punmeechaow expressed his hope that the Vietnamese Embassy in Thailand will continue to serve as a bridge for energy collaboration between the two countries.
At the meeting. Photo: VNA
For his part, Thanh stressed that the Vietnamese government always attaches importance to Thai projects, especially in clean energy, and noted his support for the organisation of the energy forum next month, which will be an opportunity for the two sides to discuss cooperation potential, step up energy cooperation, and seek solutions to difficulties and challenges facing these projects.
The ambassador suggested the Thai energy ministry continue its close coordination with the Vietnamese Ministry of Industry and Trade to promote cooperation programmes and all-level delegation exchanges to raise the efficiency of energy cooperation.
At the first Vietnam-Thailand Energy Forum, which opened in the central coastal province of Binh Dinh in 2015, the event has concretises the joint statement on energy bilateral cooperation signed in 2012.
The two-day forum provided a valuable opportunity for Vietnamese and Thai policymakers and enterprises to discuss solutions and plans to promote collaboration in the field.
Vice President Vo Thi Anh Xuan met with Thai Prime Minister Prayut Chan-o-cha in Bangkok on June 24, affirming that Thailand is always one of the leading partners of Vietnam in the region.
Vice President Xuan, who is in Thailand to attend the 2022 Global Summit of Women, said Vietnam always creates optimal conditions for Thai firms to invest and do business in fields matching both sides' interests, including energy, automobiles, food processing, textile - garments, electronics, and infrastructure development.
The PM agreed to step up cooperation to foster economic, trade and investment ties, as well as connections between Vietnamese and Thai localities.
Coal-fired power is making up one-third of Vietnam's total output. The country looks to reduce the proportion of this type of electricity to about 9.5% and raise renewable energy to 32% by 2045. It is also encouraging low-carbon power sources to cut down emissions and support renewable energy.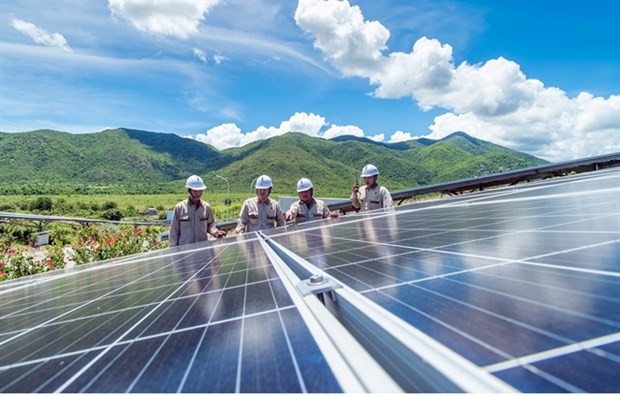 Solar power panels installed at a project in Ninh Thuan province. Photo: VNA
As one of the fastest growing economies in Southeast Asia with a great need for renewable energy transition, the Government of Vietnam has developed a number of mechanisms and policies to stimulate a robust development of renewable energy.
Vietnam's solar PV capacity increased from merely 86MW in 2018 to about 16,500MW in 2020, making it the country with the largest installed solar energy capacity in ASEAN. Furthermore, the country was also among the top global 10 countries with the most installed solar capacity in 2020.
In terms of wind power potential, Vietnam has very favourable climate and terrain conditions for wind power development, and investment prospects are bright.
Vietnam has the largest wind resource in the region with an estimated potential of 311GWs, thanks to the country's long and narrow geography (the country boasts 3,000 kilometres of coastline, including hills and mountains). According to a World Bank study, more than 39% of areas in Vietnam have an annual wind speed of more than 6m/s (at 65m height), equivalent to wind energy of 512GW. As much as 8.6% of land and water areas in the country are deemed suitable for large wind farms.