The 25-year journey of a US veteran's daughter who saves hundreds war victims
When the American war in Vietnam broke out, Susan was just a little girl in kindergarten. She and her siblings were too young to understand about a war being fought in the other side of the globe. To them, it was only something broadcast on television and radio, something which took their Dad away from home for years. 
(VNF) - "If my dad knows about what I have done, he would have been very pleased", said Susan Hammond, founder and executive director of War Legacies Project.
Susan presents 'compassion house' to a family of AO/Orang victims. Photo: dacamvietnam.vn
Two years later, Susan's father returned safely, or at least appeared to be so. He never talked to his kids about the war. Regarding Vietnam, he only told his sons and daughters about how beautiful the country was, especially the places he had been to, like the Central coast.
Spring 1991, the 26-year-old Susan set foot on the land of Vietnam for the first time. The beauty of natural landscape definitely took her breathe away, however, at the same time, she was shocked while seeing a very poor country, "still with bombed-out buildings and war invalids begging on the streets", Susan recalled.
At the same time, she found a postwar generation eager to pick up the pieces and move forward. And she knew she would return to the country, to join hand with the people in postwar recovery effort. "It was a country on the verge of great change and I wanted to be part of it," she told herself.
But Susan could never imagined how the trip later would change her life and many other's lives.
In 1996, after completing her Master programme, Susan came back to Vietnam. At that time, she worked as Vice Director of the Fund for Reconciliation and Development (FFRD), alongside its founder and Director John McAuliff.
Most of the projects then was to promote people exchange, education, linking up US NGOs and universities to Vietnamese needy communities, to launch projects benefiting the country.
It was also a sad time, when during these days, Susan's father was diagnosed with Parkinson disease, which was linked to the effect of herbicide US army used in the war in Vietnam.
"We now know that this is one of the many devastating health and environmental effects that can be attributed to Agent Orange (AO), the herbicide U.S. forces used in Vietnam", she said.
Saviors of hundreds misfortunate lives
Witnessing her own father's situation, Susan became more awared of how the toxic AO/Dioxin and other war legacies had been impacting millions of Vietnamese people's lives:
Susan said, what really pushed her to support Vietnamese postwar victims were the truth that Vietnamese AO/dioxin victims in Vietnam are far less fortunate than her father. While in US, Susan's Dad and his peers were supported by Veterans Foundation, in Vietnam, during the 1990s, the welfare for AO/dioxin victims were modest, due to the underdeveloped economy.
In 1999, Susan decided to found War Legacies Project (WLP). The idea was endorsed by John McAuliff, Director of FFRD, who suggested Susan to launch her own organization to help Vietnam in addressing war consequences, when FFRD shifted its focus to Cuba.
In nearly 20 years, WLP has mobilized around USD 500 thousands from its donors, to bring a better future to war victims. Most of the work focuses on house repair, livestock for household economy, wheelchairs, prosthetic limbs, early intervention, special education for the affected.
Despite its humble size in terms of financial value, WLP's projects are distinctively meaningful to beneficiaries, when it reached to needy inpidual or household directly and in the long term.
It is hard for Susan to recall how many lives have been changed by her organization.
According to Susan, among hundreds of people she has met, the case of Phu and Phi is the most unforgettable one. Being affected by AO, during their first 20 years, the two brothers could not move on their own. Most of the time, they stayed home. The only way to travel was being carried on mother's back.
Their lives have changed since 2007, thanks to special gift from Susan: electric wheelchairs, which enable them to move freely, more confidently on their own. They began to be able to help not only themselves, but also others. They later became tutors for kids in the village. Their small house was turned into a classroom, with teaching equipment sponsored by WLP.
In addition to stationeries, desk, chairs, in nearly 10 years, WLP has been sponsoring the two brothers Internet connection expense, in order to help them connect with the world outside and enrich their mind.
Internet is also the platform for Susan and the two brothers to contact regularly, despite they are from the two sides of the globe.
In the last 10 years, Susan never forgot to visit the two brothers at least once a year, to keep herself updated of their situation.
Optimistic, diligent and dynamic, Phu and Phi is the pride of Susan. "They are always full of energy, enthusiasm in their tutoring work…" said Susan in her trip to Vietnam in mid 2018.
However, in her latest visit to Vietnam in April 2019, Susan seemed to be very emotional while she was asked about Phu and Phi, since Phu just passed away not long ago, due to pneumonia.
For Susan, Phu's smile is something she'll forever remember. " He is such a beautiful man!", said Susan, while recalling the positive spirit of Phu.
The lives of two brothers Phu and Phi have been transformed by Susan. Photo: WLP
Reaching further the helping hand
Currently WLP has been continuing their work with the Quang Nam provincial Red Cross to lend direct support to over 20 families of AO victims.
WLP is also assisting schools teaching disabled children in Nam Dong district, Thua Thien – Hue province in terms of early intervention and physical therapy.
Susan's happiness is to bring happiness to the less fortunate. Photo: dacamvietnam.vn
25 years accompanying Vietnam on the journey of settling war consequences, is never enough for Susan. She has been reaching her helping hands further. Susan's beneficiaries nowadays are not only war victims, and not only Vietnamese.
For the year 2019, Susan has already set her target of reaching to more in-need lives:
"We hope to be able to help at least 30 families and/or inpiduals in Vietnam this year. As well as up to 100 people with disabilities in southern Laos that live along the former Ho Chi Minh Trail that was heavily bombed and heavily sprayed with herbicides," says Susan.
In January, Susan launched a Birthday Fundraiser on Facebook, urging friends and the public to donate to WLP.
Recently, she was delighted to share about an initial specific result of the fundraising:
"Best part of holding a Birthday Fundraiser is when you get to start paying it forward. Today in Phu Ninh district, Quang Nam province in central Vietnam I was able begin the process. Gia Vy has cerebral palsy and is in need of leg braces to help him walk. His father broke both of his legs in an accident at work as mason assistant. As he is unable to work for several months the family's income, normally just less than $50/month, is even tighter. With the help of some of my birthday donations Gia Vy will be able to go to Da Nang to be fitted for the leg braces. Thank you again to all who donated!"
For more information about Susan's fundraising and WLP works, visit: https://www.facebook.com/WarLegaciesProject/
( P.Y )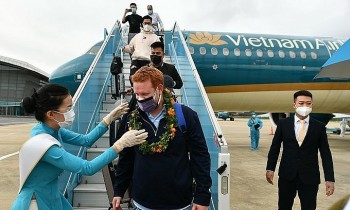 National
Vietnam News Today (Jan. 29): Vietnam records 14,892 new local Covid-19 cases; PM orders prioritizing pandemic control for safe and warm Tet; Vietnam scraps rapid Covid test requirements for int'l passengers; Vietnam-Australia trade hits all time high in 2021.