The Love for Vietnam of a Special Indian Artist
Diagnosed with Down Syndrome as a baby, Indian artist Karishma Kannan has done extraordinary things to support disadvantaged children and give back to Vietnam, a place that she calls her second home.
A difficult childhood
Indian artist Karishma Kannan was born in 1991. In the Indian language, Karishma means "miracle."
At four months old, she was diagnosed with Down syndrome that caused physical and intellectual disabilities. As her condition was detected early on, Karishma was sent to specialized schools for treatment.
Karishma underwent numerous therapeutic exercises throughout her early childhood. Not until she was two did Karishma take her first steps and babble a few words. It also took her more than three years to be able to eat soft food.
Karishma's immune system was highly vulnerable. Even the slightest changes in the weather were enough to affect the young girl.
In the following years, Karishma continued to take medications and attended special classes to improve her condition. She began to show her passion for dancing when her family moved to Chennai. Karishma's parents were elated to know about her hobby and tried to create favorable conditions so she could pursue what she loved. The family picnics also helped Karishma to be more open and communicative.
Indian artist Karishma Kannan. Photo: Tuoitre.vn
An artist with a great love for Vietnam
The turning point happened when Karishma's family moved to HCMC for work in 2008. In the city that Karishma called her second home, Karishma's parents took her to various classes from yoga, weaving to making pottery and gardening so she could adapt to the living environment in Vietnam.
Karishma also took classes with the British teacher and artist Cyndi Beaumont. It was Cyndi who unleashed Karishma's potential and helped her to become the special artist that she is today. After class, Cyndi taught Karishma about colors, brushes and how to complete a painting.
Days by days, Karishma patiently took Cyndi's painting classes. For a person with Down syndrome, staying focused to draw a painting was a daunting task, but Karishma did not let her conditions deterred her artistic journey. She became an artist before she even reached 20 years of age.
"Like everyone else, I have my own challenges. I am slow and I cannot read or write like other people. I can only send my love through arts and paintings," Karishma said.
Painting has helped Karishma to integrate better into society. Photo: VnExpress
Karishma often draws paintings of landscapes, sometimes sand dunes in the golden afternoon, sometimes colorful gardens and sometimes the reflection of a city on a quiet lake. Her paintings exude a liberated spirit, love and belief in the best things in life.
At 20-year-old, Karishma opened her first exhibition in HCMC. In front of the art-loving guests who came to enjoy her paintings, Karishma was shy in her flowing red Ao dai. Although she could not say much, Karishma was elated when all her 45 paintings were sold after one session. Karishma donated the money she earned from selling her paintings to support disadvantaged and orphaned children in Vietnam.
In 2015, Karishma's family returned to India, where she opened a yoga, dance and zen studio titled Studio 21UP to help children who share similar situations with her.
Karishma

donated the money she earned from selling her paintings to support disadvantaged and orphaned children in Vietnam. Photo: VnExpress
Recalling the eight years that she spent in Vietnam, Karishma said she could never forget the boisterous city. For Karishma, Vietnam was a second home, which has given her opportunities to discover about her own self and make the most important milestones of her life. As such, many of her paintings depict family scenes in HCMC and poetic sceneries in Vietnam.
Although she has returned to India, Vietnam occupies a special place in Karishma's heart. She yearns for a day she can come back to Vietnam and help disadvantaged people.
"When I was in Vietnam, I always felt at home. I was supported and loved by everyone. Because of that, I am happy to be able to help children like me," Karishma said.
"I can, you can, we all can" has been Karishma's motto for the past 10 years. Photo: VnExpress
"I can, you can, we all can"
After the exhibition in 2011 that brought her VND 230 million, Karishma opened three more exhibitions in 2013, 2015 and 2018 respectively. She continued to wear Ao dai during the following exhibitions to express the sentiments that she had for Vietnam.
Her courage and determination impressed Abhay Thakur, Consul General of India at the time. Abhay believed that she was a great diplomat and representative of the Indian community in Vietnam.
Karishma has sold over 100 paintings across four solo painting exhibitions and one auction. Her paintings have lighted up the belief in life for children with heart conditions, disabilities, and orphans in Vietnam.
Karishma's journey to overcome her challenges and create values for the community helped her to win the World Downs Syndrome International Award in 2014. She was also invited to deliver a speech at the headquarter of the United Nations in celebration of the 2019 World Down Syndrome Day.
Karishma is no longer the young timid girl standing quietly beside her paintings. She has fought with her challenges and created miracles just like the meaning of her name. Karishma is now an example and a trailblazer for children with special conditions across Vietnam.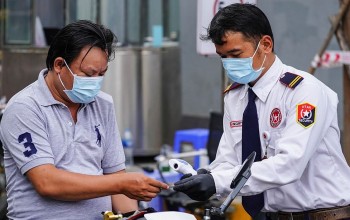 National
More than 1.12 million vaccine doses were administered in Vietnam on October 24. The country has now inoculated more than 74 million doses of vaccine to date, with over 21.46 million people fully vaccinated.