President Ho Chi Minh's Bust Presented in New Delhi, India
On the morning of September 1, the Vietnamese Embassy in India coordinated with the Ministry of Foreign Affairs of India and the New Delhi government unveiled a bust of President Ho Chi Minh during a ceremony in New Delhi.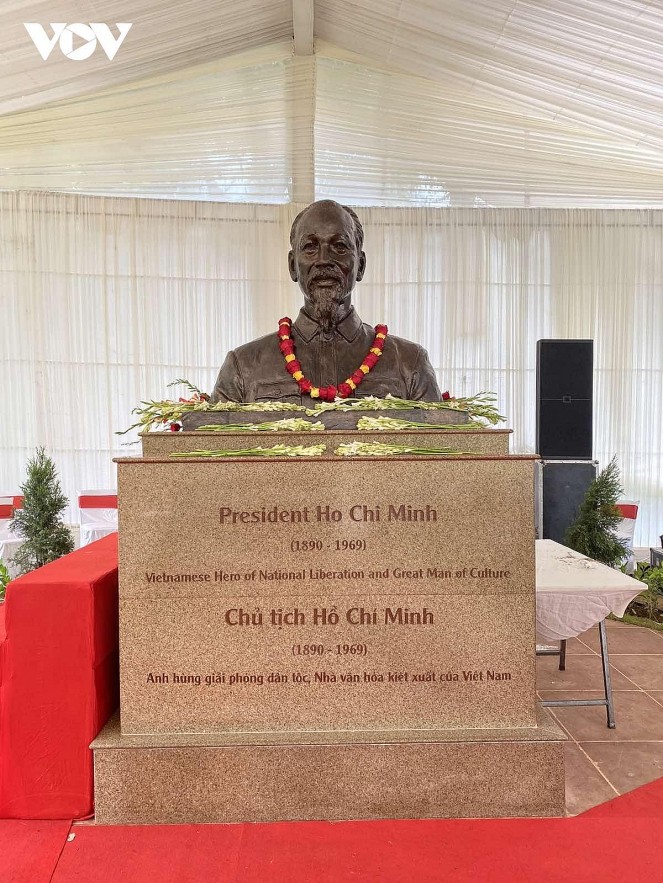 Bust of President Ho Chi Minh in New Delhi, India. Photo: VOV
This activity took place on the occasion of the 76th anniversary of the National Day of the Socialist Republic of Vietnam.
The bust installation ceremony taking place on September 1 is one of the final stages to prepare for the inauguration of the President Ho Chi Minh Monument in New Delhi, within the framework of the Prime Minister Pham Minh Chinh's official visit to India, expected to take place at the end of 2021. This activity is to celebrate the 50th anniversary of the establishment of diplomatic relations between Vietnam and India.
President Ho Chi Minh's monument in New Delhi is located in a park area of more than 4,700 square meters, located in the center of the Diplomatic Corps. This is the intersection between Kautilya Marg Road and Niti Marg Road - an important traffic axis in Chanakyapuri district. This place is considered to have a beautiful location, in the heart of New Delhi.
Speaking at the ceremony, Vietnamese Ambassador to India Pham Sanh Chau emphasized that the President Ho Chi Minh bust in New Delhi is an eternal work and a testament to the deep relationship between the two nations, which was built on a long history of more than 2,000 years and cultivated through generations of leaders.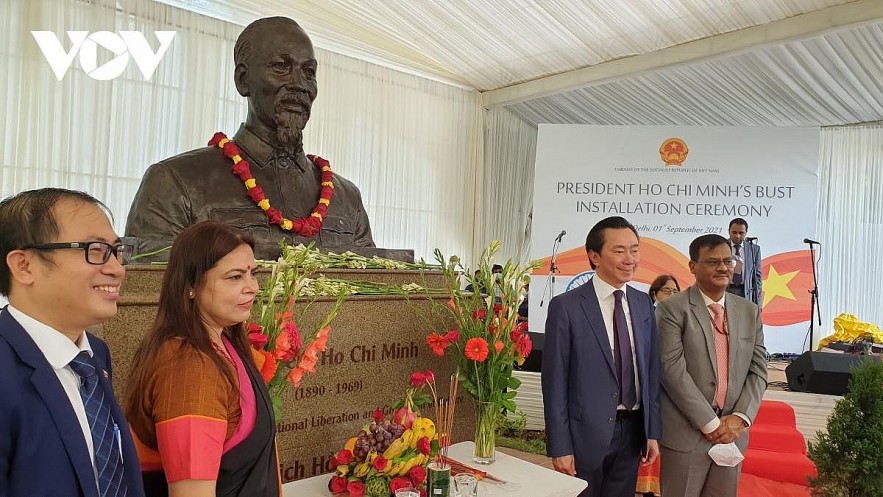 Meenakshi Lekhi, New Delhi City Council representative attended the ceremony. Photo: VOV
The bronze bust was designed, made and completed by Indian artist Ram Sutar based on the suggestions of the Art Appraisal Council. At the meeting of the Council on July 15, experts also shared the view that indigenous elements are harmoniously combined in the design, creating a beautiful and lively art work.
At this ceremony, members of the council also appreciated the perseverance and efforts of the Vietnamese Embassy in the process of implementing the project over the past 5 years.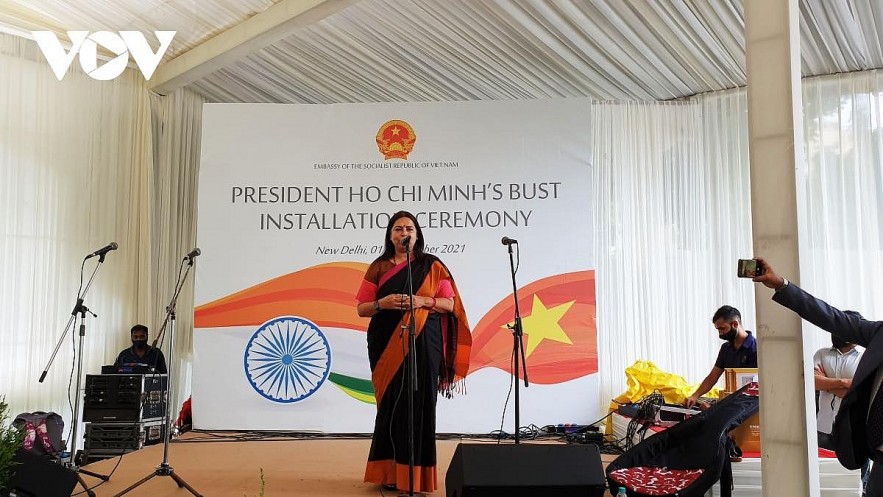 India's Minister of State for External Affairs Meenakshi Lekhi delivered a speech at the ceremony. Photo: VOV
The President Ho Chi Minh's bust installation ceremony in New Delhi city was solemnly held with the attendance of India's Minister of State for External Affairs Meenakshi Lekhi, President of the New Delhi City Council, and ambassadors from ASEAN countries, officials of the diplomatic corps in New Delhi, representatives of the Vietnamese community and nearly 50 other socio-political organizations and trade unions in India.
Economy
Vietnam continues to be one of the 10 countries receiving the most significant amount of remittance in the world, according to the latest report on migration and development conducted by the World Bank (WB) and the Global Knowledge Partnership on Migration and Development (KNOMAD).