The place where people "live like flowers"
(VNF) - "Nha cua tuoi thanh xuan" (Youth home) is a model aiming to help deaf and dumb young people integrate into the community, find a dream and live their dreams.
(VNF) - "Nha cua tuoi thanh xuan" (Youth home) is a model aiming to help deaf and dumb young people integrate into the community, find a dream and live their dreams.
(Photo: Facebook/Nha cua thoi thanh xuan (Youth home))
Arriving in Da Lat on a rainy afternoon, taking a sip of lavender tea, eating biscuit made by deaf and dumb youths and listening to the story of how they overcome their own difficulties, you will find how lovely this life.
Youth home (9B, Trieu Viet Vuong, Da Lat city) is a home for deaf and dumb youths, a place where they come to learn to become more self-confident. In particular, they are trained vocation, experiencing with a varity of jobs; then, they could find for themselves the passion, the dream to pursue in life.
About the idea of this project, Luan recalled a car trip with 15 deaf and dumb people, only Luan who could speak. During that trip, Luan felt very difficult because they all communicate with each other in sign language. Since then, Luan thought of their daily life when talking to ordinary people and saying things they didn't understand. Luan knows that this is the reason why deaf community often separate themselves from ordinary people.
Luan quit studying in the Philippines, returned to Vietnam and inherited the family's traditional cosmetics business. He then attended cosmetic courses and began making his own soap for sale. The money earned from selling soap he used to build the "Youth home".
"I want deaf people to have more experience with work, with ordinary people to become more knowlegable and confident in life".
To carry out this project, besides selling soap, Luan also tried understand the deaf and dumb. Three times a week, he takes the bus to the class of sign language. At first, he doing silent exersice for 25 days to feel the world of the deaf and dumb.
Together realize the dream
Participating the project, deaf and dumb young people learn to make biscuits, make soap, essential oils, teas, ... In addition, they are provided free meals and accommodation and receive a salary of VND 4-5 million/ month depending on working seniority.
Visitors here will be treated with tea and biscuits and can join making bread, cook or simply make handmade gifts.
The project's products are currently being sold by 15 agents nationwide.
To save money as well as create conditions to do many differents jobs, youths self grow materials such as citronella, oranges, cinnamon, lavender, green tea.
Three nights a week, all of the club members and guests will be learning sign language, zumba lessons and enjoy a night of "living like flowers." In these sessions, they will talk about the joys, the things they have learned, the feelings of change and the dreams.
A lesson of sign language
There are long-cherished dreams, but also newly-found ones.
Trang dreams of making soap, and every body can feel the happiness on her face every time she sells soap to guests. Tien dreams of becoming a chef, because since participating the project, Tien likes cooking and now he is the chef of the house.
Dung dreams of becoming a singer. Although her dream is very difficult to realize but Dung still serious with it. Dung listens to music and dances in sign language.
For Luan, the founder of the project, despite unstable income, he is still very happy with his work. That is when he sees the deaf and dump youths become more confident./.
Ha Thuong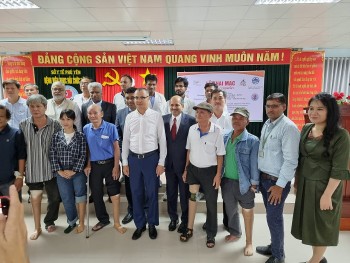 Friendship
This is the 5th time the Jaipur Foot Artificial Limb Fitment Camp has been held in Vietnam since 2018 by the Indian Ministry of Foreign Affairs, Indian agencies and organizations.