The subtle charm of Pleiku
(VNF) – Not yet a famous tourist destination, but Pleiku is a gentle, pure, beautiful girl, who is waiting for her chance to shine, said famous travel blogger Travip.
(VNF) – Not yet a famous tourist destination, Pleiku is a gentle, pure, beautiful maiden, who is waiting for her chance to shine, said famous travel blogger Travip.
One page of Travip's travel diary was dedicated to writting about the peaceful city in Vietnam's Central Highland.
"If you are looking for a mountainous area filled with fresh air for a holiday retreat, if you want to hide away from the bustling urban life and surround yourself by tranquil nature, savouring delicious exotic cuisines, Pleiku will be a fantastic choice for you.
When I was planning for my trip to Pleiku, my friends asked me, curiously "What does the city have for you to explore?"
To be honest, if you compare Pleiku with other places which also have plateaus like Da Lat city, it will be overshadowed.
Pleiku's landscape reminds visitors of Da Lat city (photo: Travip)
Nevertheless, give yourself a chance to get to know Pleiku and the city surely won't disappoint you. Pleiku, with its pristine, pure natural landscapes, which have yet to be touched by humans, is intoxicating and can be even addictive, just like the taste of the world-renowned coffee growned there.
In the eyes of people who have never been to Pleiku, the mountainous city seems to be as poetic as written in the song "The Pleiku eyes" by musician Nguyen Cuong: "the watery Pleiku eyes, the emerald Se San river, the tempting scent of pipe wine." In real life, Pleiku has even more for those who are keen to explore.
Gorgeous nature
Situated on the plateau of Gia Lai province, Pleiku is not a remote place like it sounds. It only takes tourists over one hour to reach the city via air carrier, if you depart from HCM.City, two hours from Hanoi and 50 mins from Da Nang.
The Creator has bestowed a mild climate upon Pleiku throughout the whole year. The city, therefore has the power to relieve any discomfort or stressful feeling, and at the same time, fill you with full of fresh energy.
In Pleiku, don't forget to visit the great lake of T'Nung. Located 6km to the north of Pleiku, T'Nung is a flooded crater of an ancient volcano. The road leading to the lake is narrow but clean and scenic, especially when you cast your eyes higher to look at the blue sky between two rows of pine trees lining up the path you are walking on.
When you arrive at the great lake of T'Nung, you'll see no chaos. By the lake side, you'll find no restaurants, food stalls, hotel, resort, or vendors bothering tourists, leaving a perfect 'stage' for the beauty named "Nature" to shine.
The landscape of Pleiku may remind you of Da Lat city. However, when you spend more time on listening to this city's pace, you'll notice that Pleiku is far less crowded than Da Lat. Despite nowadays it is often packed with vistors, especially group of friends and young couples coming here to capture unforgettable moments via photos, Pleiku's tranquility is still preserved.
Beside the great lake T'Nung, Gia Lai province is famous for having magnificent waterfall, which can be regarded as gems or this place, such as Phu Cuong 9-level waterfall, Le Kim waterfall, Xung Khoeng waterfall, Bau Can waterfall.
Peaceful pagoda near Pleiku city (photo: Travip)
For those who are searching for inner peace, please stop by Buu Minh pagoda or Minh Thanh pagoda, to say some prayers and admire the unique architecture there.
While travelling to Buu Minh pagoda, don't forget to behold the tea garden and lush green trees lining up the road.
Cuisines
Pleiku's exotic cuisines are some of the most exciting features that worth trying for anyone who set foot on the city. While you may find a sense of familarity in the local food, which appears to be similar to those in some other places' you have visited, you will still spot its own uniqueness.
It is not difficult to find restaurants serving local specialties like bamboo-tube rice, grilled chicken, or fried rice with pegion meat, pipe wine in Pleiku. (If you can enjoy the dishes in a stilt house, it will be an unforgettable experience).
Something to take note: don't miss the must-try dish of Gia Lai province, dried noodles. Being served in a bowl with chicken meat, accompanied by black soya sauce, broth and herbs, the noodles appears to be dry but actually it is very soft, with a pleasant taste. Dried noodles can go with beef, too.
Dried noodles, a must-try dish of Pleiku (photo: Travip)
Last but not least, don't leave Pleiku without grabbing a cup of fresh aromatic coffee, a trademark product of the Central Highland.
Consider to ask for a cup of blended coffee, since the mixture tastes better. Blended coffee has an irresistible scent. Grinded coffee are put into a filter (without a lid) and pressed down. Hot water flowed through the layers of coffee powder and slowy find it way to your cup, leaving more time for you to enjoy the aroma.
Coffee is also a great choice of gift for friends and family after your retreat in Pleiku.
Idyllic Pleiku, as well as many other cities in Vietnam are "sleeping beauties" waiting to be awakened. They possess enough potentials to become a trademark tourist destination.
What need to be done is to design and implement a proper strategy to promote the tourism sector of this beautiful city, which will help improve the locals' life./.
( Translated by Phi Yen )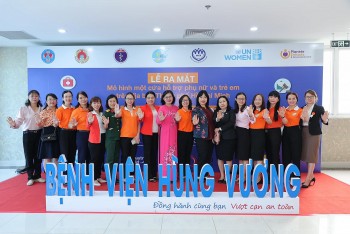 Viet's Home
What is the one-stop centre for women and children experiencing violence?