Time Out: Top 10 "Coolest" Streets In The World
Streets are where life happens: The bustling atmosphere, the crowds, street arts, coffee shop, fashion and music. Timeout Magazine has come up with a list of the best and coolest streets in the world in 2021, which you can see in the article below.
What makes a street cool (particularly in 2021)? To sum it up: food and fun, culture and community – and a rooftop bar doesn't hurt either.
The global media brand has rounded up what it calls the "world's coolest" streets, as selected by some 27,000 city residents from across the globe.
To finalize the top 10, Time Out editors from each destination surveyed the suggested streets, focusing on each nomination's food and drink highlights, cultural and nightlife offerings. The team also looked into how each street has cultivated a feeling of community, which has perhaps been more important than ever in the wake of the pandemic.
This year is the first that Time Out has ranked the world's coolest streets, although the company is known for producing a yearly round-up of the world's coolest neighborhoods.
For 2021, Time Out says they wanted "to drill down a bit and go even more local."
For each street, the company has recommended the best things to do, from checking out art complex WORM in Rotterdam (number 6) to drinking ice coffee at Bellapan Bakery on Rua Três Rios, São Paulo (number 7) to wandering the multi-level, booklovers' paradise Ler Devagar, part of LX Factory on Rua Rodrigues de Faria in Lisbon (number 9).
Time Out calls streets "microcosms of everything we love about cities."
1. Smith Street, Melbourne, Australia
The Independent
Melbourne's Smith Street, a lively strip famous for its hip restaurants, wine bars, vintage stores and live music scene, has been named the coolest street in the world in a new global ranking.
Entertainment and culture bible Time Out surveyed 27,000 city residents around the world to come up with a list of 30 of the world's coolest streets.
The northern end of trendy Smith Street, which forms the boundary between Collingwood and Fitzroy, claimed top prize.
King Street, the main drag down Newtown, in Sydney's inner west, was the only other Australian entry on the list, landing in 19th spot.
The iconic Sunset Boulevard in Los Angeles, quirky Haji Lane in Singapore, vibrant 30th Street in New York's Queens, Lima's colourful Calle José Gálvez and charming Mariannenstrasse in Berlin were some of the other trendy spots to make the cut.
But topping them all was Collingwood's very own capital of cool, Smith Street.
"It makes a lot of sense – Smith Street and Collingwood as a whole are extremely popular places to hang out in Melbourne," Time Out wrote.
"Once the stomping ground of street gangs in the 1800s, Collingwood has a long, proud, chequered history of giving the middle finger to authority. It's been overshadowed by Fitzroy and Brunswick Street for decades, but where the former is starting to feel a little stale, Smith Street is only getting better."
Time Out said you've "never have a dull moment" on Smith Street – day or night.
"You'll find everything from rowdy footy pubs to refined wine bars, vinyl record stores to Vietnamese bakeries, and there's even more to discover down its side streets," it said.
"By night, Collingwood's pubs, gay bars and live music joints are a magnet for Melburnians who like to kick on till the early hours."
2. Passeig de Sant Joan, Barcelona, Spain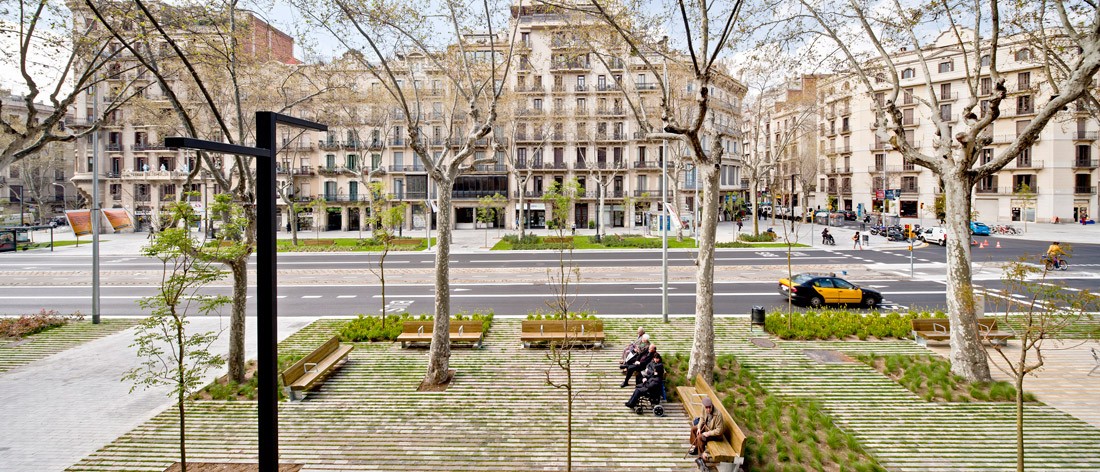 Landezine
The Passeig de Sant Joan is one of the main avenues in Barcelona's Eixample. It pre-dates Ildefons Cerdá layout for the new city and runs from the lower end of the Barrio Gràcia all the way to the Arc del Triomph square, where it becomes Passeig de Lluís Companys before entering Parc de la Ciutadella as the Avinguda del Tillers.
Unlike other main Barcelona streets, it has very distinct three sections that correspond to classic main street layouts: the upper section is a Rambla (with an ample pedestrian section in the middle), the middle section could be described as an avenue (with ample road lanes and wide pavements) and the lower section has recently been developed into a boulevard (with ample pavements and narrow traffic lanes with a segregated cycle lane in the middle).
The design and development of this last section was subject to much political jostling and nudging within the Local Authority. It would appear to have been aligned along subtle ideological fracture lines: the socialist-nationalist architectural-establisment faction seemed to prefer a new Rambla cross-section, apt for large demonstrations of national fervour; whilst the socialist-ecologist landscape-inclined faction seemed to favour a boulevard cross-section with ample parterres and garden-like feel.
This fight for form in public space is in the very roots of the origins of modern Barcelona, as described by Chris Ealham in his book "Anarchism and the City", where the main forces behind the creation of the city that we can see today are outlined.
3. South Bank, London, Uk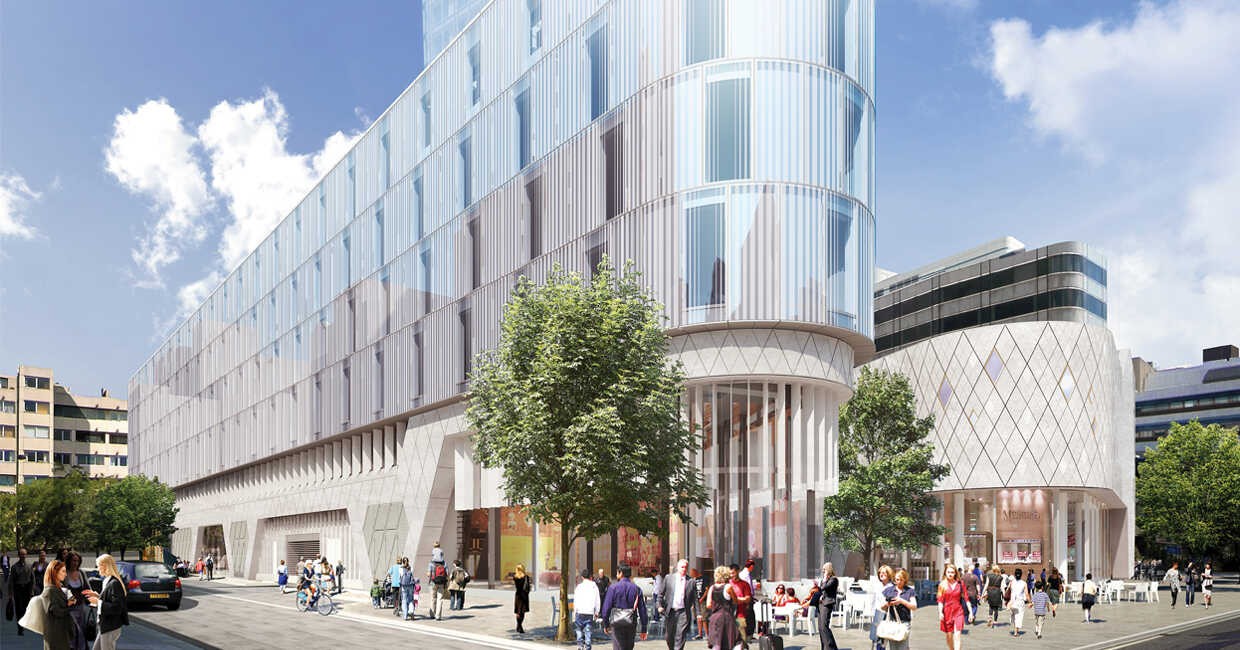 southbanklondon.com
n London, south of the River Thames, the atmosphere is relaxed and bohemian. There is a host of fun and exciting things to do in South Bank, from strolling along the riverside to having a bite to eat in one of the many restaurants or whiling away an afternoon in a museum or theatre. The South Bank is widely seen as London's cultural heart; a lively hub for creativity, entertainment, and the arts.
South Bank is located in Central London in zone 1, opposite the City of Westminster; it's a narrow pedestrianised bank over a mile long by the River Thames. It is a significant tourist district, stretching from the Design Museum in the east to the London Eye in the west.
Wondering how to get to South Bank? Several major railway stations are within walking distance. The river is also a great means of transport, with piers along the South Bank at the London Eye, Royal Festival Hall, Bankside and London Bridge. A series of bridges also connect the area to the northern bank of the Thames, including the Golden Jubilee and Millennium pedestrian bridges.
Big Ben, Trafalgar Square and Covent Garden are all just 10 minutes' walk away.
Southbank's history is very different from that of the affluent north bank of the River Thames. The area developed much more slowly because of its shallower channel and tricky access. In the middle ages, it was a largely rural area that was known for its theatres (like the Old Vic theatre), prostitution and bear-baiting!
The Industrial Revolution resulted in the growth and urbanisation of the area grew as well as the development of the nearby Waterloo Station. The South Bank went from a rural riverside location to an industrial centre.
Although the area was bombed during World War Two, this kickstarted the regeneration of the South Bank. It was chosen as the site for the Festival of Britain in 1951, which aimed to boost British post-war morale by celebrating the nation's achievements in science, architecture and more.
So, The Royal Festival Hall was built and was soon followed by the National Theatre, the National Film Theatre, ITV London and many others. This has helped South Bank to develop a reputation as a vibrant and creative hub for the arts and media.
4. San Isidro, Havana, Cuba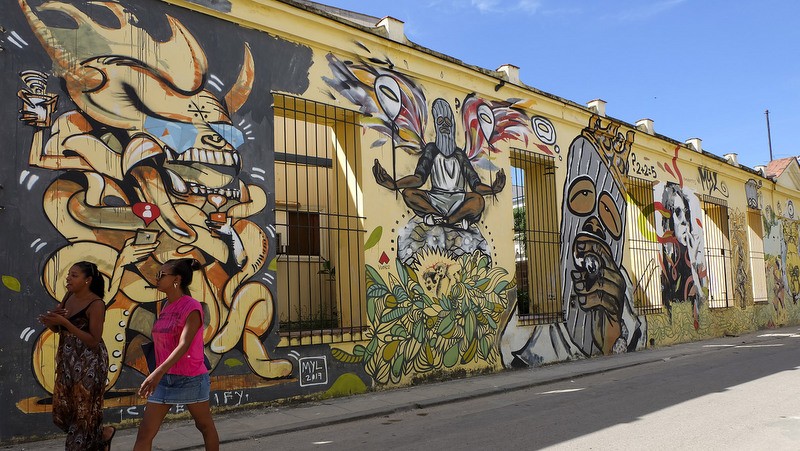 Arte por Excelencias
The San Isidro Movement (Spanish: Movimiento San Isidro, abbreviated MSI) is a group of Cuban artists, journalists and academics formed in 2018 to protest against the government's increased censorship of artistic expression in Cuba. The group's members have staged protests, performances and interventions that have resulted in arrests and retaliatory actions by the Cuban government.
The group formed in September 2018 as a reaction to Decree 349, a Cuban law that sought to require that artistic activity had to be authorized in advance by the Cuban culture ministry. The group took its name from the San Isidro area of Havana, where it was formed.
Notable members of MSI include rapper Denis Solís and performance artist Luis Manuel Otero Alcántara.
5. Sunset Boulevard, Los Angeles, USA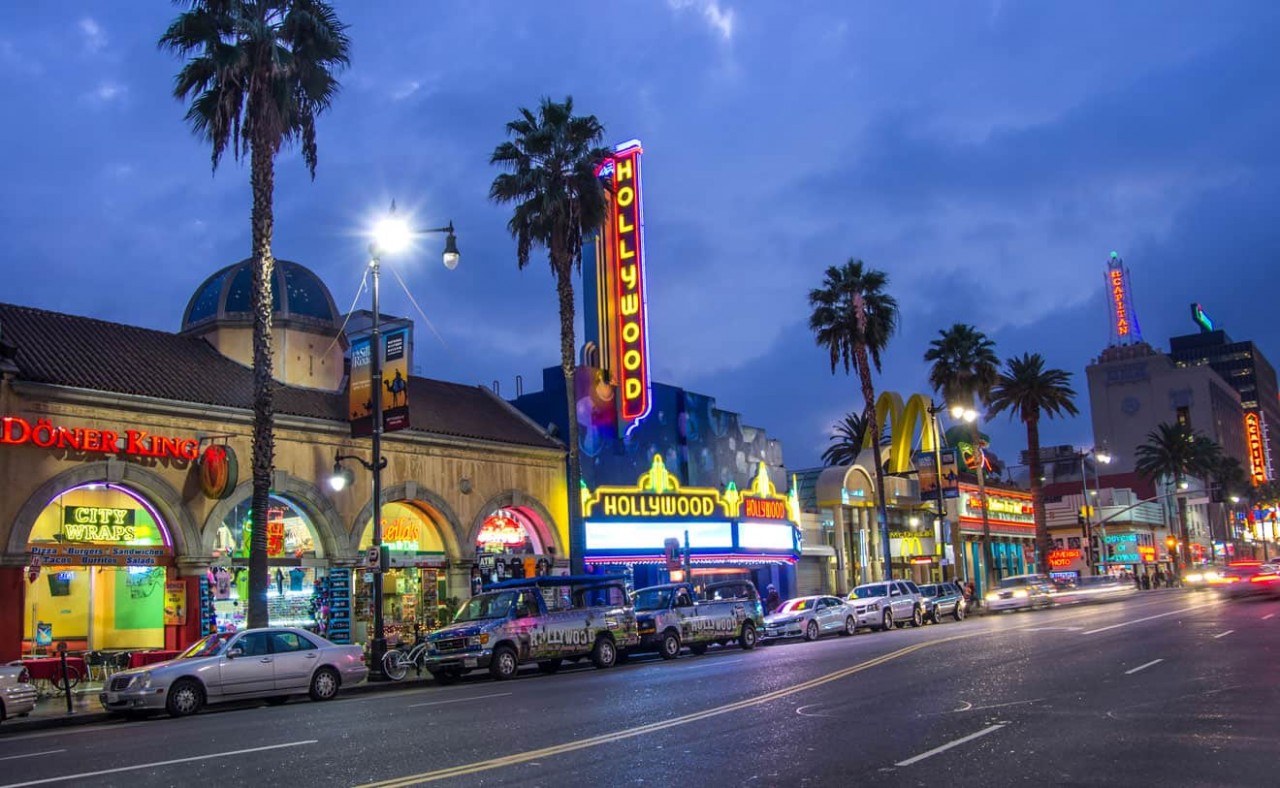 Travel in USA
Stretching from the bustle of Downtown to glamorous Malibu, Sunset Boulevard stands out as the ultimate road to fame or fortune. Or at least that's the dream. From scruffy clubs and neon to historic film studios and beaches, this iconic street captures the very essence of L.A.—a clash of extremes all spread out beneath the California sun.
From the oldest part of Los Angeles near Olvera Street, the broad boulevard starts its path to the sea. Sunset Strip, the section between Havenhurst Drive and Doheny Drive, has a chequered history—it was the setting for counterculture protests in the 1960s, rock and roll decadence in the '70s and '80s, and has more recently undergone a chic renaissance, with luxury hotel towers and fine restaurants hidden behind ivy-covered walls. The boulevard then winds past the mansions of Beverly Hills and Bel Air, then heads west toward some of SoCal's most famous beaches. Must-see stops along the way include the Guitar Center's Hollywood RockWalk (a rock-star twist on the better-known Hollywood Walk of Fame) and the legendary Chateau Marmont, a castle-like luxury hotel that has housed its share of Hollywood indiscretions. Slip into the bar to have a drink, and see which celebrities might be hiding in dark corners.
Tinseltown, where starlets are discovered on every street corner (or at least we like to think they are), and the tinted windows of that stretch limo might be hiding a Cruise, Hanks or Anniston. And in the hills, a big sign stretches across with letters as big as your dreams—Hollywood. Visit iconic sites filled with celebrity footprints or wax likenesses—maybe even catch a real one in the flesh at a film premiere or awards show. Anything is possible in Hollywood.
6. Witte de Withstraat, Rotterdam, the Netherlands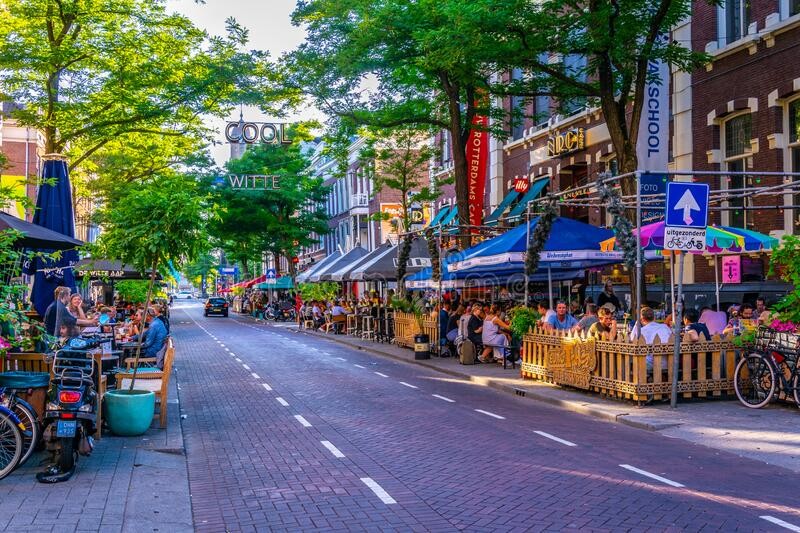 Dreamstime
The Witte de Withstraat is brimming with life with its hip bars and eateries. You'll also find many art galleries and cultural centers like Witte de With Center for Contemporary Art.
In the Witte de Withstraat you can expect many great restaurants. Eatery Bazar, specialized in exotic affordable meals, is perhaps the most lively restaurant in Rotterdam including its comfortable terrace. Vietnamese eatery Vivu is for connoisseurs, while you'll have great Italian food at Oliva. Take a break at Bagel Bakery for some delicious bagel.
Café De Witte Aap was mentioned as the best bar in the world by Lonely Planet, so take a look inside at least in this tiny but entertaining bar. On the other side of the street you'll find the trendy Nieuw Rotterdams Cafe, established in a stately building which belonged to the former newspaper NRC.
At the Witte de Withstraat there can also be found one of the best hostels in Rotterdam. The hip and trendy King Kong Hostel is a real paradise for backpackers and party-goers.
For exciting lingerie you go to the famous lingerie shop from Marlies Dekkers, a Rotterdam topdesigner conquering the world with her exclusive lingerie. A little bit further you'll find shoe shop Betsy Palmer with her adventurous boots and pumps. Besides there is Paraddy, a specialist shop on the field of ballet dancing clothes and shoes. R.S.I. The Attraction is specialized in skates, snowboard clothing, snowboards, roller skates, frisbees and kites, while Goliath is a nice boutique with hip shoes.
At Galerie Ecce you'll find a great collection of contemporary art. Or visit Galerie van Eijk for modern art, paintings, sculptures, bronze and ceramic art. Witte de With Contemporary Art is an international art center where exhibitions of modern and contemporary art take place.
7. Rua Três Rios, São Paulo, Brazil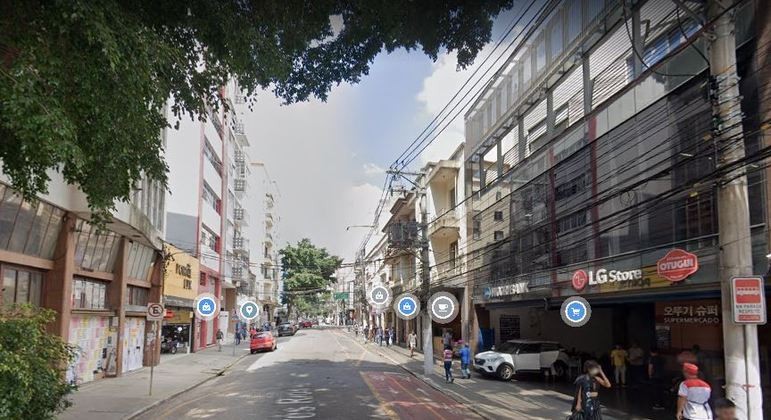 Jornal da Record - R7
Rua Três Rios, located in Bom Retiro, downtown São Paulo, was elected the seventh "coolest in the world" by the British magazine Time Out. According to the publication, the 30 best streets were chosen based on the opinion of 27 thousand city dwellers — the big winner is Smith Street in Melbourne, Australia.
About São Paulo street, the publication highlighted that it is located in a historic neighborhood that carries diversity and is in constant evolution. Among the tours around the street, Time Out highlighted the Pinacoteca, the city's traditional museum, which houses an exhibition dedicated to the duo Osgêmeos.
Another factor highlighted by the magazine is that the street intersections are home to generations of immigrants from different parts of the world, such as Italy, South Korea, Greece and Bolivia. To eat, a trip to Bellapan Bakery is suggested, the bakery that mixes Brazilian and Korean delicacies.
In addition, a visit to the Casa do Povo cultural center is recommended, but the visit will take a while, as the building remains closed due to the new coronavirus pandemic.
The name of Rua Três Rios is a tribute to Joaquim Egidio de Souza Aranha, the Marquis of Três Rios, who was the governor of São Paulo in the 19th century — at the time, the political office was called the president of the province.
8. Haji Lane, Singapore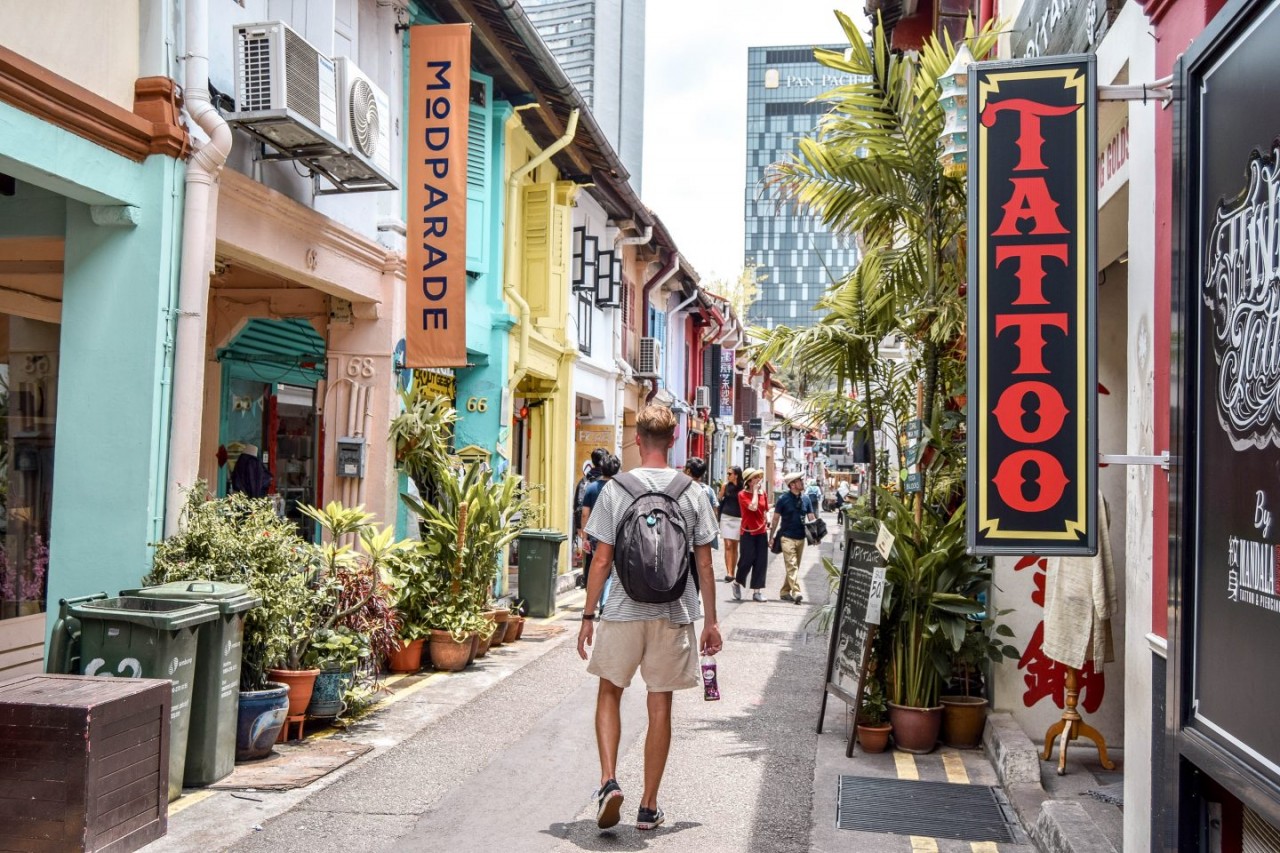 Wanderers & Warriors
Haji Lane is in the Kampong Glam neighbourhood of Singapore, a short walk from Bugis MRT. Young people frequent the shophouses along this lane for the independent stores and cafes, such as Pizza Fabbrica, Good Luck Beerhouse, and Monocle.
Haji Lane got its name because of the businesses here. There were many Arab pilgrim-brokers who would arrange the haj for Muslims in Singapore and from the nearby islands such as Java.
Today, Haji Lane has created its own identity and it attracts many tourists from all around the world. Although the street is rather small, the area has become a tourist attraction for those who want to see something more than just skyscrapers in Singapore.
9. Rua Rodrigues de Faria, Lisbon, Portugal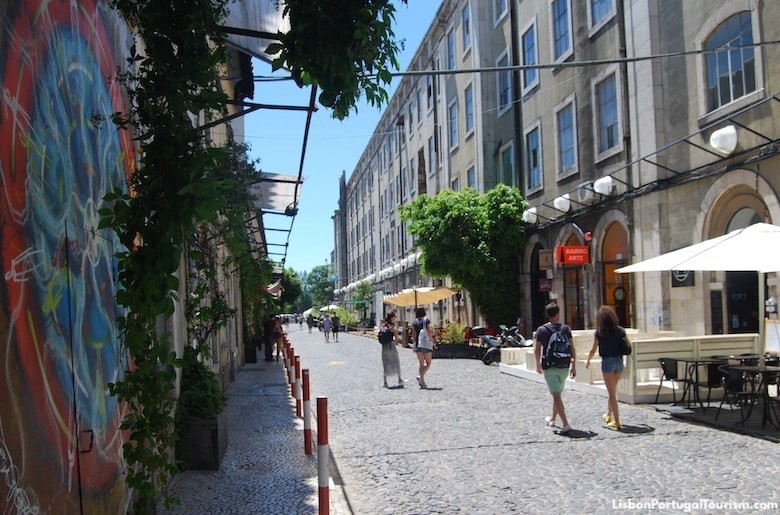 Lisbon
LX Factory isn't any old factory – it's a creative hub based around a single main street, the Rua Rodrigues de Faria, which is lined with restaurants, shops, studios, coworking spaces and loads and loads of street art. Now the major attraction in Lisbon's Alcântara neighbourhood, it really does feel like a city within a city, and you'll find everything you need to spend an entire weekend here, from hearty breakfast options to late-night DJ sets.
EAT There are dozens of restaurants inside LX, from traditional Portuguese plates at Cantina LX to Rio Maravilha, with its excellent views and even greater cocktails. But your first stop should be the one right by the entrance: Borogodó, which serves a winning mix of Brazilian and Portuguese tapas.
SEE All the art you can possibly fit in. Don't miss the huge bee made with trash, by artist Bordalo II, or the new Ephemeral Museum of Modern Art, which exhibits works by big international names like Banksy and Vhils (only until July 25).
BUY Ler Devagar means 'read slowly' – and that's exactly what this magical bookstore wants you to do. With two floors, tens of thousands of books, a café, a gallery and a bicycle suspended in mid-air, it's a mandatory stop on any trip to the city.
10. Calle Thames, Buenos Aires, Argentina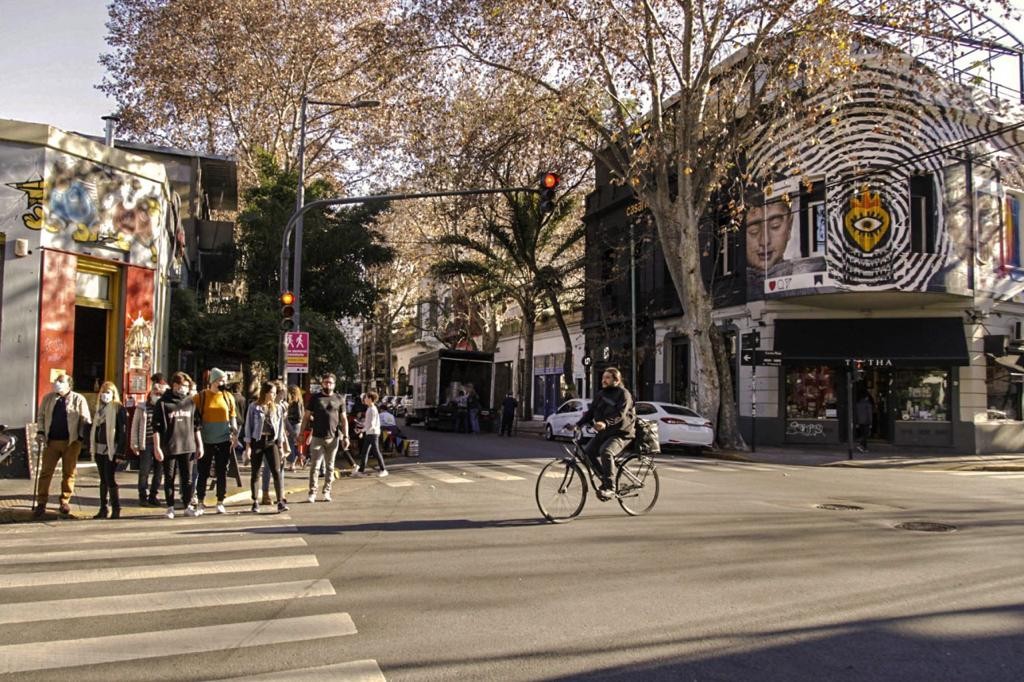 Buenos Aires Ciudad
A bustling thoroughfare linking smart Palermo with edgier Villa Crespo, Calle Thames is best known for its independent kitchens and watering holes, many housed in repurposed buildings. Foodies revere budget-friendly Sarkis for trad Armenian food and Las Pizarras for quality small plates, while a young crowd dines at Asian steakhouse Niño Gordo, churros-and-taco bar Juan Pedro Caballero and sausage purveyor Chori. Mercat, a brand-new indoor food hall, houses a Jewish bakery and a wine bar. When it comes time for cocktails, Tres Monos has been ranked as one of the best bars in the world, deli Cacho specialises in aperitivi and Puro Bistro is the place for cigar and whisky aficionados.
EAT Sinful mollejas (sweetbreads) dabbed with sugarcane honey at always-busy parrilla La Carnicería.
DRINK The French 4: a sparkling gin-and-pear concoction at Bar 878, a cavernous two-bar space led by top bartender Julián Díaz.
BUY The quintessential Argentine tea kit (comprising energy-giving yerba mate leaves, a stylish hand-crafted cup and a straw) at Todos Mates.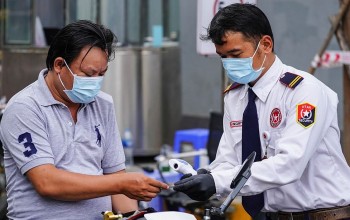 National
More than 1.12 million vaccine doses were administered in Vietnam on October 24. The country has now inoculated more than 74 million doses of vaccine to date, with over 21.46 million people fully vaccinated.