Top 10 Best Places To Visit In Jeju Island
Every nook and cranny on Jeju Island, South Korea is a delight for the eyes with many famous attractions to choose from. Take a look at these 10 amazing places that you can visit in your winter holiday.
Jeju Island is the largest island in South Korea, located in Jeju Province (Jeju Special Self-Governing Province). The island covers an area of 1,833.2 km2 (707.8 sq mi), which is 1.83 percent of the total area of South Korea. In 2020, the resident registration population is about 670,000, the largest among the islands in South Korea. The island lies in the Korea Strait, below the Korean Peninsula, south of the South Jeolla Province. Jeju is the only self-governing province in South Korea, meaning that the province is run by local inhabitants instead of politicians from the mainland.
From breathtaking mountains to quirky museums, here are 14 Jeju Island attractions to add to your bucket list.
1. Mount Hallasan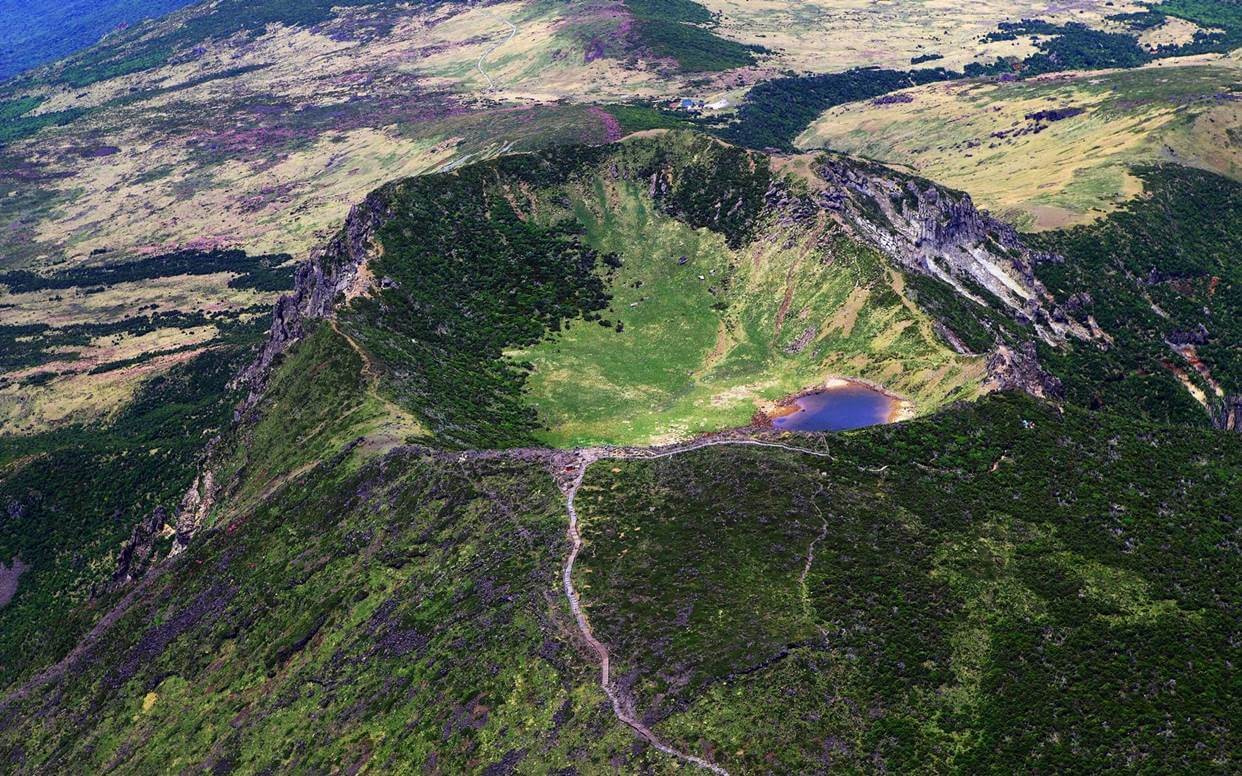 Photo: Expatolife
With an altitude of 1,950m, Hallasan is the highest mountain in South Korea. It's also known as Yeongjusan, which translates to "Mountain high enough to pull the galaxy."
Hallasan Mountain has a unique ecosystem and biodiversity along with volcanic geology and volcanic topography. For example, you can see the Baengnokdam crater at the top, the steep rocky walls of Yeongsilgi Rock, and about 40 Oreums (the parasitic cone).
Hallasan Mountain occupies the most beautiful spot in Jeju Island as it's located in the center of this island. All four directions, East, West, South, North, will lead to this impressive mountain.
With steep cliffs, oddly-shaped rocks, and slopes covered with trees, visiting Hallasan is a must for outdoor enthusiasts.
Hallasan is divided into seven different hiking trails, but only Seongpanak and Gwaneumsa lead to the summit of Baekrokdam, where the crater lake is located.
All trails at Hallasan Mountain are not more than 10 km long.
Those who want a more relaxing and gentle experience of exploring the scenery can choose the routes leading to the back of the mountain.
2. Cheonjeyeon Waterfalls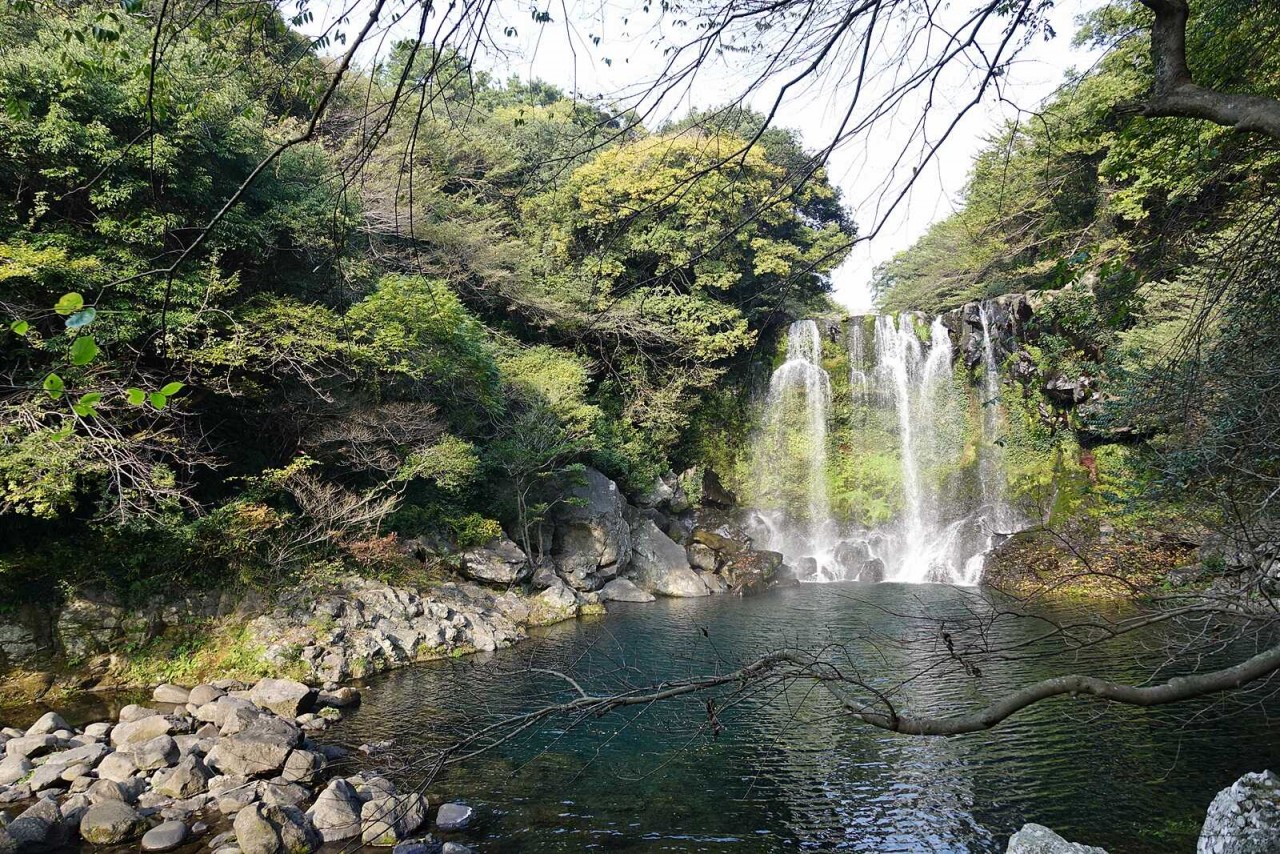 Photo: Jeju Tourism Organization's Travel Blog
Cheonjeyeon Falls, named "The Pond of God," consists of 3 sections. Around the falls, a variety of plant life thrives, such as the rare 'solimnan' reeds. To the east, there is a cave where cold water pours from the ceiling to create the first waterfall. The water gathers into a pool and from there, falls two more times, creating the second and third waterfalls, which then flow into the sea. In Cheonjeyeon Valley, visitors can see Seonimgyo Bridge (arch bridge with 7 nymphs carved on the side) and the octagonal Cheonjeru Pavilion. Seonimgyo Bridge is also called Chilseonyeogyo, meaning "seven nymphs bridge," and it connects Cheonjeyeon Falls with Jungmum Tourist Complex.
On the surface of Cheonjeru Pavilion, there is a painting that tells Cheonjeyeon's legend of the seven nymphs and the mountain god. In May of every even-numbered year, the Chilseonyeo Festival is held here.
3. Seongsan Ilchulbong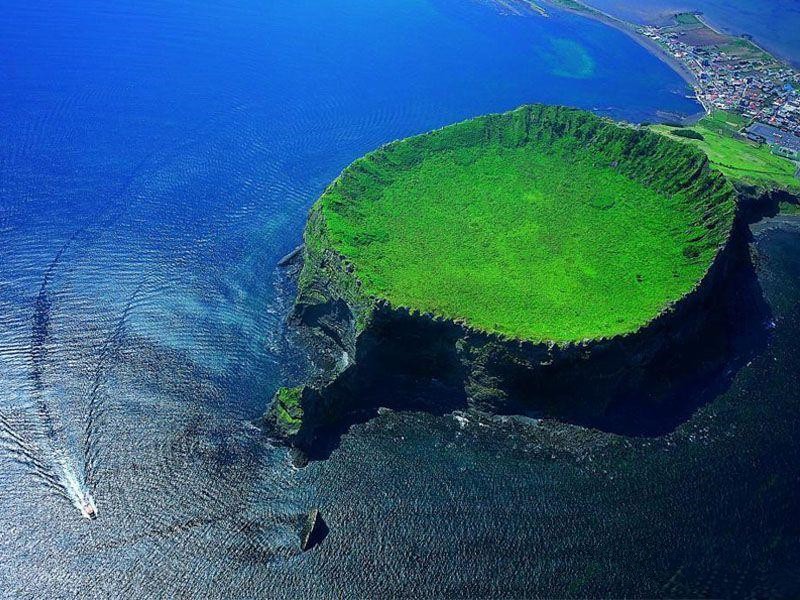 Photo: Easy Tour China
Seongsan Ilchulbong, also called 'Sunrise Peak', is an archetypal tuff cone formed by hydrovolcanic eruptions upon a shallow seabed about 5 thousand years ago. Situated on the eastern seaboard of Jeju Island and said to resemble a gigantic ancient castle, this tuff cone is 182 meters high, has a preserved bowl-like crater, and also displays diverse inner structures resulting from the sea cliff. These features are considered to be of geologic worth, providing information on eruptive and depositional processes of hydromagmatic volcanoes worldwide as well as past volcanic activity of Seongsan Ilchulbong itself.
Seongsan Ilchulbong Tuff Cone was formed by Surtseyan-type hydrovolcanic activity upon a shallow seabed about 5,000 years ago when the sea level was the same as the present (Sohn & Chough, 1992; Sohn et al., 2002). Most volcanic cones or oreums (Jeju dialect for volcanic cones) were formed by piles of scoria cones which are created by Hawaiian eruptions or Strombolian eruptions. But Seongsan Ilchulbong Tuff Cone and a few other oreums on Jeju Island were hydromagmatic volcanoes that were made by piles of volcanic ash, the interaction of hot ascending magma and seawater or ground water. Seongsan Ilchulbong Tuff Cone is 180 meters high, and its crater is about 600 meters in diameter. It has a dip of strata up to 45 degrees and is 90 meters from sea level to the crater floor.
Seongsan Ilchulbong Tuff Cone erupted in very moist and sticky conditions allowing a lot of water to permeate into the volcanic vent, making the diverse depositional features of a wet eruption. The wet hydrovolcanic activity continued until the end of the eruption. Consequently, the tuff has a bowl-like crater unfilled by scoria or lava.
4. Manjanggul Cave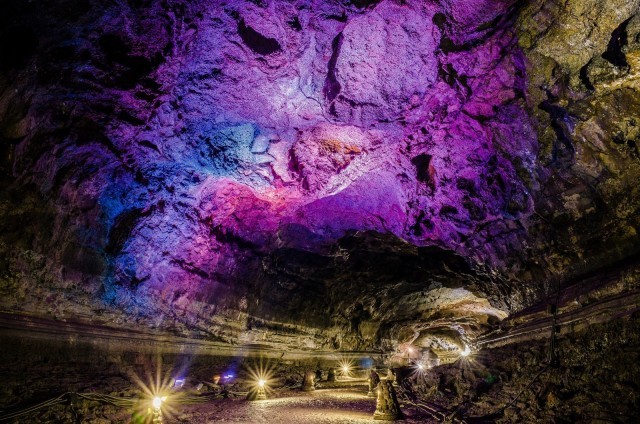 Photo: Local Traveller
This is no mere cave, but a lava tube, and one of South Korea's greatest natural wonders. Though over 13 km long (it is the 2nd longest lava tube in the world), only 1 kilometre of the lava tube is open for visitation. Formed only around 300,000 years ago at the most, the cave is beautifully preserved, making it of great scientific interest. It contains all the features you may expect in a normal gave, with the only difference being that these are made of ancient lava - lava stalagmites and stalactites, lava columns and lava bridges, and lava shelves, lava blisters and lava helictites, lava rafts and lava ropes. Furthermore, its 7.6 metre high lava column is the largest found so far. The other great feature is the colossal Stone Turtle. The lighting is dim and eerie.
There is also a museum on-site, and tourists frequently confuse it with the cave entrance which it is NOT. It's still worth checking out, as it explains the cave's origins and features.
5. Udo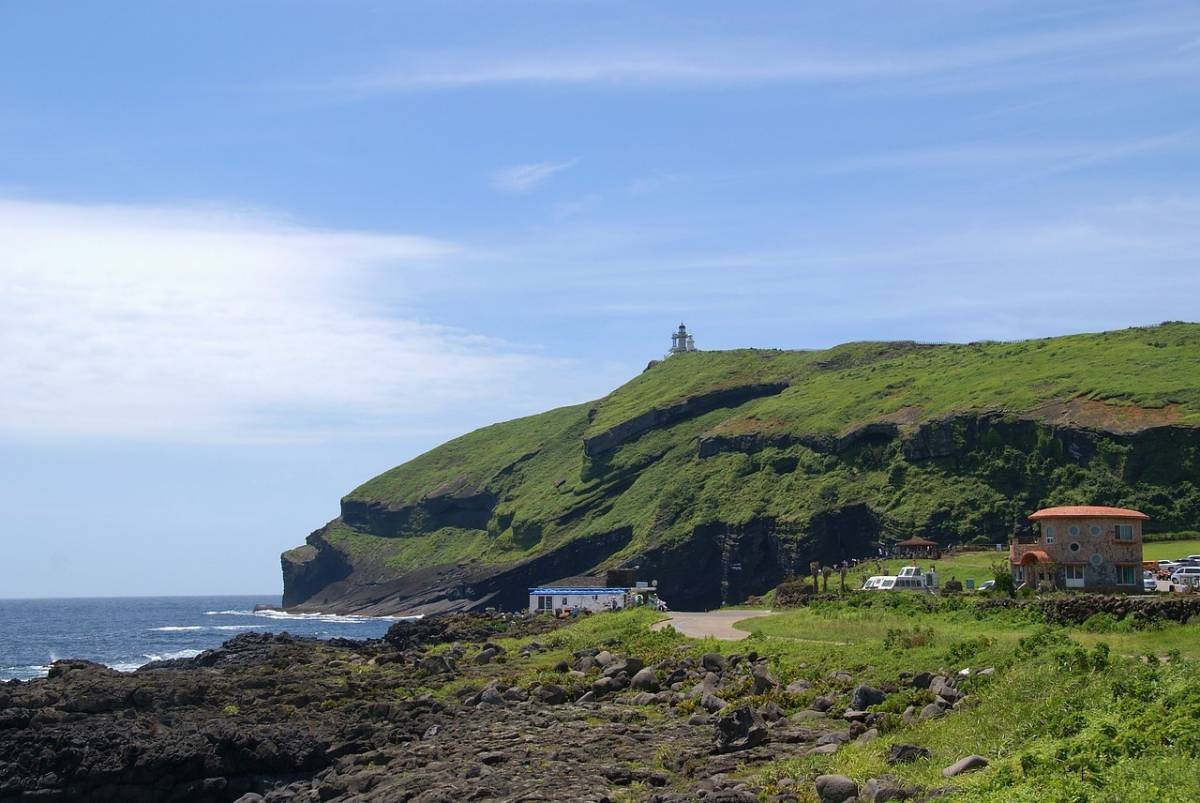 Photo: Trazy.com
Udo, (also called U-island, since do means island) is located on the northeast of Seongsan-ri, 3.5 kilometres (2.2 miles) off the coast of Jeju, South Korea. This is the largest of the islands included in Jeju City. Udo, literally "Cow Island" in Hanja, has this name because it looks like a cow lying down. The whole of Udo is a lava plateau and a fertile flatland where major agricultural products such as sweet potatoes, garlic, and peanuts are produced. There is a parasitic cone, called soeui meori oreum in native Korean or udubong (牛頭峰) in Hanja (both mean "Cow's Head Peak"), in the southeast.
Udo is one of the most visited spots on Jeju Island. About a million people visit Udo every year. Thanks to the scenery, it became the location for a few Korean films. Especially, Seobinbaeksa located on the west coast of Udo Island was created by Rhodolith, which is the only beach created by this in Korea. Udo can be reached by multiple ferries which run from morning 8:00 am till 6 pm. There are many activities and car rental services on Udo Island.
6. Seonimgyo Bridge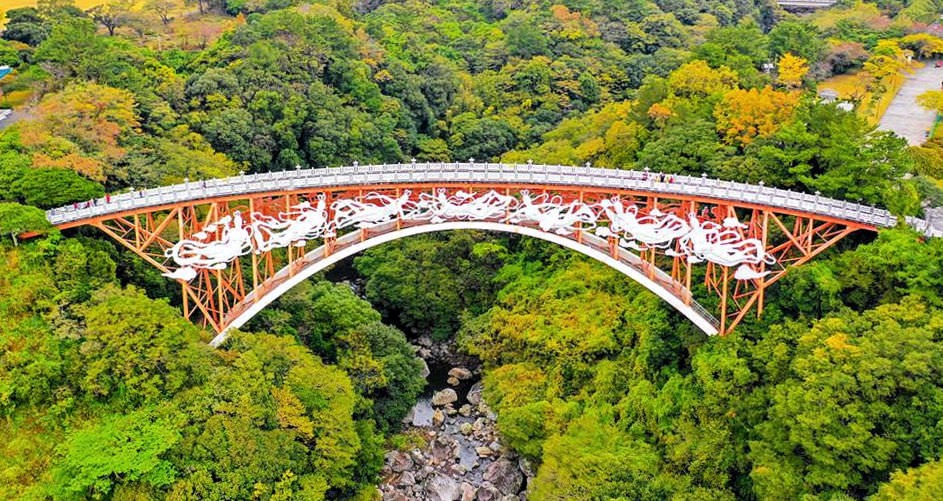 Photo: Koreattrack.com
Seonimgyo Bridge is an arch bridge on Jeju Island over Cheonjeyeon Waterfall that has seven nymphs carved on both sides. It crosses from east to west over the stream between the second and third tiers of Cheonjeyeon waterfall. The bridge is also called Chilseonyeogyo (칠선녀교) or Seven Nymphs Bridge. The nymphs symbolize the Korean legend of the descent of seven beautiful nymphs from heaven at night. Seonimgyo Bridge is the first bridge with Ojakgyo (오작교) design in the region. It was completed in 1984, and cost the Korea Tourism Organization about 400 million won to construct. There is a fee for tourists who use the bridge. There are 100 guard rails and 34 stone lanterns that light up at night. On the bridge's steel columns, there are 14 nymphs, 7 on each side with each nymph about 20 m in length. All the nymphs are playing their own musical instruments.
7. Jungmun Saekdal Beach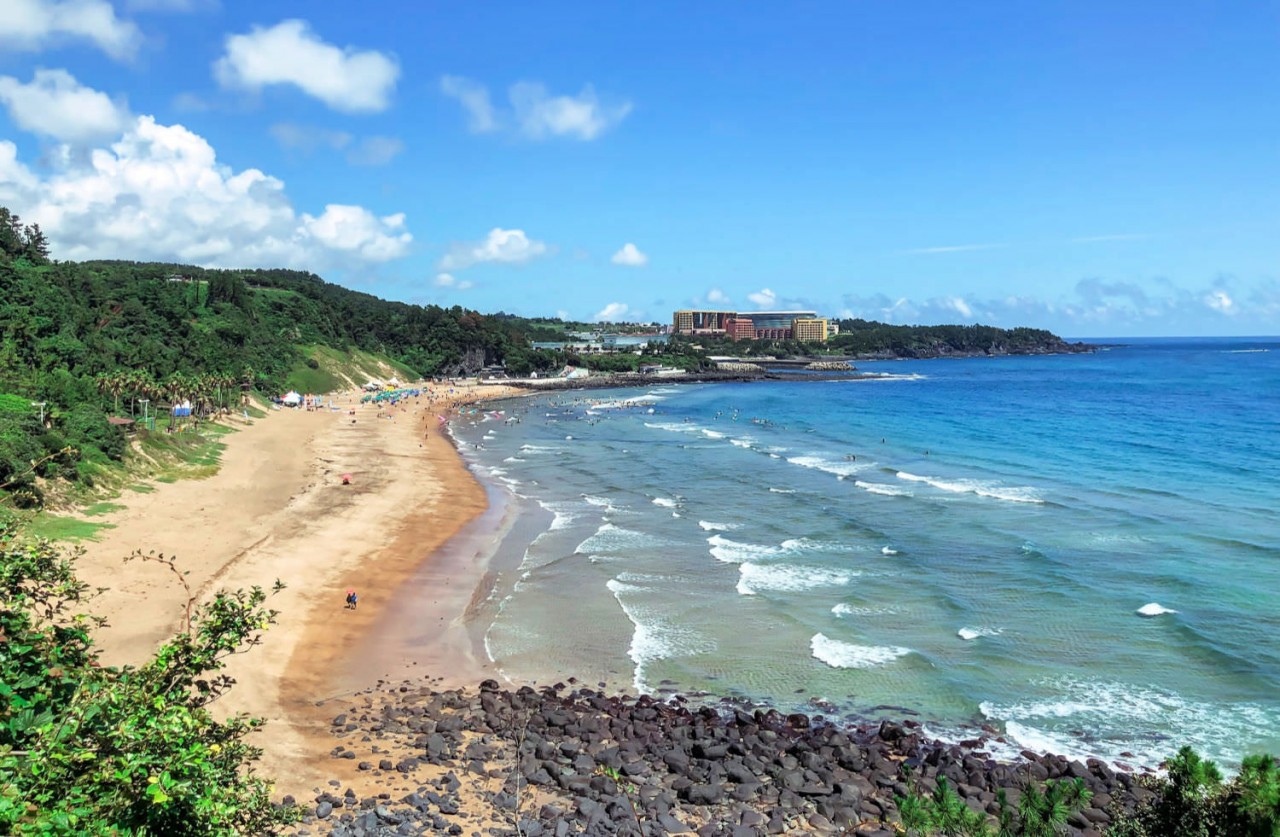 Photo: Koreattrack.com
Jungmun Saekdal Beach is a beach in Saekdal-dong, in the city of Seogwipo-si, South Korea. The beach is 560 meters long and 50 meters wide, and the sand features a variety of colors, including black, white, red, and gray. In 1999, by a result of an environmental water quality investigation conducted by the Korean Federation for Environmental Movement, Jungmun Saekdal Beach was chosen as the best-uncontaminated beach among 44 beaches in South Korea. Jungmun Saekdal Beach holds events like the Winter Sea Penguin Swimming Competition, Summer Shore Movie Expo, and the International Surfing Competition.
There is a 15-meter high sea cave on the right side of the sandbar and behind the cave, rocks are surrounded like the byeongpung (병풍, Korean traditional folding screen). During the ebb tide, the beach generates the hanging water on the right entrance of the bay. The current is rather rough, and many surfers come to the beach. In the past, bidan moshi clams (비단모시조개, a kind of clam found in Jeju) were often caught. During June and July, wangbadageobuk (왕바다거북, a kind of big sea turtle), an endangered species, occasionally comes up the shore and lay eggs.
With the Seogwipo Chilsiplihaean (서귀포 칠십리해안) beach as the center, Jungmun Tourist Complex sits on the left and has views of the beach.
8. Seongeup Village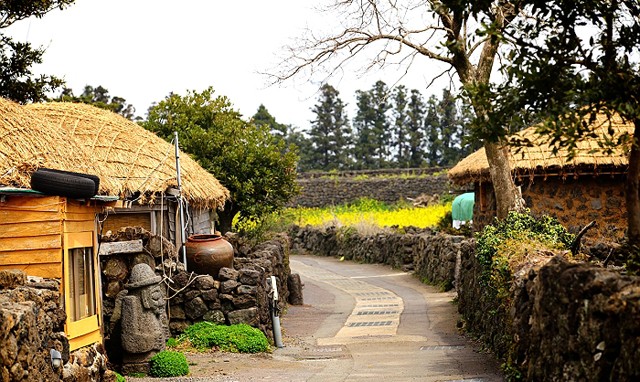 Photo: Chudu24
Located at the foot of Halla Mountain on Jeju Island, Seongeup Folk Village is a small town that holds a vast amount of culture.
Cultural properties in the folk village have been handed down from generation to generation and include treasures such as residential houses, Confucian shrines and schools, ancient government offices, stone statues, large millstones (pulled by horses or ox), fortress ruins, and stone monuments. Among the cultural gems of the folk village are intangible cultural assets such as folk plays, native foods, local folk craftsmanship, and local dialect. Even the trees are an important part of the area's heritage. Several zelkova and nettle trees that are hundreds of years old stand at the center of the village, preserving the dignified atmosphere of a bygone era.
The Seongeup Folk Village shows the unique culture of Jeju Island: the black lava rock walls, the straight but curvy alleys to block the wind, and the stone grandfather statues (Harubang), which have become a prime feature of the landscape. The local black-haired pigs and tongsi (pigsty/restroom) are especially well-known characteristics of Jeju folk culture. The Jeju black pork is said to be very nutritious.
9. Jeju Olle Trail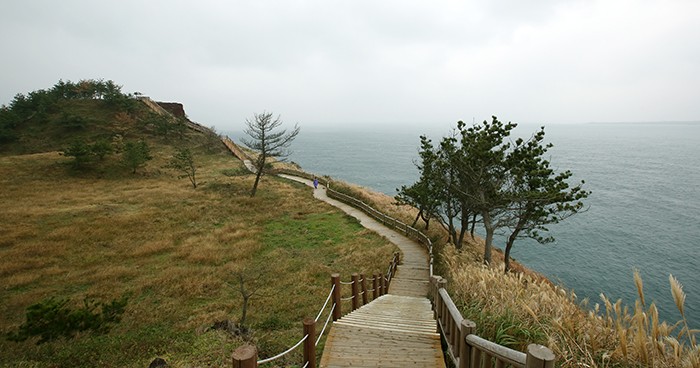 Photo: Korea.net
Jeju Olle Trail is a long-distance footpath on Jeju Island, an island off the southwest coast of South Korea. The route follows the coastline and consists of 21 connected numbered main routes, 5 sub-routes, and a short spur that connects to Jeju International Airport. On average, the routes are 16km in length and in total amount to 422km. The exact length and locations change over time as trails are modified or re-routed. Jeju Olle Trail was founded by ex-journalist Suh Myung-suk.
Jeju Olle Trail was founded by ex-journalist Suh Myung-suk. Camino de Santiago is a UNESCO World Heritage site. Suh Myung-su followed this example and established the Jeju Olle Foundation after investigating Jeju-Si Island to develop tourist routes such as the Santiago Pilgrimage route in South Korea. The Jeju Olle Foundation operates the plan to develop a new route for the Jeju Olle Trail. The procedure includes choosing the correct walking path, connecting them to create a route, expanding the width of the path, and removing obstacles.
10. Daepo Jusangjeolli Cliff
Photo: Wikimedia Commons
Lining the Jisatgae Coast are imposing stone pillars so incredibly hexagonal, you'd be baffled to know that these are works of nature! A designated cultural monument of Jeju Island, Jusangjeolli Cliff was formed when Mount Hallasan erupted into the sea of Jungmun. A popular spot for sea angling, it's best to go during high tide. This Jeju Island attraction looks most majestic when white frothy waves are crashing against the dark stones, according to Tripzilla.
Top 10 UK Foodie Breaks

There's something here to nourish your soul, whether it's a foraged pizza or a seafood safari.
Top 10 Best TV Shows Of 2021

Succession, Yellowjackets, Ambulance, etc, are some of the best TV shows with excellent plots, stellar casts, and high rates from the audience.
Top 10 Best Songs Of 2021

2021 is the year of the top debut songs and music of the most talented singers, from Adele, Lil Nas X to The Weeknd. To ...