Top 10 Most Popular Movies You Can Watch on Netflix In January
Since the newest film, "Don't Look Up", broke the number of views on the site, Netflix has revealed Top 10 most popular movies that you can enjoy right now in January.
Netflix in January announced a huge slate of original movies for 2021, with the studio aiming to release one major movie a week this year. The first of those films came this month, with awards contenders like Pieces of a Woman (starring Vanessa Kirby) and The White Tiger (starring Priyanka Chopra Jonas) being released. Not only is Don't Look Up one of Netflix's most successful original movies ever, but it has already surpassed The Witcher season 2 and Cobra Kai season 4 in terms of viewership.
Read on to know which movies are the most popular on Netflix in January.
1. Red Notice – 364.02 million hours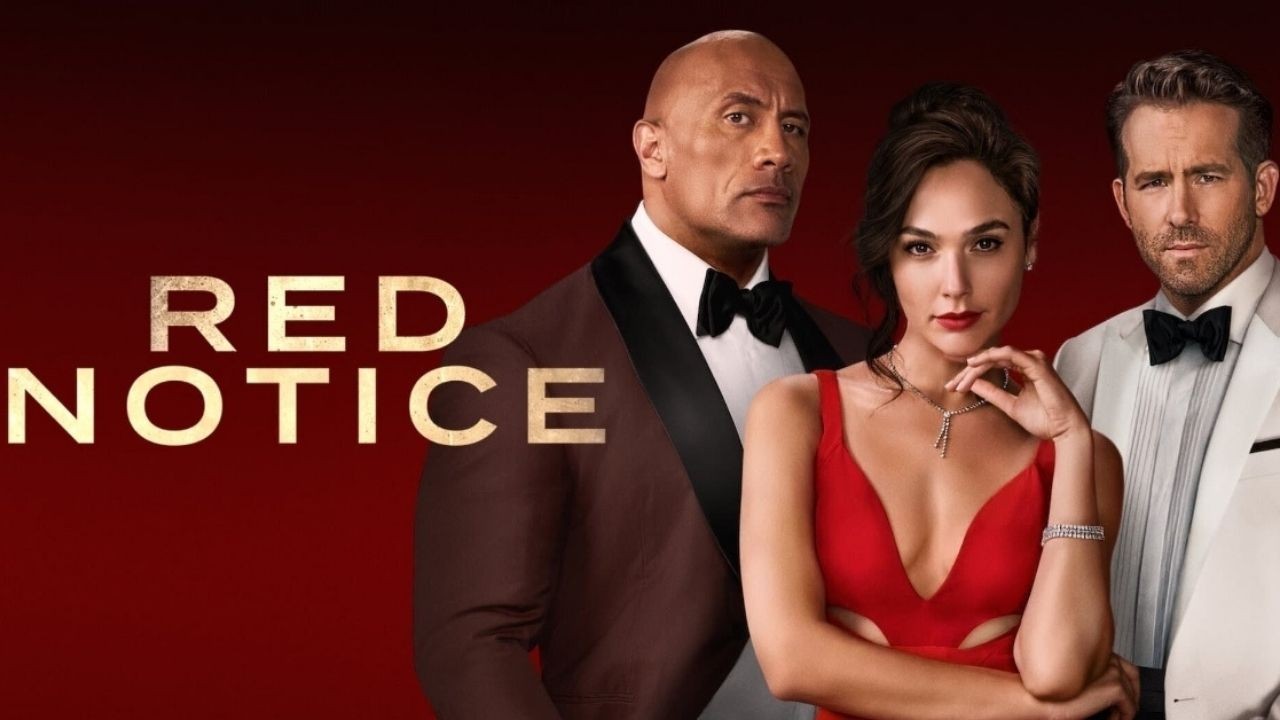 Phoroo: Netflix
Red Notice is a 2021 American action comedy film written, directed, and produced by Rawson Marshall Thurber. Dwayne Johnson, who also served as a producer, stars as an FBI agent who reluctantly teams up with a renowned art thief (Ryan Reynolds) in order to catch an even more notorious criminal (Gal Gadot). The film marks the third collaboration between Thurber and Johnson, following Central Intelligence (2016) and Skyscraper (2018).
Originally planned for release by Universal Pictures, the film was acquired by Netflix for distribution. It began a limited theatrical release on November 5, 2021 before digitally streaming on the platform on November 12, 2021. The film received generally mixed reviews from critics, who praised the performances of the cast (particularly Reynolds and Johnson), along with the humor and cinematography, but criticized the plot and writing. It became the most-watched film in its debut weekend on Netflix, as well as the most-watched film within 28 days of release on the platform.
2. Bird Box – 282.02 million hours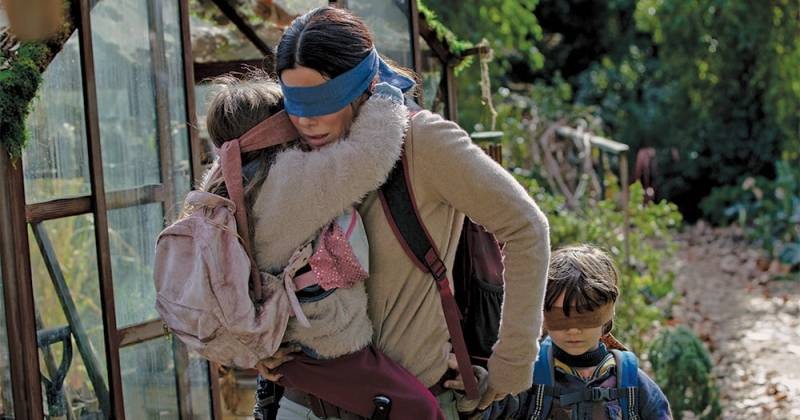 Photo: Netflix
Bird Box is a 2018 American post-apocalyptic horror thriller film directed by Susanne Bier, following a screenplay written by Eric Heisserer, and based on the 2014 novel of the same name by Josh Malerman. The film follows the character Malorie Hayes, played by Sandra Bullock, as she tries to protect herself and two children from entities which cause people who look at them to die by suicide.
Bird Box had its world premiere at the AFI Fest on November 12, 2018, and began a limited release on December 14, before streaming worldwide on Netflix on December 21, 2018. The film received mixed reviews from critics and went on to become the most-watched film on Netflix within 28 days of release.
Bird Box was watched by nearly 26 million viewers in its first seven days of release in the United States. It also revealed that a significant part of its audience were young – aged 18 to 34 (36%) – female (57%), and either African American (24%) or Latino (22%). Netflix also released its own viewing figure that gave a worldwide audience of more than 45 million in seven days, with views defined by the company as the film streaming for over 70 percent of its time. The viewing figure was claimed to be the best ever for a Netflix film. This audience figure released by Netflix was met with skepticism from some analysts, who cited a lack of independent verification of the view count. In July 2020, Netflix revealed the film had in-fact been watched by 89 million households over its first four weeks of release, the second-most ever for one of their original films. A Barclays study deduced that, had the film received a traditional theatrical release, it would have grossed about $98 million worldwide. Bird Box became the most-watched film on Netflix within 28 days of its release, with 282.02 million hours being viewed. It retained this position until being displaced by Red Notice in 2021.
3. Don't Look Up – 263.3 million hours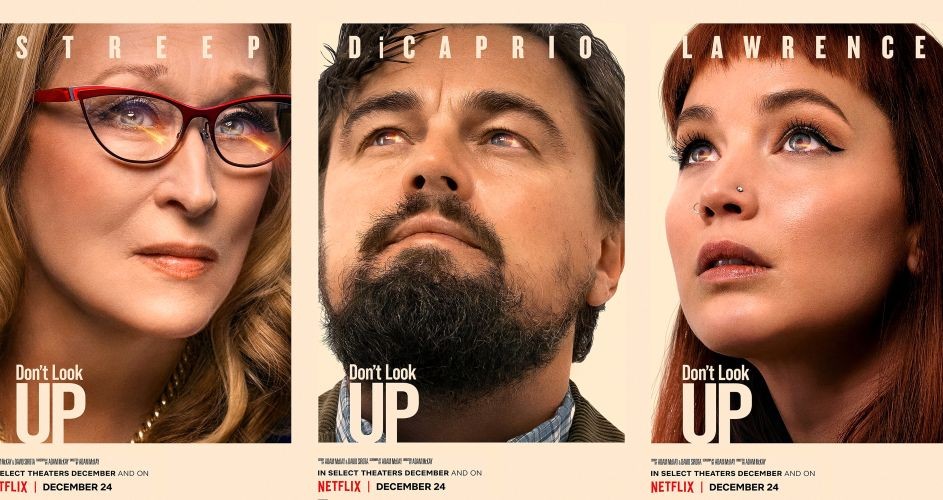 Photo: Netflix
Adam McKay's climate change satire Don't Look Up is officially a record breaker, with the title attracting the most viewing hours for a movie in a single week in Netflix's history.
The pic's 152.29 million hours watched globally in the week December 27-January 2 is a new high-water mark, the streamer has confirmed to Deadline.
Figures released by Netflix show the Leonardo DiCaprio-Jennifer Lawrence pic already is its third-most-watched film (in its first 28 days) of all time, behind only Bird Box and Red Notice.
While Netflix doesn't release day-to-day data, Don't Look Up is likely to be encroaching on the Sandra Bullock movie and could soon take the all-time record away from the crime caper starring Dwayne Johnson, Gal Gadot and Ryan Reynolds.
Despite dividing critics and audiences, the film has clearly tapped into the zeitgeist and has put renewed focus on the subject of climate change.
In its latest round of data released, Netflix also revealed Maggie Gyllenhaal's directorial debut The Lost Daughter had landed at No. 3 on its list of most-viewed English-language films for the week with 18.26 million hours viewed.
Meanwhile, César Rodrigues' Brazilian drama Lulli was the most-watched non-English film over the December 27-January 2 period with 15.21 million hours viewed, according to Deadline.
4. Extraction – 231.3 million hours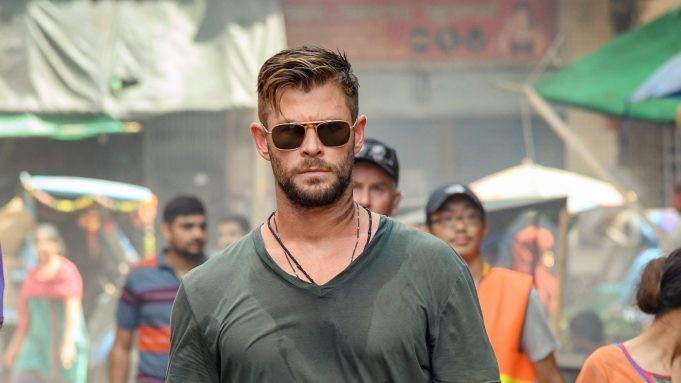 Photo: Netflix
Extraction is a 2020 American action thriller film directed by Sam Hargrave (in his feature directorial debut) and written by Joe Russo, based on the graphic novel Ciudad by Ande Parks, Joe Russo, Anthony Russo, Fernando León González, and Eric Skillman. The film's cast features Chris Hemsworth, Rudhraksh Jaiswal, Randeep Hooda, Golshifteh Farahani, Pankaj Tripathi and David Harbour. The film is about an Australian black ops mercenary whose mission to save an Indian drug lord's kidnapped son in Dhaka, Bangladesh goes awry when he is double-crossed.
Netflix released Extraction on April 24, 2020. The film received positive reviews from critics, who praised the performances, cinematography, and action sequences, but received mixed reviews for the plot. It became the most watched original film in Netflix's history with a reported 99 million households in its first four weeks. A sequel is in development.
5. The Irishman – 215.6 million hours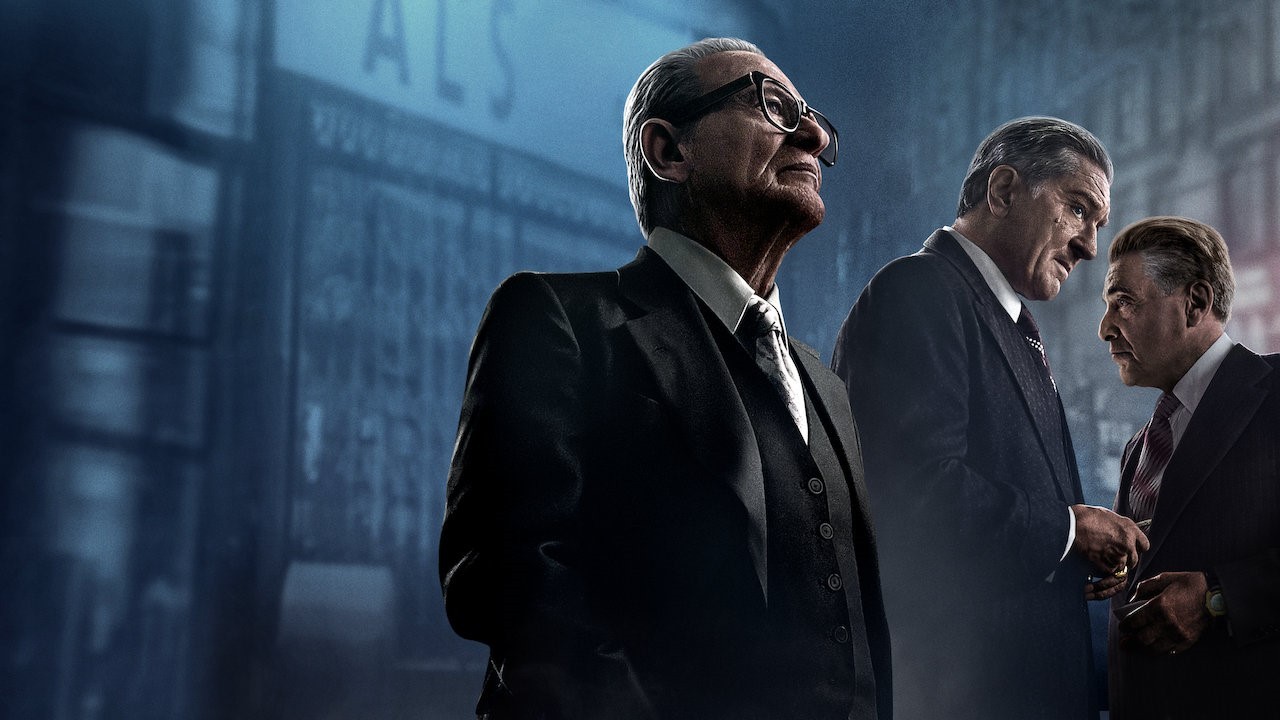 Photo: Netflix
The Irishman (titled onscreen as I Heard You Paint Houses) is a 2019 American epic crime drama film directed and produced by Martin Scorsese and written by Steven Zaillian, based on the 2004 nonfiction book I Heard You Paint Houses by Charles Brandt. It stars Robert De Niro, Al Pacino, and Joe Pesci, with Ray Romano, Bobby Cannavale, Anna Paquin, Stephen Graham, and Harvey Keitel in supporting roles. The film follows Frank Sheeran (De Niro), a truck driver who becomes a hitman involved with mobster Russell Bufalino (Pesci) and his crime family, including his time working for the powerful Teamster Jimmy Hoffa (Pacino). The film marks the ninth collaboration between director Scorsese and De Niro, the first one between Scorsese and Pacino, and the fourth film in which both De Niro and Pacino appear in starring roles (after The Godfather Part II, Heat, and Righteous Kill).
In September 2014, following years of development hell, The Irishman was announced as Scorsese's next film after Silence (2016). De Niro, who also served as producer, and Pacino were confirmed that month, as was Pesci, who came out of his unofficial retirement to star after numerous requests. Principal photography began in September 2017 in New York City and the Mineola and Williston Park sections of Long Island and wrapped in March 2018. Scenes were filmed with a custom three-camera rig to help facilitate the extensive de-ageing digital effects that made De Niro, Pacino, and Pesci appear younger. With a runtime of 209 minutes and a production budget of $159–250 million, it is the longest and most expensive film of Scorsese's career.
The Irishman premiered at the 57th New York Film Festival, and had a limited theatrical release on November 1, 2019, followed by digital streaming on Netflix starting on November 27, 2019. It received universal critical acclaim, with praise for Scorsese's direction and the performances of De Niro, Pacino, and Pesci. The film received numerous accolades; at the 92nd Academy Awards, it received 10 nominations, including Best Picture, Best Director, Best Supporting Actor for Pacino and Pesci, and Best Adapted Screenplay. Additionally, at the 77th Golden Globe Awards, it was nominated for five awards, including Best Motion Picture – Drama, while it earned 10 nominations at the 73rd British Academy Film Awards, including Best Film.
6. The Kissing Booth 2 – 209.25 million hours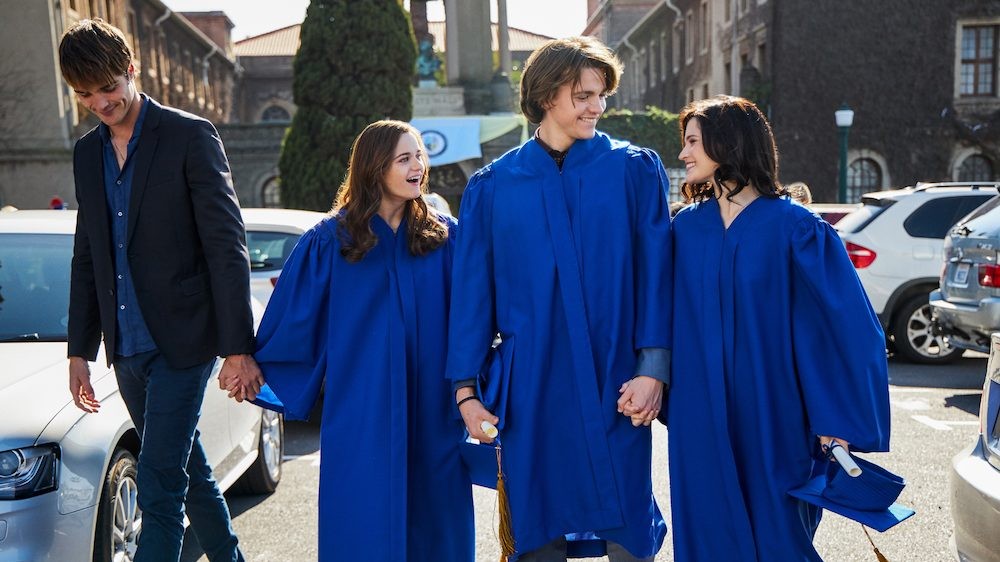 Photo: Netflix
The Kissing Booth 2 is a 2020 American teen romantic comedy film directed by Vince Marcello, from a screenplay by Marcello and Jay Arnold. The film is a direct sequel to the 2018 film The Kissing Booth, and is the second installment in the Kissing Booth trilogy. Based on The Kissing Booth books by Beth Reekles, the film stars Joey King, Joel Courtney and Jacob Elordi.
The film was released on July 24, 2020, by Netflix. Like its predecessor, the film received generally negative reviews from critics. A third installment was released on August 11, 2021.
On review aggregator Rotten Tomatoes, the film holds an approval rating of 27% based on 41 reviews, with an average rating of 4.3/10. The website's critics consensus reads: "Joey King makes The Kissing Booth 2 better than it could have been, but this slapdash sequel will leave viewers puckering up for all the wrong reasons." On Metacritic, the film has a weighted average score of 39 out of 100, based on 12 critics, indicating "generally unfavorable reviews".
IndieWire's Kate Erbland gave it a grade C+, and wrote: "While it offers some necessary growth for all of its characters, The Kissing Booth 2 can never resist looking and acting like dozens of other offerings of its genre ilk, unable to grow beyond basic complications and done-to-death dramas. And yet there are hints that its evolution has a few more tricks left to employ, its winking conclusion only one of them." Clarisse Loughrey of The Independent gave the film a score of 2 out of 5 stars, writing: "To The Kissing Booth 2's credit, it's not as aggressively problematic as its predecessor."
Adam Graham of The Detroit News gave the film a grade of B, writing that the film "is a sun-kissed fantasy with an appealing cast and a slick presentation that provides an easy escape, and that's OK, too." Robyn Bahr of The Hollywood Reporter wrote that the film "wades into the quagmire of what happens when the glow fades from a new relationship", and concluded: "As I might have said during my own high school days, The Kissing Booth 2 is "mad stupid," but it's still not as overtly slappable as Netflix's other low-budget teen comedies."
7. The Unforgivable – 208.2 million hours
Photo: Netflix
The Unforgivable is a 2021 drama film directed by Nora Fingscheidt and written by Peter Craig, Hillary Seitz and Courtenay Miles, based on the 2009 British miniseries Unforgiven written by Sally Wainwright. The film stars Sandra Bullock, Vincent D'Onofrio, Jon Bernthal, Richard Thomas, Linda Emond, Aisling Franciosi, Rob Morgan, and Viola Davis.
The Unforgivable was released in a limited release on November 24, 2021, prior to streaming on Netflix on December 10, 2021.
The Unforgivable was the most-streamed-film on Netflix's charts for English-language films during its first week of release, with 85.86 million hours viewed. It was also the most-streamed-film in the United States according to TV Time. The film retained its position on Netflix's charts the following week with a viewership of 74.44 million hours while also retaining its position in TV Time's rankings. In the third week, it was displaced to the second position by Don't Look Up, while totalling a viewership of 26.6 million hours for the week. Meanwhile, it dropped to the eighth position on TV Time's chart. It also became the second movie starring Sandra Bullock to be ranked among the top 10 most-streamed-films of all time on Netflix, ranking at ninth with a viewership of 186.9 million hours. It retained its second position on the weekly Netflix charts in the following week with a viewership of 21.31 million hours, while also rising to the seventh position on TV Time's charts.
8. 6 Underground – 205.5 million hours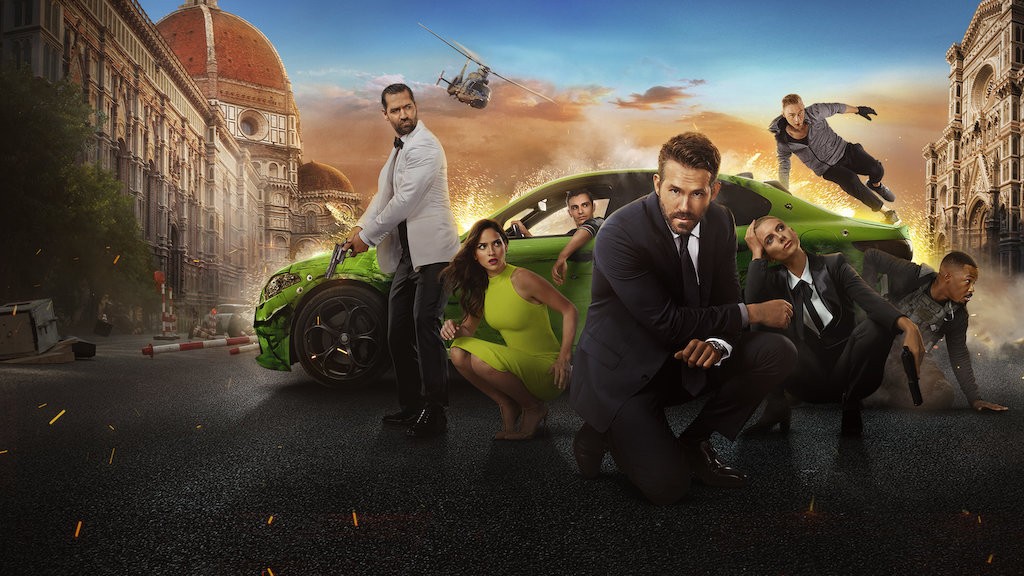 Photo: Netflix
6 Underground is a 2019 American action-thriller film directed by Michael Bay and written by Paul Wernick and Rhett Reese. The film stars Ryan Reynolds, Mélanie Laurent, Manuel Garcia-Rulfo, Adria Arjona, Corey Hawkins, Ben Hardy and Dave Franco. Bay produced the film with his longtime business partner Ian Bryce and Skydance's David Ellison, Dana Goldberg and Don Granger. It follows a group of people that fake their deaths and decide to form a vigilante team in order to stage a coup d'état against a ruthless dictator.
6 Underground premiered at The Shed in New York City on December 10, 2019, and was released by Netflix on December 13, 2019. With a budget of $150 million, the film is one of the most expensive Netflix originals ever made. It received generally polarizing reviews, with praise for Reynolds's performance and action sequences, but criticism for its direction and length. Netflix announced plans for a sequel, though due to the film's mixed reviews and the studio's disappointment in the film's lack of creativity, the sequel was officially cancelled.
9. Spenser Confidential – 197.3 million hours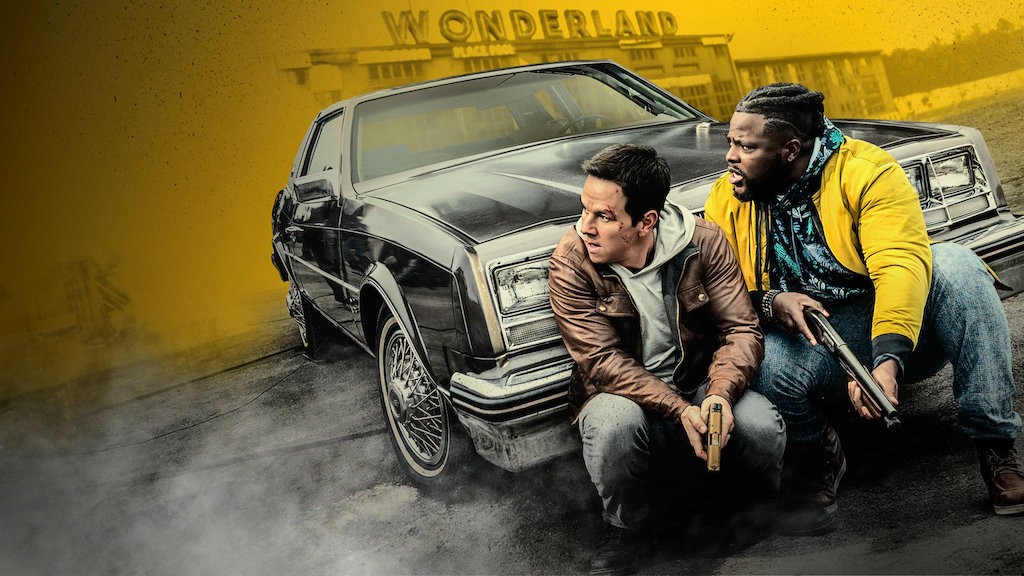 Photo: Netflix
Spenser Confidential is a 2020 American action comedy film directed by Peter Berg and with a screenplay written by Sean O'Keefe and Brian Helgeland. The film stars Mark Wahlberg, Winston Duke, Alan Arkin, Iliza Shlesinger, Bokeem Woodbine, Donald Cerrone, Marc Maron, and Post Malone and marks the fifth collaboration between Wahlberg and Berg after Lone Survivor, Deepwater Horizon, Patriots Day, and Mile 22.
On the review aggregator website, Rotten Tomatoes, the film holds an approval rating of 37% based on 84 reviews, with an average rating of 4.6/10. The site's critics consensus reads, "While the buddy cops at the center of Spenser Confidential are plenty affable, the comedy never arrives as this half-hearted vehicle goes purely through the motions." On Metacritic, the film has a weighted average score of 49 out of 100, based on 20 critics, indicating "mixed or average reviews."
Elisabeth Vincentelli of the New York Times criticized the film's deviation from its source material, observing that there was "almost no resemblance to the Ace Atkins novel Robert B. Parker's Wonderland ... aside from the Boston location, the main characters' names and something or other about an abandoned dog-racing track." Daniel Woburn of the online entertainment news website Screen Rant elaborated further on this disparity, noting many differences in characterization from the series as a whole and calling out the plot, in particular, as deviating heavily from the original novel with the biggest common thread between them being the finale at the race track.
10. Enola Holmes – 189.9 million hours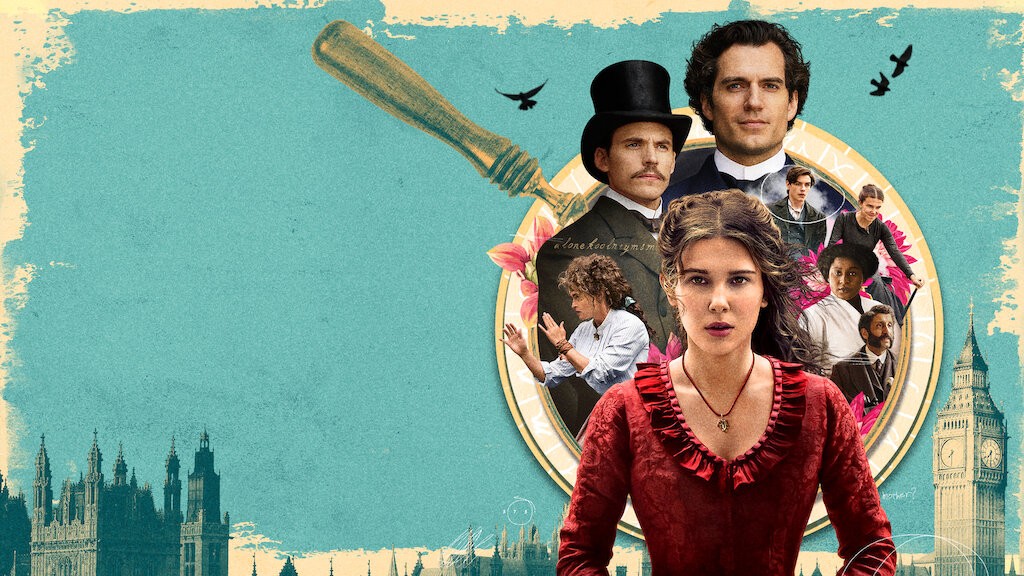 Photo: Netflix
Fast-paced, clever, and hugely entertaining, this film will delight fans of Brown and surely bring her more followers thanks to this outstanding role. Brown has become a cultural icon of girl power: Girls everywhere wanted to be her Stranger Things character Eleven, and now they'll crave to be the fiercely independent, confident, wily Enola, too. Brown (who's also a producer on Enola Holmes) pairs off against a cast of established actors, including Bonham Carter and Cavill, and she fills nearly every scene with energy and intelligence in a role that's as physical as it is emotional. The technique of having her character conspiratorially break the fourth wall to talk directly to the camera (like a teen-friendly Fleabag) creates complicity with the viewer. Interestingly, that playful dialogue seems to come and go with her character's own confidence and fortune.
Sherlock fans may be reluctant to accept a younger and more forward-thinking sister who outsmarts the great detective. And history buffs may bristle at the imposition of some contemporary values on late 1800s-era London. But smashing historical constructions and patriarchal obstacles seems to be exactly the point. And, anyway, doesn't the magic of many movies lie precisely in the suspension of disbelief? Yes, Enola's regular combat conquests and speedy deductions are suspect. But really, who cares when a film is so well put together and just plain fun to watch? Considering that there are several books in the source series, here's hoping that Enola Holmes marks the start of an exciting new franchise, according to Common Sense Media.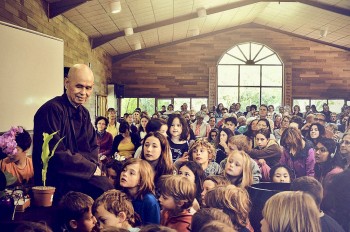 Viet's Home
The master of meditation "passed away peacefully" at the Tu Hieu Temple in Hue – where his spiritual journey began and Vietnam's Buddhist heartland, the Plum Village Community of Engaged Buddhism said.