Top 10 Must-try Tourist Activities in Ha Long Bay
The famous international travel information site The Travel praised the best 10 ways to fully explore Ha Long Bay, from fishing to mountain trekking.
Joshua Chiedu, the author of the article, insists that tourists must definitely visit Ha Long Bay. This tourist destination is full of cultural values and unique natural landscapes.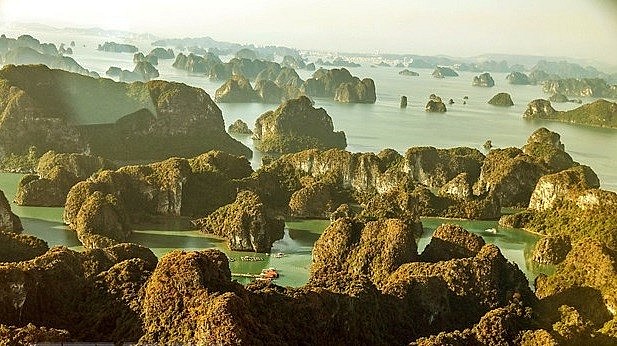 The golden sunlight covers the towering mountains in the middle of the sea, creating a majestic and overwhelming scene. Photo: VNA
Especially, for those who choose to come to Asia and want to make the most of their time in this fascinating destination, these will be the best ways to fully explore Ha Long Bay.
Kayaking
Kayaking in Ha Long Bay is one of the most relaxing activities that visitors can experience. Visitors will be able to paddle on the calm water and get up close to admire the giant limestone blocks covered by a green ecosystem. Along with the endless sea and sky, this is really an experience not to be missed when visitors come to Ha Long Bay.
During the day is the best time to enjoy the natural scenery on the cruise, but at night is also the ideal time for visitors to see a completely different and equally brilliant view of the bay.
Boating with the locals
Rowing boats (usually made of wood) are a popular means of transportation for locals here. It is often used for fishermen to move around the bay, today it is also used when tourists want to experience the daily life of the locals. Additionally, sailing with the locals will also help visitors feel closer to mother nature and Vietnamese culture.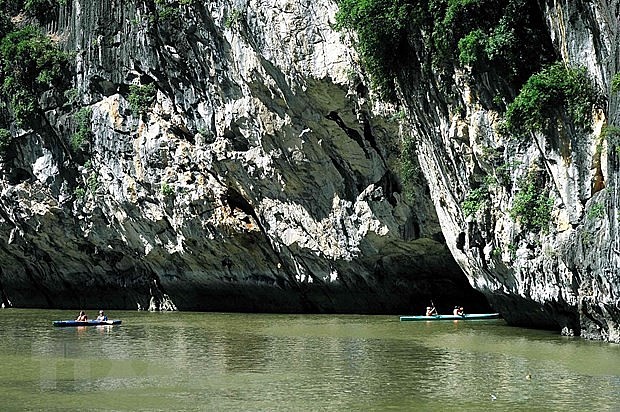 Ha Long Bay - a world natural heritage with countless special values. Photo: VNA
Mountain climbing
An equally interesting activity that can be done in Ha Long Bay is mountain climbing. This extreme sport is popular with both locals and tourists. The mountains on the islands vary in elevation, so this activity is suitable for all levels of climbers, from beginners to experienced, professional climbers.
Fishing
Ha Long Bay has many fishing villages, and visitors can visit one of them to learn about one of the most popular occupations here. Cua Van, Ba Hang, and Cong Dam are great fishing villages for visitors to enjoy an exciting fishing experience. Squid is especially abundant in the bay, besides there are some other aquatic seafood species such as crabs, snails, shrimps, shrimps...
Eating the seafood
As a popular fishing spot, Ha Long Bay is known for its delicious seafood. Although there are many interesting recreational activities here, a journey to explore the bay will not be complete without enjoying at least one seafood dish.
Cave exploration
Caves in Ha Long Bay are endowed with nature, offering great opportunities for adventurers to explore. Many special caves are formed by unique stone slabs and fascinating tunnels. The Shonk Cave is the largest and most beautiful cave in Ha Long Bay.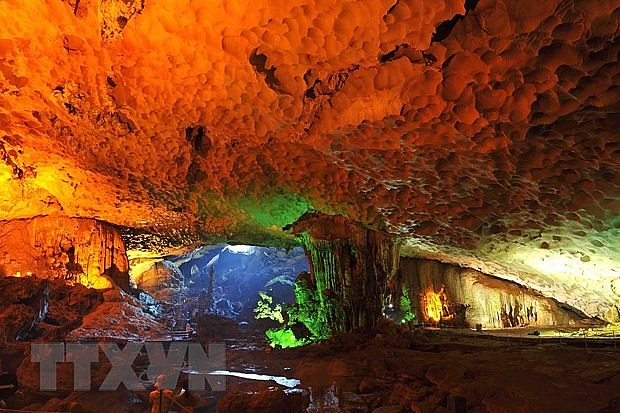 Photo: VNA
Relaxing on the beach
The beaches in Ha Long Bay have a characteristic turquoise color with fine white sand. Countless limestone mountains covered with green trees also add to the poetic scenery here. Swimming, kayaking, and scuba diving are popular recreational activities here.
Exploring Sun World Halong Park
Sun World Ha Long is the most ideal land for those who are looking for an exciting adventure in Ha Long Bay. This amusement park features many unique activities, from thrilling games to exciting water slides or a giant ferris wheel. There are also areas where visitors can see the trees, waterfalls, as well as other attractions.
Visiting Quang Ninh Museum
Quang Ninh Museum is a popular place for tourists who want to learn about the history of Ha Long Bay. The museum has an impressive exterior design. Inside the museum displays artifacts of local historical, cultural, and artistic value. In addition, there is a floor dedicated to nature and the sea. There, visitors can learn about the flora and fauna around the bay.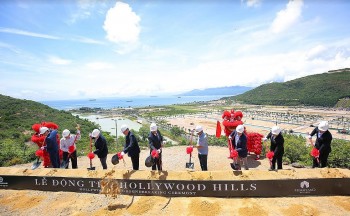 Economy
On October 2, at Hai Giang peninsula (Quy Nhon city, Binh Dinh), Hung Thinh Corporation held the groundbreaking ceremony of Hollywood Hills by YOO Inspired by Starck – a subdivision at MerryLand Quy Nhon. The event marks the first time that the world's No.1 ranked design and branded residence company YOO Inspired by Starck is officially present in Vietnam, with a collection of villas designed by creative director, Philippe Starck.