Top 7 Richest Families In Asia
With successful businesses and a huge amount of net worth, these families have become the richest families in Asia.
Fancy cars, expensive clothes, and big houses, it is how people thought of the life of the richest families in Asia. From developing family businesses to raising children, these richest Asian families know how to overcome challenges, accomplish tasks and become richer.
1. The Ambanis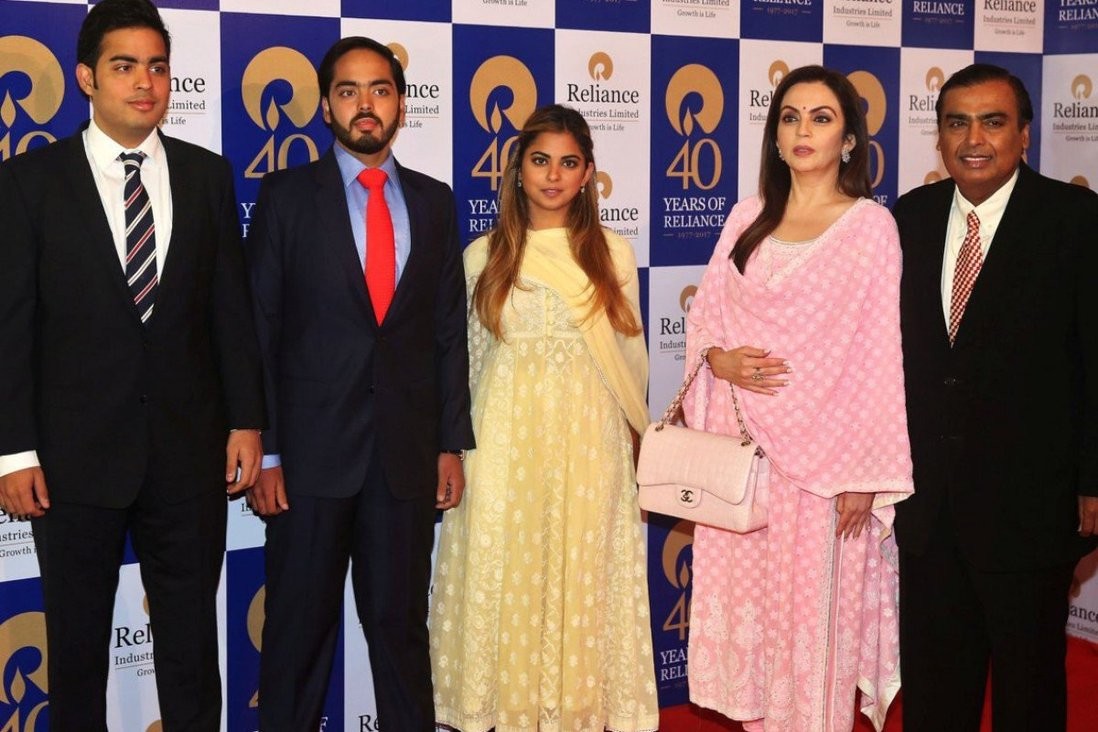 Photo: SMCP
The Ambanis made international headlines in 2018 for throwing one of the most lavish wedding celebrations in recent memory, which included a private Beyoncé concert and celebrity guests including Priyanka Chopra and Nick Jonas, Hillary Clinton, and Arianna Huffington.
The Ambani family home in Mumbai is a 27-story skyscraper that cost an estimated $1 billion to build.
The family patriarch, Mukesh Ambani, has an estimated net worth of $66.1 billion, making him the ninth-richest person in the world, according to Bloomberg. He is also, as Fortune reported, the first Asian tycoon to number among the world's 10 richest people.
Today, 63-year-old Mukesh Ambani is worth an estimated $64.5 billion as the chairman and largest shareholder of Reliance Industries Limited.
2. The Kwoks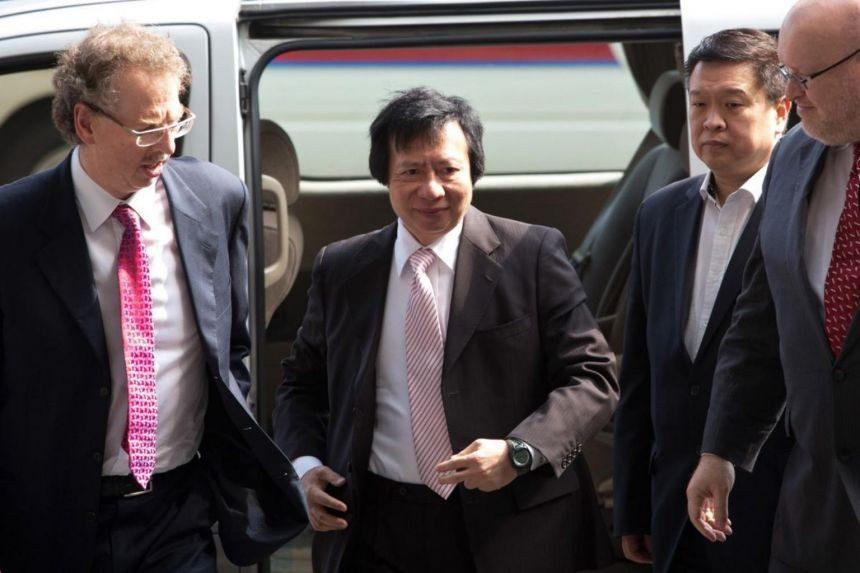 Photo: The Straits Times
Kwok Tak-seng founded Sun Hung Kai Properties in 1963. He was born in Zhongshan and moved to Hong Kong after World War II. He made his real estate firm a massive success by getting into every sector of the property business from residential to commercial to hotels to industrial developments. He was aided in part by the three-decade-long rise in the price of homes in Hong Kong. Basically, Kwok and Sun Hung Kai properties were in the right place at the right time.
In Hong Kong, just a handful of families control all of the real estate, shopping centers, and utilities. The Kwok family is one of those families. A college graduate makes a starting salary of $25,000 in Hong Kong. The average rent for a two-bedroom apartment in a building owned by the Kwok's is going to run you more than $4,000 a month. Hong Kong's real estate is the most expensive in the world in terms of price per square foot. Sun Hung Kai Properties is the largest landowner in Hong Kong and one of the main reasons the cost of living in Hong Kong has skyrocketed over the last few decades.
Kwok Tak-seng had three sons, Walter, Thomas, and Raymond. He passed away on October 30, 1990, at the age of 79. His real estate empire was passed down to his oldest son, Walter.
Currently, Raymond Kwok is serving as the construction giant's chairman. He has a net worth of US$ 1.4 billion (as of 16 August 2021), according to Forbes.
3. The Chearavanonts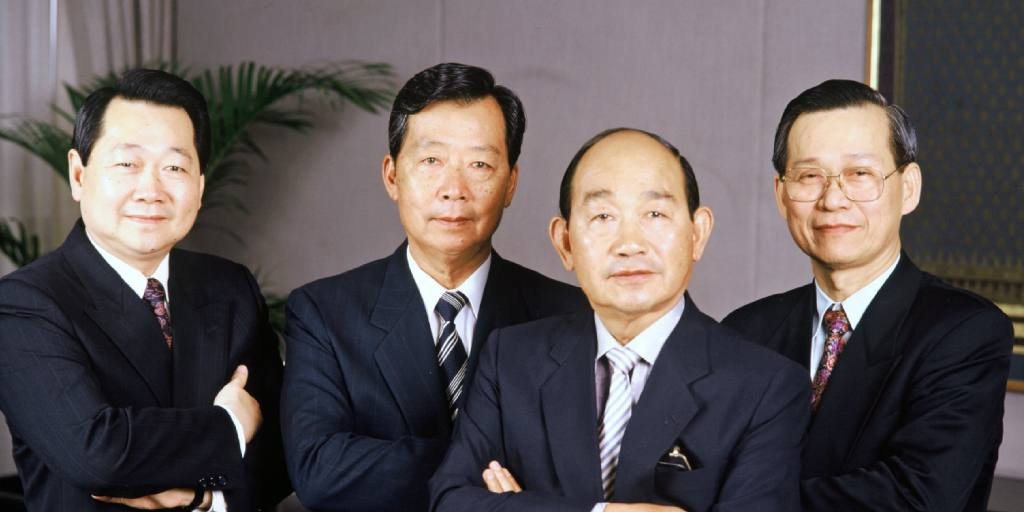 Photo: Nikkei Asia
The Chearavanont family is a Sino-Thai business family based in Bangkok, Thailand with ancestral roots in Shantou, China. The family is noted for its success in business, making them one of the richest ethnic Chinese families in the world. The family owns the conglomerate CP Group and was ranked by Forbes Asia in 2017 as Asia's fourth-wealthiest family with a net worth of US$36.6 billion.
The family is currently headed by Dhanin Chearavanont. Dhanin's father, Chia Ek Chor, and uncle, Chia Seow Hui, left China for Bangkok in the 1920s to begin selling seeds and agricultural chemicals. Their business diversified geographically across Asia, and vertically via a number of technology ventures and contract farming initiatives. In the 1980s, as China opened up to foreign firms, the Charoen Pokphand Group became the preferred partner for international brands such as Honda, Walmart, and Tesco.
Dhanin, his three brothers Jaran, Montri and Sumet, and their cousins collectively own the group, which is one of Asia's largest conglomerates and operates in agriculture, telecommunications, marketing, distribution and logistics, international trading, petrochemicals, property and land development, crop integration, insurance, automotive, and pet foods.
4. The Hartonos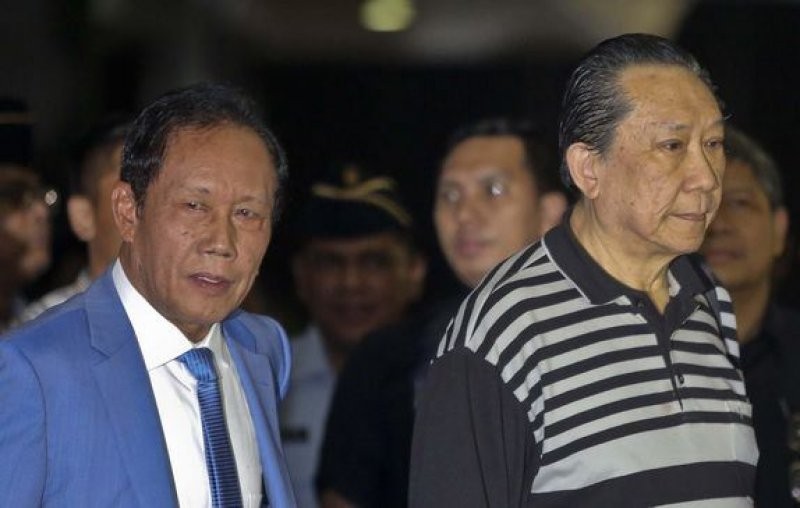 Photo: AsiaNews
In 1950, Oei Wei Gwan bought a nearly defunct cigarette company in Central Java. It was called Djarum Gramofon, which means gramophone needle. He shortened the name to Djarum. He grew the business into one of the largest cigarette makers in Indonesia. When Oei died in 1963, he left the business to his sons R. Budi Hartono and Michael Hartono. The brothers updated and modernized the company's equipment after a fire that nearly gutted the company. Within a decade, they were exporting their clove cigarettes abroad in 1972. In 1975 they introduced the Djarum Djarum Filter, which was the first brand to be produced by machines. In 1981, the brand Djarum Super was introduced. Two years later, Djarum Special was introduced.
After the Asian financial crisis in 1997, Djarum became part of a consortium that bought Bank Central Asia, the largest private bank in Indonesia. Djarum holds a majority stake of 51% in the bank. In 2004, Djarum started to develop and renovate Jakarta's five-star Hotel Indonesia as part of their larger Grand Indonesia project, a nearly seven million square foot complex with a shopping mall, high-end residential tower, office tower, and the hotel.
Djarum's tobacco products accounted for 97% of the U.S. clove cigarette market until 2009 when the Family Smoking Prevention and Tobacco Control Act was passed. This banned the sale of flavored cigarettes other than menthol because critics claimed they appealed to teenagers. As a result, Djarum started marketing their cigarettes as filtered cigars and wrapped them in the tobacco leaf rather than the black paper their regular clove cigarettes are wrapped in, according to Celebrity Net Worth.
5. The Lees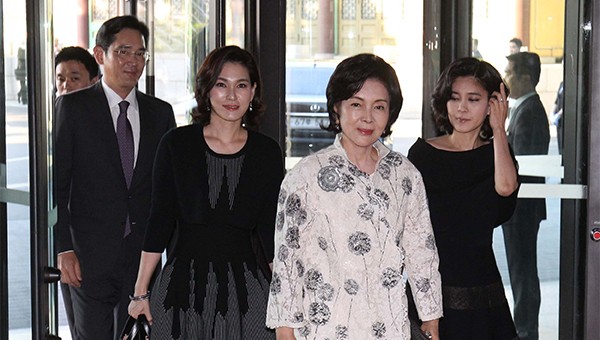 Photo: Pulse News Korea
It all started in 1938 with Lee Byung-chul, $25, and dried fish. The patriarch and progenitor of the Samsung dynasty opened a tiny dry-goods store. Decades later, his son would launch one of the most coveted cellphones on the market, the Galaxy S, into smartphone stardom.
Lee Byung-chul, however, started with $25 when he opened that first store.
In 2012, Samsung's revenue was equal to 17% of South Korea's GDP, according to Bloomberg.
According to Samsung's corporate website, the Lee family has a hand in (but not limited to):
Smartphones and mobile devices, TVs, cameras, and other consumer products, flagship company Samsung Electronics
Electronics parts, including lithium-ion batteries, chips, semiconductors, hard drives, and more for clients including Apple, HTC, and Sony, Samsung Electronics
Clothing and luxury retail, entertainment, and theme parks, Samsung Everland/Cheil Industries
Hospitality, hotels, resorts, and duty-free shops, Hotel Shilla
Construction, investment, and trading (which extends the companies control into natural resources including coal and gas, as well as wind power, steel, chemicals, and textiles), Samsung C&T
Life Insurance, Samsung Life Insurance
Information technology, Samsung SDS
Advertising and marketing, Cheil Worldwide
Shipbuilding, Samsung Heavy Industry
Surveillance, aeronautics, and weapons technology, Samsung Techwin
6. The Yoovidhyas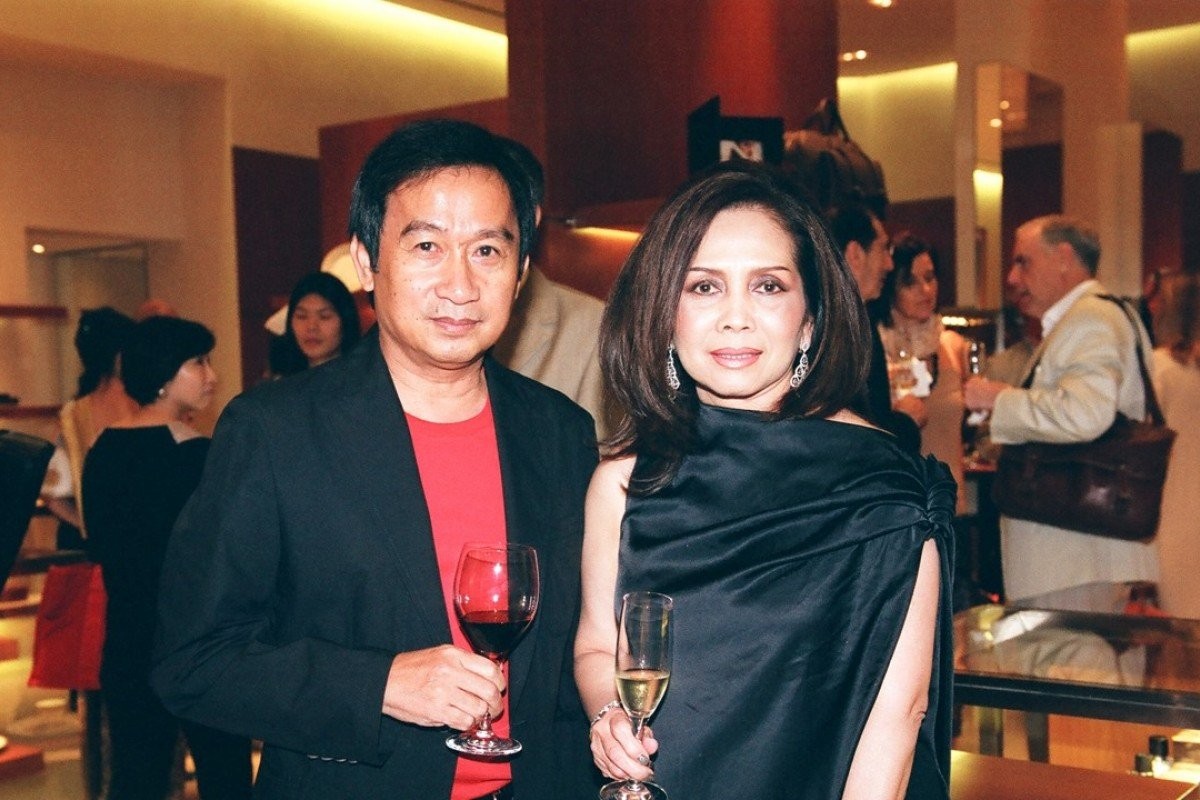 Chalerm Yoovidhya and Daranee Yoovidhya at a cocktail party in 2008. Photo: Handout
The family traces its fortune to the late energy-drink tycoon Chaleo, who in 1987 cofounded Red Bull with Austrian Dietrich Mateschitz, a former marketing executive. By the time of his death in 2012, his interests spanned hospitals, real estate, and sports teams. Eldest son Chalerm now heads the group, whose flagship Red Bull sold 6 billion cans worldwide in 2016. The clan owns 51% of that business, 2% of which is held directly by Chalerm. Brother Saravoot is Red Bull Thailand's managing director. Chalerm's son Varit is involved in the family's winery and Ferrari dealership. Another son, Vorayuth, is wanted by Interpol for his alleged involvement in a fatal hit-and-run case dating back to 2012.
7. The Chengs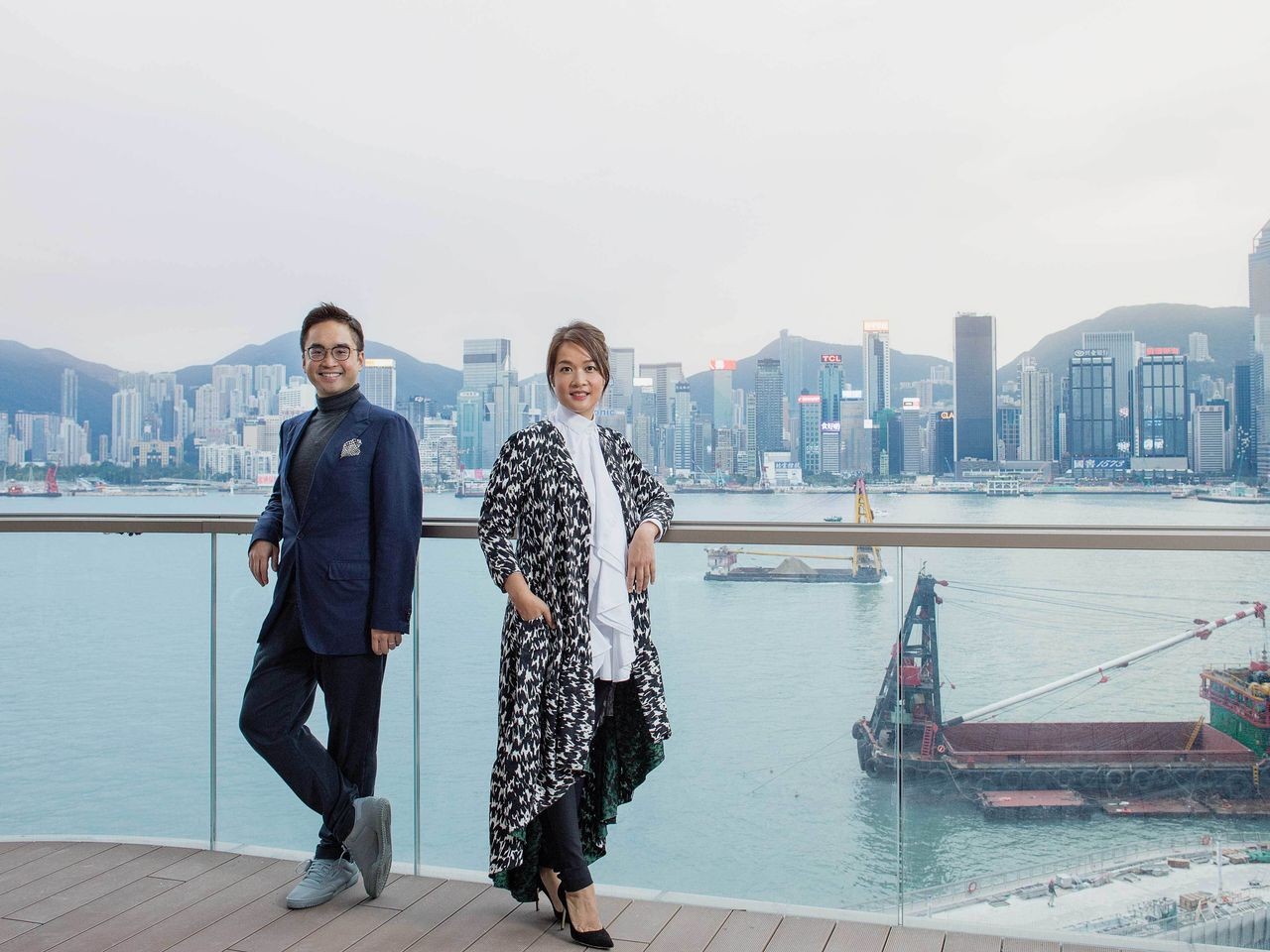 Photo: YASUYUKI TAKAGI FOR WSJ. MAGAZINE
In Hong Kong, the Cheng family is one of the city's most prolific, and also one of its wealthiest. The Chengs – who own a number of lucrative assets including jewelry chain Chow Tai Fook, hotel group Rosewood, and property empire New World Development – are worth a total of US$22.1 billion (S$29.1 billion), according to Forbes.
New World Development was founded by the late property magnate Cheng Yu-tung back in 1970. The 51-year-old family empire's legacy is written on Hong Kong's iconic skyline. Nestled among a flurry of skyscrapers is the Hong Kong Convention and Exhibition Centre (HKCEC), an architectural wonder that boasts curved glass walls and a swooping roof.
New World Centre, which in the 1970s was known as one of the largest commercial complexes in the world, made way for the opening of the art and design district Victoria Dockside in 2018. The development, located on the Tsim Sha Tsui waterfront, has since redefined the skyline of the Kowloon Peninsula.
The man behind this unique project is none other than Adrian Cheng, the grandson of Cheng Yu-tung. Last year, the third-generation scion took over as CEO of New World Development from his father, Henry Cheng.
At 41 years old, the younger Cheng represents a new generation of business leaders in Asia taking over the corporate reins from their forebears, often injecting fresh ideas into their family-owned businesses.
"I'm here to reinvent," Cheng said in an email interview with CNA Luxury. "To inject a modernized view as a cultural entrepreneur on the pillars on which my family founded the family business empire through innovation, design, art, and culture."
Top 10 Richest Athletes Worldwide in 2021

Who are the richest athletes in the world? What are the earning sources of these highest-paid athletes? Exploring sponsorship deals, businesses, and more with Vietnam ...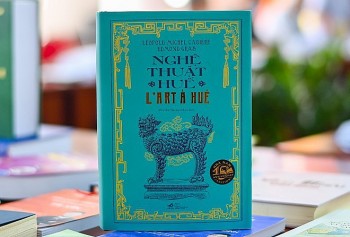 Expats in Vietnam
Inspired either by Vietnamese art or the people themselves, foreign authors often find inspiration in the S-shaped nation.