Top Vietnamese Legislator Begins Official Visit to New Zealand
The National Assembly Chairman arrived in Auckland, beginning official visit to New Zealand
Chairman of the National Assembly Vuong Dinh Hue and a high-ranking delegation of the Vietnamese legislature arrived at Auckland International Airport. Photo: VOV
Chairman of the National Assembly Vuong Dinh Hue and a high-ranking delegation of the Vietnamese legislature arrived at Auckland International Airport in the late afternoon of December 3 (local time), beginning their official visit to New Zealand at the invitation of Speaker of the House of Representatives Adrian Rurawhe, VNA reported.
This marks the first trip by a Vietnamese high-ranking leader to Australia and New Zealand since Vietnam and the two countries fully reopened their doors after the pandemic, and also Hue's first official tour of the two countries as the NA Chairman.
The delegation was welcomed at the Auckland International Airport by Vietnamese Ambassador to New Zealand Nguyen Van Trung, the Vietnamese Embassy's staff and representatives of the New Zealand government and Auckland city's administration.
During the visit from December 3-7, Hue is scheduled to hold talks with Adrian; meet with senior leaders of New Zealand; attend Vietnam-New Zealand educational and economic cooperation forums; meet with the embassy's staff and representatives of the Vietnamese community; and have several other activities.
NA Chairman Vuong Dinh Hue is welcomed at the airport. Photo: VNA
New Zealand is a strategic partner of Vietnam in South Pacific, with the bilateral ties growing in different fields. Due to the Covid-19 pandemic, the exchange of delegations was suspended during 2021-2022 but high-level conversations have been still maintained and bilateral cooperation mechanisms have been deployed in both online and offline forms.
The 2021-2024 Action of Plan with New Zealand to realise the bilateral strategic partnership has seen positive results.
In economic terms, Vietnam and New Zealand are both members of the Comprehensive and Progressive Agreement for Trans-Pacific Partnership (CPTPP) and the Regional Economic Partnership Agreement (RCEP).
New Zealand is now the 36th largest trading partner of Vietnam. Two-way trade reached USD1.3 billion last year, up 26.7% year-on-year.
The figure increased by 13.6% year on year to USD 1.1 billion in the first nine months of this year.
New Zealand also approved the supply of ODA worth NZD 26.7 million for Vietnam during 2021-2024, equivalent to the sum in the 2018-2021 period. The country also supplied 30,000 Covid-19 vaccine doses and NZD 2 million in post-pandemic relief aid to Vietnam.
There remains ample room to further boost coordination in national defence, security, education-training, labour and agriculture. In particular, the two countries are interested in new cooperation areas such as climate change response, digital transformation and energy transition.
Though few visits were paid due to Covid-19, leaders of the two legislatures still maintained all-level meetings on the sidelines of regional and international conferences.
NA Chairman Vuong Dinh Hue is welcomed at the airport. Photo: VOV
At regional and gblobal inter-parliamentary forums, the two countries' delegations of lawmakers regularly discussed and supported each other on regional and national issues of mutual concern. The 15th Vietnamese NA continued to establish the Vietnam - New Zealand Friendship Parliamentarians' Group and maintained information exchange with the New Zealand Embassy in Vietnam.
Aiming to deploy the foreign policy of the 13th National Party Congress, the visit is of important significance as it is the first trip to New Zealand by a senior Vietnamese leader since the two countries fully reopened their doors following the pandemic and also the first made by Hue in his capacity as Chairman of the Vietnamese NA.
Emeritus Professor Roberto Rabel at the Centre for Strategic Studies under the Victoria University of Wellington told VNA that following closely on New Zealand Prime Minister Ardern's successful trip to Vietnam, Chairman Hue's visit serves as an affirmation of the strong partnership between the two countries and the potential for even greater cooperation.
It is especially significant that Chairman Hue leads the Vietnamese National Assembly, because his visit offers an opportunity to forge closer links between the two legislatures and to compare notes about how they work to ensure public accountability for the actions of government in both countries. The broadening of mutual understanding that flows from such visits is invaluable for the deepening of the bilateral relationship.
It would be especially useful if the visit leads to more regular exchanges of views between the two legislatures and identifies possible ways in which New Zealand can assist Vietnam's development, through specific training programmes in English for National Assembly members and their support staff (building on education and training programmes provided for officials in the past).
It would also be desirable for Chairman Hue's visit to be followed up by a visit to Vietnam by a New Zealand parliamentary delegation led by the Speaker of the House.
Through reciprocal visits such as those by Prime Minister Ardern and Chairman Hue, Vietnam and New Zealand can exchange views on how to cooperate more effectively both in bilateral and regional settings in ways which build on our mutual interests in maintaining regional peace and prosperity, while respecting each other's independent foreign policies, he stressed.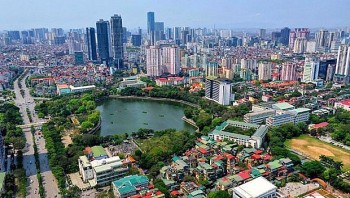 National
Vietnam News Today (Jan. 29): Quang Ninh: Cross-border trading with China resumed after Tet; Hanoi in the world's top three culinary destinations: Tripadvisor; Intertwined opportunities, challenges for Vietnam's economy in 2023; Supermarkets, traditonal markets gradually resume normal operations amid abundant supply.