Tornadoes rip through Chinese provinces, killing 12 and injuring hundreds
On Saturday (May 15), two tornadoes severly destroyed home and property, ripping through China's central city of Wuhan and a town in the eastern province of Jiangsu, killing 12 people and injuring hundreds.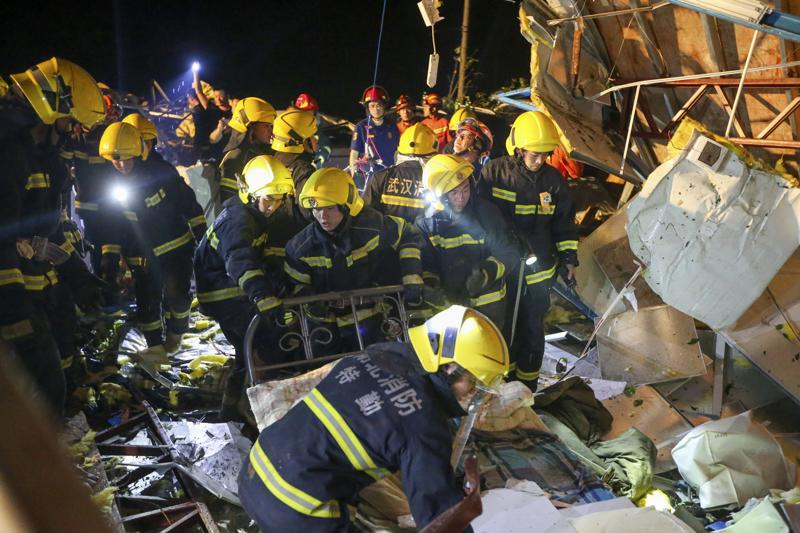 In this photo released by China's Xinhua News Agency, emergency personnel search through the wreckage of buildings destroyed by a reported tornado in Wuhan in central China's Hubei Province, early Saturday, May 15, 2021. Two tornadoes killed several people in central and eastern China and left hundreds of others injured, officials and state media reported Saturday. (Xiong Qi/Xinhua via AP)
Eight people were reported dead in Wuhan, in Hubei province, with 280 injured after Friday's tornado ripped through the district of Caidian about 8.40pm local time, the agency said.
The tornado toppled 27 houses and damaged 130 more, as well as two tower cranes and 8,000 sq m of sheds at construction sites, it added.
The first tornado struck Shengze about 7 p.m., damaging homes and factories and knocking out power, the official Xinhua News Agency reported. The Suzhou city government, which oversees the town, said in a social media post that four people had died and 149 others had minor injuries. Shengze is near Shanghai on China's east coast, Associated Press reported.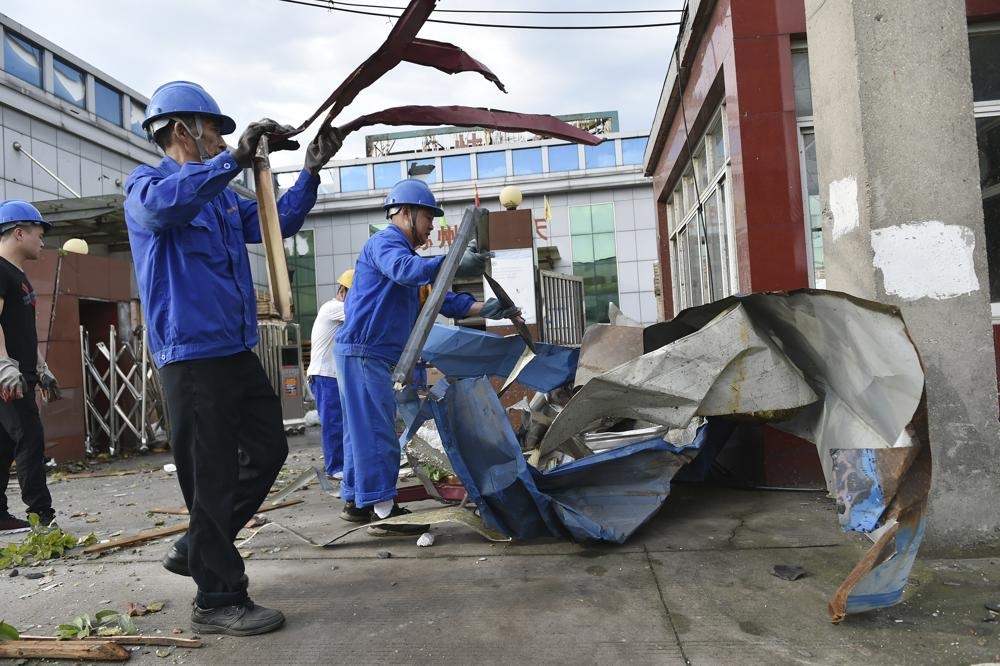 Workers clear debris at a factory that was damaged by a reported tornado in Shengze township in Suzhou in eastern China's Jiangsu Province, Saturday, May 15, 2021. Two tornadoes killed several people in central and eastern China and left hundreds of others injured, officials and state media reported Saturday. (Chinatopix via AP)
Another tornado hit Wuhan at about 8:40 p.m. with winds of 86 kilometers (53 miles) per hour, destroying more than two dozen homes and triggering a power outage affecting 26,600 households, Xinhua said. Officials in Wuhan said at a news conference Saturday that eight had died and 230 were injured.
They said that 28 homes collapsed in Wuhan, another 130 were damaged and put economic losses at 37 million yuan ($5.7 million), the Hubei Daily newspaper said. Construction site sheds and two cranes were also damaged, while downed power lines knocked out electricity, Xinhua said.
"I've grown up in Wuhan and I've never seen anything like it," one resident of the city posted on China's Weibo app. "There's been so much extreme weather recently."
China's commercial hub of Shanghai, 100km from Suzhou, was also hit by powerful thunderstorms, prompting weather officials to declare an alert.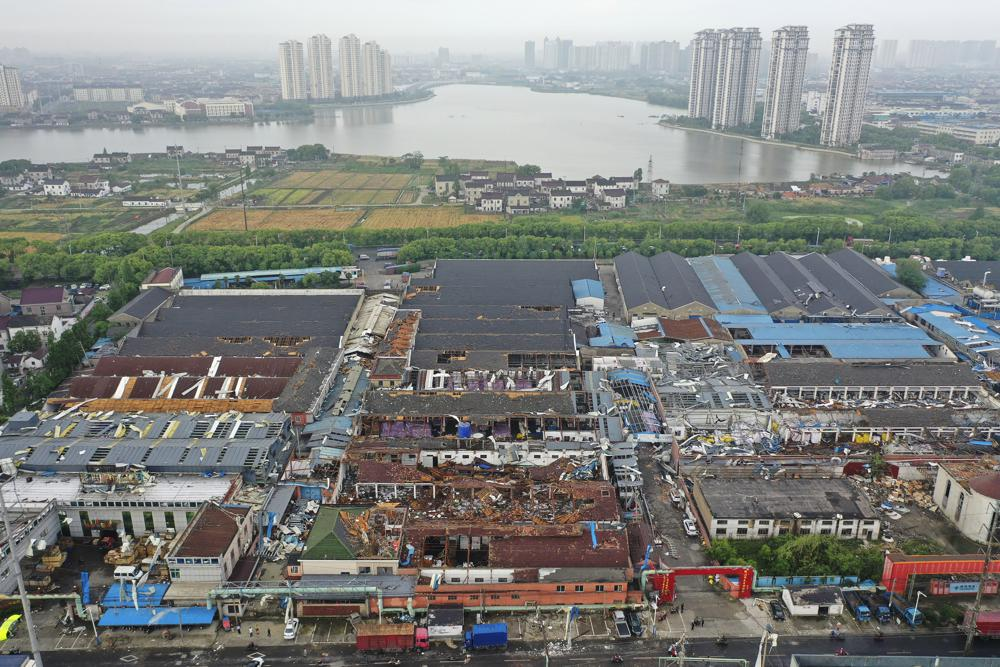 Damage to buildings from a reported tornado is seen in an aerial view in Shengze township in Suzhou in eastern China's Jiangsu Province, Saturday, May 15, 2021. Two tornadoes killed several people in central and eastern China and left hundreds of others injured, officials and state media reported Saturday. (Chinatopix via AP)
More heavy storms were expected in Shanghai and other parts of the Yangtze river delta region later on Saturday, the state weather forecaster said.
China faces more extreme weather as a result of climate change, Jia Xiaolong, an official of the forecaster, told reporters late in April, adding that the risk of disasters such as heat waves and floods was expected to rise in coming years.
Natural disaster challenges in China
Major natural disasters in China include meteorological disasters, earthquake and geological disasters, ocean disasters, biological disasters, and forest and grassland fire. Altogether, there are over 100 types of various natural hazards. In the last few decades, almost all types of major hazards except volcanic eruptions have hit China; these include earthquakes, typhoons, floods, droughts and sandstorms, storm surges, landslides and debris flows, hailstorms, cold waves, heat waves, pests and rodent disease, forest and grassland fires, and red tides.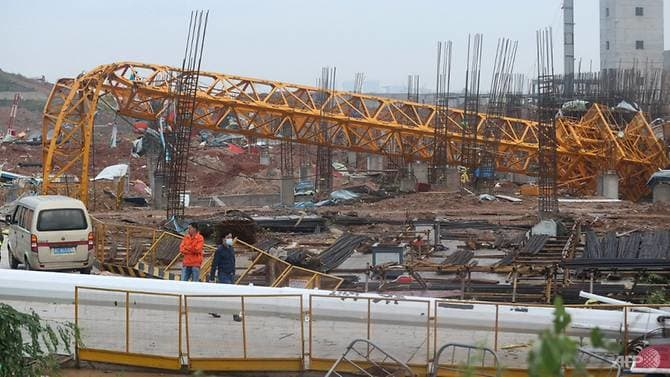 People stand near a toppled crane at a construction site after a tornado hit an economic zone in Wuhan in China's central Hubei province on May 15, 2021. (Photo: AFP)
All provinces (autonomous regions, municipalities) in China are, to varying extents, facing negative impacts from natural disasters. Two-thirds of Chinese territory suffers from the threat of flooding. The eastern and southern coastal regions and some inland provinces often encounter tropical cyclones. Droughts often occur in the northeast, northwest, and north China, and particularly serious ones are common in southwest and south China. Each province (autonomous regions, municipalities) has experienced destructive earthquakes that measure 5.0 or higher on the Richter scale. Of China's territory, 69 percent is made up of mountains and plateaus, which suffers from frequent geological disasters such as landslides, debris flows, and rock collapses due to the complicated geological structure. The coastal region is prone to storm surges and red tides while the country's forests and grasslands are prone to fires. Half the country's population and more than 70 percent of Chinese cities are located in areas prone to meteorological, earthquake, geological, and oceanic disasters.
High frequency
China is severely affected by monsoon weather and frequent meteorological disasters. Regional and partial droughts occur almost every year. Around 7 tropical cyclones hit the eastern coastal areas annually. Because China lies right in the region where the Eurasian, Pacific, and Indian Ocean plates meet, it suffers from frequent earthquakes due to still active tectonic movements. Most of the earthquakes that hit China are continental; they account for onethird of destructive continental earthquakes globally. China is a mountainous country, so the mountainous regions and hilly areas are frequently hit by collapse, landslide and debris flow. Fires often break out in forests and on grasslands.
Significant loss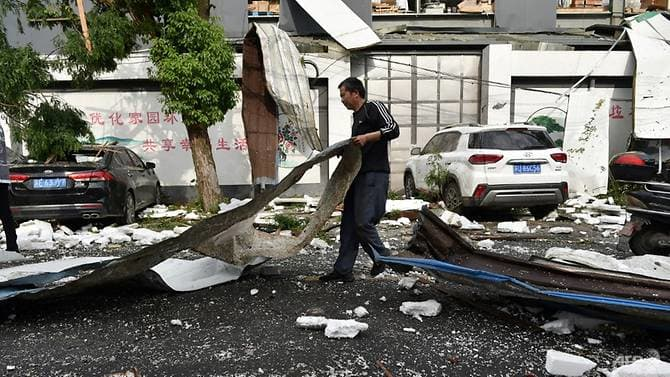 A man cleans up damage after a tornado hit the city of Suzhou in China's eastern Jiangsu province province on May 15, 2021. (Photo: AFP)
Between 1989 and 2018, natural hazards caused the death of 195,820 people, and direct physical losses valued at 11,237 billion Chinese yuan (CNY, in 2018 values), or approximately US$1,698 billion (in 2018 values) (Figure 1.1). The direct damage has increased from US$47 billion in the 1990s to US$65 billion in the 2010s. Since 2000, 38.86 million hectares of crop have experienced a yield loss of at least 10 percent from natural disasters every year, out of which 4.95 million hectares were severely destroyed, representing a yield loss larger than 80 percent. Over the past three decades, the average annual fatalities per million people has been 5 persons, while direct economic loss as a percentage of gross domestic product (GDP) has been 2.25 percent.
Threats from very-large-scale disasters
China has suffered significant damage from several major large-scale disasters. Affecting 223 million people, the 1998 China floods claimed the lives of 4,150 people and damaged 21.2 million hectares of crops and 6.85 million houses. Overall, the disaster caused direct economic losses of 246 billion yuan (in 2018 values, or US$35 billion). The 2008 magnitude 8.0 Wenchuan Earthquake killed 69,227 people (plus 17,923 missing) and caused 1,053 billion yuan (in 2018 values, or US$ 159 billion) in direct economic losses.
Increasing disaster risks in a changing climate
At both a global and a regional level, climate change has increased and will continue to exacerbate the frequency and intensity of disasters in China. The likelihood of super typhoons and intense rainfall is rising, making riverine and flash floods also more likely. Droughts and heat waves are also projected to become more frequent and severe with climate change. Geological disasters triggered by climate extremes, such as landslides and debris, are also projected to become more frequent. Together with population growth, economic development and rapid urbanization, and interregional trade integration, China is facing even higher disaster risks in the future; this may also bring cascading global impacts of increasing severity.