Essuring health care for poor communities heavily affected by natural disasters
VinaCapital Foundation (VCF) just announced the launch of disaster relief activities of "Our Hearts to Central Vietnam" Campaign in Nam Tra My district, Quang Nam province.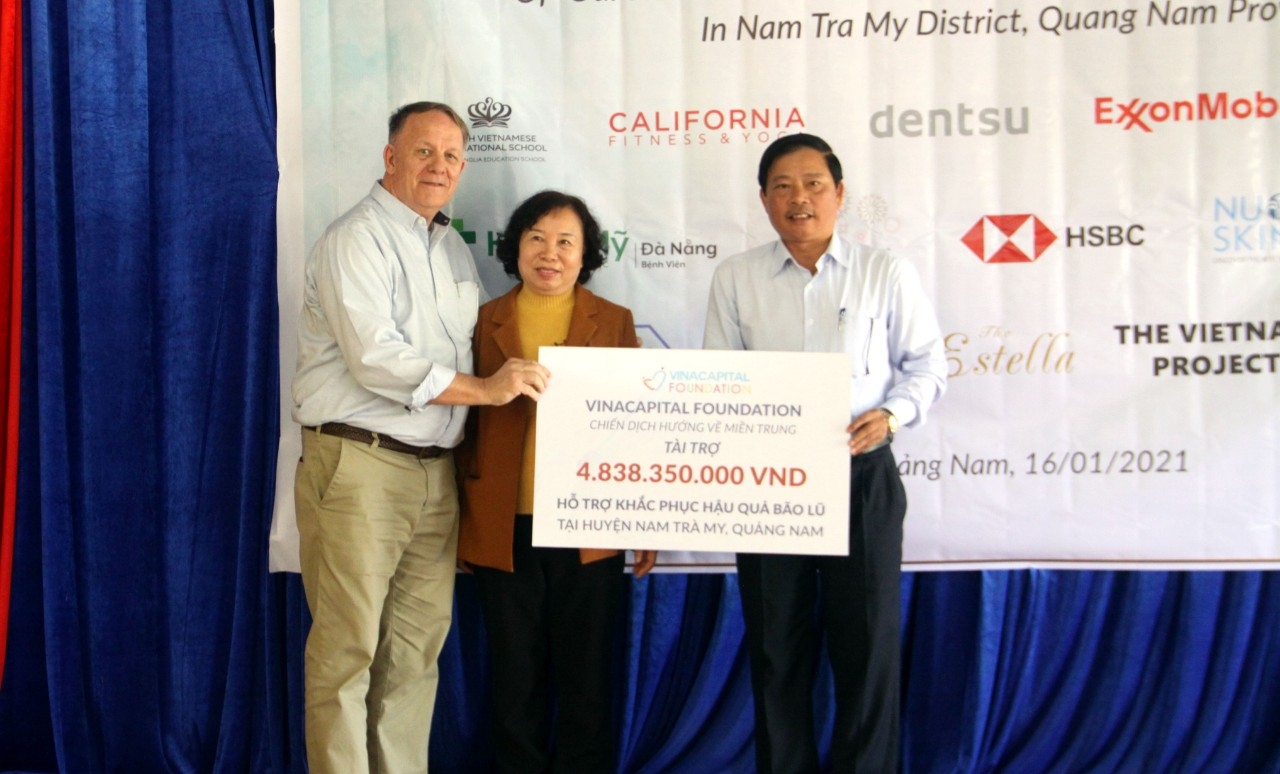 VinaCapital Foundation launches disaster releif activities for the "Our Hearts to Central Vietnam" campaign in Nam Tra My district, Quang Nam province. Source: VCF
The campaign's main focuses in Nam Tra My district are to assist with the restoration of 10 battered rural commune healthcare centers and the district hospital, as well as to provide mobile healthcare clinics, water filtration systems, medical equipment and training for local health workers to support the local capacity to diagnose and treat the overwhelming number of ill and injured people.
The activities are implemented under the Critical Response Program of VCF thanks to the donations from individuals, companies, and other organizations.
The launching ceremony have the attendance of Le Tri Thanh, Chairman of Quang Nam provincial People's Committee; Van Ba Son, Deputy Director of Quang Nam Provincial Department of Foreign Affairs; Ho Thi Thanh Lam, Chairwoman of Quang Nam Provincial Sponsoring Association for people with Disabilities, Children's Rights, and Poor Patients; Don Lam, Co-Founder and CEO of VinaCapital, VinaCapital Foundation's Board Chairman; and Rad Kivette, CEO of The VinaCapital Foundation.
Four months ago, Quang Nam province was heavily damaged by seven weeks of continuous tropical storm flooding and two typhoons, especially Nam Tra My district. The storms destroyed much of the healthcare infrastructure provided by the 11 medical facilities in this district that serve 27,297 people, about 15,000 of whom are children under 20 years of age.
Each medical facility serves about 2,500 residents and each center serves about 400 patients per month. The number of patients in need can be expected to double at least for the next 3-4 months as the survivors are suffering from trauma, exposure, respiratory illness, diarrhea, injuries and infection and have limited access to healthcare since the CHCs are all in some state of dysfunction and disrepair.
Since October 2020, VCF's Our Hearts to Central Vietnam Campaign, organized to call for donations to support thousands of people in the affected regions, has successfully raised over VND 4.8 billion (an equivalent of USD 209,000).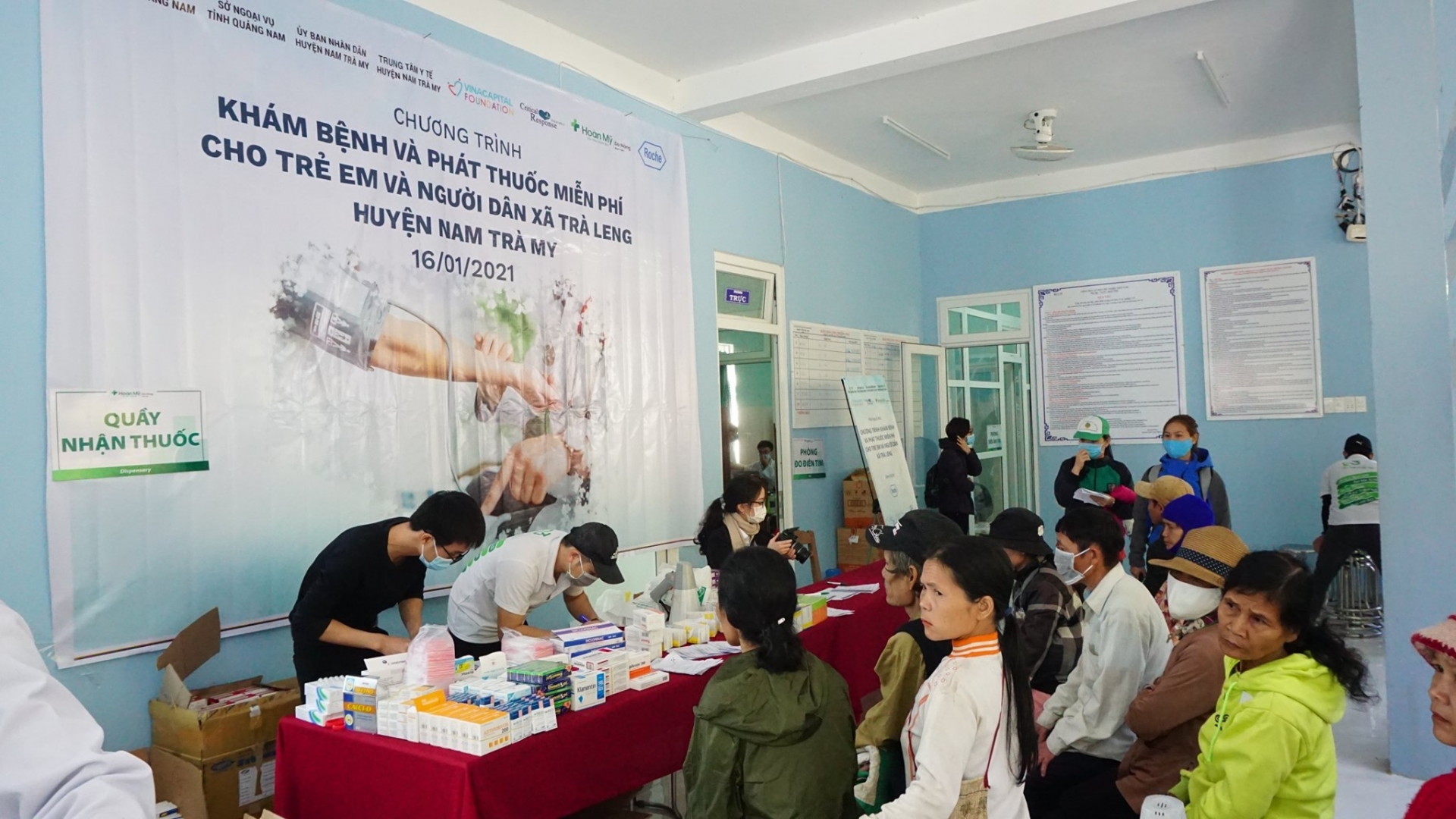 A medical clinic provides examination for the residents. Source: VCF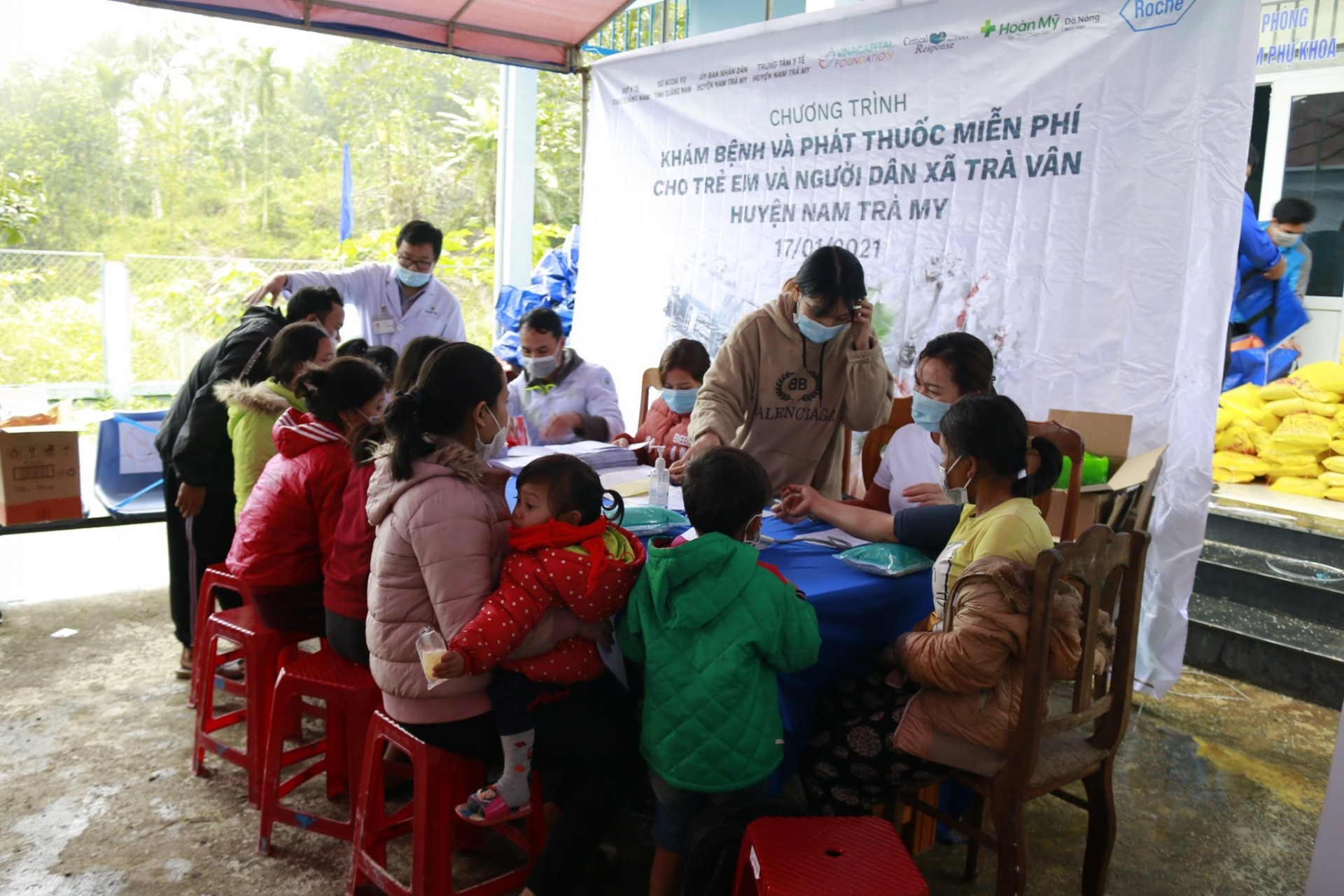 A medical clinic provides examination for the residents. Source: VCF
The campaign is designed with two stages. The first stage started in October 2020 and provided 12,000 people with emergency relief packages of basic food and necessities to ensure survivors' short-term health until more sustainable assistance arrived. The second and current stage focuses on rebuilding medical infrastructure and providing mobile healthcare clinics in Nam Tra My district until the facilities are restored.
The structural repairs will be prioritized at Tra Cang medical facilities since it sustained the most serious damage after two landslides. The district hospital improvements are prioritized second and two other medical facilities – Tra Don and Tra Leng, will follow.
In addition, the provision of a standard kit of medical equipment, water filtration systems, mobile clinics, and training for local health workers will be delivered to all 11 medical facilities of the district.
With the support of the volunteer medical team from Hoan My Da Nang Hospital and funding from Roche Vietnam, regular scheduled medical clinics will provide pediatric, cardiology, gastroenterology, respiratory and trauma examination for the residents of the 10 communes. Each diagnosed child or adult will also receive the long-term healthcare necessary to ensure a positive outcome. The mobile clinics and medicine are sponsored by Roche Vietnam.
"Quang Nam has long been a focus area of investment for VinaCapital's programs, so the call from the People's Committee of Quang Nam to mobilize public support to recover after the disaster was one we were ready to answer through VinaCapital Foundation. Over the last nine years, VCF has provided equipment and emergency medical training to district healthcare facilities in Quang Nam province. Nam Tra My has always been our priority as this district is heavily ethnic, impoverished, the population is often remotely located with living conditions and education levels that are far below standard. The campaign aims to ensure our commitments in providing quality public healthcare for everyone regardless of the location or ethnicity." said Don Lam, Co-Founder and CEO of VinaCapital and VinaCapital Foundation's Board Chairman.
Nguyen The Phuoc, Vice President of Nam Tra My People Committee states, "Nam Tra My became the national focus when it suffered two major landslides and consecutive typhoons that caused serious damage to people and property in the district. The destruction caused by Molave typhoon was horrible and exceeded the capacity of local remediation. Nam Tra My needs to temporarily overcome damages that caused by typhoon and landslides, support people in living, provide allowances for people who are killed or injured due to landslides; support to rebuild houses for ethnic minority people, rebuild and provide medical equipment for medical facilities. Our local resource is limited and unable to overcome the damages. We sincerely look forward to receiving the support from VinaCapital Foundation to help us overcome this very difficult time."