Tripadvisor: Two Travel Experiences in Vietnam Worth Trying
These are two travel experiences in Vietnam among the world's 25 best travel experiences.
A jeep tour of Hanoi and a street food tour of Ho Chi Minh City have been named among the world's 25 best travel experiences by readers of Tripadvisor, VOV reported.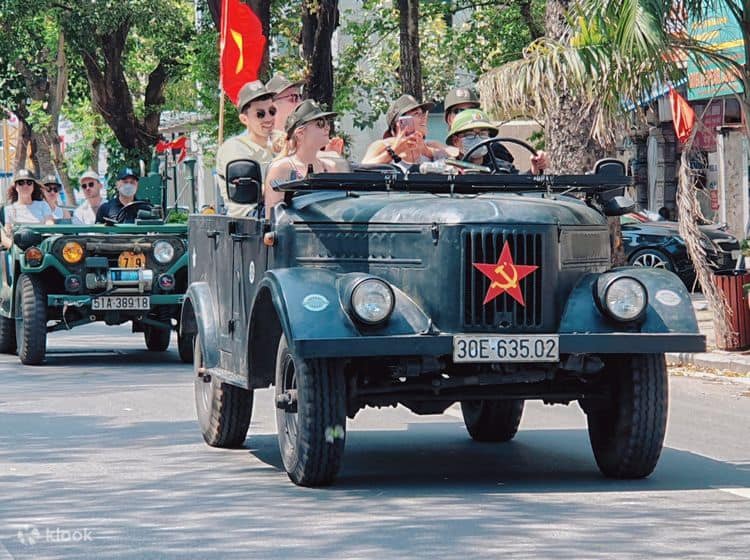 A jeep tour in Hanoi. Photo: klook
According to TripAdvisor's Travelers' Choice Best of the Best "Things to Do" list, the jeep tour operated by Hanoi Backstreet Tours came 10th on the list.
The four-hour tour takes visitors through Hai Ba Trung Temple and Hanoi Train Street, which is famous for its coffee shops along the train track, before heading past Long Bien Bridge and the Old Quarter. Guests also have the chance to enjoy street food and beers atop a rooftop bar. The price of the tour stands at USD 55.
In the first eight months of this year, Hanoi attracted 16.9 million tourists, including 2.79 million foreign visitors. Its total revenue from tourists was estimated at VND 61.6 trillion (USD 2.55 billion), up 63.1% over the same period last year, VNA reported.
HCM City welcomed nearly 25 million tourists in the first eight months of this year, nearly 3 million of whom were foreign visitors, or more than double the figure in the same period last year. Revenue in the eight-month period exceeded VND 100 trillion, equivalent to USD 4.15 billion.
Meanwhile, the street food tour can be done on motorbikes with local students in HCM City. The tour was placed 14th on the list.
Run by Saigon Back Alley Tours, the trip takes visitors a total of four hours to explore the street food scene in the southern metropolis.
Local students accompany visitors to try and sample some of the southern city's popular street foods such as Bánh mì (Vietnamese sandwiches), bún bò Huế (Hue-style beef noodle soup), BBQ pork with rice noodles, bánh xèo (crispy pancake), and sweet soup dessert.
The price of the tour starts from USD 25, including hotel pickup and drop-off.
Elsewhere, the other experiences chosen on the list include a full-day tour of the Hawaiian island of Oahu, a whale-watching tour in Juneau Alaska, and bike tours in Singapore.
Theaureview.com – a leading independent music and arts publication in Australia - also runs an article with the title "Vietnam - a land of beauty and welcome surprises," emphasizing that the country is a popular tourist destination known for its stunning landscapes, historic sites, and cultural attractions.
After a direct flight from Sydney, then a short connecting flight from HCM City, visitors arrive at coastal Nha Trang City in Khanh Hoa province where there are plenty of local experiences to try. Boat cruises, temple visits, countryside cooking classes, and rooftop cocktail bars are just a few of the many attractions in the region.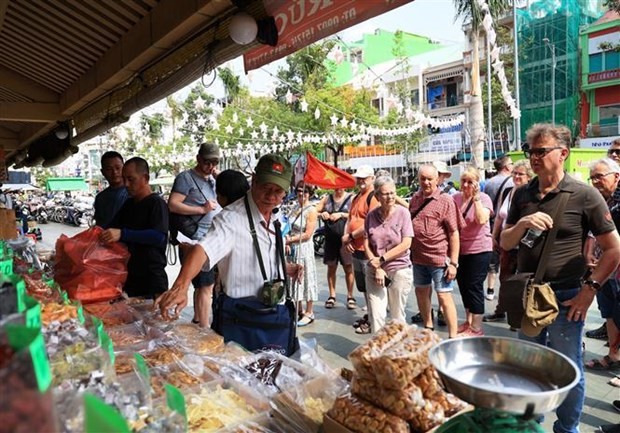 Foreign tourists visit and shop at Binh Tay market in Ho Chi Minh City. Photo: VNA
In the Mekong River, the world's largest inland fishery, visitors can explore the coconut production along the delta. Cruising along the river in a long boat, they can learn about the regional coconut production while eating fresh fruit.
On August 14, the Government issued a resolution on granting e-visas to citizens of all 257 countries and territories, allowing them to enter and exit the country using e-visas through 13 air, 16 land, and 13 sea border gates.
Under the law amending and supplementing some articles of the Law on Exit and Entry of Vietnamese Citizens and the Law on Foreigners' Entry into, Exit from, Transit through and Residence in Vietnam, which became effective on August 15, the e-visa validity period is extended to 90 days from 30 days. Within 90 days after the e-visa is granted, foreigners can enter and exit Vietnam for unlimited times without having to apply for new visas.
The law also permits citizens of the countries entitled to Vietnam's unilateral visa exemption to be granted a temporary residence period of 45 days, instead of 15 days like in the past, and have visa granting and temporary residence extension considered in line with regulations.