The Most Beautiful Destinations To Visit In Can Tho
Can Tho is a major commercial and transportation center and a tourist attraction in the Mekong Delta region of Vietnam. These traveling destinations will be the tourist's perfect choice for an autumn trip.
Nestled in the verdant embrace of the Mekong Delta, Can Tho beckons travelers with a symphony of sights, sounds, and flavors that epitomize the essence of Vietnam. This enchanting city is a gateway to the region's rich cultural heritage and timeless traditions.
Can Tho is typical of a tropical climate with 2 seasons: the dry season from December to April and the wet season from May to November. With an average temperature of 28 Celcius Degree, the weather is warm and humid during the year. The city has a unique beauty in every season, thus visitors can travel to Can Tho at any time during the year.
Don Ca Arch bridge
Don Ca Arch Bridge is located at Hai Van Bac Station, Phu Loc, Thua Thien Hue, at the foot of Hai Van Pass. This is a railway bridge with unique architecture, the foot of the bridge is dome-shaped and spans a small stream in the area of Hai Van Pass. Thanks to its unique structure and location, this place was once ranked among the top 10 most beautiful coastal roads in the world voted by the Guardian newspaper.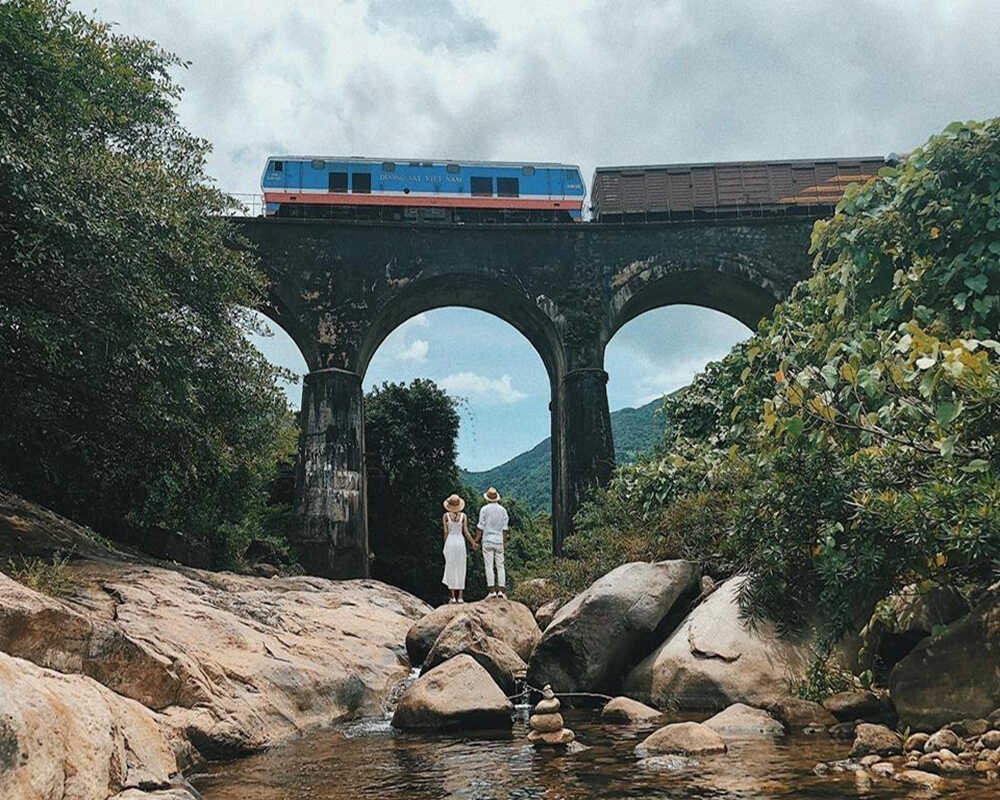 Photo: Focus Asia Travel
When viewed from above, Don Ca Arch Bridge in Da Nang immediately reminds tourists of the famous Glenfinnan railway in Lochaber, Scotland in the classic movie Harry Potter. Most visitors feel overwhelmed by the magnificent nature when they set foot here. Along the way to Cau Vom is also a check-in corner that many young people love.
It is a beautiful photography location in Hue, and the arch bridge at the foot of Hai Van Pass is also an ideal camping place for backpacking trips and fun weekends.
Cai Rang Floating Market
With a history of almost 100 years, Cai Rang Floating Market is one of the oldest cultural spots in the Mekong Delta region. It is also Vietnam's most famous and largest floating market and the only Southeast Asian representative featured in the world's 19 must-visit food hubs.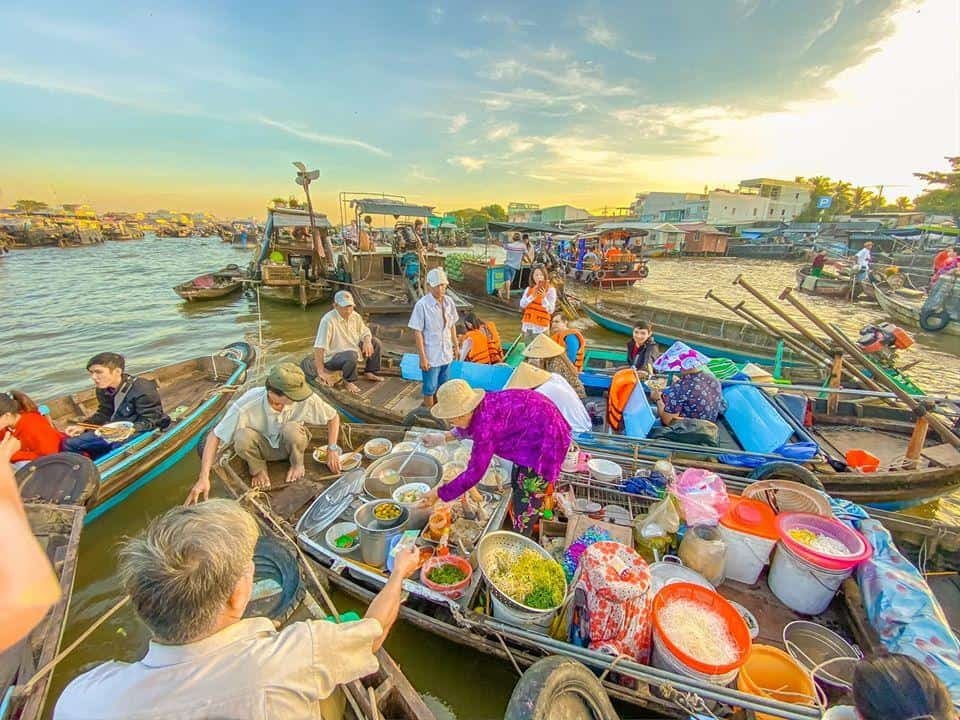 Photo: Vietnam Discovery Travel
The market is only open in the early morning from 5 – 9 a.m. Hundreds of traders in their boats gather to buy fresh vegetables and fruits, breakfast, handicrafts, and daily essential household goods, creating a bustling and joyful atmosphere.
Phong Dien Floating Market
Situated at a confluence and 17 kilometers away from the center of Can Tho city, Phong Dien Floating Market is a smaller and more local-style market. The market is most crowded from 5.30 – 7.30 a.m. and offers a variety of fresh fruits, vegetables, household goods, working equipment, etc. When tourists come to this market, don't forget to try many delicious local dishes being sold right on the boats such as noodle soup, rice soup, and coffee.
Ninh Kieu Wharf
Located on the right bank of Hau River, at the confluence of Hau River and Can Tho River, Ninh Kieu Wharf is a tourist attraction and a symbol of Can Tho city. Established in the 19th century, it has long been developed into Ninh Kieu Park with an area of 7000 square meters.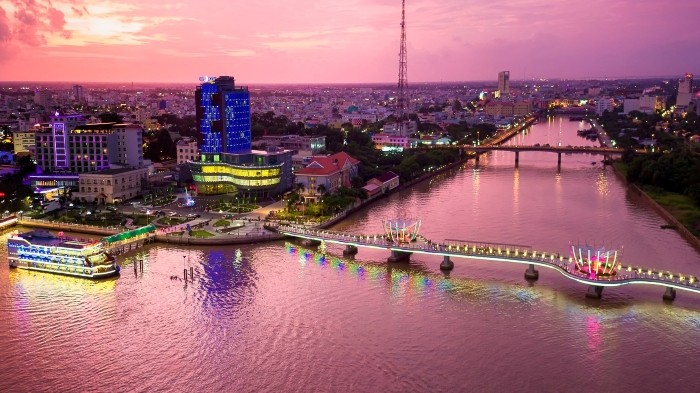 Photo: Vinpearl
Inside the park, trees are trimmed carefully and green grass grows under the white bricks. Sitting in the park, you can enjoy the pure air and fresh breeze that bring a sense of refreshment. The park is even more stunning and charming at night because of the lighting system.
Can Tho Walking Bridge
A few hundred meters from Ninh Kieu Wharf is Can Tho Walking Bridge - a beautiful photography location that many young people love. ust built and established a few years ago, the pedestrian bridge has attracted a lot of tourists to admire it.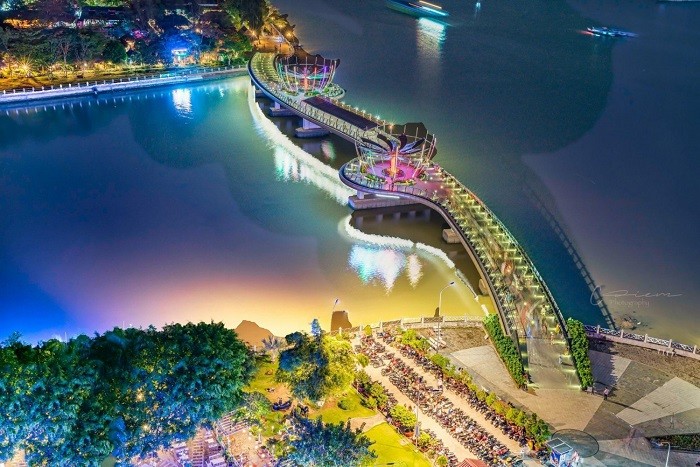 Photo: Vietmekong
This bridge has a total length of about 200m and is more than 7m wide, with an extremely prominent LED lighting system and recessed lights at the foot of the bridge the highlight is two giant lotus flowers in the middle of the bridge.