The Charming Beauty Of Vinh Quy Grass Hill
Vinh Quy grass hill, which is located in Ha Lang, Cao Bang, is a romantic and peaceful natural destination that attracts a lot of tourists coming to admire this autumn trip.
Vinh Quy grass hill is located on the border between Khum Din and Bac Vong hamlets of Vinh Quy commune, about 6-7 km from Thanh Nhat town of Ha Lang district. The best way to come here is to arrive from Cao Bang to Thanh Nhat town, then continue going Northeast to Vinh Quy commune, along DT 206/DT207 road.
This is a concrete road that is convenient for traveling by motorbike or car. From the intersection of Khum Din hamlet, 3 km from Vinh Quy commune People's Committee, travelers can turn right onto a small concrete road and continue for about 3 km to reach the grass hill. They can park their cars or motorbikes at the foot of the hill and climb up in just 10-15 minutes.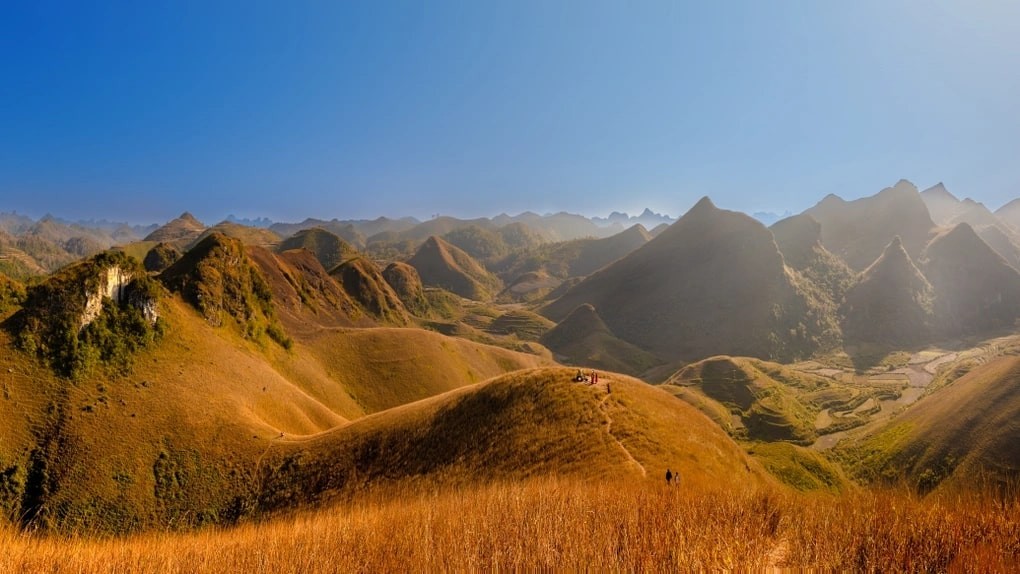 Photo: Thai Duong AC
From October to January of the following year, this place appears stretching orange-yellow burning lawns, creating a wild and poetic scene, reminding visitors of the image of "miniature Da Lat." If Phuong Hoang burnt grass hill (Uong Bi, Quang Ninh) stands out with its green dwarf pine trees, Vinh Quy burnt grass hill is located in the middle of majestic hills.
Vinh Quy grass hills enter the most beautiful green grass season of the year from May to October. During this time, the rains help dispel the heat of the day, leaving behind green meadows and natural spaces that bring fresh air, with the lovely scent of mountains, forests, and trees.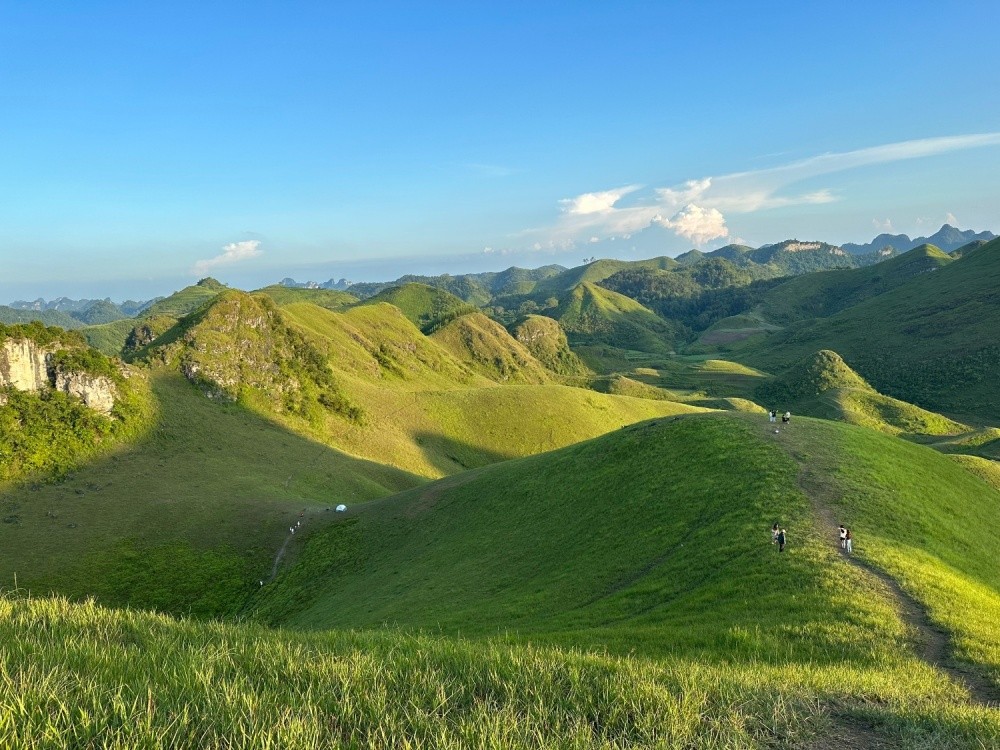 The everlasting green hill. Photo: dulich.petrotimes
This place mainly grows three-leaf pines with pointed canopy and tall straight trunks reaching up to the sky. Pine is a coniferous tree that likes cold climates, so it is very suitable for the soil of highland communes in Cao Bang and grows very well in Vinh Quy land.
According to the experience of some backpackers, the terrain here is characterized by high and winding hills and mountains, so if tourists decide to travel by personal vehicle, they need to prepare themselves for the difficult, bumpy route ahead. It's best to travel by two-wheeled vehicle because the road to Vinh Quy grass hill is narrow, bumpy, and rocky.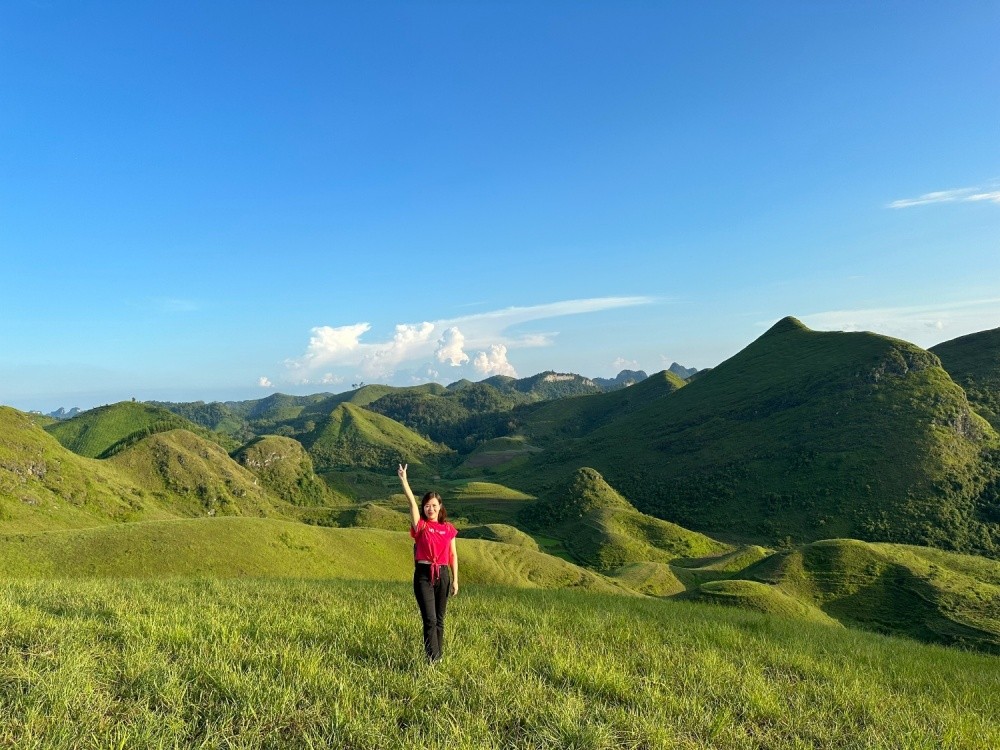 Photo: Dulich.petrotimes
According to the local people, the distance from Thanh Nhat town (Ha Lang district) to the grass hill is about 6-7 km. This is a concrete road that is convenient for traveling by motorbike or car. After exploring the Vinh Quy grass hills and Khau Lua pine hills, tourists can spend more time visiting many other famous and beautiful places in Cao Bang such as Ban Gioc waterfall, Lenin stream, Nguom Ngao cave, Thang Hen mountain lake, Phia Oac mountain.
In order to fully admire the beauty of the Vinh Quy grass hill, visitors have to walk about 15 minutes from the foot of the hill to the top. Do not forget to bring warm clothes, sports shoes (or specialized hiking shoes), and water.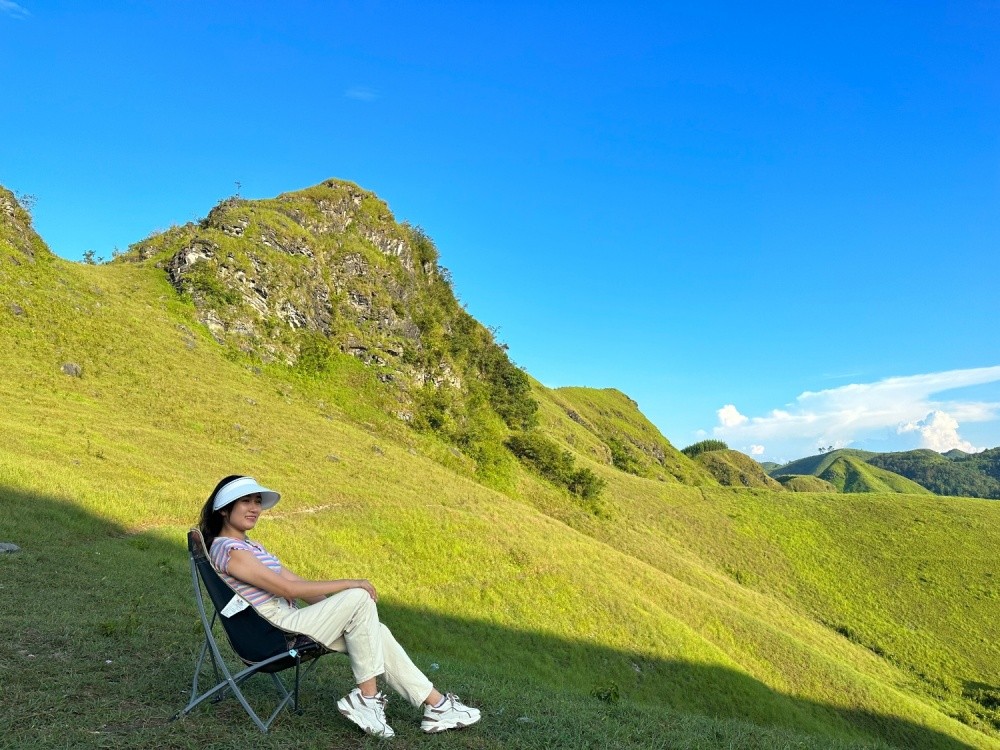 Photo: Dulich.petrotimes
When people finally arrive at the top of the hill, they will feel like all the fatigue and fatigue disappear as they are submerged in the vast space that is surrounded by endless mountains and forests.
The mountainous province of Cao Bang is one of the most beautiful regions in Vietnam. The town itself is not that spectacular, but it is a useful base from which to explore the area. An environment surrounded by beautiful nature. One of the best things to do in Bang is explore the off-the-beaten-track areas because tourism is not yet at its peak like in Sapa or Halong Bay.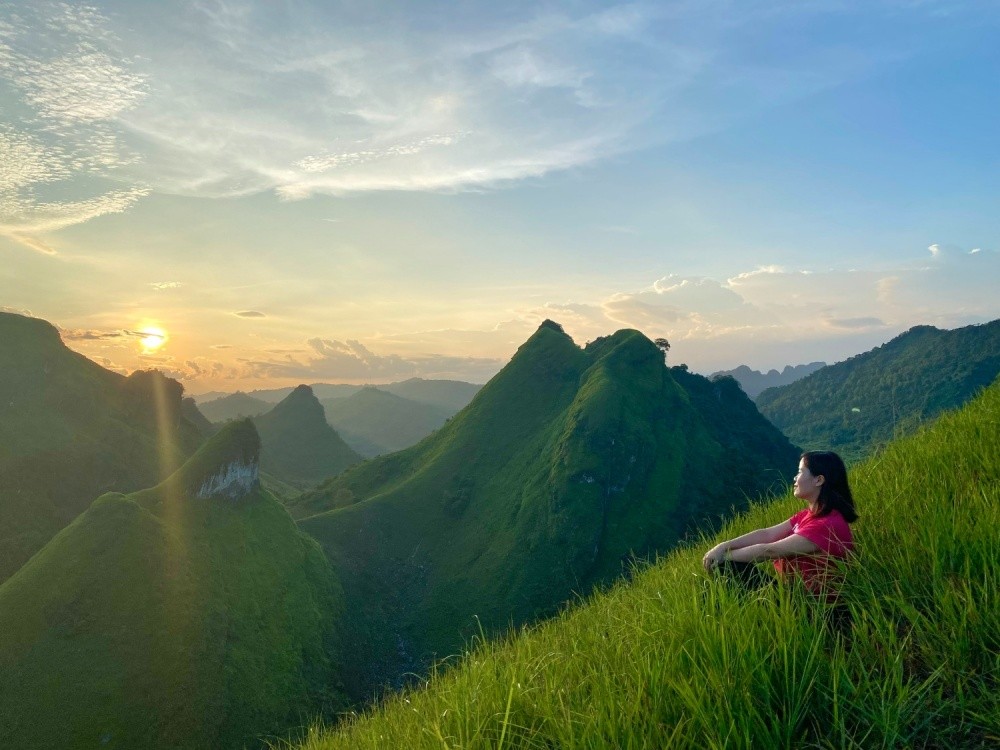 Photo: dulich.petrotimes
The cool climate of Cao Bang province ensures that travelers can come here all year round. However, the beautiful nature with forests, mountains, and waterfalls is best visited in the spring, from February to April.