Truong Sa (Spratly) 1988 - Dossier on Historical Incident
After nearly 35 years, the story of Gac Ma (Johnson) in 1988 has not been fully told. The book 'Truong Sa 1988 - A Dossier on a Historical Incident' gathers 159 articles revolving around this historical event, from mid-February 1988 to the end of June 1988 - before, during and after the Gac Ma event on March 14, 1988.
A picture depicting the Chinese Navy forcibly occupying the Hoang Sa (Paracels) on January 19 and 20, 1974.
The book Truong Sa 1988 - A Dossier on a Historical Incident collected and compiled by Vo Ha (Phanbook & Da Nang Publishing House, 2021) focused on the protection of Gac Ma (Johnson), Colin and Len Dao reefs in Vietnam's Truong Sa (Spratly) Islands against Chinese invasion 33 years ago. It is a 500-page book, collecting 159 articles on the fight of Vietnam navy soldiers in the protection of the Truong Sa (Spratly) Islands, Vietnam, in 1988.
After the reunification of Vietnam in the spring of 1975, China took advantage of the situation to pursue its intention to invade the Truong Sa (Spratly) Islands. These were actions that clearly revealed the ambition of a neighboring country; consistent with the act of forcefully occupying the Hoang Sa (Paracels) (1974) and the northern border war (February 17, 1979) that China once waged.
However, with Truong Sa, everything started from the media. The release of information was quite noisy and irrational.
From fake painting "Tay Sa"
A scene of boats bringing people eagerly to "Tay Sa" (Xisha) (Vietnam's Hoang Sa (Paracels)) to live. There, farmers grow sorghum, workers build construction sites, fishermen catch fish, and the militia patrol and protect the island day and night.
That is what appeared in the Chinese press from the beginning of February 1974, after the Chinese army used force to capture the Hoang Sa (Paracels), administered by the South Vietnamese government (January 19, 1974).
The determination to protect "Tay Sa" is highlighted by China in the media in all genres and languages. Typically, Hao Nhien's novel about Tay Sa (Xisha) was published and praised by Chinese critics. The exhibition on "Tay Sa" (Xisha) Islands, one of the islands in the Bien Dong Sea, on the 25th anniversary of the founding of the People's Republic of China, brought to the public 100 color photos of the "Xisha army and people".
In addition, many cultural programs inspired by "Tay Sa" (Xisha) took place in Beijing to give the Chinese people a close and appropriate view of "Xisha". They reinforce the belief that it is part of the country's territory.
Author Van Trong, in the book Hoang Sa (Paracels) - Vietnamese Archipelago (Social Science Publishing House published in 1979) wrote about China's "Xisha" media during this time: "In 1975, the Chinese media highlighted news, naval ships on patrol, a three-story house, office headquarters, and a meteorological station in "Xisha".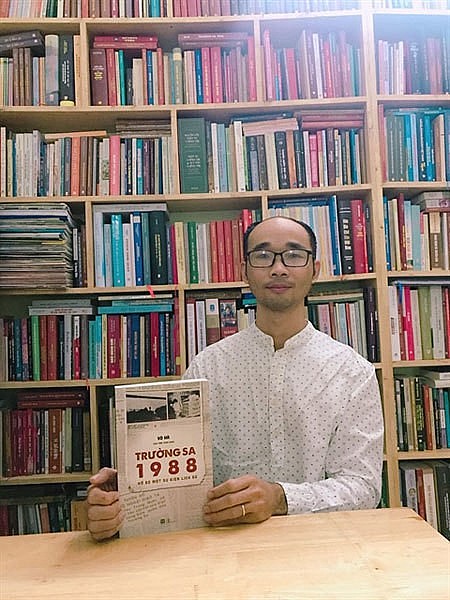 Historical researcher Vo Ha poses with his book 'Truong Sa 1988 – A Dossier on a Historical Incident' in Da Nang. Photo: Vo Ha
According to author Van Trong, in China, the communication about "Xisha" as a demagogue policy was conducted continuously in the period from 1977 to 1979. China had a chorus about "Tay Sa" (Xisha) lights released as a phonograph, movies praising "Xisha" broadcasting on television, and an exhibition of Xisha's Handicrafts in a park in Beijing.
To "Nam Sa"
After reinforcing the people's belief in sovereignty with "Tay Sa" (Xisha), China advanced with the intention of possessing "Nam Sa" (Nansha) (Truong Sa (Spratlys) of Vietnam). This was also done by China diplomatically.
On January 30, 1980, shortly after being repelled by the Vietnamese army at the northern border, the China's Ministry of Foreign Affairs issued a document, publishing a map of the Qing Dynasty to prove its sovereignty over "Nansha and Xisha".
However, it is worth mentioning that in the above diplomatic document, China only mentioned the name without attaching a map as evidence. Meanwhile, Chinese maps up to the beginning of the Republic of China did not show "Xisha" and "Nansha" as the Chinese said. China's territorial waters only extend to Hainan Island.
Regarding Vietnam, the war for sovereignty over the Truong Sa (Spratlys) and Hoang Sa (Paracels) between 1975 and 1988 took place with great tension in communication, research and diplomacy before China's invasion.(to be continued)
Vietnamese source: https://thanhnien.vn/truong-sa-1988-ho-so-mot-su-kien-lich-su-dem-truoc-cuoc-dong-binh-post1436905.html
On Bien Dong Sea disputes, Vietnam has repeatedly affirmed its consistent and clear view that it always opposes and does not accept any claim inconsistent with international laws, including UNCLOS, Foreign Ministry Spokeswoman Le Thi Thu Hang said.
"Vietnam once again asks relevant parties to respect Vietnam's sovereignty, sovereign rights and jurisdiction in the Bien Dong Sea, respect legal and diplomatic processes, implement active and substantive contributions to maintaining peace, stability, security, safety, freedom of maritime and aviation, the integrity of UNCLOS and rules-based order," Hang said.
Vietnam has full legal basis and historical evidences to assert its sovereignty over the Hoang Sa (Paracel) and Truong Sa (Spratly) islands in accordance with international law, Foreign Ministry Spokeswoman Le Thi Thu Hang said.
Thanh Nien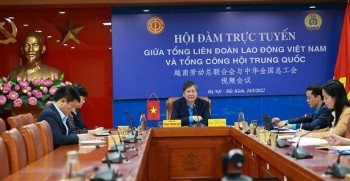 Friendship
The Vietnam General Confederation of Labour (VGCL) and the All-China Federation of Trade Unions (ACFTU) on May 24 shared their operational experience and agreed to step up their exchanges.