Twitter bans Donald Trump's account after the U.S Capitol attack
Twitter company announced its suspension of Donald Trump's account after the violent attacking event on the U.S Capitol in Washington, D.C, on Januart 6th, 2021.
Twitter's decision followed two tweets by Trump Friday afternoon that would end up being his last. The tweets violated the company's policy against glorification of violence, Twitter said, and "these two Tweets must be read in the context of broader events in the country and the ways in which the President's statements can be mobilized by different audiences, including to incite violence, as well as in the context of the pattern of behavior from this account in recent weeks."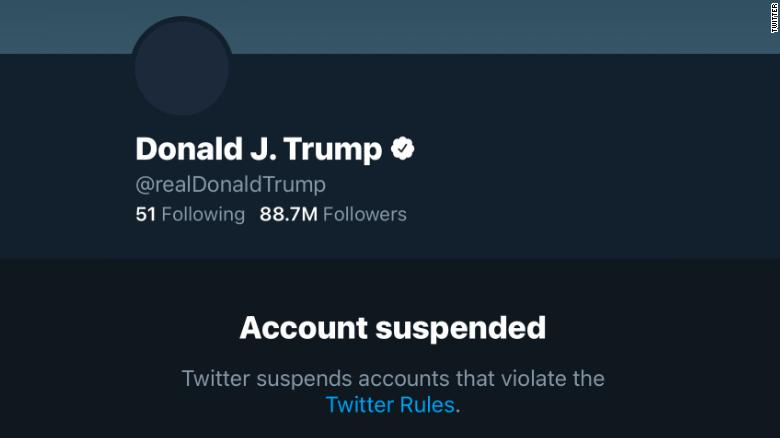 Twitter has suspended President Trump from its platform (Photo: CNN Business)
"After close review of recent Tweets from the @realDonaldTrump account and the context around them we have permanently suspended the account due to the risk of further incitement of violence," Twitter said.
"In the context of horrific events this week, we made it clear on Wednesday that additional violations of the Twitter Rules would potentially result in this very course of action."
The first tweet was about Trump's supporters.
"The 75,000,000 great American Patriots who voted for me, AMERICA FIRST, and MAKE AMERICA GREAT AGAIN, will have a GIANT VOICE long into the future. They will not be disrespected or treated unfairly in any way, shape or form!!!"
The second indicated Trump did not plan to attend Joe Biden's inauguration.
"To all of those who have asked, I will not be going to the Inauguration on January 20th."
According to CNN, Twitter said the tweet concerning inauguration could be viewed as a further statement that the election was not legitimate. It also said that the tweet could be interpreted as Trump saying that the inauguration would be a "safe" target for violence because he would not be attending.
Trump's other statement about American patriots suggested that "he plans to continue to support, empower, and shield those who believe he won the election," Twitter said.
Twitter will enforce its policy against ban evasions to ensure that Trump does not circumvent his personal account's suspension, the company told CNN.
Twitter's policy would also prohibit Trump from directing a third party to operate a Twitter account on his behalf.
Trump sought to test Twitter's ban evasion policy at roughly 8:30 pm ET Friday evening, when he or someone acting on his behalf published four tweets from the @POTUS account.
"As I have been saying for a long time, Twitter has gone further and further in banning free speech, and tonight, Twitter employees have coordinated with the Democrats and the Radical Left in removing my account from their platform, to silence me," Trump tweeted.
The tweets disappeared almost instantly.
Twitter told CNN that the Trump campaign's account has also been permanently banned. Before @TeamTrump was suspended, it had been seen sharing the same four-tweet thread that Trump had attempted to post from the @POTUS account.
Asked whether it saw a difference between journalists reporting Trump's words and the Trump campaign repeating Trump's words, Twitter told CNN that there was a distinction.
"There's a difference between someone reporting on the President, and someone attempting to allow their account to be used by the president to essentially get around the ban," a Twitter spokesperson said.
Civil rights leaders who have long criticized tech platforms for spreading hate speech and division welcomed Twitter's decision.
Jonathan Greenblatt, the CEO of the Anti-Defamation League, called it an "excellent step."
"A fitting end to a legacy of spewing hate and vitriol," Greenblatt said. "President Trump incited the violent riots at the Capitol using social media & paid the price."
A man threatens the photographer just before shoving him off a balustrade as the first line of barriers to the U.S. Capitol were breached in Washington, D.C., on January 6th, 2021. (Photo: Nate Gowdy for Rolling Stone)
The President loses powers over social media
Twitter's decision to ban President Trump mere days before the end of his term sparked a fierce political backlash among his most fervent allies on Saturday, sending some of his supporters — and the White House itself — scrambling to find another potent tool to communicate online.
According to The Washington Post, many prominent conservatives — including Brad Parscale, Trump's former campaign manager, and Rush Limbaugh, the leading voice in right-wing radio — reacted to Trump's suspension by blasting Twitter, quitting the site outright or encouraging the president's loyal following to turn to alternative services. Trump himself signaled he is in negotiations to join other social networks, and he raised the possibility he could create a new online platform on his own.
This vast online reach offered Trump an online megaphone that was unparalleled in American politics. But his rhetoric was also vitriolic — the consequences of which turned deadly after a mob of his supporters seized on his baseless tweets about the 2020 election and stormed the U.S. Capitol this week.
The president and his allies now face a daunting technical and logistical challenge in relocating to a new social network or setting up their own online hub, which is likely to be much smaller than the grand audiences Trump had enjoyed until recently. A shift away from mainstream platforms would mark a retreat to more insular conservative communities and threaten to exacerbate the partisan divisions in a country that Trump already had left on edge.
For now, the White House is considering an early push as soon as Monday against Twitter and other tech giants, blasting it for having silenced the president's ability to reach supporters while calling for fresh regulation against Silicon Valley, according to a person familiar with the matter who spoke on the condition of anonymity. Trump, who is apoplectic about being banned, plans to spend the final days of his term in office railing against the industry, the person said.
Trump's removal from Twitter came as part of a broader reckoning late Friday across much of the mainstream Web, as tech giants including Apple, Facebook and Google took unprecedented steps to discipline apps, users and accounts seen as instrumental in stoking the violence that left lawmakers under lockdown earlier in the week.
The actions reflect a new vigor on the part of Silicon Valley to punish those that have peddled harmful content — from election disinformation to hate speech and violent threats. Congressional lawmakers, digital researchers and human-rights groups praised the moves this week, even as they decried them as too little, too late, coming near the end of Trump's term.
Earlier this year, the president himself told aides from the 2020 campaign, the White House and the Republican National Committee that he would have his own platform, but repeatedly declined to name it, saying only it would be coming "soon."
But the president also would face a daunting task in standing up his own social network, which could be an expensive, time-consuming endeavor. Social media sites are attractive to users only insofar as they manage to capture a large number of them and their friends. Trump may struggle to incubate such an audience given the overtly political nature of his digital endeavor, some experts said.
"It's very hard to build a new network," said Yochai Benkler, the co-director of the Berkman Klein Center for Internet and Society at Harvard University. "Maybe he's so big and important he could get some millions of people to join a network. The economics will make it much more insular and internal. … Networks benefit from being an option for people to reach lots of different people."