Two Vietnamese Scientists Receive French Noble Awards
Recently, two Vietnamese scientists were presented the French noble awards for "Efforts for bilateral cooperation in science between France and ASEAN countries".
The award ceremony was held at the French Academy on October 17. Two Vietnamese scientists, Dr. Hoang Thi Giang, a researcher at the Vietnam Institute of Agricultural Genetics, and Tran Quang Hoa, Deputy Head of the Department of Mathematics and lecturer at Hue University of Education, were honored to receive the award.
Other scientists who were also given the Noble Prize are Professor Stéphane Jouannic from the French Institute for Research for Development (IRD) and lecturer at Montpellier University, and Professor Marc Chardin, member of the French Institute of Scientific Research (CNRS) and lecturer at Sorbonne University.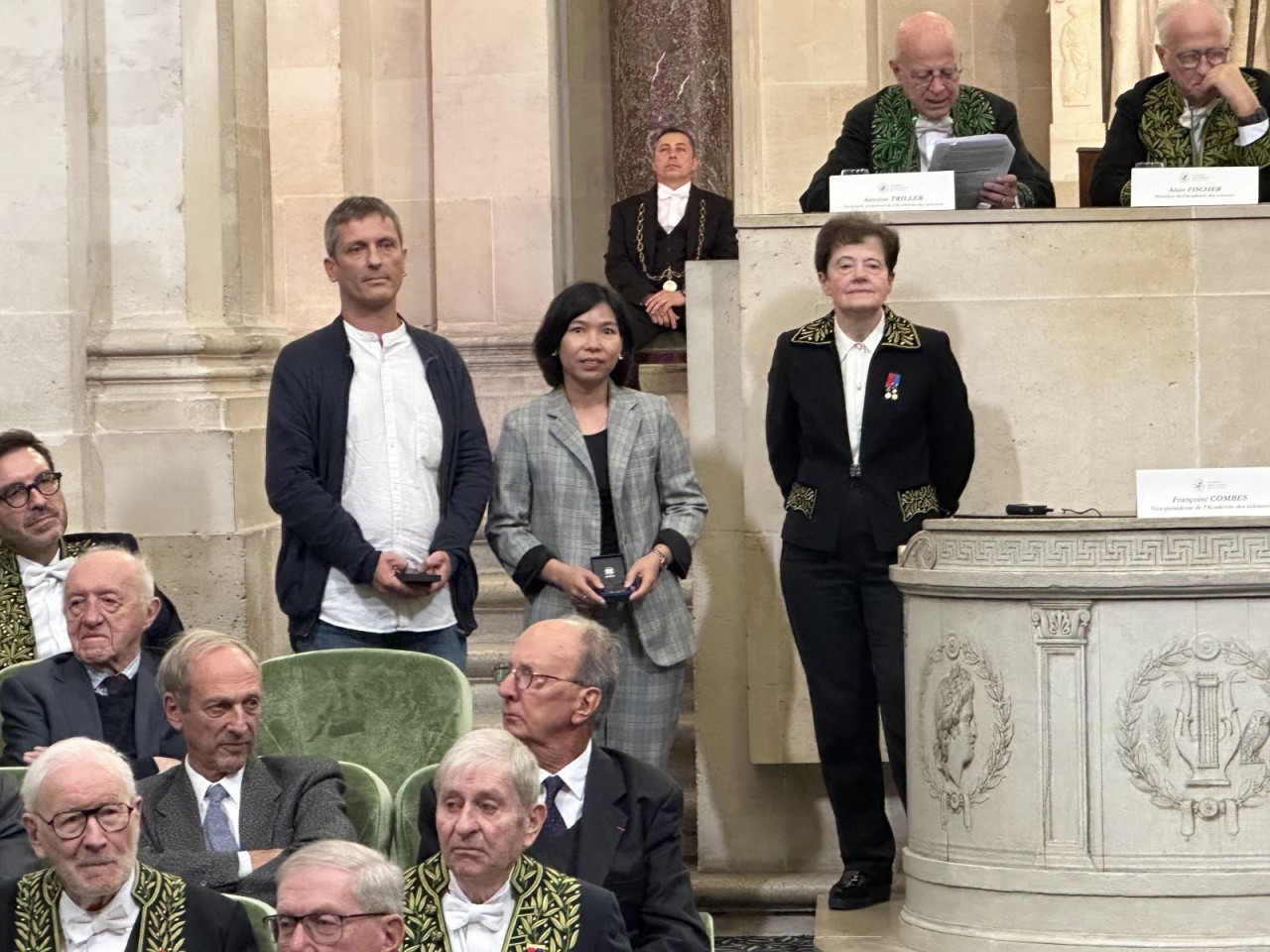 Dr. Hoang Thi Giang and Professor Stéphan Jouannic received the award (Photo: VNA).
Dr. Hoang Thi Giang shared that the award is a testament to the efforts and good relationships between the Vietnamese research team and French partners throughout the project implementation process.
According to Lecturer Tran Quang Hoa, the topic awarded this time refers to research on theoretical mathematics. However, this research also has specific applications in "rational mapping", which is used to model objects such as cars, and airplanes, or applied in 3D printing technology. Lecturer Tran Quang Hoa shared that this award would create an opportunity for research teams in Hue and Hanoi to work with leading professors in France.
The international award is given annually by the French Academy of Sciences to honor scientific cooperation projects between France and other countries as well as international organizations. The fact that two Vietnamese scientists received this prestigious award contributes to further promoting bilateral scientific cooperation models.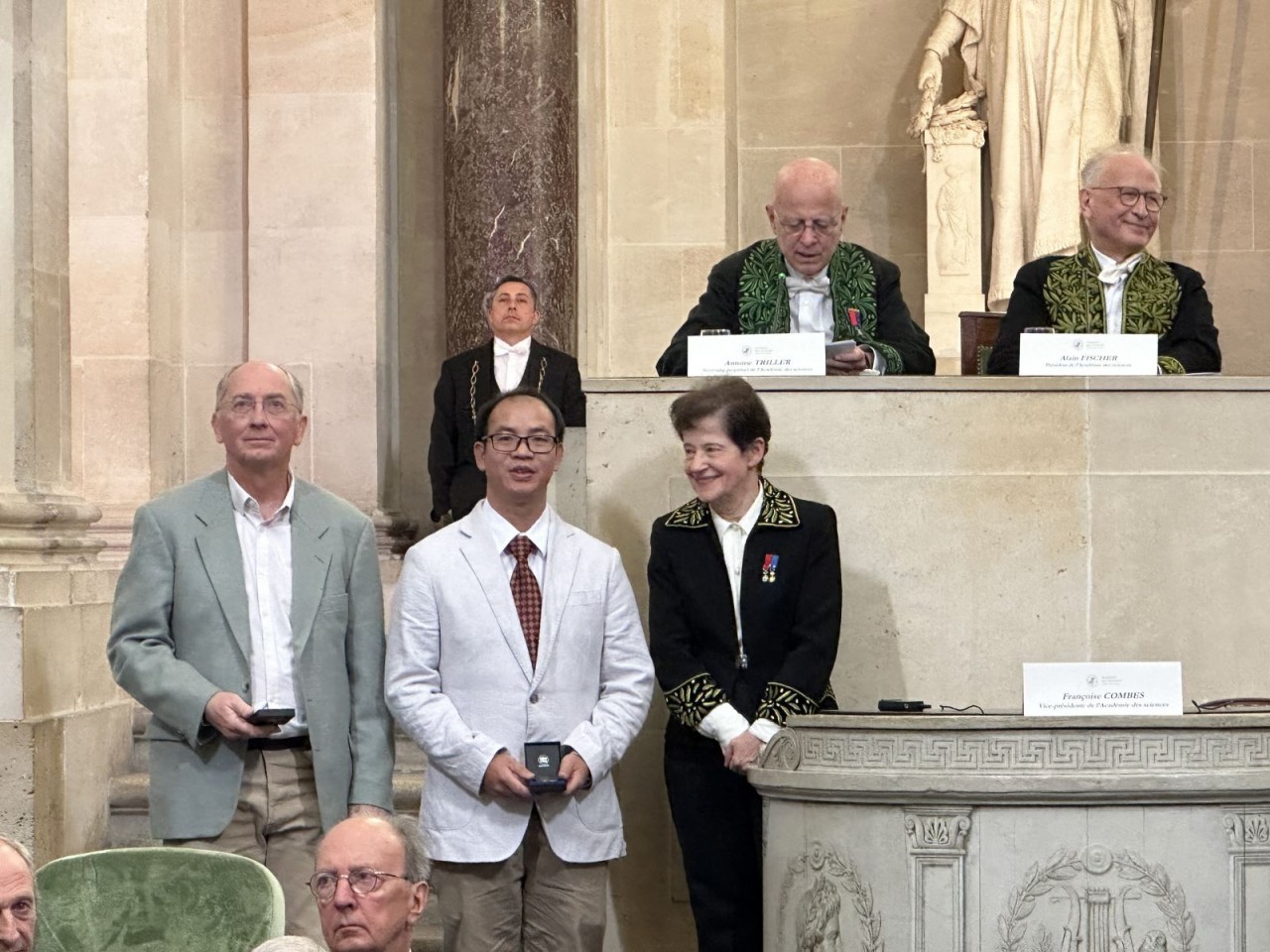 Professor Marc Chardin and lecturer Tran Quang Hoa received the award (Photo: VNA).
Dr. Hoang Thi Giang collaborated on research with Professor Stéphane Jouannic (Institute of Development Studies), the Research Unit of Plant Diversity Adaptation and Development (DIADE) of Montpellier University, and the Center for International Cooperation on French Agricultural Development Research. The topic of research is the genes and genetic characteristics of high-quality rice varieties to adapt to climate change.
The two scientists and their colleagues spent 13 years researching in-depth analysis of rice varieties present in Vietnam, identifying high-quality genetic codes to find rice varieties with the ability to withstand and adapt to today's fluctuating natural conditions. The research team hopes that in the future, they will be able to create rice varieties with the best characteristics to serve farmers.
Tran Quang Hoa carried out a collaborative project with Prof. Marc Chardin, an expert at the French Institute of Scientific Research and lecturer at Sorbonne University, with the research topic being geometric mathematical theory and applications in 3-dimensional space.