UK and Europe daily weather forecast latest, March 26: Windy with blustery showers spreading southeast behind a band of more general rain
The UK is forecasted to have windy with blustery showers spreading southeast behind a band of more general rain. Meanwhile, patchy rain sets to hit central Europe, fine central and western Mediterranean.
UK's weather forecast
According to Sky News, Friday will be windy with blustery showers spreading southeast behind a band of more general rain. The showers will be heavy with hail and thunder possible at times, and will bring snow to quite low levels in the north later. It will turn colder everywhere.
The UK is bracing for a white Easter, as weather forecasters warn cold temperatures and wintry showers are set to cover much of the country from Good Friday, Express reported.
The Easter weekend is set to be characterised by chilly temperatures as low as -5C as the UK sees unsettled conditions move in. The latest weather charts also show snow is on the way, with much of the country covered by some form of snow risk over the first weekend of April. Snow risk maps by Netweather show wintry showers are forecast from Friday, April 2, Good Friday.
Maps show a cold weather front will approach the north of the UK from the early hours of Friday morning, with much of Scotland covered by a 100 percent snow risk by 6am.
As the day progresses, the chance of snow moves further south. By 6pm parts of northern England are covered by a snow risk of up to 85 percent, while much of the south of England is covered by a moderate risk of up to 50 percent.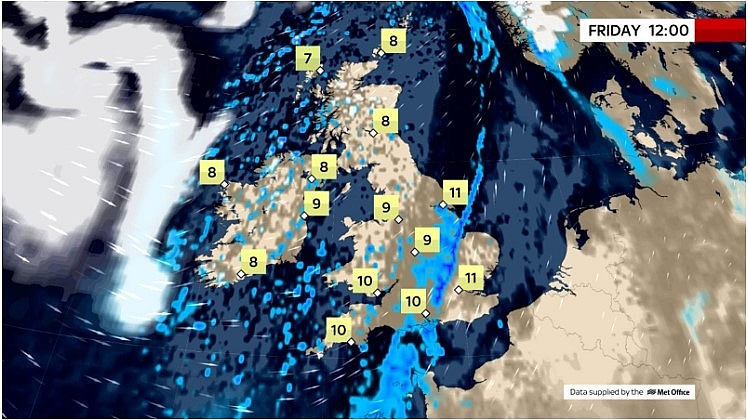 Photo: Sky News
By Saturday morning much of Scotland and northern England has a high snow risk, as shown by the red and white colourings on the weather chart. Wales and the midlands also have a snow risk of up to 75 percent.
The risk of snow intensifies throughout the day and by 6pm almost the whole of the UK is expected to see wintry showers. The snow risk map shows Scotland and northern England covered by a high snow risk, as shown by the bright colourings.
The rest of the country is covered by huge swathes of green and yellow, indicating a snow risk of up to 60 percent. By 6pm on Easter Sunday, the risk of wintry showers has intensified across the west of the UK. Wales, and the south west of England have a high snow risk, while much of the rest of the UK has a moderate chance of snowfall.
By Monday afternoon the risk of snow all but disappears. The risk of snow coincides with a sharp plunge in temperatures.
Weather charts show a chilly -5C is forecast in Scotland at 6am on Friday April 2. Northern England is also set to temperatures plunge to -4C, with the rest of England braced for the mercury to fluctuate around 1C. Saturday is expected to be even colder, with a weather chart showing the whole of the UK turn an icy white.
The map, valid for 6am, shows minus temperatures forecast across the country, including a chilly -5C in Scotland. The freezing conditions continue through Sunday, with another chart showing an average of -2C is forecast across the country.
Brian Gaze, founder of The Weather Outlook, told Express.co.uk cold conditions are forecast over the Easter period. He said: "It could actually become quite chilly during the Easter period. High pressure may become centred to the north or west of the UK and if that happens it leads to the possibility of colder air moving in from the north or east."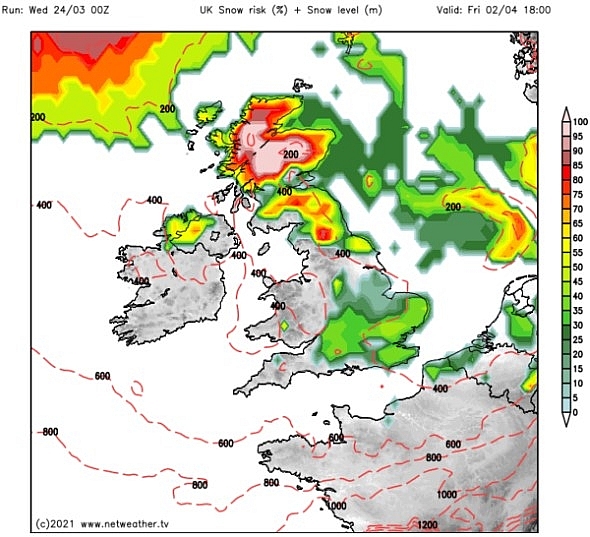 UK snow forecast: By 6pm parts of northern England are covered by a snow risk of up to 85 percent (Image: Netweather)
"It's not out of the question that the northern half of the UK could see sleet or snow. The date of Easter changes each year and if it occurs in late March or early April, snow in the north of the UK isn't particularly unusual, especially over the hills. It's often debated whether a White Easter is more likely than a White Christmas."
Jim Dale, from British Weather Services, also said cold conditions are forecast over the Easter weekend.
He told this website: "Moving into the Easter weekend, the early prognosis suggests a somewhat mixed affair, far more dry than wet but with subdued very British temperatures, cold nights and mornings and a million miles away from the very pleasant warmth of the Mediterranean resorts during the same time period."
On March 26
According to Weather Online, a cold front sweeps eastwards on Friday bring an area of heavy, squally rain across much of England and Wales. For Scotland it will be a brighter morning with sunny spells although feeling colder but with showers in the west. Brighter weather follows to northern and western part of England and Wales during the morning although heavy showers will be developing in some of these could be turning sundry across Wales and southwest England. Further heavy showers and strong winds across Ireland after a drier start in the east. Showers turning increasingly wintry in Scotland and over the high ground of northern England, Ireland and Wales during the day. Highs at 7 to 11C, but turning cooler during the day.
Band of heavy rain spreading eastwards across the UK, with sunshine and scattered blustery showers either side. Showers heavy to the west and turning wintry at times over hills, Met Office reported.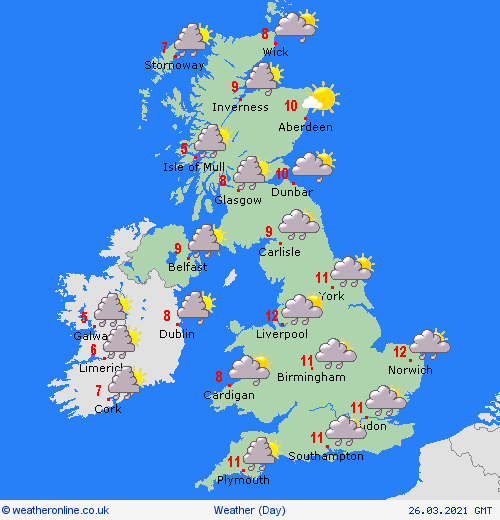 Photo: Weather Online
Outlook for Saturday to Monday
Chilly and mainly dry Saturday before rain arrives in the northwest later. Cloudy and windy with persistent rain across western hills Sunday and Monday, mainly dry in the far south.
Europe's weather forecast
Spain and Portugal once again enjoying the largely dry and fine weather although there could be more cloud for the far north. A fair day through the Balearics, Corsica and Sardinia. Mist and fog patches could linger across Italy but it should stay largely dry. Scattered showers still affecting many places across Greece and feeling chilly still. Heavy showers for Turkey and also feeling chilly.
France will see a weakening system push into northwest and central areas through the day bringing mainly cloudy skies but also some patchy, mostly light, rain. Largely dry and fine for Switzerland and Austria although cloud could build here later on. A dry start to The Netherlands and Germany but cloud looks likely to build with the risk of some patchy light rain and drizzle. Dry and fine for the Balkans. A dry and sunny day too for Poland.
Rain and some snow will continue to affect much of northern and western parts of Norway. Drier further south and east. Mostly dry across Sweden and Finland. A weak front bringing some cloudy skies and possible drizzle through the Baltics for a time but mainly dry here. Cloudier skies with possible light rain and or drizzle across Denmark initially but should brighten up later on.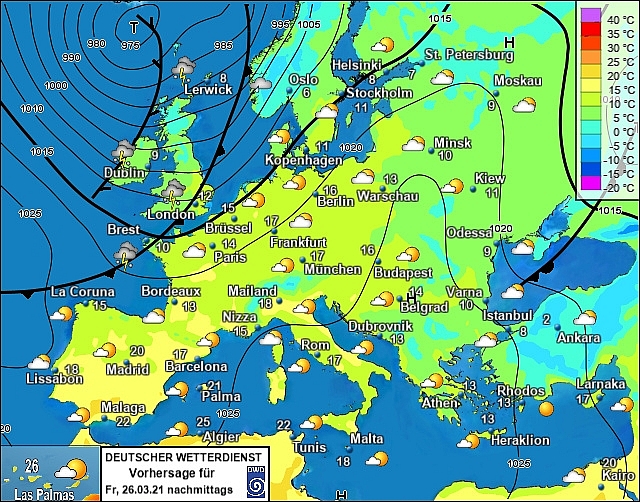 Photo: Stirimeteo
On March 26
According to Weather Online, fair for most of Spain and Portugal with lots of sunshine. More sunshine through the central Mediterranean and most of northern Italy, but there will be some showers in southern Italy. Heavy showers and periods of rain affecting southern and eastern parts of Greece. Remaining unsettled across Turkey with further heavy showers here.
Rather cloudy with some outbreaks of rain across central parts of France. Brighter to the north with scattered showers. Fair in the south with lots of sunshine. Cloud and some outbreaks of rain affect the Netherlands, central and northern Germany with southern Germany been dry and sunny. Poland, Hungary, Austria and Switzerland will all be dry with lots of sunshine.
Some cloud affecting Denmark and a few spots of rain to through Thursday. This cloud and spots of rain will also affect southern parts of Sweden and the Baltic states. Rather cloudy across Finland but brighter for Sweden with sunny spells. Cloud and some outbreaks of rain and drizzle affecting western parts of Norway.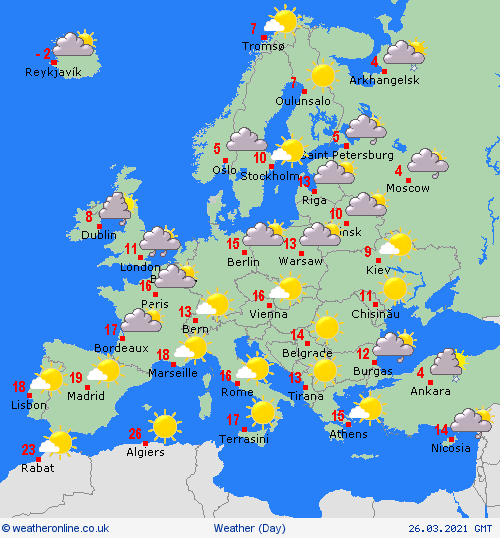 Photo: Weather Online