UK and Europe daily weather forecast latest, April 3: Largely settled and dry conditions with plenty of sunshine in the UK
The UK is forecasted to have largely settled and dry conditions with plenty of sunshine on Saturday. Meanwhile, rain sets to turn heavy through the Balkan States.
UK's weather forecast
According to Sky News, Good Friday will bring plenty of morning sunshine, but eastern England will keep a lot of cloud. Central England and northern Scotland should brighten up.
It will feel pleasant in the sunshine, despite lower temperatures than recently, but the breezy East will be quite chilly, especially North Sea coastal areas. The afternoon looks sunny overall, but northern, central and eastern England will see patchy cloud.
Saturday will bring more of the same, but it is all change in the North on Easter Sunday. Rain and strong winds will move in, followed by cold arctic air and some wintry showers. Further south, it will stay largely fine.
Photo: Sky News
The UK is bracing for freezing temperatures and snow from the end of the weekend, as an Icelandic weather system sweeps across the country, Express reported.
Temperatures are set to drop markedly in the coming days, with the latest weather charts forecasting lows of -7C on Easter Monday. The freezing conditions are expected to coincide with snowfall, with much of the UK covered by a high snow risk at the start of next week. Temperatures will start to drop slightly from tomorrow, the start of the four-day bank holiday weekend.
Much of the UK will see the mercury struggle to climb into the double digits tomorrow, with overnight frost forecast.
Similar conditions are expected on Saturday and Sunday with temperatures dipping below freezing overnight before warming up to highs of 11C by the afternoon.
However Easter Monday will see conditions worsen, with freezing temperatures across almost the entire country, dropping as low as -7C in Scotland.
Temperature charts by Netweather show the vast majority of the UK turn an icy blue by 9am on Monday morning, as freezing conditions move in. Lows of -7C are forecast in Scotland, with temperatures expected to fall to -4C in parts of northern England.
Wales, the Midlands and Northern Ireland will see the mercury dip to -2C, while the south of England is expected to see temperatures dip just below freezing.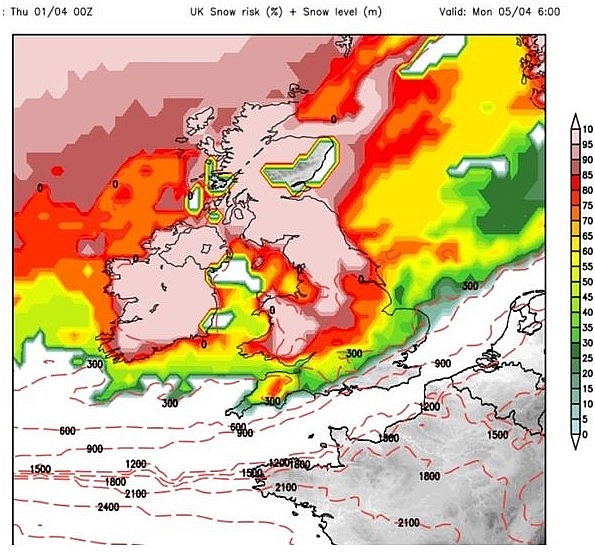 UK weather forecast: Snow is forecast across the country on Monday morning (Image: Netweather)
The chilly temperatures look set to coincide with snowfall across much of the UK, with snow risk charts showing much of the country is covered by significant risk.
The high snow risk moves in from Sunday evening, covering parts of northern Scotland, according to a chart by Netweather. It moves much further south overnight, and by 6am almost all of the UK is covered by some form of snow risk.
Huge swathes of Scotland, Northern Ireland, Wales and England are covered by white colourings - indicating a 100 percent risk of snow. Other parts of England turn red, indicating up to an 85 percent snow risk.
The green and yellow colours touching southern parts shows a risk of up to 60 percent. The snow risk continues through Monday afternoon and evening, before easing through Tuesday. The cold temperatures and wintry conditions look set to last through much of next week, with weather charts forecasting sub-zero temperatures until Friday, April 9.
BBC forecasters said the freezing conditions are due to a band of air moving in from Iceland.
They said: "The colder air mass behind the front will bring a stark difference from the warm, tropical air it replaces, with afternoon highs dropping as much as 10 Celsius is some places! This air will originate from nearer to Iceland instead of Morocco, so a fresher feel is in store throughout the country."
The Met Office forecasts cold temperatures and snow showers over the coming days.
Deputy Chief Meteorologist, Mark Sidaway, said: "After a settled, warm spell with plenty of sunshine particularly across England and Wales our weather will take a notable change in direction later in the weekend. Very cold Arctic air will move in from the north west through Sunday, bringing snow showers and freezing overnight temperatures."
"The snow showers will predominantly affect the north and west of the UK. The south and east will likely remain drier but still cold with a lower chance of wintry showers."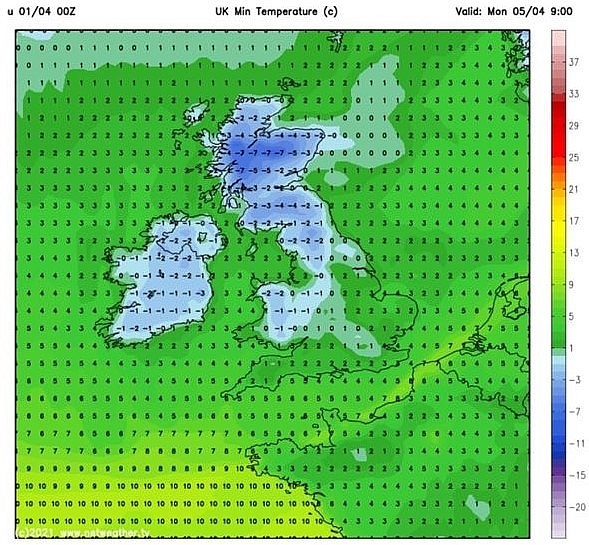 UK weather forecast: Lows of -7C are forecast on Monday morning (Image: Netweather)
Netweather senior forecast Jo Farrow added: " It will be cold Sunday night, Monday and Tuesday, feeling bitter in the wind with a hard frost, ice and wintry showers, including snow for some. Settling snow will be mostly for northern hills, particularly the far north of mainland Scotland (NW Highland and Grampians), even to lower levels and also northern counties of Northern Ireland."
On April 3
According to Weather Online, high pressure brings largely settled and dry conditions with plenty of sunshine about again through Saturday. A chilly start for all but temperatures should climb to reasonably spring like values through the day in the north and west. Highs at 16 or 17C in Scotland and 11 or 12C across southern England.
Still rather cloudy and chilly in the east and southeast, although a few sunny intervals likely for most. Elsewhere quite sunny; reasonably warm by afternoon, especially across parts of Scotland, Met Office reported.
Outlook for Sunday to Tuesday
Fine at first Sunday before a band of rain sweeps south. Much colder with sunshine but hail and snow showers for many follows Monday and Tuesday. Windy, coastal gales.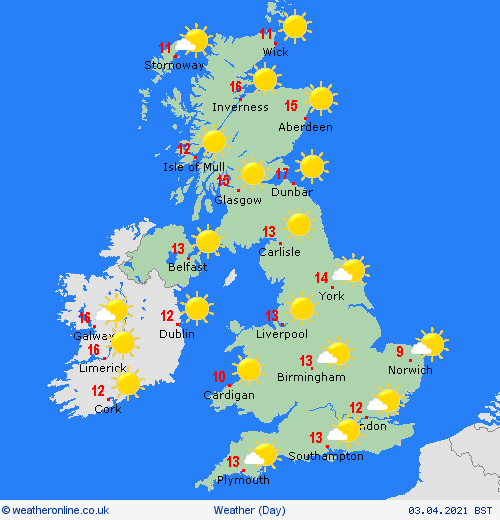 Photo: Weather Online
Europe's weather forecast
Heavy showers in Spain and Portugal. A few showers for Majorca and Menorca too. Fair in Corsica and Sardinia, Showers in central and southern Italy, but fair to the north. A few showers in Greece Fair in western Greece but some showers in the east.
Breezy in central and northern France with broken cloud and some sunny spells, feeling cold too. Less windy in the south of the country. Windy and chilly in the Low Countries with plenty of cloud. More wind in northern Germany but fair in Poland. Cloud and some rain in southern Poland and the far south of Germany. Some further rain in Hungary, Austria and Switzerland.
Fair for Denmark with sunny spells and feeling cool. A few showers in western and northern Norway but dry to the south. Sweden will have scattered showers in central areas, although mostly dry. Cool for the Baltic States and Finland, a few wintry showers.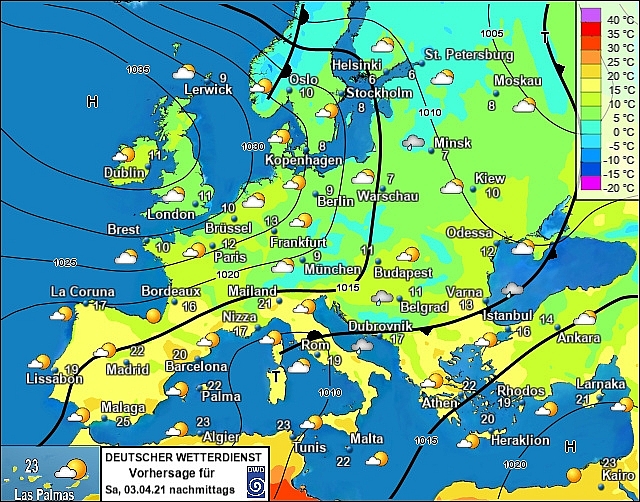 Photo: Stirimeteo
On April 3
According to Weather Online, showers still affecting parts of central and east Spain although Portugal looks to be largely dry. Showers also through the Balearics. A band of rain, heavy at times, pushes down through Italy brushing Corsica and eastern parts mainly of Sardinia. Mostly dry but turning cloudier across southern Italy and Siciliy. Showers or longer spells of rain across Greece but largely dry for Turkey.
Largely dry but breezy across France, although the southeast will be affected by some showers. Dry and breezy for the Low Countries. Dry and fine for much of Germany but cloudier skies and some rain across eastern and southern regions here. Showers or longer spells of rain across Austria and Switzerland as well as Poland and through the Balkans.
Showers pushing into northwest Norway still but drier elsewhere. Dry for much of Sweden although some showers affecting parts of the north. Mostly dry but with cloudier skies across Finland. A dry day through the Blatics as well as Denmark.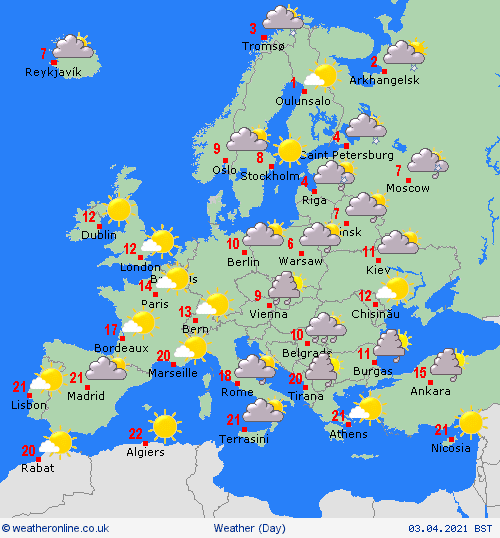 Photo: Weather Online