UK and Europe daily weather forecast (April 2): Breezy in the east and feeling cool along the coasts of the UK
The UK is forecasted to have breezy conditions in the east and feeling cool along the coasts. Meanwhile, temperatures turn cold in northern Europe and showery Iberia.
UK's weather forecast
According to Weather Online, cloud will be dispersing tonight to leave clear skies for many on Thursday night. There will be a further areas of cloud affecting northeast Scotland, perhaps with a few showers here. Lighter winds will allow for forst to develop in some well sheltered inland areas. Lows at 0 to 3C.
The Easter Bank Holiday weekend is set to be characterised by freezing temperatures and wintry conditions, as a chilly weather front sweeps across the whole of the UK, Express reported.
Many Britons may have been hoping the heatwave-like conditions seen at the start of this week would continue into the four-day bank holiday weekend, but the latest weather forecast shows the UK is in for a stark change in conditions. Temperatures are expected to plunge to single digits this weekend, with Easter Monday set for the coldest conditions as snow is forecast across much of the UK.
Jim Dale, from British Weather Services, told Express.co.uk the change in conditions will be "progressive", as we start to see the mercury dip from late this week.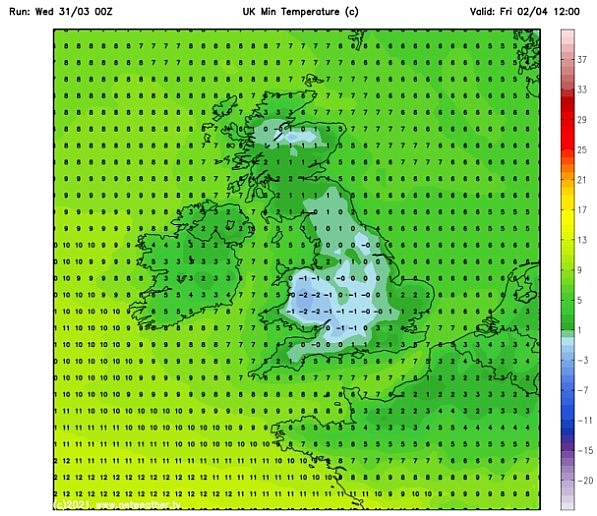 UK weather forecast: Temperatures on Good Friday, April 2, could drop to -2C in Wales at 12pm (Image: Netweather)
He said: "The coldest day will be the Monday with the potential for sleet or snow, especially in the north and along the east of the country."
The meteorologist said the cold snap and potential for wintry showers will not be exclusive to northern parts. He added: "The outbreaks could be anywhere. The whole country goes into a wintry set up."
Mr Dale explained the stark change in weather conditions, as opposed to high temperatures recorded on Tuesday, is due to a change in the air stream.
He said: "A cold front, which has been giving northwest Scotland all the rain over the last little while, that has started to move south across the UK."
By Monday another weather front will move in from Scandinavia, causing wintry troughs in the UK. Mr Dale said this will cause a week of below-average temperatures, overnight frosts and risk of snow.
The forecaster said the weekend will be fairly mild, with cold mornings and risks of frost before warming up slightly by the afternoon. He said the mercury can expect to hit 11C or 12C in the south this weekend, before dropping even further on Easter Monday to lows of 7C or 8C.
Mr Dale said temperatures will be even cooler in the north and along the east coast, with lows of -3C forecast. The latest weather charts also show the Easter Weekend is set to be particularly cold.
Temperatures on Good Friday, April 2, could drop to -2C in Wales at 12pm, according to Netweather.
Across the rest of the country, the mercury isn't expected to rise much above 4C. Saturday and Sunday is set to be a little warmer, with temperature charts forecasting highs of 13C in Scotland at 3pm, with an average of 10C seen across England.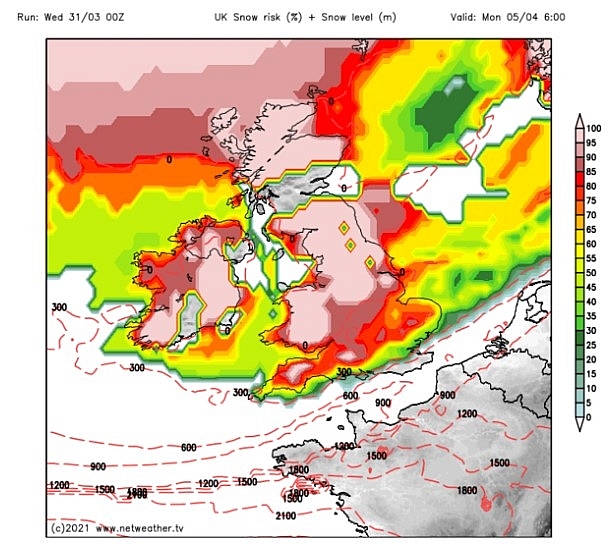 Easter weather forecast: The cold conditions look set to coincide with snowfall, with snow risk charts covering huge swathes of the UK at 6am (Image: Netweather)
But the mercury is set to plummet substantially overnight and into Easter Monday, with lows of -10C forecast in Scotland at 6am.
Temperatures are set to dip to a chilly -4C in the north of England, while the south looks set to just stay above freezing. The cold conditions look set to coincide with snowfall, with snow risk charts covering huge swathes of the UK at 6am on Monday morning.
The weather map shows parts of Scotland, north England, Wales and the Midlands are covered by areas of white - indicating a 100 percent risk of snow.
The south of England turns bright red, indicating up to an 85 percent snow risk. The risk of snow continues throughout the day.
The Met Office is also forecasting snow by the end of the bank holiday weekend.
Deputy Chief Meteorologist, Mark Sidaway, said: "After a settled, warm spell with plenty of sunshine particularly across England and Wales our weather will take a notable change in direction later in the weekend. Very cold Arctic air will move in from the northwest through Sunday, bringing snow showers and freezing overnight temperatures."
"The snow showers will predominantly affect the north and west of the UK. The south and east will likely remain drier but still cold with a lower chance of wintry showers."
On Good Friday
According to Weather Online, high pressure remains in control through Friday, being positioned west of Ireland. The day starts cold but dry with plenty of sunshine for many. Some cloud could affect eastern coasts through the day although this is going to be breaking. Staying dry for most with further sunshine into the afternoon. Another cool day with temperatures at 9 to 13C, although always feeling colder in the east.
A fine and sunny day for many though more cloud over eastern and northern parts. Breezy in the east and feeling cool along the coasts, Met Office reported.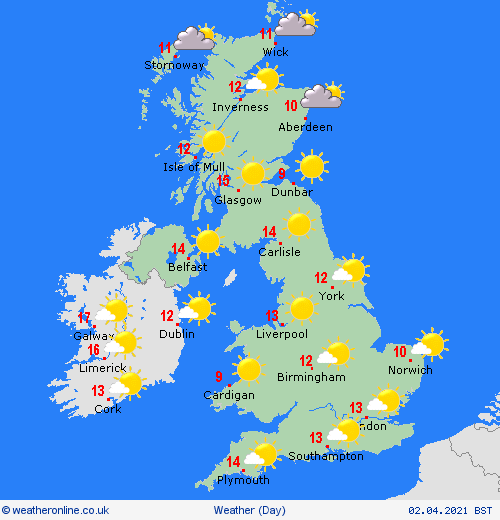 Photo: Weather Online
Outlook for Saturday to Monday
Mostly dry with sunny spells and some overnight frost on Saturday. Becoming much colder and windy with rain followed by showers on Sunday, with showers turning increasingly wintry by Monday.
Europe's weather forecast
Rain and showers across Portugal and western Spain on Thursday. Eastern areas should be dry and bright. Plenty of sunshine in the Balearics, Corsica and Sardinia with scattered showers in central Italy. Greece will have a few showers whilst some heavier, more persistent ones affect Turkey. A risk lof thunderstorms here.
Fair in France with plenty of sunshine. Some showers for the Low Countries and central Germany as well as Poland. Hungary will be unsettled as well be Austria and Switzerland with broken cloud and some outbreaks of rain.
Coud and showers in Denmark. More cloud and periods of rain across the Baltic States. Cool and dry with sunshine for Finland. Sweden will be dry and bright, lots of sunshine here. Fine for the south of Norway but some rain and sleet in the north.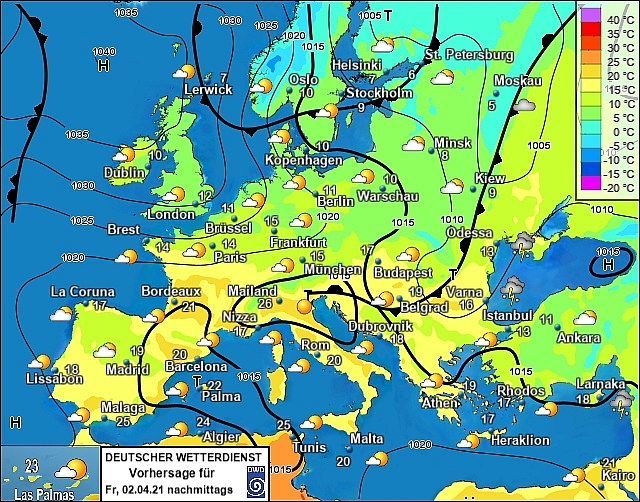 Photo: Stirimeteo
On April 2
According to Weather Online, heavy showers in Spain and Portugal. A few showers for Majorca and Menorca too. Fair in Corsica and Sardinia, Showers in central and southern Italy, but fair to the north. A few showers in Greece Fair in western Greece but some showers in the east.
Breezy in central and northern France with broken cloud and some sunny spells, feeling cold too. Less windy in the south of the country. Windy and chilly in the Low Countries with plenty of cloud. More wind in northern Germany but fair in Poland. Cloud and some rain in southern Poland and the far south of Germany. Some further rain in Hungary, Austria and Switzerland.
Fair for Denmark with sunny spells and feeling cool. A few showers in western and northern Norway but dry to the south. Sweden will have scattered showers in central areas, although mostly dry. Cool for the Baltic States and Finland, a few wintry showers.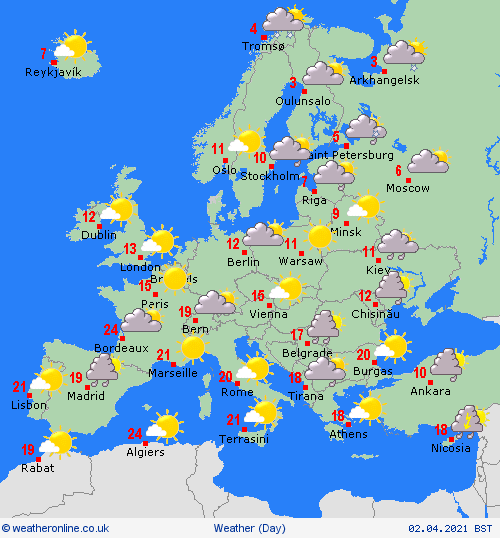 Photo: Weather Online