UK and Europe weather forecast latest, August 14: Lightening storm warning for the UK
Lightening storm warning is issued for the UK as intense thunderstorms clash Europe.
UK's weather forecast
THE Met Office has issued an amber weather warning tonight, as danger to life thunderstorms threaten the UK, Express reported.
Thunderstorm warnings have been in place for much of the week, but now the Met Office has upgraded one area to amber alert, warning of severe thunderstorms and danger to life. The Met Office warns severe thunderstorms will affect parts of England and Wales on Wednesday evening. Some places will miss these, but where they occur they will be intense.
Thunderstorms expected for London and the south (Image: Getty/Netweather)
The amber warning areas are East Midlands, London and South East England, North West England, South West England, Wales, West Midlands and Yorkshire and Humber.
Much of the UK is also under yellow weather warnings for thunderstorms as the hot weather paves the way for explosive weather.
Rainfall totals of 1.1 to 1.5 inches (30 to 40mm) may fall in as little as 20 minutes, with a chance of 2.5 inches (60mm) falling in an hour and 2.7 to 4 inches (70 to 100mm) falling in two to three hours.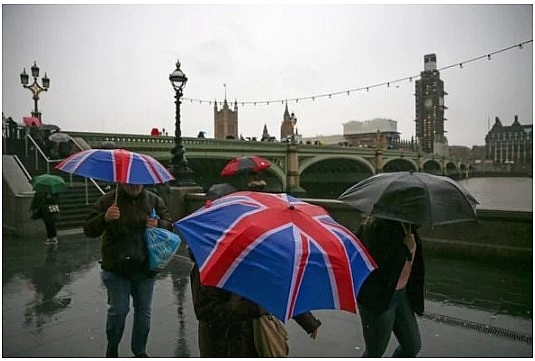 London and the south to experience heavy rainfall (Image: Getty)
Large hail, frequent lightning and gusty winds will be additional hazards. Most thunderstorms will die out during later in the evening though a few may continue in to the night.
Met Office Meteorologist Paul Gundersen said: "Today warnings cover much of England, away from the east coast, Wales and parts of Scotland."
"The storms will be isolated but where they happen there will be frequent lightning, gusty winds and intense, heavy downpours with 30 to 40mm of rain possible in less than an hour and, in isolated spots, a small chance of 60 mm falling."
"With the continuing hot weather large swathes of the UK continue to be at risk from thunderstorms and potentially the impacts from heavy rain, into the early part of next week."
Rain and lightning to hit the UK (Image: Getty)
Parts of central Scotland saw almost seven hours of continuous thunderstorms overnight. The impacts from heavy, intense rainfall have been felt in many places, including Fife in Scotland, where an Amber warning was in place and a major incident was declared.
Meanwhile, earlier this week homes and businesses were flooded in mid and west Wales. Six days of weather warnings are currently in place, from Wednesday through to Monday, August 17.
The thunderstorms follow days of scorching temperatures, with conditions reaching over 34C for much of this week. Warm and sticky nights have followed, with temperatures not dipping below 20C all night.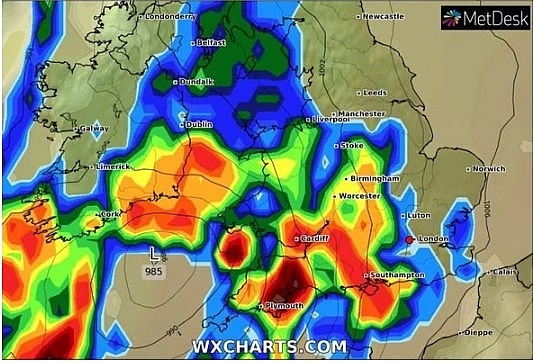 Storms to smash the UK over the next days (Image: WX Charts)
The Met Office tweeted: "It's set to be another very warm night tonight and uncomfortable for sleeping In fact, it will be a #tropical night for many, with temperatures staying above 20.0C once again".
Today marked the third consecutive day temperatures have exceeded 35C, with Met Office meteorologist Greg Dewhurst, tweeting the temperature had reached 35.4C at Heathrow.
The last time this run of high temperatures happened was in 1990, and before that, 1976. Temperatures today are expected to reach 34C on Thursday in southern and central England, before dipping slightly to the mid to high 20'sC for Friday and the weekend.
Those in areas with thunderstorm warnings are being urged to keep up to date with warnings, as dangerous flooding could follow the severe storms.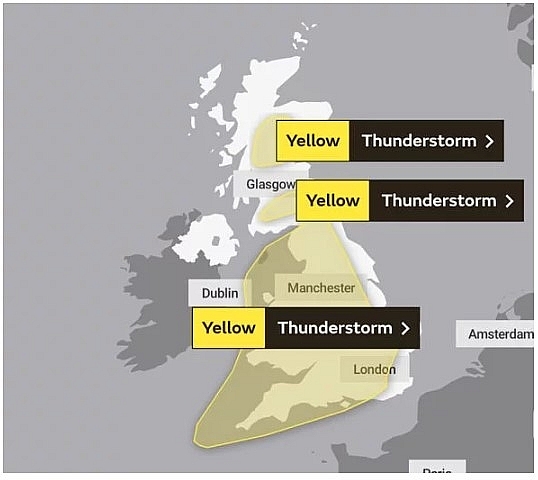 Met Office issue yellow warning for thunderstorms (Image: Met Office)
Neil Davies, Flood Duty Manager at the Environment Agency, said: "Isolated thunderstorms could bring sudden surface water and river flooding to parts of England today, which may lead to flooded properties and severe travel disruption in some areas."
"Further surface water and river flooding is also a possibility from Thursday to Sunday."
"Environment Agency teams are working hard alongside local authorities to reduce the risk of flooding and keep communities safe, clearing grills and weed screens in areas which may be affected by heavy showers, and are ready to respond and support where needed."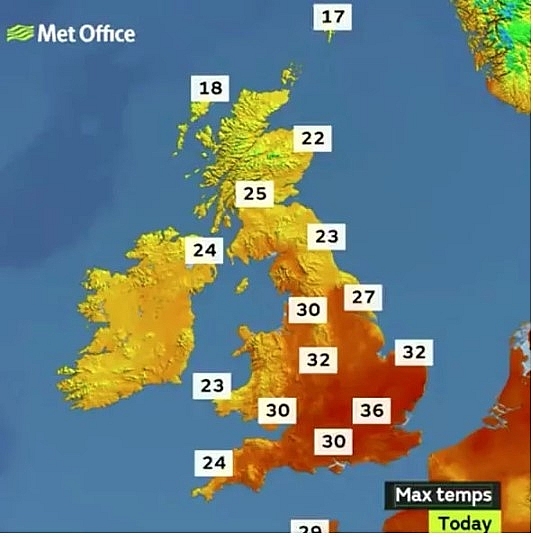 Temperatures will remain hot despite forecast (Image: Met Office)
"We urge people to check their flood risk, sign up for free flood warnings and keep up to date with the latest situation at Gov.uk, call Floodline on 0345 988 1188 or follow @EnvAgency on Twitter for the latest flood updates."
On August 14
With low pressure over England expect cloudy skies and patchy outbreaks of rain to affect England, Wales as well as eastern and southern Ireland once again. Heaviest of the showers look likely in the southeast of England.
Staying dry further north under ridging high pressure with plenty of sunshine. Warm in the northwest and Ireland at 21C, cooler further northeast. Cooler temperatures than of late in the south with highs at 25C.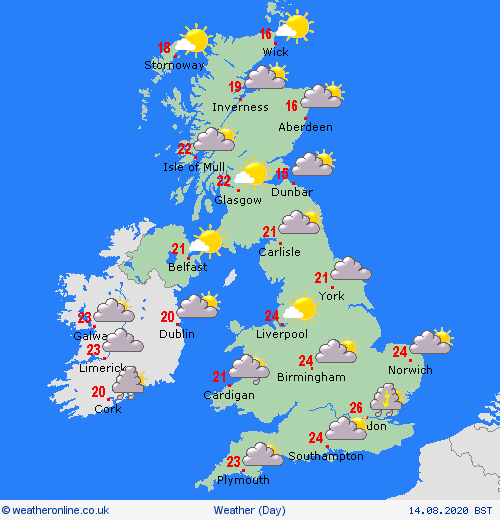 Photo: Weather Online.
Europe's weather forecast
BBC weather forecast an unsettled picture for Europe as the scorching heatwave that gripped the continent looks set to gradually ebb away in the midst of "intense" downpours and heavy thundery rain.
BBC meteorologist Susan Powell warned viewers that the heatwave is set to continue across western Europe for Thursday's weather. Some parts of Spain, France, the low countries and even Scandinavia will be the recipients of the heat. Temperatures are almost 10 degrees above average for the time of year.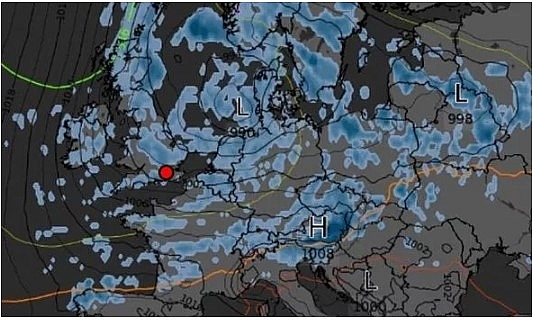 BBC Weather: 'Intense' thunderstorms clash with gales to chase off blistering Europe heat (Image: WXCHARTS)
Ms Powell said: "But things are changing with low pressure in the bay of Biscay starting to feed wetter weather into France."
"Heavy thundery rain will also stretch up across the UK. That will gradually start to ease off the heat. There'll be some showers across the Alps too on Thursday."
She continued: "Generally it will be quieter as we head further east. There'll be sunshine for Greece and for Turkey. Quite a key northerly wind though coming down the Aegean on Thursday to bring gales. It could make some pretty choppy waters as well."
Temperatures are almost 10 degrees above average for the time of year. (Image: BBC)
The weather presenter added: "There'll be sunshine though for the Balkans on Thursday."
"Northern Italy could see some heavy rain along with parts of Switzerland. I think our most intense downpours will be where we see this area of low pressure running into that hot air across the northwest of Europe."
Ms Powell said: "It stays pretty unsettled across the southern half of the UK and France.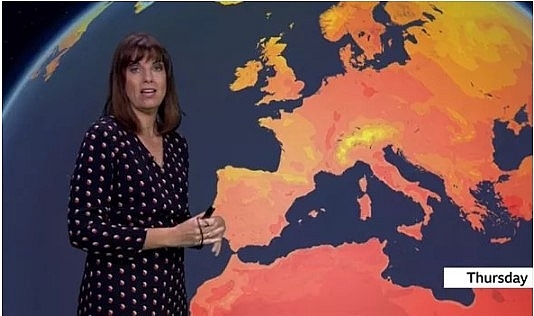 'Quite a key northerly wind though coming down the Aegean on Thursday to bring gales.' (Image: BBC)
"But increasingly then stretching into the low countries out that thundery rain for Friday. In terms of our temperatures, they do start to come back down closer to average values."
"But it's more of a gradual sloping off rather than a rapid plunge as we see that wetter weather lingering across the northwest of Europe."
"Further east, staying pretty settled with more sunshine to come for Athens and Heraklion."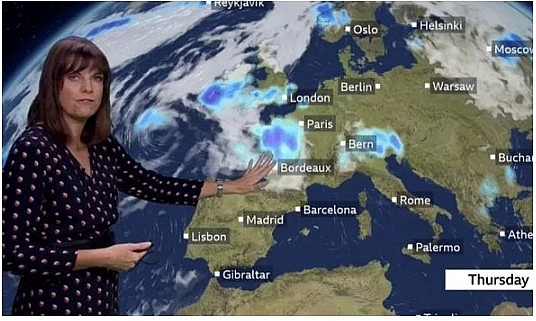 'Northern Italy could see some heavy rain along with parts of Switzerland.' (Image: BBC)
On August 14
A dry and sunny day for Spain and Portugal. The dry conditions extending across the Balearics as well as for Sardinia, Corsica and Siciliy. Southern Italy will also benefit from dry and fine conditions. Some scattered showers developing over Greece, possibly thundery. Dry and fine for Turkey.
France will be mostly dry and fine with the thundery showers confined to the north and east. Much of central Europe, including the Low Countries and Germany will be unsettled with heavy showers, some heavy, but also some sunny spells about too. Poland, however, will fair better and see drier conditions for most all places. The far east of Europe will also see mainly dry and fine weather.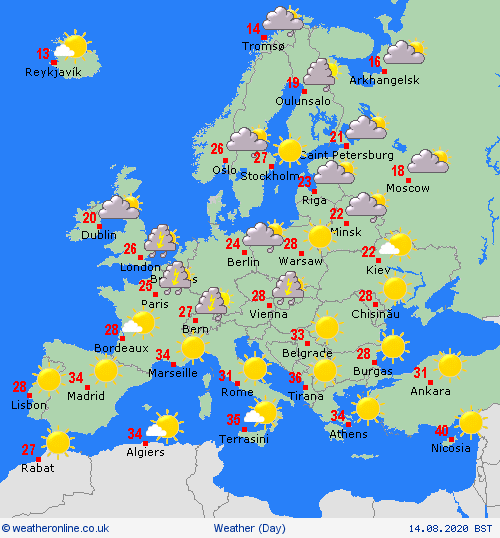 Photo: Weather Online.
Largely dry across much of Scandinavia although with low pressure in the far north expect more mixed weather here and across much of Finland. Southern parts of Denmark will be wet with showers about while more northern regions could fair better with the drier conditions. Largely dry and fine through the Baltic States.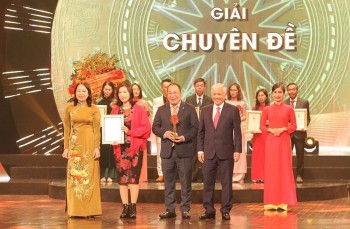 Overseas Vietnamese
VietnamTimes (Viet Nam Union of Friendship Organizations) is a reliable address for overseas Vietnamese to quickly and objectively update political, economic, cultural, and social news. The agency has created a helpful forum and connection between expatriates and the motherland.