UK and Europe weather forecast latest, August 11: Lightning storms to battle Britain for days
Lightning storms is forecasted to smash Britain for days as Europe is to cope with thunderstorms issued with red warnings.
UK's weather forecast
BRITONS basked in another scorching weekend - but fierce thunderstorms are set to strike most of the UK this week, Express reported.
The Met Office said Sunday was "another hot day" in southern England, where top temperatures reached 34C at Herstmonceux, East Sussex, and 33.8C at both Heathrow, London, and Gosport, Hampshire.
But this will end abruptly this week, as the Met Office said that "severe thunderstorms" may break out from Monday through to Thursday and issued yellow warnings for thunderstorms. NetWeather's Terry Scholey warned of low pressure sweeping in from the Atlantic Sea - including from France.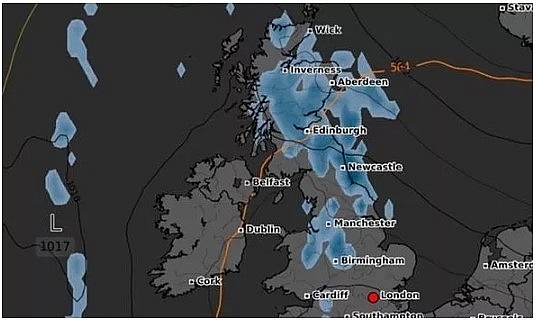 UK thunderstorm warning: The UK will be battered by four days of thunder (Image: WXCHARTS)
He said: "A thundery low set to move North from France, the threat of heavy showers and storms will become more acute into the new working week."
Met Office forecaster Craig Snell said: "It has been a warm day for much of the UK and another exceptionally hot day down in its south-eastern quarter."
The Met Office added that "not everywhere will see them, but where they do occur they could be significant and disruptive".
UK thunderstorm warning: The latest lightning maps show storms coming from France (Image: Blitzortung)
Large parts of England and Wales have been warned that torrential rain, large hail, frequent lightning and strong gusty winds may hit as intense thunderstorms may break out through to Thursday.
Downpours could see totals of 20-30mm of rainfall in an hour, with some locations potentially receiving 40-60mm in three hours. The Met Office added that these would be fairly isolated instances.
Parts of East Anglia and south-east England including Kent, Hampshire, London, Essex and Suffolk enjoyed temperatures that were in the 30Cs.
People in Dorset were urged to avoid Lulworth and Durdle Door on Sunday due to large numbers already in the coastal areas, and officials said they are closing roads to manage traffic.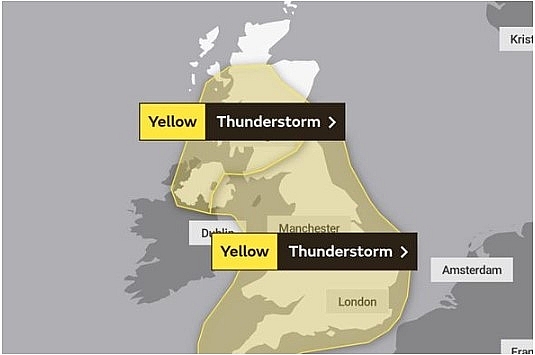 UK thunderstorm warning: The Met office has issued yellow warnings for thunderstorms (Image: MET OFFICE)
A woman in her 30s died after getting into difficulties in the sea at Waxham on Sunday afternoon, Norfolk Constabulary said. She was pulled from the water but was pronounced dead on arrival at the hospital.
Superintendent Jason Broomem, of Norfolk Constabulary, said her death is being treated as unexplained but not suspicious.
On Saturday, HM Coastguard dealt with 340 incidents across the whole of the UK - the highest number of call-outs in a single day for well over four years.
The Coastguard co-ordinated search and rescue responses to a wide range of incidents, including people being cut off by the tide and children swept out to sea on inflatables. In total, the service rescued 146 people and assisted a further 371.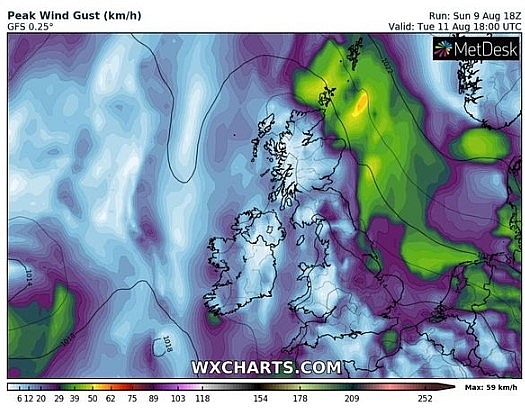 UK thunderstorm warning: Britain has basked in days of scorching heat (Image: WXCHARTS)
South East Water urged its customers to put away their hose pipes, garden sprinklers and garden water toys as it said that a spike in demand had left some people with low pressure or no water.
It said it has been pumping an additional 150 million litres of water around its network, the equivalent of 27 million additional toilet flushes, to keep up with demand over the summer.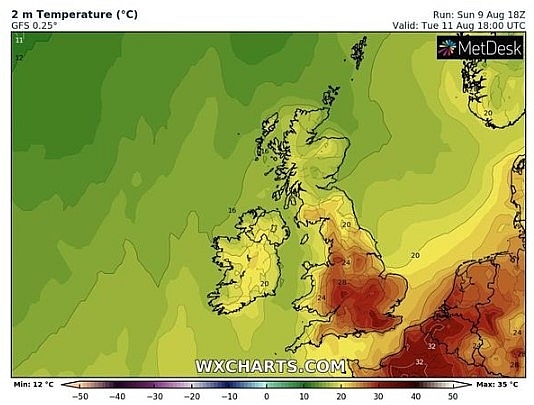 UK thunderstorm warning: The south east saw highs of 37C (Image: WXCHARTS)
They put the increase in water use down to more people being at home and taking up DIY and gardening projects during the rise in staycations.
Friday saw the hottest August day in 17 years, with temperatures hitting 36.4C at Heathrow and Kew Gardens.
Saturday's top temperature was 34.5C, which was recorded at Frittenden in Kent, Wiggonholt in West Sussex, and Herstmonceux in East Sussex, the Met Office said.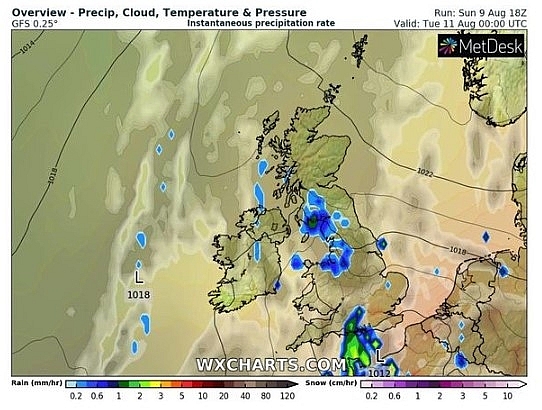 UK thunderstorm warning: Low pressure from France will grip the UK (Image: WXCHARTS)
On August 11
According to Weather Online, Tuesday sees the continuation of showers over northern and western parts of the UK while much of Ireland, England, Wales and eastern Scotland start the day dry with some spells of sunshine. Through the afternoon some localised heavier showers are expected to develop over western areas, especially to the north of England, and these spread to the north and east through the late afternoon and evening. Hot still in the south and southeast with highs at 35C. Cooler to the north at just 19 or 20C.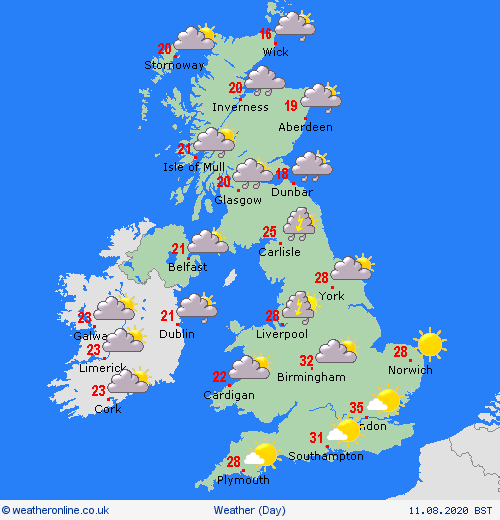 Photo: weatheronline.co.uk.
Europe's weather forecast
BBC weather has highlighted red warnings across Europe as thunderstorms descend on the continent.
Ms Willetts stated there are red warnings across France and Luxembourg for thunderstorms and high temperatures forecast for the start of the week. The BBC Weather Europe meteorologist added low pressure will push into the United Kingdom in the coming days, resulting in thunderstorms across parts of Britain.
Ms Willetts said: "The heat is taking a while to break but eventually low pressure will push thundery showers into western areas."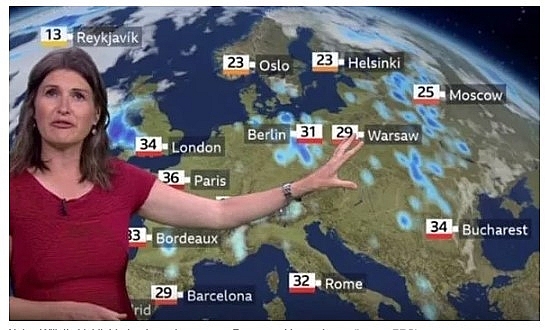 Helen Willetts highlighted red warnings across France and Luxembourg (Image: BBC)
"Red warnings are in force for the start of the week across some parts of France and Luxembourg. Temperatures are pushing towards 40C but with it there will be a breakout in thunderstorms across the Alpes and further east."
"Temperature are above what they should be across the southern half of Scandinavia. The north of Scandinavia will start to see temperatures lowing just a little as we go through the week. In Spain and Portugal, we will start to see some thundery downpours as a result of this heat."
"They will break out with low pressure pushing into France and eventually the United Kingdom. But it is a slow process, it might be the end of the week by the time that heat finally breaks in the north and west."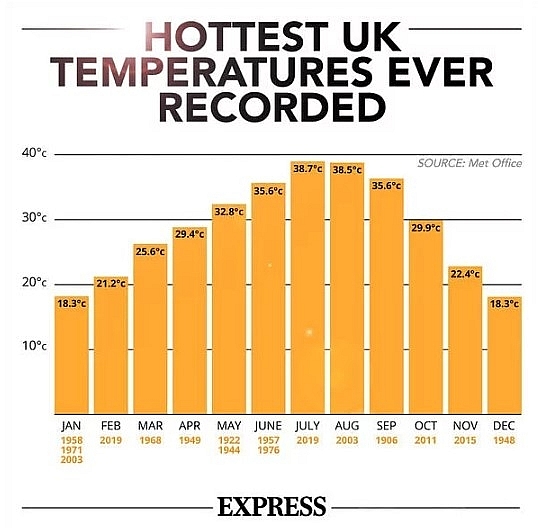 The highest recorded UK temperatures ever (Image: Express)
Earlier this week the BBC Weather's Alina Jenkins explained how low pressure combined with the hot weather could spark intense thunderstorms next week.
Ms Jenkins said: "Really as we start to look into next week, we are still holding on to some fairly high temperatures, it is going to be feeling warm for many of us, and also we have an area of low pressure in the Bay of Biscay."
"This combination of low pressure and above-average temperatures is a good recipe for thunderstorms. Such as their nature, they are going to be hit and miss."
"But, there is a signal that some of these thunderstorms could bring some significant amounts of rain in just a short amount of time. That is something to keep an eye on through the early part of next week."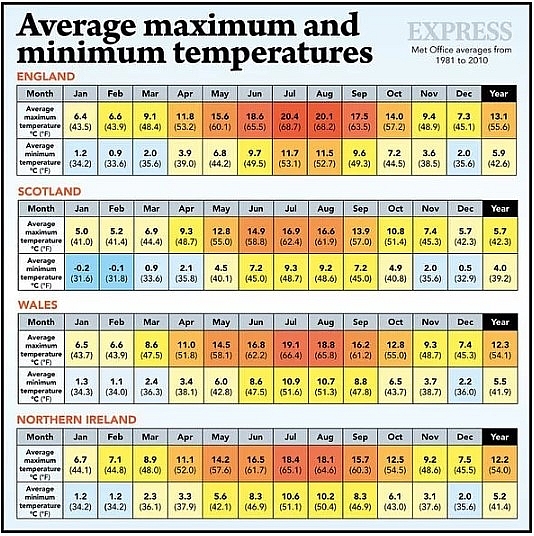 The average temperature across Britain throughout the year (Image: EXPRESS)
Deputy Chief Meteorologist, Chris Bulmer, said of the oncoming thunderstorms: "The hot airmass will remain over much of England and Wales until early next week, so we'll continue to see maximum temperatures in the low to mid-30s Celsius as the heatwaves continues.
"It looks like the heatwave could break on Tuesday and Wednesday as the risk of thunderstorms increases for many areas, although at the moment it's a bit too early to say for certain, so our advice is to keep up to date with Met Office forecasts day-by-day."
On August 11
According to Weather Online, afternoon thunderstorms develop over Spain once again on Tuesday, these may be locally heavy. Staying drier to the west and for Portugal. The Balearic Islands, Corsica, Sardinia, Sicily and Italy see a mostly warm and sunny day though afternoon showers develop along the west coast of Italy. Mostly dry, warm and sunny across Greece and Turkey.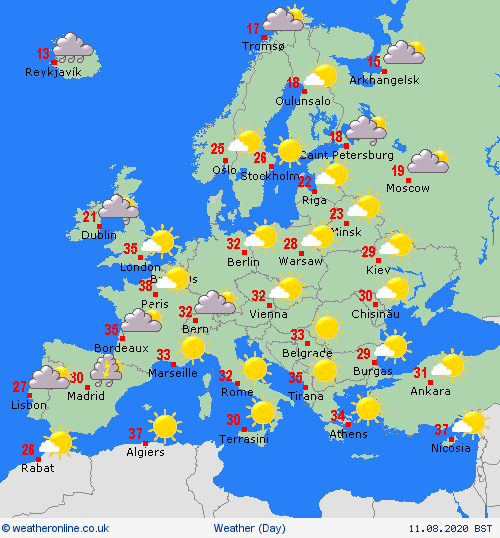 Photo: weatheronline.co.uk.
Afternoon showers also affect much of France, Switzerland, Germany, the Low Countries, Austria and the Czech Republic on Tuesday. Otherwise it's a fine day across this part of Europe with the besy of the sun over northern areas.
High pressure over Scandinavia continues to bring settled conditions to much of northern Europe. A dry and fine day for Norway, Sweden, Finland, Denmark and the Baltic States. Isolated showers may affect northern Denmark and far southern portions of Norway and Sweden.
Friendship
To mark the 50th anniversary of the establishment of diplomatic relations between India and Vietnam and on the eve of the 132nd birth anniversary of President Họ Chị Minh, Indo- Vietnam Solidarity Committee organized a national seminar on "Ho Chi Minh and India" on 14th May 2022 at National Library, India.