UK and Europe weather forecast latest, August 13: Upgraded warnings for thunderstorm as 'danger to life' to battle UK
Met Office has upgraded warnings for thunderstorm to strike the UK. Meanwhile, Europe is forecasted to go through increasingly unsettled conditions till the end of this week.
UK's weather forecast
According to Express, as the UK sees the end of its week-long heatwave, thunderstorms are set to bring downpours across many parts of the country. Scotland is set to see the worse of it overnight, with fast flowing floodwater lashing down from near Inverness to Edinburgh. As a result, the Met Office has upgraded its weather warnings for the region from yellow to an amber alert.
In a statement on its website, the Met Office warned that the East of Scotland was be battered with thundery showers overnight.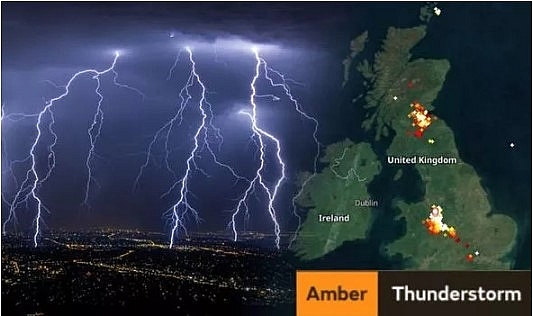 Met Office warning: The Met Office has issued a rare amber weather warning for thunderstorms (Image: GETTY/ MET OFFICE)
They added: "Thundery showers are likely to gradually move northwards overnight with continuing areas of torrential rain, frequent lightning and hail as well as perhaps gusty winds."
"Where the storms become heaviest and most prolonged rainfall totals of 30-40 mm could fall in an hour with some places potentially receiving 60-80 mm in 3 to 6 hours, although only a few sites will see these totals with perhaps parts of Fife seeing these early in the night and the far northeast on Wednesday morning."
The Met Office has also warned that even hail may strike the East of Scotland in its horrid downpour.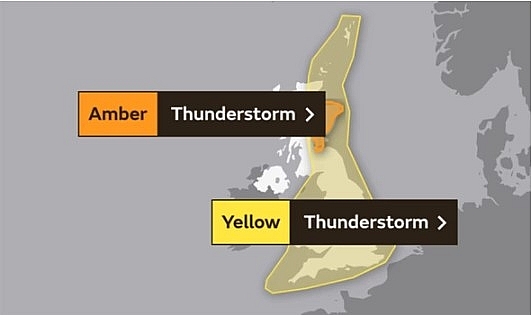 Met Office thunderstorm warning upgraded as 'danger to life' floods and hail to strike UK (Image: Met Office)
Met Office continued by adding that as the morning rolls around, parts of Scotland may wake up to flooded streets and damaged electrics.
It also said: "Where flooding or lightning strikes occur, there is a chance of delays and some cancellations to public transport. Spray and sudden flooding probably leading to difficult driving conditions and perhaps some road closures."
"Fast flowing or deep floodwater is also possible causing danger to life. Power cuts may occur and other services to some homes and businesses could be lost."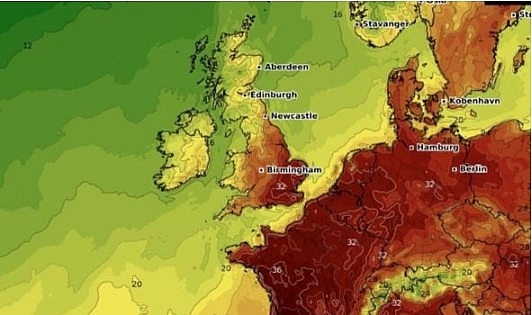 Met Office warning: There has been more than a week of temperatures in the 30Cs (Image: WXCHARTS)
The thundery rain should mostly clear out from Scotland by midday, but for the rest of the UK thunderstorms could crop up by the evening.
A yellow warning for thunderstorms and flooding has been issued by the Met Office for nearly all of the UK, excluding West Scotland and Northern Ireland.
Temperatures will remain as high as 32C (89.6F) around 5pm in London and much of the South East. For the morning it will remain clear and sunny, but after midday intermittent thunderstorms could breakout as the heatwave begins to falter.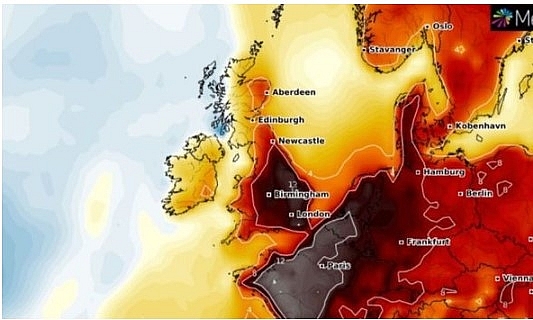 Met Office warning: The hot weather is forecast to continue this week (Image: WXCHARTS)
Wales and the West of England will see marginally cooler temperatures of around 27C (80.6F), but northern winds will bring a clash with the plume of heat, making thunderstorms and showers much more likely in these areas.
Thursday will see Scotland free of it's thunderstorms and weather warnings, but cloud and light rain will persist.
The Met Office has kept it's yellow warning in place for Wales and England however. They say there is "significant uncertainty" over where thunderstorms will break out due to the heatwave.
Temperatures in Wales and England will still remain high, with London seeing 28C (82.4F) and Wales seeing 25C (77F).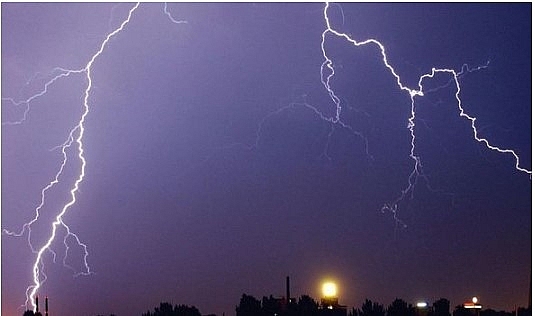 Met Office warning: Lightning storms have already struck across the UK (Image: PA)
While no warnings are in place from Friday onwards, thunderstorms and downpours are still likely. The South will be rather cloudy, with some showers or thunderstorms at times. But it is expected to be drier in the North with the best of the sunshine for North Western parts.
On August 13
According to Weather Online, Thursday will see showers across more southern and eastern areas of England and becoming widespread through Wales, many will be heavy and some thundery. Showers or longer spells of rain expected to spread westward across Ireland too, heavy in the south.
Northern Ireland, Scotland and northern England will stay mainly dry but rather cloudy. There will be a brisk northeasterly wind along coasts in the north and west. Hot still in south and southeast England. Highs at 17 to 32C.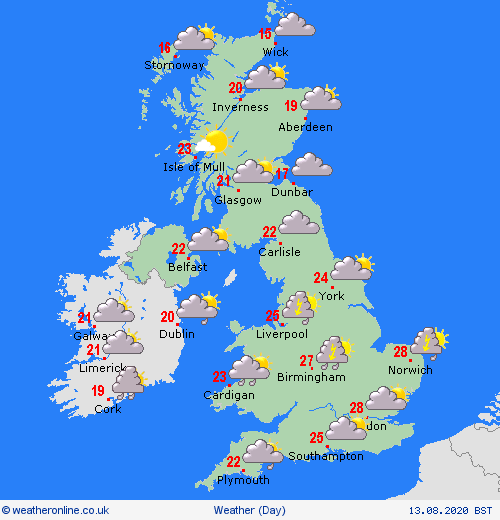 Photo: Weather Online.
Europe's weather forecast
Meteorologist Susan Powell warned that heat remains the big weather story across Europe at the moment. Heatwave conditions will continue to affect Iberia, France, the low countries, the UK and parts of Scandinavia for the next few days. In some areas, temperatures will be 10 degrees above average, BBC reported.
Ms Powell told viewers: "But look towards the west and you can see things are starting to turn increasingly unsettled through mid-week. An area of low pressure will be developing in the bay of Biscay and all those thunderstorms will start to feed their way north."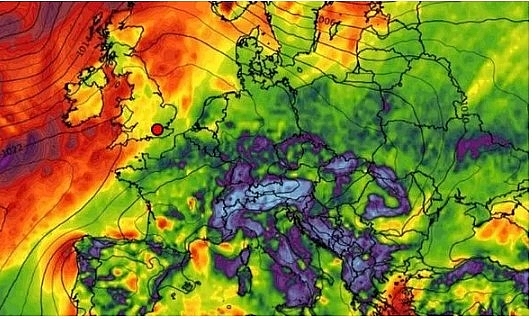 BBC Weather: Scorching heatwave threatened in Europe by flash flooding and 'damaging' winds (Image: WXCHARTS)
"Further east, it's a pretty typical picture for the time of year with sunshine for Cyprus, the Greek Islands and mainland Greece and Turkey too. There'll just be the odd showers affecting mainland Greece through Wednesday."
She continued: "That will stretch down from this area which will push down into the Balkans. It's looking a little bit showery across the Alps as well, but the heaviest rain will likely be where we see this area of low pressure developing."
"It will be pretty wet across northern Portugal and some heavy rain getting into France and spreading across the UK overnight Wednesday into Thursday. There could even be some flash flooding and some gusty damaging winds as well."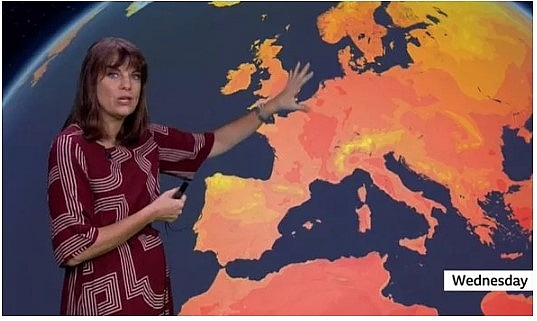 BBC Weather: In some areas, temperatures will be 10 degrees above average. (Image: BBC)
The weather presenter added: "But the temperatures don't fall away like a stone, they kind of ebb away as we start to lose that heat."
"But it's looking pretty unsettled for London and for Paris in terms of their outlook. Those showers look like they're here to stay once they finally arrive. Further east though, the picture remains settled for Athens and for Heraklion."
Temperatures will remain in the low to mid 30s for Athens while Heraklion will hang around 29 degrees. Berlin will see a change at the weekend as the 30 degrees temperatures drop slightly and the sky becomes cloudier.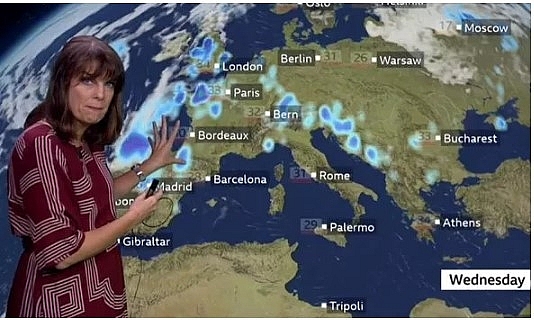 BBC Weather: 'That will stretch down from this area which will push down into the Balkans.' (Image: BBC)
Moscow, in contrast, won't break into the 20s as the weekend sees 19 degrees at its highest. London and Paris will see a real mix in the mid to high 20s with possible thunderstorms and patches of rain.
On August 13
According to Weather Online, a mostly dry and fine day for Spain and Portugal although a few scattered showers developing in the far northeast of Spain. Dry through the Balearic islands and mostly dry across Sardinia and Corsica. A dry and sunny day throughout much of Italy as well as Sicily. Some scattered showers for Greece but staying dry through Turkey.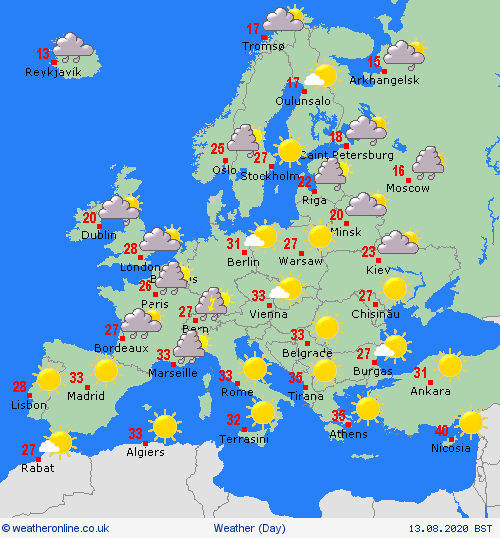 Photo: Weather Online.
Unsettled conditions across much of France and the Low Countries with showery outbreaks of rain about. Some scattered showers across Germany but plenty of dry conditions here too. Thundery, heavy showers still across Austria, Switzerland and Hungary. Largely dry across Poland and the rest of eastern Europe.
High pressure shifts further east; Sweden and Finland will be mostly dry and fine although Norway will see spells of rain push into mostly western and southern regions. The Baltic States will stay mostly dry but with some showers in the far east. A dry and fine day for Denmark.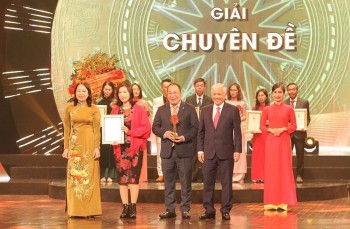 Overseas Vietnamese
VietnamTimes (Viet Nam Union of Friendship Organizations) is a reliable address for overseas Vietnamese to quickly and objectively update political, economic, cultural, and social news. The agency has created a helpful forum and connection between expatriates and the motherland.