UK and Europe weather forecast latest, November 15: Brutal weekend with heavy rain and wind dominates the UK
The UK is forecasted to bear a brutal weekend with heavy rain and wind. Meanwhile, rain will sweep across northern and western countries at the weekend. Drier with mist and fog patches further east across Europe.
UK's weather forecast
According to Express, the UK will struggle with unsettled weather throughout the weekend, with bouts of heavy rain and wind expected intermittently across the country.
No weather warnings have been issued by the Met Office, but the weekend will see some patches of rainfall across the country. The south will see the worst of the weekend weather, with the longest downpours and the heaviest winds due to an Atlantic front pushing eastwards. By Sunday, Wales, Scotland and the northeast of Northern Ireland will have seen some heavy spells as well, with the clouds having cleared up by midday.
Alex Deakin, Met Office meteorologist, said wet and windy weather "pretty much sums up" the weekend ahead, with pressure and fronts from the Atlantic to blame.
UK weather map: WXCHARTS temperature for November 14th (Image: WXCHARTS)
He added: "As is usually the case when we're talking wet and windy, it's low pressure dominating across the UK, plenty of isobars and especially across the south little features just whizzing in through Saturday night and Sunday will intensify the rain and squidging the isobars together, just giving the winds an extra kick across the south on Sunday."
"Those south or southwesterly winds will be feature throughout the weekend, as will outbreaks of rain."
"Now it's going to rain everywhere all weekend, particularly over eastern England there will be some drier spells and much of south east England having a drier Saturday morning, and northern Scotland dry for most of Saturday, we could even see some sunny spells."
As Saturday morning rolls in the UK will see a clearer, cloudier start after a night of light rainfall. By 7am, the worst of any rainfall will be felt in London and in parts of the southeast, with up to 8mm an hour pouring in those areas.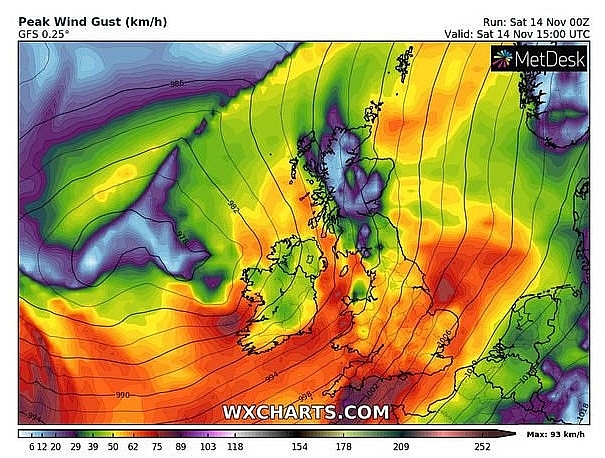 UK weather map: WXCHARTS wind gusts for November 14th (Image: WXCHARTS)
Scotland, the northeast and parts of the midlands will have a milder morning with less than 1mm an hour of rain set to last through to the afternoon. Wind speeds in the UK will also be at their worst in the south, with maximum gusts of 41mph in Cornwall and 35mph along the south coast.
Headed into the afternoon and temperatures will stay milder than average for November, with most parts of the UK staying around 10C (50F).
Highs of 14C (57.2F) will be felt in the south, but it will feel closer to 9C (48.2F) due to the harsher winds. Lows of 8C (46.4F) are expected in Loch Rannoch, with much of the north and Scotland staying at around 11C (51.8F).
Northern Ireland and Wales will also stay mild and cloudy at 10C (50F) with mild rains expected.
Sunday night will continue the trend of unsettled weather with the northeast and Scotland seeing up to 4mm of rain an hour by 3am. And by 6am, another push from the Atlantic will form a heavy rain front stretching from Glasgow to Cornwall.
UK weather map: Netweather temperature for November 14th (Image: NETWEATHER)
Sunday morning rainfall will be harder, at around 16mm an hour by 6am, with it pushing eastwards into London and Reading by 9am.
Low pressure from Europe will also bring another surge of heavy rainfall, wrapping in from the south west with 16mm of rain an hour hitting Norwich and Kent by 9am.
For Glasgow and the northeast coast of Scotland, Sunday morning will also bring heavier rains that will last throughout the day. Midday should bring some relief for the south, as the Atlantic and European fronts move eastwards leaving the region with a cloudy afternoon.
By 9pm, Scotland's rain will ease to a more mild shower, as it pushes eastwards and leaves Edinburgh and Aberdeen with a downpour of less than 1mm of rain an hour. Winds will remain at their most fierce in the south on Sunday, with 47mph gusts expected in Dover by the morning and 30mph gusts felt across the midlands and Wales.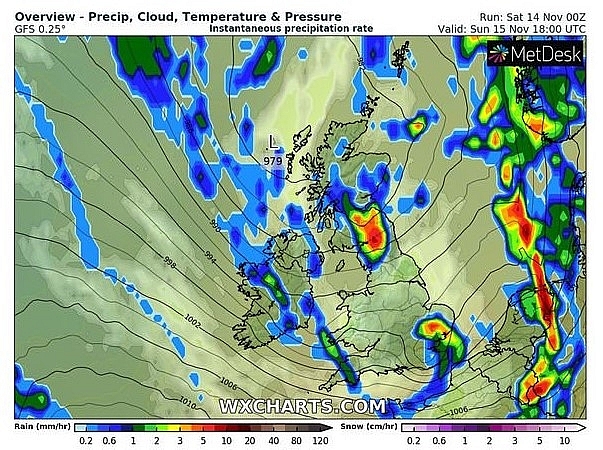 UK weather map: WXCHARTS overview for November 15th (Image: WXCHARTS)
On November 15
A wet morning for most places, particularly so across the southeast of England where heavy spells of rain are expected before pushing offshore. Rain should clear with sunny spells but also showers developing behind. More rain psuhsing across Ireland and into Wales and western parts of England later on. Gale force winds expected across southern Ireland, parts of Wales and south England. A cooler day with highs between 7 to 12C.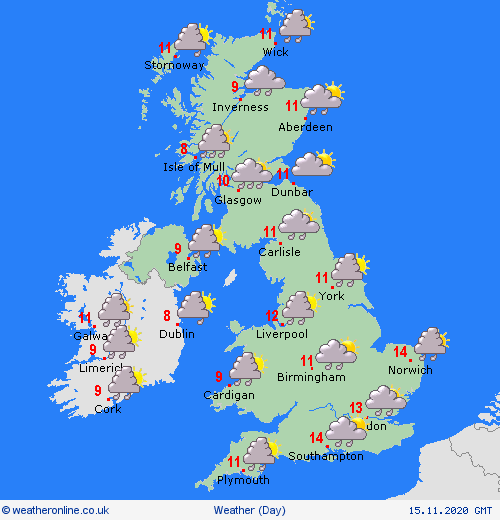 Photo: Weather Online.
Europe's weather forecast
According to Weather Online, cloud and rain pushing across Portugal as well as into western and some central areas of Spain. Some showers affecting the Balearics with the odd heavier one here and there. Largely dry and fine across Italy, although the odd isolated shower cannot be ruled out. Some showery rain affecting eastern parts of Greece but drier further west. Largely dry across Turkey but with the odd shower across the more southern parts.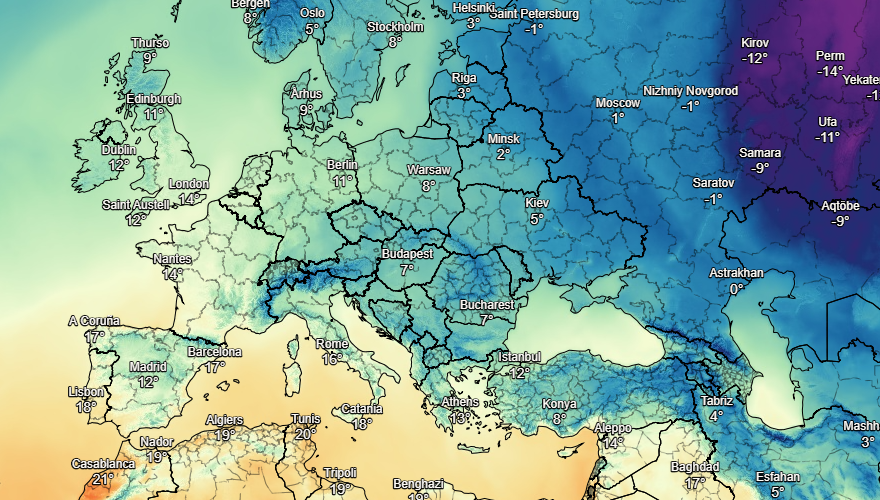 Photo: Stirimeteo
Cloudy still for the northwestern parts of France with some rain affecting this area too. Largely dry elsewhere but with the risk of a couple showers in the south. A breezy day across the Low Countires with cloud in the north and west but brighter conditions elsewhere. Dry and fine for Germany. A dry day again for Switzerland and Austria as well as down the Balkan States and over eastern Europe, however, mist and fog will continue to develop across these areas.
Cloud increasing across Denmark but it should be mainly dry although some patchy rain will affect northwestern areas later. Rain clearing Norway and southern Sweden in the morning with drier conditions behind. The rain will move into northern Sweden through the day. More rain pushing into southwestern parts of Norway later. Dry and fine across much of Finland. Cloudier skies over the Baltic States and some patchy rain about, mainly light.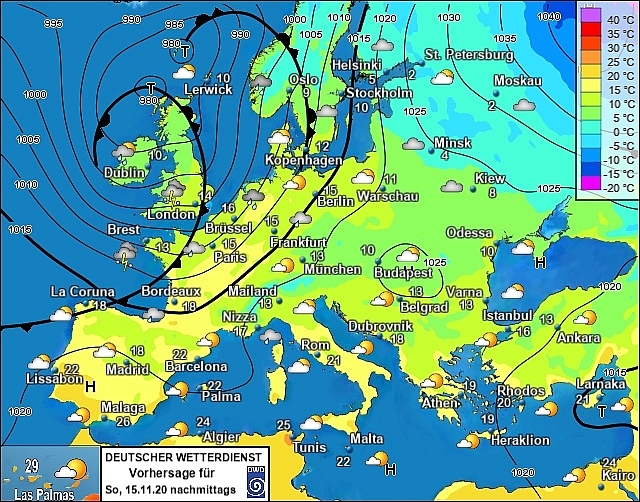 Photo: Stirimeteo
On November 15
Staying cloudy and wet across much of Portugal although the far south does look to remain dry. Northern parts of Spain too look to have patchy outbreaks of rain about and cloudier skies. Drier elsewhere. Patchy rain should clear the Balearic Islands through the morning. Some patchy rain across Italy at times too. Mainly dry for Greece and Turkey.
A band of rain pushing from west to east across France today, heavy and persistent spells in the north. Brisk winds too along coasts. Rain spreading across the Low Countries and into western Germany by the afternoon. A largely dry day once again across the Alpine countries although Switzerland and west Austria will see cloud thicken. Dry with light winds and mist and fog across eastern European countries.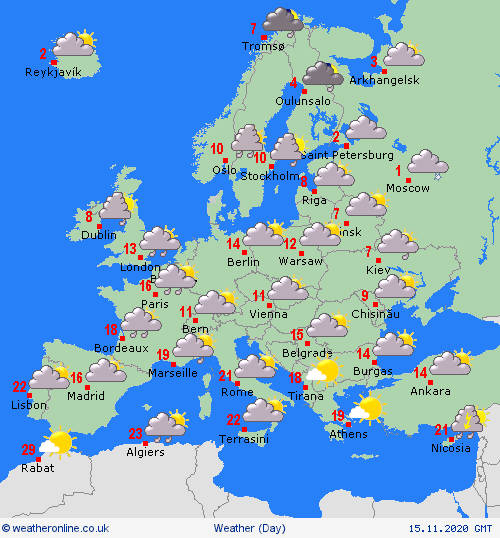 Photo: Weather Online.
Rain, heavy in places, across the far south of Norway and Sweden will push into central and northern areas through the day. Some patchy rain affecting parts of Finland, western areas mainly. Dry across Denmark for much of the day although cloudy, and rain is expected to push into western areas later on. Some patchy light rain across the northern parts of the Baltics but drier further south.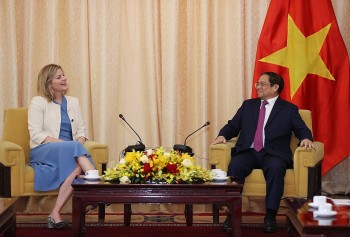 National
The Netherlands committed to cooperate with Vietnam, and together find innovative and sustainable solutions to accelerate green economy transformation.