UK and Europe weather forecast latest, November 13: Rain and fierce wind return after mostly dry and bright conditions
The UK is forecasted to cope with rain and fierce wind. Meanwhile, fair and warm conditions set to sweep the central and eastern Europe but rain is about to cover the west of Norway.
UK's weather forecast
According to Express, the outlook countrywide shows mainly dry conditions on Thursday with the beginning of the weekend bringing the unsettled weather back. NetWeather.TV forecaster Nick Finnis said: "Thursday will bring a window of mostly dry and bright conditions, before rain and stronger winds returns Friday morning."
"The weekend continuing the unsettled theme, with low pressure in charge, bringing windy conditions, spells of rain or showers. But, with winds from the southwest for the most part, it will be mild for all."
From Thursday to Saturday, the Met Office forecasts a "dry, bright start", followed by a "generally unsettled" and windy period of weather.
The Met Office said "bands of rain" will cross the UK, and there will be some brighter, showery intervals. The end of the week will bring more mild conditions overall.
UK weather: Britain braces for gales next week as storm conditions move in (Image: WXCHARTS)
Alex Burkill, Met Office meteorologist warned of "further changeable weather" throughout this week. He said: "It will be wet and windy at times, but it is also likely to stay largely mild.
Mr Burkill added that an area of low pressure will come through over the next couple of days with a second area of low pressure incoming this weekend.
The Met Office's weather forecast starting next Monday until November 25 warned of the possibility of unsettled conditions in parts of Britain, with some strong winds and gales also possible.
It read: "During this period unsettled conditions are likely in the northwest, bringing spells of rain and wind, perhaps strong winds and gales at times."
"More settled conditions may establish in the southeast and later into central areas where it will be mainly dry and sometimes bright. Temperatures look to be mild and at times very mild at first with a reduced risk of night frosts."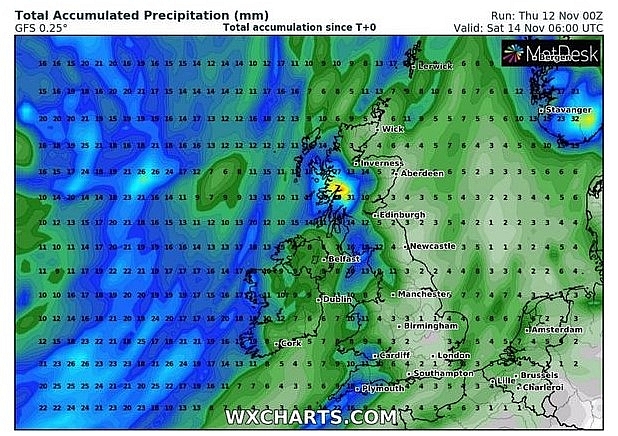 The outlook countrywide shows mainly dry conditions on Thursday with the beginning of the weekend bringing the unsettled weather back (Image: WXCHARTS)
"There is a chance that drier brighter conditions may extend UK-wide for a time, where fog patches could prove persistent in places."
"Although uncertain, later during this period temperatures look to turn cooler, closer to the seasonal average with an increased risk of overnight frosts especially in central and south-eastern areas."
The rest of November and into the first week of December, the UK will see overall settled conditions with central and south-eastern regions experiencing them for longer.
But the national weather service warned some unsettled periods are still likely. The forecast read: "The end of November is likely to be generally settled with high pressure set to dominate, with settled conditions expected to be more prolonged in central and south-eastern areas."
Today's weather is forecast to contain mild conditions and bright skies (Image: WXCHARTS)
"However, occasional unsettled periods do remain possible, although likely to be short-lived and mostly affecting north-western areas of the UK."
"Temperatures are probably remaining around average at first, feeling mild, before possibly turning colder than average into December with increased risk of overnight frosts. The chance of wintry precipitation could also be increasing into December, notably for northern higher ground."
On November 13
According to Weather Online, morning rain in East Anglia and Southeast England as a cold front clears. It should then be brighter across match of central and eastern England and Wales, as well as the east of Scotland. Showers will be affecting western coast and hills with a general increase in cloud during the afternoon bringing some drizzle to western and south-western coast. Western Scotland also sees further periods of rain and stronger wins with some showers in western Ireland. Eastern Ireland should be drier and brighter overall. Highs at 9C in northern Scotland, 13C in southeast England.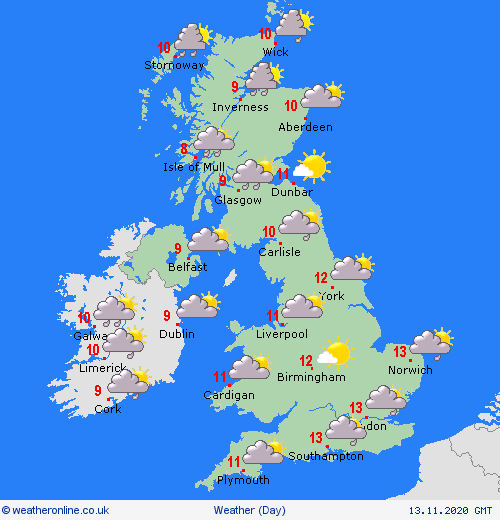 Photo: Weather Online
Europe's weather forecast
Another fine day through Spain and Portugal. Plenty of sunshine here and feeling warm too. Staying fair in the Balearics and much of central and southern Italy, although some showers affecting northern Italy. Greece should be fair with lots of sunshine. Staying warm across Turkey with plenty of sunshine here too, Weather Online reported.
A fine day for France although there could be some morning mist and drizzle in eastern areas. Cloud and showery rain affecting the Low Countries, this moving into northern Germany. Much of Poland should be dry with sunshine and will be warm. Staying warm across Hungary and Austria as well as Switzerland with more sunshine here.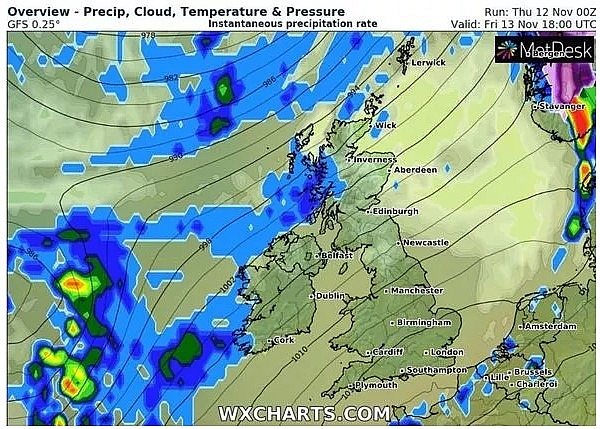 An area of low pressure will come through over the next couple of days (Image: WXCHARTS)
Becoming wet in the afternoon for Denmark. The Baltic States and Finland will be warm with good spells of sunshine. Unseasonably warm across Sweden too. Norway will be mild with cloud and rain in the south, brighter to the north and breezy for all.
On November 13
Sunny spells and dry weather in Spain and Portugal, a few showers to the south and east. The risk of some heavier showers across the Balearics. Corsica and Sardinia should be dry with sunny spells. Rain and showers in western parts of Italy, but dry in the east and south. Greece should be dry with sunny spells, just an occasional shower to the south. Fine across Turkey, plenty of sunshine here as well.
Photo: Weather Online
Fair in France but some cloud and spots of drizzle kn central and southern areas. Cloud increases over the Low Countries bringing some patchy rain. Fair across Germany with sunny spells. Another warm day in Poland and Hungary as well as through Austria and Switzerland with good spells of sunshine.
Breezy in Denmark with sunny spells. Fair for Sweden, some sunny spells here. Fine too in the Baltic States and Finland, warm here again. Norway will be windy with some rain and gales in the west. Tending to be drier in the far north.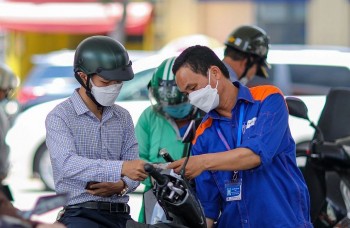 Economy
Vietnam Business & Weather Briefing (Oct 2): Binh Duong lures foreign investors with special care, the North and Central regions continue to have heavy rains, leading to the risk of flooding, flash floods, and landslides.