UN Peacekeeping Remains Highlight in Vietnam
The Defence Ministry handed over to seven army officers the President's decisions to send them to UN peacekeeping missions at a ceremony on November 24.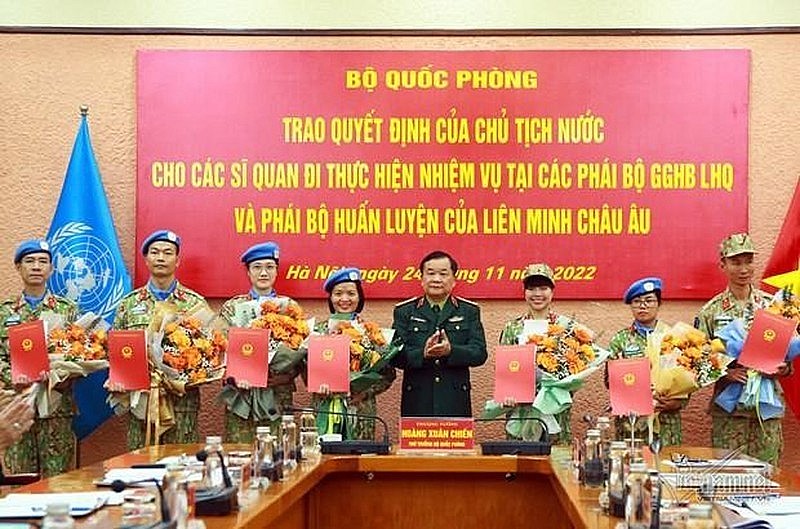 Sen. Lt. Gen. Hoang Xuan Chien, Deputy Defence Minister, hands over the President's decisions to seven army officers. (Photo: VNA)
Among the seven, two are assigned to the European Union Training Mission in Central African Republic for the first time.
Another two will join the UN mission in South Sudan, replacing two Vietnamese officers who have completed their term.
Two other officers will take up duty at the UN mission in Central African Republic, and one will go to the United Nations Interim Security Force for Abyei (UNISFA), according to the VNA.
On behalf of the Central Military Commission and the Defence Ministry, Sen. Lt. Gen. Hoang Xuan Chien asked the officers to strictly follow the viewpoint and policy on external relations of the Party, State and army, uphold the fine tradition of the Vietnam People's Army and well perform assigned duties and tasks.
UN peacekeeping remains highlight in Vietnam – Australia defence ties: officer
UN peacekeeping is a highlight in defence cooperation between Australia and Vietnam, stated Colonel Paul Foura, Australian Defence Attaché to Vietnam.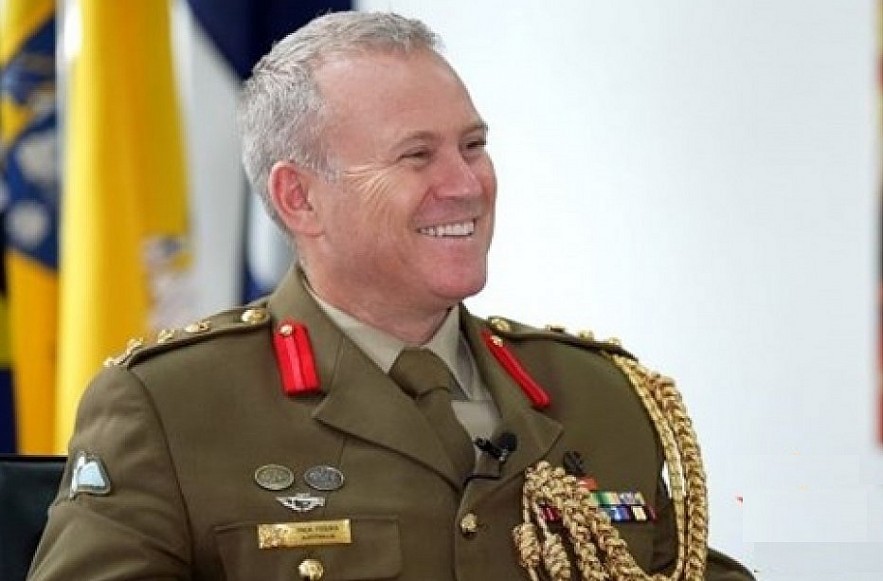 Colonel Paul Foura, Australian Defence Attaché to Vietnam. (Photo: qdnd.vn/)
Taking to Quan doi Nhan dan (People's Army) newspaper, the officer affirmed that strengthening UN peacekeeping cooperation is one of the priorities of Australia in supporting Vietnam to participate more actively in this field.
Vietnam and Australia are close partners and friends in the Indo-Pacific region, and the strong defence cooperation is a pillar of the strategic partnership between the two nations, he said.
According to the officer, Australia has supported Vietnam in teaching English language for officers at the General Department of Politics under the Vietnam People's Army (VPA). This year, the number of officers joining Australia's training programmes in Hanoi and Nha Trang city will increase to 300.
The defence relations, which started out with a small-scale education-training cooperation, has been expanded to other fields, including those that can bring benefits to both sides such as UN peacekeeping, he said, noting that his country is proud to cooperate with Vietnam since the Southeast Asian nation started joining UN peacekeeping activities in 2014.
Notably, Australia has helped Vietnam transport troops and equipment in the process of sending the four detachments of Level-2 Field Hospital to South Sudan, and it planned to continue its support in the next in 2023, the officer said.
The Australian officer also spotlighted the defence cooperation prospect between the two nations, saying that the growing defence cooperation has contributed to further deepening the bilateral relations.
The Vietnam International Defence Expo 2022 in December can open up opportunities for defence industry cooperation between the two nations, he noted.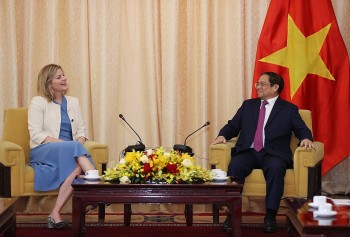 National
The Netherlands committed to cooperate with Vietnam, and together find innovative and sustainable solutions to accelerate green economy transformation.