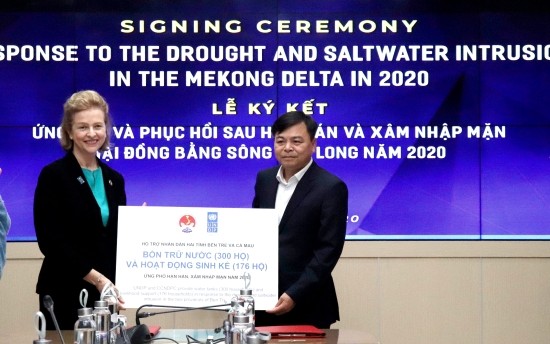 Ms. Caitlin Wiesen presented a drought and saline intrusion support package to the Mekong Delta. (Photo source: Baobienphong)
Mr. Nguyen Hoang Hiep, Chairman of Disaster Risk Reduction Partner, Deputy Minister of Agriculture and Rural Development and Ms. Caitlin Wiesen, Resident Representative, United Nations Development Program attended the ceremony.
In response to the call of the Disaster Risk Reduction Partner, the Ministry of Agriculture and Rural Development, UNDP formally awarded to people in the Mekong Delta a support package of USD185,000 from global emergency fund to cope with drought and saline intrusion in the Mekong Delta.
UNDP activities include supplying 300 water tanks to affected households in Ben Tre province and supporting livelihoods for 176 households in Ca Mau province; assessing the impact of drought on livelihoods, access to fresh water, land subsidence; supporting policy dialogues in preventing and fighting against saline natural disasters; using mobile technology application to update damage caused by natural disasters, including salinity drought.
Previously, representatives of the Standing Office of the Central Steering Committee for Disaster Prevention, headed by Mr. Nguyen Thanh Nam, Director of the Southern Disaster Prevention Sub-Department and donors gave 200 filtration devices to Long An Provincial People's Committee.
In Region 2, the Naval Army dispatched 2 vehicles (935 and 937 ships) to transport 500m3 of fresh water to the people of Phu Son and Phuoc Son communes, Cho Lach district, Ben Tre province, who are affected by the drought and saline intrusion.
In the spirit of "solidarity", in recent days, the Border Guard of the Mekong Delta provinces also transported fresh water to residential areas.
Data of the Central Steering Committee on Disaster Prevention showed that saline intrusion has affected agricultural production and people's lives since December 2019 and has continuously increased so far. In March, saline intrusion continues to rise, many saltwater tributaries penetrate inland up to 95 km from the river mouth such as Vam Co Dong and Vam Co Tay rivers (Long An). Salinity measured on rivers is high from 4.7g/l or more, especially, sometimes salinity in Ham Luong River reaches 16.4g/l, Hau River 11.8g/l.
The General Department of Disaster Prevention, Ministry of Agriculture and Rural Development forecasts that in the next period of the dry season, saline intrusion will continue to rise with high tide and because the reservoirs in the upstream have not discharged, saline intrusion will continue to remain high until April.
Candy Lee
thoidai.com.vn