UNDP to continue its support to Vietnam
UNDP will continue its support to Vietnam's development priorities and create new values as suppliers and donors of capital as well as a partner to create added values locally.
(VNF) - UNDP will continue its support to Vietnam's development priorities and create new values as suppliers and donors of capital as well as a partner to create added values locally.
During a press conference in Hanoi on September 1st, Assistance Secretary General of the United Nations and Director of the Regional Bureau for Asia and Pacific at the United Nations Development Programme (UNDP) Mr. Haoliang Xu said he met Deputy Prime Minister Vuong Dinh Hue, Vice State President Dang Thi Ngoc Thinh and held working sessions with several leaders of ministries and agencies during the visit.
UNDP Regional Director for Asia and the Pacific Mr. Haoliang Xu (L) at the press confrence
According to him, both sides had discussed Vietnam's socio-economic development plan, the implementation of the 2030 Agenda for Sustainable Development, as well as response to climate change and El Nino impacts.
Mr. Haoliang said multi-dimensional poverty reduction will not only help improve people's income but also enhance their access to education, health care, and fair justice services.
He praised Vietnam's significant role in shaping and adopting resources for sustainable development until 2030.
According to him, it is the first year Vietnam has begun delivering its commitment to the UN sustainable development goals and embarked on a five-year national development road so that the UN and the UNDP in particular are reviewing the country's efforts to offer continued support.
The UN wants to work with Vietnam in energy and environment; he said, adding that the UNDP treasures collaboration with Vietnam and will provide Vietnam with more added values apart from financial aid in the future as well as serve as a bridge connecting Vietnam with international organizations.
The UN has helped Vietnam significantly to improve its institutional capacities, deliver administrative reform, eradicate poverty, and promote sustainable development and to respond to climate change. UNDP remains committed as ever, to supporting Vietnam in its efforts to ensure a green and poverty-free future, and to delivering prosperity for all its citizens.
On the occasion, he also spoke of issues regarding the shift from a low-income country to the one with middle-income status, environment challenges and joint work on sustainable development.
He told the press that Vietnam has enjoyed a stable position in human and economic development. While Vietnam has obtained many achievements in most of the MDGs, especially its success in lowering poverty rates, it has not achieved MDG7 on ensuring environmental sustainability, he added.
"National public efforts with the collaboration of the international community aim to achieve the Sustainable Development Goals and to ensure that no one is left behind," Mr. Haoliang said, "These efforts, however, need to be complemented by local initiatives, which are essential to ensure that the benefits of sustainable development are equally distributed."
He also highlighted the critical role of local authorities in institutionalizing, providing financial support and facilitating conditions for replication and scaling-up of innovations to improve communities' livelihoods, assist the adaptation to climate change, and protect the environment.
On the same day, the first fair showcasing the scaling-up of green innovations was held by the UNDP at the Green One UN House in Hanoi.
Representatives from 15 projects supported by the Global Environment Facility-UNDP Small Grants Programme (UNDP/GEF SGP) and non-governmental organizations attended the event to showcase their innovations at community level to protect the environment and improve local livelihoods and quality of lives.
The UN and the UNDP have shared a long partnership with the government of Vietnam. Since 1979, the UN and the UNDP have supported many major development initiatives, including the globally-renowned Doi moi reforms./.
Minh Phuong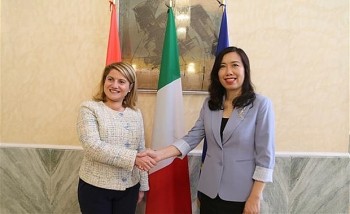 Friendship
The Vietnam - Italy political consultation is part of the occasion of the 50th anniversary of diplomatic ties and the 10th anniversary of the framework of the strategic partnership.