Unique double beach in Nha Trang's Hon Noi Island
Located in Hon Noi Island, this one of the kind double beach in Vietnam is famous for its warm and cold water, created by the different sea currents.
(VNF) - Located in Hon Noi Island, this one of the kind double beach in Vietnam is famous for its warm and cold water, created by the different sea currents.
Hon Noi Island is a well-known island in Khanh Hoa Province. Situated around 26 kilometres from the centre of Nha Trang City, the island is said to be home to the largest salangane population in the province.
Warm and cool crystal clear water, each on a side of a several-meter-long sand strip can be found exclusively in Nha Trang. (Photo: hello.i.am.quang)
Last June, the 2016 Salangane Nest Festival was held in Hon Noi Island. The annual festival organized by Khanh Hoa Salangane Nest Company celebrates the nearly 690-year history of salangane nest production industry in Khanh Hoa, as well as to honour inpiduals and organizations contributing to the development of salanagane nest resources.
According to the local legend, Le Van Dat, the Rear Admiral of Tran Dynasty (1225-1440) was considered as the founder of salanagne nest production industry in Khanh Hoa. On a trip to the south, he had discovered edible salanagne nests on Phu Binh Khang, a part of Khanh Hoa Province today; and then taught locals how to collect the nests. In the festival, a ritual ceremony was performed at the temple of Governor and Holy Mother of Hon Noi Island to show the gratitude and respect to Le Van Dat.
Today, Hon Noi is not only popular for its rich resources of salanagne, but also for its heaven-liked nature and landscape. The long white sandy strip with crystal blue sea of Hon Noi Beach has made the island one of the most desired destinations in Khanh Hoa. The water here is so clear that you can easily see corals and colourful swimming fishes without ping.
The unique double beach is undoubtedly an outstanding feature of Hon Noi, thanks to its warm and cold water. However, the island has much more to offer its visitors.
The magnificent view from Du Ha Mountain. (photo: nv.quynhu)
A quick walk to the top of Du Ha, a mountain located near the seaside with the height of 90 meters above the sea level, will give you the magnificent panoramic view of the distant, sometimes beaches made up of a curved sand bank from afar.
You will also have the rare opportunity to discover how salanagne nests are collected. The salanagne birds live in small holes on limestone cliffs and make nests using their own saliva.
Salanagne makes nests with their saliva. (Photo: chudu24)
Harvesting salanagne nests is often considered as one of the most dangerous jobs in the world. Bamboo tents of the harvesters are built directly on the rock cliffs. To move on the cliffs, you have to walk on bridges made of bamboo and wood, attached to cliffs by ropes.
When visiting the caves and exploring the bird life, you will encounter many of the belvedere locals.
Hon Noi Island is only available for visiting from March to September. During this time, the weather is dry. In addition, it is also the harvest season of salanagne nests (twice a year, in March and August). The rest of the year is reserved exclusively for rainings and storms.
Hon Noi is currently under the administration of Khanh Hoa Salanagne Nest Company, which means to visit the island you have to book the tour with the company. At the price of approximately VND 450,000 (USD 20), you will get an one-day tour including hotel transfers, return boat to the island, breakfast, lunch, afternoon snack, a boat tour with a glass floor to see corals, a salanagne cave tour and unlimited swimming and tanning until sunset.
Diving in the clear water to see corals and colourful swimming fishes.
You can go by air, bus, train from Ho Chi Minh city to Nha Trang. When you choose a tour to Hon Noi, you will be pick up from the hotel to port. The boat departs at Cau Da Port and it will take around 1 hour and 15 minutes from here to Hon Noi Island.
From Hon Noi, you can also rent boats to visit the very close by Hon Ngoai and Hon Sam islands, they are far from Hon Noi about some minutes by boat./.
VNF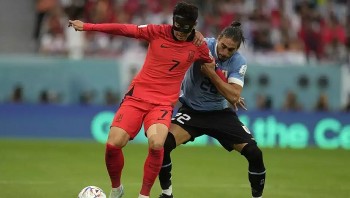 World
Both South Korea and Ghana are searching for their first wins at this year's World Cup. Ghana are facing the prospect of an early elimination from World Cup 2022 Group H when they travel to the Education City Stadium to face South Korea on Monday.