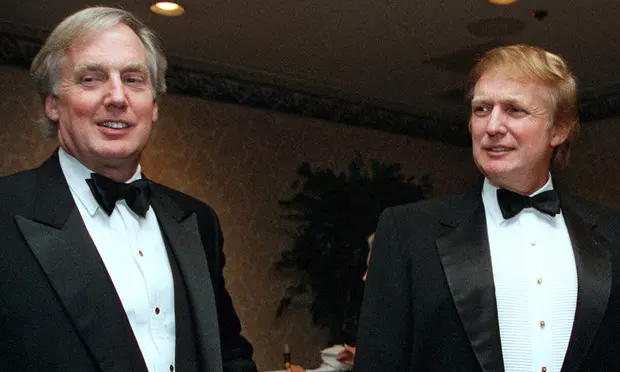 Robert Trump, left, at an event with his older brother Donald Trump in New York in 1999 Photograph: Diane Bondaress/AP
Donald Trump's younger brother, Robert Trump, died on Saturday night aged 71 after being hospitalised in New York, the president said in a statement.
President Trump on Friday visited his brother in hospital after White House officials said Robert had become seriously ill. Officials did not immediately release a cause of death, reported the guardian.
The youngest of the Trump siblings had remained close to the 74-year-old president and, as recently as June, filed a lawsuit on behalf of the Trump family that unsuccessfully sought to stop publication of a tell-all book by the president's niece, Mary.
Robert Trump had reportedly been hospitalised in the intensive care unit for several days that same month. He took blood thinners and had recently experienced brain bleeds after a fall, according to the New York Times.
The cause of his death is unknown. According to the New York Times, he had experienced brain bleeds after a recent fall, and was on blood thinners. A CNN source said he had been sick for several months. Trump told reporters on Friday — the day of his hospital visit to his brother — that Robert was having a "hard time" with an unnamed health issue.
It is unclear what caused Robert Trump's death.
A number of US media reports suggested he had been seriously ill.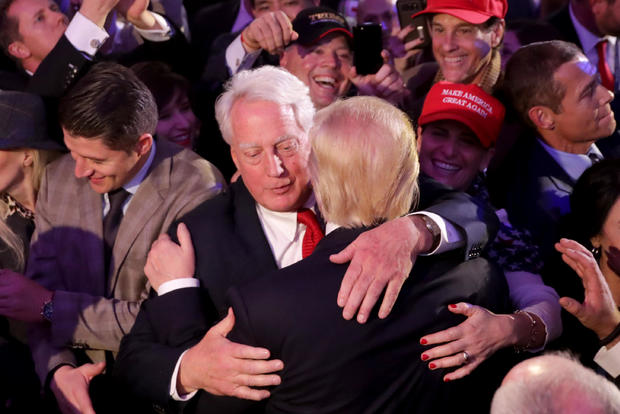 President Donald Trump (R) hugs his brother Robert Trump after delivering his acceptance speech at the New York Hilton Midtown on November 9, 2016, in New York City. CHIP SOMODEVILLA / GETTY IMAGES
Former Vice President Joe Biden, the presumptive Democratic nominee, expressed condolences to the president and his family on Sunday morning.
"Mr. President, Jill and I are sad to learn of your younger brother Robert's passing. I know the tremendous pain of losing a loved one — and I know how important family is in moments like these," Biden tweeted hope you know that our prayers are with you all."
Robert was the youngest of five children, and in contrast to his brother Donald, tended to avoid the spotlight. During his life he worked as business executive and real estate developer in various parts of the Trump family business.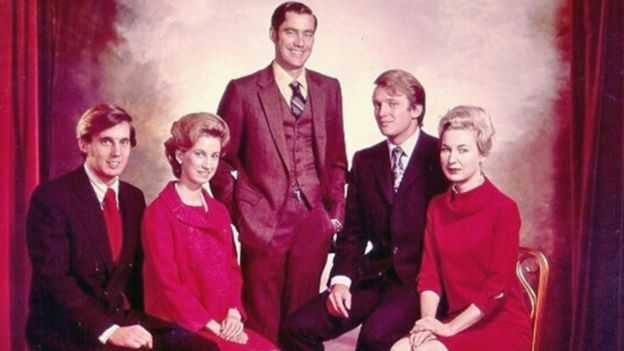 An undated photo of the Trump siblings, from left to right: Robert, Elizabeth, Fred, Donald and Maryanne. Photo: bbc
According to a former Trump casino executive, John O'Donnell, an intense argument between Robert and Donald after the botched opening of a casino in 1989 "changed forever" their relationship. Robert stopped reporting to Donald after the incident, and wounds caused by the fight reportedly took years to heal.
Robert did offer some support to Donald's political career. When Trump ran for for the White House in 2016, Robert gave a full-throated endorsement for his bid. "I support Donald one thousand percent," Robert told the New York Post. "I think he's doing a great job. I think he's got a great message."
"If he were to need me in any way, I'd be there," he added.
The brothers were photographed hugging after Trump's election night victory in 2016. But after that, Robert rarely surfaced in public.
Robert Trump's most notable public appearance since then may be his leading role in an unsuccessful lawsuit to block the publishing of Mary Trump's memoir, which draws from personal experience with the Trump family and describes the president as "the world's most dangerous man.", report cited from the vox.
Other members of the Trump family have expressed sadness about Robert's passing on social media.
Tarah Nguyen