An American telling a truth about unknown information on COVID-19 in Vietnam
When the coronavirus disease spreading worldwide, a Twitter  account named "Emerican Johnson – Cornpop Fan Account" has written the truths about Vietnam which media in some western countries may be unknown. His writing got many comments and shared widely. 
Hereinafter Vietnamtimes would love to share his writing from his points of view sincerely:
Every time Luna tells me a positive news story about Vietnam we go to try to find it in English and it's never out there. That's why we say so much positive stuff about Vietnam. It's not because we think Vietnam is flawless, it's because NOBODY ELSE talks about this stuff.
Vietnam has plenty of flaws but it also has tremendous successes the rest of the world can and should learn from, and all of them stem from socialist and humanitarian policies. So yeah, there's a reason the capitalist press doesn't talk about it and we are simply seeking balance.
The world needs more and better info about Vietnam that isn't filtered through the lens of capitalist propaganda. We aren't asking for anyone to do anything more than report the truth! Here are some of the very few stories covering the situation:
Replying to@yuekit_leung: Go to healthmap and check the region for yourself. No nation comes close to Vietnam's complete containment in less than two weeks and zero deaths and fill repatriation of all sick/at-risk citizens and only Vietnam shares a border with China:
Vietnam was the first country to fully contain SARS and COVID-19 (with no deaths) and developed a quick-test kit in one month that the WHO says should have taken four years. WHO is now consulting with Vietnam to get help for the global crisis. Of course this isn't in our news.
And it's not just the fact that Vietnam has contained the virus. They've also developed an excellent test kit and procedures and share them freely with the world. The world health organization consults with Vietnam.
"White fragility is so dangerous, supremacists would rather make up fake talking points to denegrate Vietnam than try to spread the word about the effective and meaningful procedures Vietnam had developed for dealing with health crises (not just COVID 19 but countless others)."
Only Al Jazeera and Vienamese state media seem to be covering the real details. The rest of the world mentions the Vietnam Corona Virus song and absolutely nothing else.
In 2000/2001 South Korea was having a diarrhea epidemic and Vietnam had a medicine which was very effective. Vietnam have it to South Korea for free for humanitarian purposes. A few years later South Korea sold that medicine to India for a huge profit. Capitalism is so evil lol.
Positive forecast on Vietnam's GDP growth

According to Bloomberg, economists are upgrading their growth projections for Vietnam after the release of latest data on the economy's 7%-growth in the third quarter.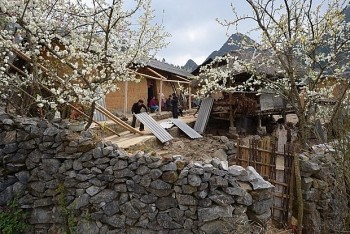 National
Vietnam News Today (Feb. 3): Vietnam and Trinidad & Tobago establish diplomatic ties; Severe cold spells expected to hit northern mountainous provinces late this month; Vietnam among top 10 best places to go for budget honeymoon; Hanoi, HCM City record highest disbursement of public investment capital in January.