US Ambassador visits martyrs' cemetary in Quang Tri for the first time
US Ambassador to Vietnam Daniel J. Kritenbrink visited the Truong Son National Martyrs Cemetery, where over 10,000 Vietnamese soldiers were laid to rest, on the occasion of his working trip to the Central coastal province of Quang Tri.
US Ambassador to Vietnam Daniel J. Kritenbrink and Deputy Chairman of Quang Tri Provincial People's Committee Hoang Nam pay homage to martyrs at the Truong Son National Martyrs Cemetery. Photo: Toan Vu - Dan Tri
Daniel is the first US ambassador to have visited the cemetery nearly 25 years after the two sides normalized their diplomatic ties.
The Truong Son National Martyrs' Cemetery is the last resting place of over 10,000 soldiers from across Vietnam. Most of them were from Corps 559 – Truong Son Army Corps and sacrificed on Ho Chi Minh Trail during the resistance war against the US.
He also visited the Hien Luong Bridge relic site in the Hien Luong-Ben Hai special national historical relic site, which expresses Vietnam's aspiration for peace and national reunification.
Quang Tri is the province hardest hit by UXOs with the area of land contaminated with the deadly war legacy amounting to 82 percent of its total, and more than 8,500 local people have been killed or injured after the war ended.
The locality previously recorded about 70 bomb and landmine-related incidents each year. However, in 2018, the province for the first time recorded no incident and it is striving to become the first locality of Vietnam free from such incidents by 2025.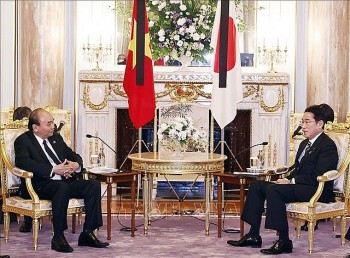 Friendship
Vietnam always treasures the extensive strategic partnership with Japan and views Japan as an important and long-term strategic partner, President Nguyen Xuan Phuc told Japanese Prime Minister Kishida Fumio in Tokyo on September 26.