US author: lost and found in Vietnam
For American scholar Jack Weatherford, a professor of anthropology at Macalester College in Minnesota, Vietnam is a country that evokes memories and feelings. He lost his father in the American War in Vietnam, and that's why he feels a deep sympathy for local people.
For American scholar Jack Weatherford, a professor of anthropology at Macalester College in Minnesota, Vietnam is a country that evokes memories and feelings. He lost his father in the American War in Vietnam, and that's why he feels a deep sympathy for local people.
Author Jack Weatherford signs his book at the launch in Hanoi. — VNS Photo Minh Thu
He has been to Vietnam many times with his wife. When she died, he returned to Vietnam twice in recent years with his children and grandchildren to introduce them to the country.
Last month, he came to Vietnam to introduce the Vietnamese version of his book Genghis Khan and the Making of the Modern World. Since its first publication in 2004, it has been lauded as the most comprehensive work on the Mongolian emperor.
Lost in war
Weatherford said he was nervous when he first arrived. Though the war had ended about 20 years previously, he thought that the Vietnamese people would be suspicious of an American in their country.
"However I quickly felt the warmth of the people, the graciousness, kindness and hospitality," said Weatherford.
"Although they knew I was American the people did not mention the war to me. Instead, they showed their great pride in their country – in its rich history and in its progress in the present era."
"Even when we could not speak the same language they offered food, played music and introduced us to their children. This was the greatest surprise."
Weatherford thought the children would be terrified of an American, but they were shy, very sweet and curious.
"From the first visit, my wife and I felt tremendous respect and a special connection to the Vietnamese people," he said.
During the war in Vietnam, Weatherford was a student in university, the firstin his family to attend. His father had less than eight years of schooling, his grandfather less than three. Since all healthy young men were compelled to serve in the army, he assumed he would have to go.
However, his father told him not to go. He had been in World War II, and he did not want his son to fight in Vietnam.
"At that time, it was not required that two men from the same family go to war. This law was to prevent two brothers from being in danger at the same time. But my father used it so that he would go in my place."
His father was too old to fight in combat soldier, so instead, he was a cook and was sent to an area near the southern province of Bac Lieu. Weatherford never asked what happened in the war because he thought his father was simply cooking every day.
"Only later did I find out that planes flew from there to spray Agent Orange in Vietnam and in the countryside of Cambodia. My father cooked food for the men who flew the planes and loaded the chemicals onto the planes."
His father was not injured in battle but returned home having been affected by Agent Orange. Slowly, he lost the use of his legs, then his arms and he could no longer speak. Eventually, he could move nothing except his eyes.
"Many times, I looked into his eyes and watched him struggle to communicate something to me, but I never knew what," said Weatherford.
"As I sat with my father, I thought about his good life before the disease. He survived battles in World War II. He married and had seven healthy children. He had friends, and he liked to drink beer and watch football. He was just a man."
But then Weatherford thought of Vietnam. His father was only one person, but in Vietnam, hundreds of thousands of people suffered much worse. Many did not live to enjoy life. They did not marry. Many mothers gave birth to unhealthy children, and other parents had no children.
"When my father died my feelings were very confused. I was ashamed of what my country had done to Vietnamese people, but I was grateful to my father that he gave his life so that I could study. Now, I have lived much longer than my father lived, and I feel how much he missed in life – never seeing my children grow up, not enjoying an old age."
Weatherford always knows that he lost a father, but Vietnam lost a generation.
Found in peace
Weatherford had often wondered how a small country such as Vietnam could defeat the Mongols, the greatest empire of the thirteenth century and how could they defeat America, the greatest empire of the twentieth century.
For Prof Jack Weatherford, Vietnam remains a fascinating mystery.
He found the answer in the streets of Vietnam where he saw the powerful united spirit of the people.
"The Mongols and the Americans had many more soldiers, better weapons, more wealth and superior technology; yet they lost in the rivers, on the beaches, in the rice paddies and in the cities of Vietnam."
"The defeat was not merely a military defeat, it was a spiritual defeat," he said.
For him, the first connection with Vietnam began as a confused emotional experience of a young man. But gradually as he grew older and visited Vietnam, his emotions changed and his respect for the Vietnamese people grew. His intellectual curiosity also grew.
"I wondered how a nation had suffered such hardship and yet never lost its spirit and always emerged victorious," he said.
"Larger, richer, stronger countries have come and gone in history, but Vietnam survives and prospers. From the ashes of war, they build a new society, and each time their country is stronger and stronger."
"What I dislike in Vietnam is the same that I dislike everywhere in the world – too much traffic and noise. But at the same time, I love the vibrancy in the streets. The streets are never boring. I can see the power sense of community and co-operation that exists in Vietnam. Here, I see something missing from most big cities such as New York, London, Tokyo, or Beijing."
The author has written three books on the history of the Mongol Empire. Now he is working on the final book in the series. It is about the end of the empire and the war in Vietnam.
For three generations the Mongols never lost a battle; they conquered Russia, China, Korea, Afghanistan, Iraq, Iran and many smaller countries. But in 1258, they lost their first battle – in Vietnam.
After a third loss in Vietnam, the Mongols decided to pursue a policy of peace. They changed the empire of conquest into an empire of commerce. They began the new era by sending a peace delegation to Vietnam, asking for friendship and trade. Vietnam was the place where an era of war turned into an era of trade.
"I still cannot answer the question of what makes Vietnam so different and so spiritually powerful. Vietnam remains a fascinating mystery," said Weatherford./.
( VNF/VNA )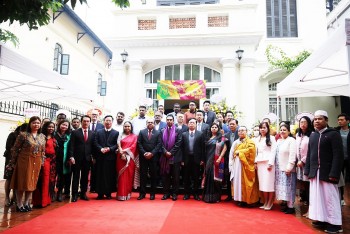 Friendship
To celebrate the 75th anniversary of the National Day of the Democratic Socialist Republic of Sri Lanka (February 4, 1948 - February 4, 2023), a ceremony was held at the Vietnamese Embassy of Sri Lanka in Hanoi on Feb 4, honoring the friendship and cooperation between people of the two countries over the past many years.