US' destroyer sails near Vietnam's Hoang Sa Islands, Beijing accuses it 'provocative actions'
China raised its voice opposing the recent move of the US and called it "provocation actions" as US guided-missile destroyer USS John S.McCain on October 9 conducted a series of activities near Vietnam's Hoang Sa (Paracel Islands) in the South China Sea or Bien Dong Sea.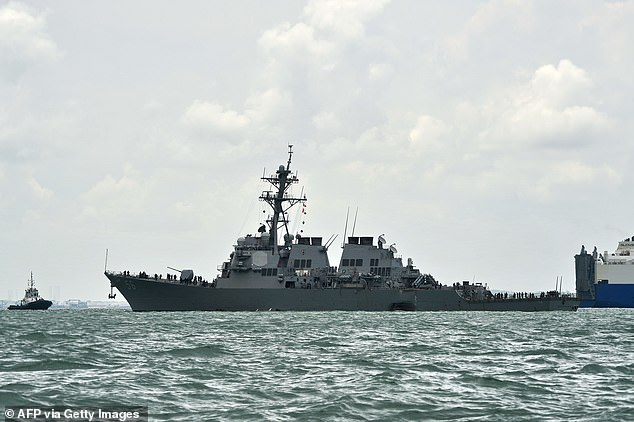 The USS John McCain (pictured in 2017) was spotted sailing into Paracel Islands in the South China Sea. Photo: AFP/ Getty Images
The U.S. Navy's 7th Fleet said the McCain was exercising "navigational rights and freedoms in the vicinity of the Paracel Islands" and the operation "demonstrated that these waters are beyond what China can lawfully claim as its territorial sea.', American Military News reported.
Journalist Ryan Browne from CNN cited a US Navy official as saying that illegal claims in the South China Sea or the Bien Dong Sea have seriously threatened naval freedom. The US will continue to guarantee the naval freedom and rights.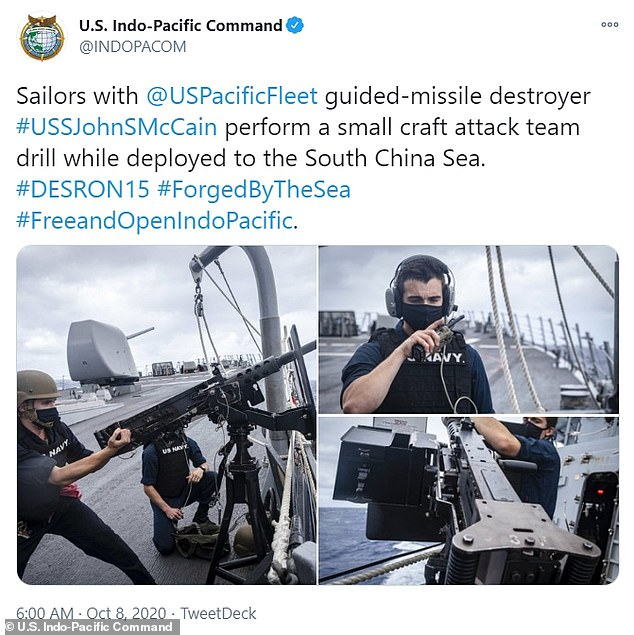 The US Pacific Fleet shared photos of the USS John McCain crew during their deployment to the South China Sea on Thursday
China seized the Paracel Islands from what was then South Vietnam by force in 1974 and has been illegally occupying it since.
Following the US' move, China raised its voice, demanding demanded the United States stop its "provocative actions, SCMP reported.
The People's Liberation Army's Southern Theatre Command described the actions of the USS John S. McCain guided-missile destroyer as dangerous.
Senior Colonel Zhang Nandong, who is also the command's spokesman, said in a statement that the PLA dispatched naval and aerial forces to track the destroyer and drive it away.
Zhang said the US frequently sent warships to the South China Sea to "show off its force and severely infringe upon China's sovereignty and security interests".
Such actions were "blatant navigation hegemony and military provocation", he said.
"We urge the US side to immediately stop this kind of provocative action, strictly manage and control its maritime and air military operations."
Beijing would take all necessary measures to safeguard its national sovereignty and security, and maintain peace and stability in the region, the statement said.
China-US relations have deteriorated significantly in recent years, as a trade war that started in 2018 has spilled over into other areas, including technology, ideology, and the military.
Both countries have responded by ramping up their military maneuvering in the region, with the US conducting frequent freedom of navigation operations and China last month beginning its third round of naval drills near the Paracels since June.
In July, China accused the US of 'sailing through the world like a bully' after two aircraft carriers, the USS Nimitz and USS Ronald Reagan, were dispatched to the South China Sea in a show of force, according to Dailymail.
Beijing claims most of the South China Sea based on the 'nine-dash line', a vague delineation that dates back to the 1940s.
China has spent years building military bases on artificial islands in the area, which is home to valuable oil and gas deposits and is a vital commercial waterway.
The US meanwhile has conducted freedom of navigation operations in the region, causing tensions between the two countries.
It comes after Secretary of State Mike Pompeo visited Japan on Tuesday to rally support from Washington's closest allies in Asia, calling for deeper collaboration against China's growing regional influence.
Pompeo spoke in typically unsparing terms against Beijing. That was in contrast to his three counterparts, Japan, India, and Australia, all of whom avoided calling out China directly.
China later accused Pompeo of maliciously creating political confrontation and smearing Beijing and called on the US to 'stop its unprovoked attacks.'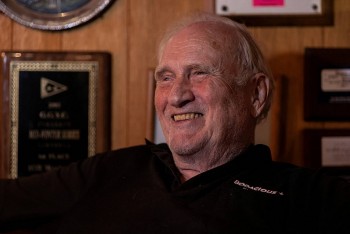 World
Alain Aspect, John F. Clauser, and Anton Zeilinger have won this year's Nobel Prize in physics for their work in quantum mechanics, Sweden's Karolinska Institute announced on Tuesday.