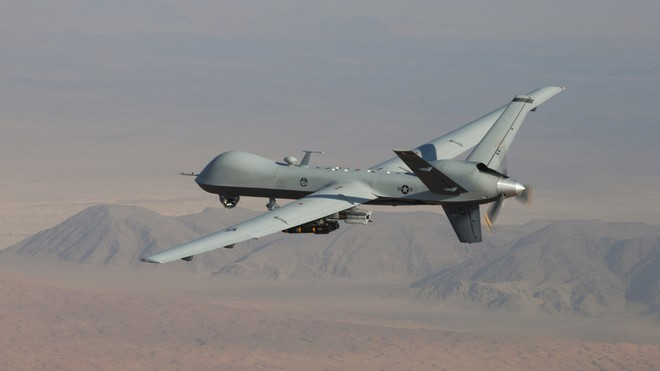 MQ-9 Reaper of the US. Photo: Reuters
China will shoot down US warplanes, no matter they are unmanned or manned, the Global Times said after it was recently reported that the US military would send MQ-9 Reaper drones to launch attacks on three islands and reefs of Nansha, bombing runways and hangars.
"If those planes cause actual damage to Chinese islands and reefs, we will strike the platforms and bases from which those planes take off."
According to the Global Times, the US Air Force magazine reported that the MQ-9 Reaper drone was participating in maritime exercises with strike coordination. This was the air force's first drone tactical training exercise in the Pacific Ocean.
It warned the US that attacking Nansha Islands or other Chinese targets using MQ-9 Reaper drones is an act of war. The Chinese People's Liberation Army (PLA) will surely fight back, causing the US military to pay a heavy price.
The Nansha Islands have only a small number of defensive weapons. If they are attacked, those islands would henceforth need to be turned into a fully operational military base to counter any serious threat to them.
"The US military and politicians in Washington should take our warnings seriously, and not have strategic misjudgments that they can do whatever they want and China will swallow the anger," the newspaper said.
China's empty promises in South China Sea (Bien Dong Sea)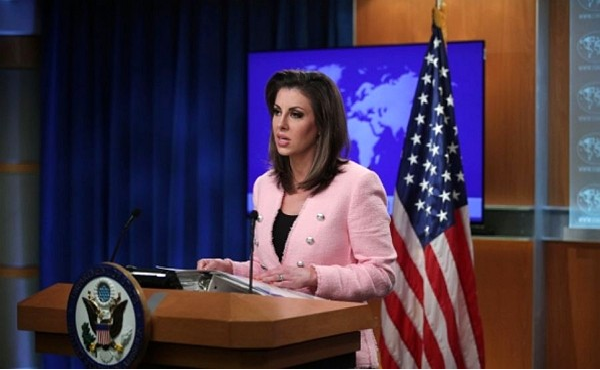 Morgan Ortagus, Spokesperson of the US Department of State. Photo: AP
Morgan Ortagus, Spokesperson of the US Department of State, said in a statement on September 27 that five years ago on September 25, 2015, Chinese General Secretary Xi Jinping stood in the White House Rose Garden and stated "China does not intend to pursue militarization" of the Spratly Islands, and China's outposts would not "target or impact any country."
China has instead pursued a reckless and provocative militarization of those outposts, they have deployed anti-ship cruise missiles, expanded military radar and signal intelligence capabilities, constructed dozens of fighter jet hangars, and have built runways capable of accommodating combat aircraft.
The Chinese Communist Party (CCP) uses these militarized outposts as platforms of coercion to assert control over waters to which Beijing has no lawful maritime claim, she stressed.
They serve as staging grounds for the hundreds of maritime militia vessels and China Coast Guard ships that regularly harass civilian craft and impede legitimate law enforcement activities, offshore fishing, and hydrocarbon development by neighboring states.
The CCP does not honor its words or commitments, she said. "In recent months, we have seen an unprecedented number of states express their formal opposition at the United Nations to China's unlawful maritime claims in the South China Sea. We urge the international community to continue to raise its opposition to this unacceptable and dangerous behavior, and to make clear to the CCP that we will hold it to account. The United States will continue to stand with our Southeast Asian allies and partners in resisting China's coercive efforts to establish dominion over the South China Sea."
Vietnam rejects China's "Four Sha" claims in South China Sea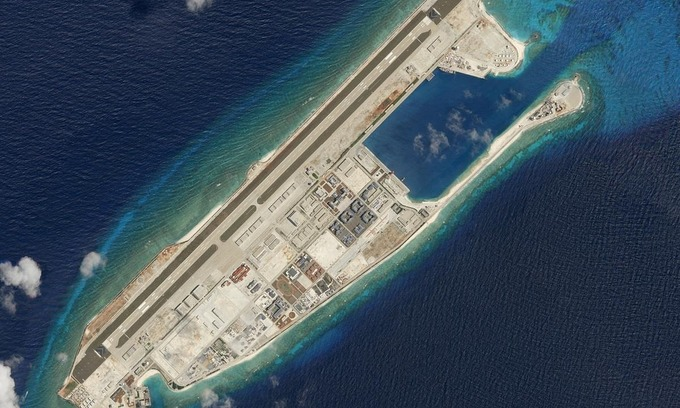 Satellite photo dated March 19, 2018 shows Fiery Cross Reef. Photo by Planet Labs Inc/Handout via Reuters.
In late 2019 and early 2020 China announced its "Four-Sha" sovereignty claims over the South China Sea in two diplomatic notes sent to the UN Secretary-General, with the aim of replacing the so-called "nine-dash line" that had been previously rejected by the Permanent Court of Arbitration (PCA), according to Vietnam News Agency.
It claimed in the notes that it holds "undeniable sovereignty" over the Dongsha (Pratas Islands), Xisha (Vietnam's Hoang Sa (Paracel) Archipelago), Nansha (Vietnam's Truong Sa (Spratly) Archipelago), and Zhongsha (Macclesfield Bank) Archipelagos.
China said those are archipelagos so it can use the straight baselines to define baselines and waters, adding that these groups of islands have archipelagic waters, territorial waters, 200-nautical-mile exclusive economic zones, and continental shelves calculated from the straight baselines.
Many scholars, however, declared that China's claims are completely contrary to international law, especially the 1982 United Nations Convention on the Law of the Sea (UNCLOS).
Such claims were rejected by Vietnam in its own diplomatic note sent to the UN Secretary-General, in which it resolutely affirmed its sovereignty, sovereign rights and jurisdiction, and other legitimate rights in the South China Sea. Vietnam also asserted that UNCLOS is the only legal basis with comprehensive and thorough regulations on the territorial rights of territorial waters between Vietnam and China.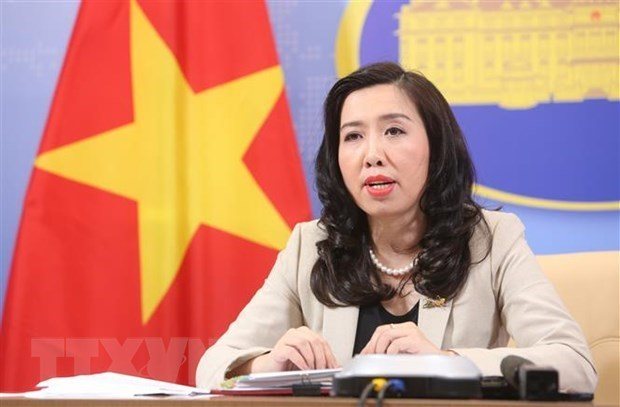 Spokesperson of Vietnam's Foreign Ministry Le Thi Thu Hang. Photo: VNA
In April, spokesperson of Vietnam's Foreign Ministry Le Thi Thu Hang said Vietnam strongly protests the establishment of the so-called "Sansha city" and related acts as they seriously violated the country's sovereignty.
On April 18, China announced the establishment of the so-called Xisha district at Paracel, and Nansha district at Spratly, in the so-called Sansha city.
"Vietnam has strongly affirmed many times that it has sufficient historical evidence and legal foundation to assert its sovereignty over the Hoang Sa and Truong Sa archipelagos," Hang said.
She stressed that those moves of China are invalid and unrecognized, and they are not favourable for the friendship among nations and further complicate the situation in the South China Sea, the region and the world.
"Vietnam demands that China respect Vietnam's sovereignty, abolish its wrongful decisions related to the moves and not to commit similar acts in the future," the spokesperson asserted./.
Rosy Huong