US-funded facility improves training for Vietnam's peacekeeping forces
The US government on August 28 handed over to Vietnam training facility and equipment for the country's peacekeeping forces.

The ribbon cutting ceremony to inaugurate the facility.
The facility (named S5) has 15 training rooms which are able to accommodate 600 learners at the same time and a 254-seat conference hall.
Meanwhile, the package of equipment will be used for training in setting up a level-two field hospital by the Vietnamese peacekeeping force, which is scheduled to be put in operation in Bentiu, South Sudan, replacing the UK's facility in the second quarter of 2018.

Deputy Minister of Defence Nguyen Chi Vinh said that the Vietnam – US defence cooperation has grown strongly over the past few years, citing the field of peacekeeping as a good example.
He affirmed that the equipment and facilities provided by the US and other nations will help turn the Vietnam Peacekeeping Centre into a key facility for peacekeeping operation and training in the country and region.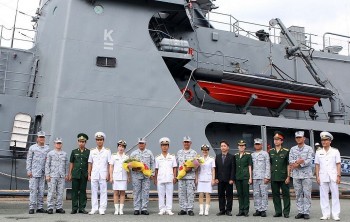 Seas and islands
Vietnam and the Philippines hold regular exchanges on personnel, expertise, arts and sports at military bases in the Spratly (Truong Sa) archipelago, which can only be conducted by strategic, trusting and responsible partners.