US think-tank: Vietnam climbs 15 places in global freest economies list
Vietnam has climbed 15 places to become the world's 90th freest economy in this year's global ranking.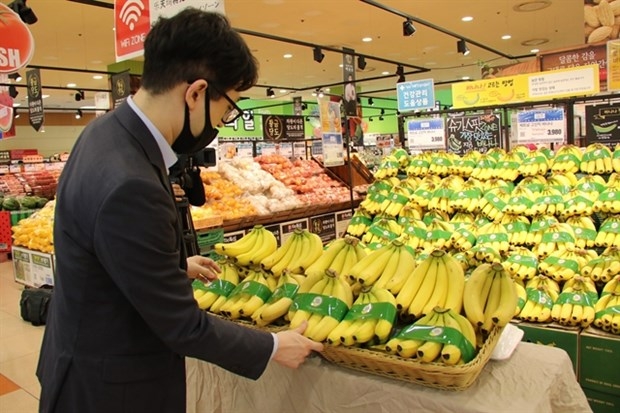 Vietnamese bananas on display at Lotte supermarkets across the Republic of Korea. Photo: VNA
With its overall score increasing by 2.9 points from last year to 61.7, Vietnam's economy was classed as "moderately free" for the first time in the annual report by the Heritage Foundation, a conservative US think tank.
The index ranks 12 indicators under four categories: rule of law, size of government, regulatory efficiency and open markets.
Vietnam was 17th among 40 economies in the Asia–Pacific region. The country's upmove came thanks to improvements in fiscal health, government spending, tax burden, trade freedom, and monetary freedom.
Government spending has been 21.6 percent of GDP in the last three years, budget deficits have averaged 2.9 percent of GDP and public debt is equivalent to 42.9 percent of GDP, the think tank said.
But judicial effectiveness, government integrity and property rights got low scores.
"Its ranking could increase further if the government took additional action to liberalize investment rules and the financial sector," the think tank said.
Singapore topped the global list while Malaysia (22nd), Thailand (42nd), Indonesia (56th), and the Philippines (73th).
The broader Asia-Pacific scored lower than the world average in seven of 12 indicators: property rights, judicial effectiveness, government integrity, monetary freedom, trade freedom, investment freedom and financial freedom.
But in tax burden, government spending, fiscal health, business freedom and labour freedom, the Asia-Pacific exceeded world averages, the report said.
Also, citizens of free or mostly free countries "enjoy incomes that are more than double the global average and more than six times higher than in repressed economies", the report said.
The more economically free a society, the longer people live healthier lives, alongside greater access to quality social goods such as education, healthcare and a cleaner environment, it added.
The findings "confirm the importance of economic freedom in promoting rapid growth and sustainable social progress".
Singapore was followed by New Zealand, Australia, Switzerland and Ireland, in that order, with scores ranging from 83.9 (New Zealand) to 81.4 (Ireland).
The United States ranked 20th with a score of 74.8, Germany was 29th with a score of 72.5 and China was No. 107 with a score of 58.4./.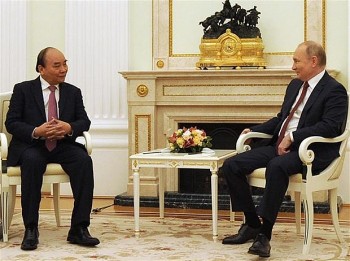 National
An article in Russia's independent newspaper focused on the Vietnam-Russia relationship and the significance of President Nguyen Xuan Phuc's visit to Russia from Nov. 29 to Dec. 2.