US to spend $50mn on supporting dioxin victims in seven Vietnamese provinces
The United States is expected to spend US$50 million on funding a project that supports people with disabilities caused by Agent Orange (AO)/dioxin in seven Vietnamese provinces.
Christopher Abrams, director of USAID's Environment and Social Development Office in Vietnam, speaks at the seminar in Dong Nai Province on August 19, 2019. Photo: A Loc / Tuoi Tre
Information regarding the program was announced during a seminar held by the Standing Agency of the National Steering Committee on the Settlement of Post-war Unexploded Ordnance and Toxic Chemical Consequences (Office 701) and the U.S. Agency for International Development (USAID) in the southern province of Dong Nai on Monday.
According to Christopher Abrams, director of USAID's Environment and Social Development Office in Vietnam, the U.S. has been coordinating with Vietnamese authorities and agencies to carry out various projects on war consequence settlement and support for AO/dioxin victims.
Following the success of previous cooperation projects between the two nations, a new project is being carried out to provide assistance for people with disabilities in seven provinces including Quang Tri, Thua Thien-Hue, Quang Nam and Binh Dinh in central Vietnam and Dong Nai, Binh Phuoc, and Tay Ninh in the southern region.
The USAID will grant $50 million to help Vietnam provide direct care, improve rehabilitation services, and develop social services to better serve the affected citizens, Abrams stated.
The agency has a lot of experience in projects on healthcare, medical assistance and livelihoods for the disabled, which further ensures the efficient implementation of the project, he added.
Speaking at the event, Nhan Thanh Cong, head of Office 701, said the project is aimed at realizing a memorandum of intent signed between Vietnam's Office 701 and the USAID in April 2019.
There are about eight million people with disabilities in Vietnam, accounting for eight percent of the country's population.
Among them, more than 163,000 people are residing in the above-mentioned seven provinces.
Most of these residents are war victims and are facing difficulties in getting access to proper living conditions and employment.
Agent Orange, which contained the highly toxic chemical compound dioxin, was a herbicide mixture used by the U.S. military during the war in Vietnam.
Dioxin is known to cause serious problems with reproduction, development, and the immune system.
A great deal of scientific research also links the chemical to hormone disruption and cancer.
VNF ( TTO )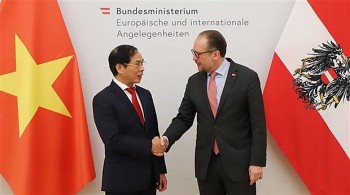 Overseas Vietnamese
Fifty years have passed since the establishment of the relationship, the two countries have enjoyed great strides in bilateral cooperation.