US Vice President criticizes China for its actions in East Sea
US Vice President Mike Pence recently criticised China on multiple fronts, including its human rights record, its actions in the East Sea and its trade and economic practices.
US Vice President Mike Pence. Photo: Reuters
In his remarks posted on the White House's website on October 24, Pence said China's military action in the region and its approach to its neighbors over the past year has also remained increasingly provocative.
"While China's leaders stood in the Rose Garden in 2015 and said that its country had, and I quote, "no intention to militarize" the South China Sea (East Sea), Beijing has deployed advanced anti-ship and anti-air missiles atop an archipelago of military bases constructed on artificial islands.
And Beijing has stepped up its use of what they call "maritime militia" vessels to regularly menace Filipino and Malaysian sailors and fishermen. And the Chinese Coast Guard has tried to strong-arm Vietnam from drilling for oil and natural gas off of Vietnam's own shores.
"In the East China Sea, in 2019, our close ally, Japan, is on track to scramble more fighter aircraft sorties in response to Chinese provocations than in any previous year in history. And China's Coast Guard has sent ships for more than 60 days in a row into the waters around the Senkaku Islands, which are administered by Japan", he said.
The US Vice President said that China is also using its "One Belt, One Road" Initiative to establish footholds in ports around the world, ostensibly for commercial purposes, but those purposes could eventually become military. "We see now the flag of Chinese ownership flying today in ports from Sri Lanka to Pakistan to Greece", he added.
Mike Pence reiterated the US's allegations that earlier this year, Beijing had signed a secret agreement to establish a naval base in Cambodia. And it is reported that Beijing is even eyeing locations on the Atlantic Ocean that could serve as naval facilities.
Chinese Haiyang Dizhi 8. Photo: Weibo
Since early July, a Chinese survey vessel and its armed escorts have encroached on Vietnam's exclusive economic zone (EEZ).
Vietnam has contacted the Chinese side for many times via different channels, handed over protest diplomatic notes and demanded China to immediately withdraw all of its vessels from Vietnam's waters and to respect Vietnam's sovereign right and jurisdiction, for the sake of the relations between the two countries and for regional stability and peace.
The 1982 United Nations Convention on the Law of the Sea (1982 UNCLOS) is a legal framework for all activities in maritime areas. Under the Convention, coastal states have exclusive economic zones, a 200-nautical mile continental shelf, and 12 nautical miles of territorial waters. Coastal states which claim sovereignty in the East Sea – China, Vietnam, Malaysia, Philippines, and Brunei – signed and ratified the UNCLOS in 1982.
Responding to the question about the Chinese geological survey vessel group Haiyang Dizhi 8 and its escort ships' exit from Vietnam's exclusive economic zone and continental shelf, Foreign Ministry spokesperson Le Thi Thu Hang on October 25, noted Vietnam has repeatedly stated that all activities that are not permitted by the Vietnamese Government in the Vietnamese waters which are designated in line with the 1982 United Nations Convention on the Law of the Sea violate the country's sovereign rights and jurisdiction.
Blatant violation of 1982 UNCLOS
It is confirmed that China has no "historical right" in the East Sea and the "buffalo-tongue" or "9-dash" line that it unilaterally draws violates the 1982 UNCLOS, VOV5 reported.
China's sovereignty claim, based on its so-called "historical right", is not defined in international law. In 2016 China's sovereignty claims based on the 9-dash line and historical rights were rejected by the International Court of Arbitration in The Hague. Beijing has not accepted the PCA's ruling and has persisted in trying to affirm its sovereignty by unilateral, illegal, coercive measures.
China's activities on the Tu Chinh reef (Vanguard Bank) in Vietnam's EEZ reveal China's ambition. The Vanguard Bank is located within Vietnam's 200-nautical mile continental shelf and is 600 nautical miles from China's coast.
Based on the 9-dash line, China claims the Vanguard Bank is in its EEZ. It has sent the Haiyang Dizhi 8 and its armed escort vessels to hamper Vietnam's oil and gas exploration activities in Vietnam's territorial waters. It's not the first time China has done so. In 2017 and 2018 China forced Vietnam and its partner to halt oil and gas exploration in this sea area.
The world community has strongly condemned China's actions. James Borton, an East Sea researcher from Tufts University, said that entering the territorial waters of Vietnam is a provocative act and does not respect Vietnam's sovereignty or 1982 UNCLOS. Beijing uses force to turn a non-disputed area into a conflict zone. Its actions endanger the geopolitical stability of the entire region, Borton said.
China's recent activities in the East Sea are more unilateral and provocation, seriously violating the 1982 UNCLOS, said Professor Daisuke Hosokawa at the Osaka University of Economics, adding that Vietnam's reactions toward Chinese activities are generally good and appropriate. He also suggested that the country need to continue affirming its sovereignty and condemning China's illegal activities./.
VNF/Reuters/VNA/VOV5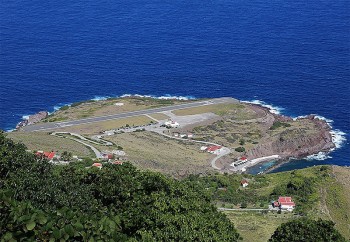 World
Most of the airports in the world are safe, with long and steady landings. But there are also several most dangerous and scariest airports, and here are some of them.