USAID grants nearly US$ 5 million to Fulbright University Vietnam
The US Agency for International Development (USAID) has granted US$4.65 million to Fulbright University Vietnam (FUV) for a period of two years.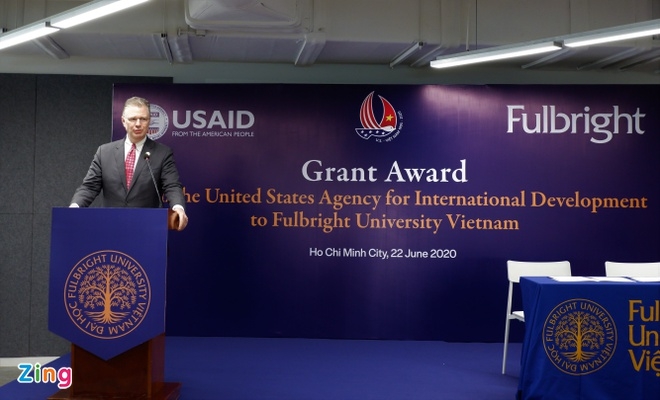 US Ambassador to Vietnam Daniel Kritenbrink speaks at the granting ceremony (Photo: Zingnews)
Earlier, the US government had granted US$7.2 million support through USAID and the State Department for the period of 2017-2020, according to Sai Gon Giai Phong News.
The previous support aimed at helping the school build its initial foundations, from establishing its institutional governance structure to developing its academic program and offering financial assistance to incoming students.
The new grant will be an investment to boost the university's goal of international accreditation. In addition, USAID will support FUV to develop a practical management education program and other training programs so that the university can meet requirements of Vietnam's professional community and workforce.
The grant will also help FUV develop shared value partnerships with the Southeast Asian country's technology, manufacturing and service industry.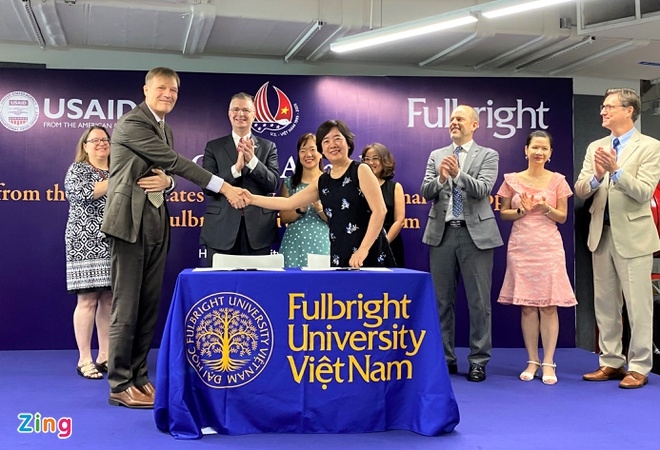 USAID Vietnam Director Michael Greene shook hands with FUV Chairman Dam Bich Thuy after signing the sponsorship agreement, witnessed by Ambassador Daniel Kritenbrink and US Consulate General in Ho Chi Minh City Marie Damour. (Photo: Zingnews)
"I am very proud of all that we have achieved together, and I believe that the next two years of the partnership between USAID and FUV will leave lasting impacts to this school and Vietnam", said US Ambassador to Vietnam Daniel Kritenbrink.
He said Fulbright University Vietnam holds a special place in the bilateral relationship between the two countries and reaffirmed the commitment to support the school.
"This is an important foundation in the relationship between the two peoples, because we all know that: As trustworthy partners, we will prosper together," the Ambassador said.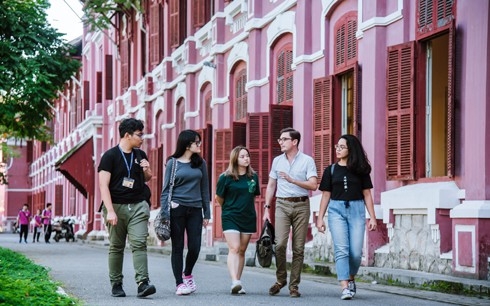 FUV aims to become the top choice for students in Vietnam and across Asia (Photo: Fulbright University Vietnam)
Meanwhile, Ms. Dam Bich Thuy, Fulbright University President, shared: "We are grateful to receive support from USAID to develop Fulbright University Vietnam. With this new grant, FUV will continue towards the mission of creating an innovative, knowledge-rich teaching and learning environment in Vietnam, serving Vietnamese students."
FUV - the first independent and not-for-profit higher education institution in Vietnam - was announced to be established on May 25, 2016. It serves as the next step in the Fulbright Economics Teaching Programme, a public policy master's programme at the Ash Centre within the Kennedy School of Government at Harvard, founded in 1994 in cooperation with the HCM City University of Economics.
Established under the Prime Minister's Decision No 819/QD-TTg dated May 16, 2016, FUV opened at the end of 2016 with the first courses offered by the Department of Public Policy and Management. FUV targets to become the top choice for students in Vietnam and Asia, VOV reported.
USAID Trade Facilitation Program launched

US Ambassador to Vietnam Daniel J. Kritenbrink and Deputy Prime Minister Vuong Dinh Hue attended the official launch of the USAID Trade Facilitation Program on ...
Friendship
On March 25, the 92nd anniversary of the founding of the Ho Chi Minh Communist Youth Union took place at the Russian Presidential Academy of National Economy and Public Administration (RANEPA) in Moscow.