Vegetarian food in Vietnam: The ultimate guide
Vietnam is a country with exemplary vegetarian cuisine. There's a long history of vegetarian food in Vietnam with its roots firmly planted in Buddhist ideologies. The key to understanding the Vietnamese vegetarian food scene is knowing what to look for and where to go in order to find it.
Vietnam is a country with exemplary vegetarian cuisine. There's a long history of vegetarian food in Vietnam with its roots firmly planted in Buddhist ideologies. The key to understanding the Vietnamese vegetarian food scene is knowing what to look for and where to go in order to find it.
Although plenty of standard vegetarian dishes can be found with ease, keep in mind there's an explorative element to vegetarian cuisine here. There aren't too many staple vegetarian dishes that you can find consistently prepared from north to south. And even on a local level, there's lots of variation from restaurant to restaurant, even with the same dish. So, here are some of the winners Vietcetera's found so far.
FIVE OF THE BEST
Canh kiem
This double dose of sweet and savory contains a mountain of vegetables, but its delights are often missed by many foreign visitors. The broth is made with kambu (an edible kelp), coconut milk, and water, while the base is comprised of sweet potatoes, pumpkins, and cooked peanuts. Throw in a healthy portion of long beans, portobello mushrooms, carrots, corn, and the almighty tofu, and you have the basics of a bowl of canh kiem. Get some steamed rice or rice noodles on the side and a plate of fresh herbs like basil, mint, and cilantro, begin to ladle the broth over your noodles, and you're set.
Source: setupnhahang.bepchien.com
Chuoi nau dau phu
This vegan banana tofu soup is one of the north's most cherished vegetarian-friendly staples. If it sounds unique, that's because it is, with its origins traced to the Red River Delta region.
The secret is the use of green, unripened bananas. They are cut and soaked in lime juice before being stir-fried with tofu, then braised in water with fermented rice to give it a nice sour kick. Many restaurateurs additionally throw in mushrooms or onions. Naturally, it's often garnished with a variety of attractive greens.
Source: thyanh9.wordpress.com
Bun cha gio chay
Place some chilled rice noodles on a plate with a few veggies like mint, cucumber, lettuce, and bean sprouts. On top of the noodles throw in some vegetarian spring rolls packed with taro, mung bean noodles, mushrooms, and fried tofu. Season them with some salt and pepper and you're ready for the next step; a garnish delivered on a side plate with pickled carrot and winter radish. Apply as you wish, and to finish, dip it in fish sauce or a completely vegetarian sauce.
Source: bleuxo.com
Bun rieu chay
Normally, it's served with crab, but for the veggie-friendly option, this element is omitted. In fact, the dish is found in many variations, but the most popular version consists of rice noodles served in a broth made with apples, vinegar, radishes, and often, pear, and tamarind. The soup is loaded with mushrooms, tomatoes, tofu, and bean sprouts. Again, remember that the vegetables used can vary greatly, as with most vegetarian food in Vietnam. It can literally depend on which vegetables are in the fridge at the moment or bought during the daily run to the market. It's nice and light, a bit sour, and a good one to eat any time of the day.
Source: bepgiadinh.com
Bun dau mam tom
This is a very simple dish, with the punch of fermented shrimp paste, mam tom, from which it takes its name. It's served with rice vermicelli and fried tofu, and for vegans who can't handle the extremely pungent fermented paste, some simple soy sauce will suffice just fine.
The tofu is deep fried and the paste is mixed with kumquat, sugar, pepper, and hot oil from the fried tofu. As with a lot of vegetarian food in Vietnam, the tofu, noodles, some cucumber, basil, and any other greens are rolled up in a big piece of lettuce and then dipped in the sauce. It's simple, refreshing, and delicious.
Source: dauhomemade.com
FIVE TO TRY
Ho Chi Minh City
House of Chay is an online supermarket for conscious consumers. They offer delicious whole food plant-based meals, organic and biodegradable personal, home, and baby products, sustainable dinnerware, gourmet culinary items like kimchi and packaged noodles made by 5-star chefs. Customers can also subscribe to their unique nutrition plan in order to maximize the health benefits, and all their goods can be delivered right to your door. From home products to delicious meals, House of Chay have everything you need to live a more balanced and sustainable lifestyle. For us, this is one of the most innovative and delicious options for vegetarian food in Vietnam.
Source: Facebook/houseofchay
Hum Restaurant has become an iconic vegetarian institution with three locations, one of which is very near to the War Remnants Museum. Even carnivores rave about it, and for good reason. The food is prepared on site from various kinds of fresh beans, vegetables, flowers, nuts, and fruits, all of which are MSG free. Vietcetera's suggested dishes include stewed figs in red torch ginger flower sauce or curried tofu braised in winter melon. Together, Hum's three wholesome venues offer a cafe, restaurant, lounge, and garden, making for a rejuvenating experience that takes care of the mind as well as the body.
Source: humvietnam.vn
Prem Bistro and Cafe has something for everyone. More than simply a vegetarian restaurant, Prem utilizes their space in a way that shouts comfort. Every Sunday, they hold an in-studio brunch before weekly yoga and meditation classes on the rooftop terrace from 6-8 PM. Their three-level location nestled on a small alley off Vo Van Tan street boasts a patio, floor seating with cushion pillows, a balcony bar, and a rooftop. A sizable menu with head-turning international options leaves no one out with selections like Moroccan zaalouk, Mexican pizza, portobello and dill burger, cheesy baked purple-brown rice bowls and shirataki noodles with turmeric and lemongrass.
Hanoi
Tim Tam Tra serves up savoury traditional Vietnamese style veggie and vegan food with grace. And they have their tea down to a science. With a small, three-room location in Ba Dinh district, Tim Tam Tra is tucked away down a small hem which provides a uniquely chilled atmosphere. With the aim of dispelling the notion that vegan food is boring and tasteless, owner Chu Khanh Vy and her mother came up with their own specialty menu by re-creating numerous Vietnamese classics with a modern twist. Although this restaurant is still in its startup stage, they are quickly making a name for themselves attracting both foreigners and locals alike, keen to make a journey off the beaten path in search of quality vegan and vegetarian food.
Source: Facebook/Tinhtamtra.teaandveganfood
Nha Hang Chay Aummee – Aummee Vegetarian Restaurant is a high-end luxurious option, but is guaranteed to be a calm, flavorsome experience. It's well known by monks, locals, and travelers for its well-executed cuisine. Their spacious three-room location sits 150 guests, inviting customers to a relaxing environment which introduces diners to the workings of a contemporary local vegetarian and vegan spread. Our recommendations include the Aummee spring roll stuffed with sweet potato, taro, carrots, seaweed, and pia leaf, the baked mushrooms with cheese, and their one-of-a-kind vegetarian banh xeo pancake.
Source: aummee.com
According to Vietcetera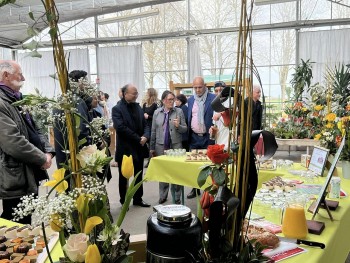 Overseas Vietnamese
Vietnamese Ambassador to France Dinh Toan Thang recently paid a working visit to Saintes, a city in southwestern France, to promote cooperation between the city and Vietnamese localities and attended the Vietnamese Culture Day, VNA reported.